At Game 1 on Sunday afternoon, the Bucks got punched in the mouth by the Boston Celtics. Monday night, in Game 2, Milwaukee returned the favor – and we've got ourselves a series.
The Bucks won handily Tuesday night, 123-102, in a game that wasn't even as close as that suggests – a very confusing result because I was told by multiple ESPN talking heads that the series was over. But instead, not only did the two teams play another game, but the Bucks won it and absolutely crushed the Celtics in the process. Very perplexing; I look forward to Paul Pierce explaining this faux pas.
Of course, stats and the score sheet could tell you how the Bucks fared against the Celtics, but pictures and videos are a lot more fun. So here are 11 key images of Milwaukee's Game 2 routing of the Celtics at Fiserv Forum.
1. Taco Tuesday shirt
Pero y estas pintas de Brook Lopez a su llegada al pabellón? El día del Taco? @guillegimenez_ @RamonFdezEs pic.twitter.com/Ev4VY6yMRH — NBAdictos (@NBAdictosRC) May 1, 2019
Brook Lopez may not have looked great on the court Tuesday night – only 10 points on a tied for team-worst -12 – but he looked absolutely dynamite off the court, walking in with this outstanding Tacos jersey that is actually a real uniform for a real minor league baseball team from Fresno, California.
2. Sports on and off the court
Represent ✌️#FearTheDeer x #GoPackGo pic.twitter.com/Qx7bNy00U2 — Milwaukee Bucks (@Bucks) May 1, 2019
👋 @UWBadgers legend @Ron33Dayne is in the building!! #FearTheDeer pic.twitter.com/iVnZ9gudXr — Milwaukee Bucks (@Bucks) May 1, 2019
Thanks @Bucks for recognizing @CoachMeganDuffy tonight at the game! Good luck and Beat Boston! #muwbb pic.twitter.com/3T62RDSXEq — Marquette WBB (@MarquetteWBB) May 1, 2019
There was no lack of local sports star power at Fiserv Forum on Tuesday – and not reserved just for the court. Packers wide receivers Davante Adams and J'Mon Moore represented the home state squad Tuesday, along with Wisconsin Badgers great Ron Dayne and new Marquette women's basketball coach Megan Duffy. Still no Aaron Rodgers this round, though ...
3. Celebrity sighting
Bruce Pearl is longtime friends with "One call, that's all." pic.twitter.com/vYsdNovNrO — Jeff Ostach (@JeffOstach) May 1, 2019
Oh wow, a famous face in the front row at a Bucks game. And also Bruce Pearl.
4. Mean mug Giannis returns
View this post on Instagram
Mean mug plus celebratory pump-up clap equals Boston wishing they slept through their alarms Tuesday.
5. That's more like it
📸🔨#FearTheDeer pic.twitter.com/6U1hxC0S7T — Milwaukee Bucks (@Bucks) May 1, 2019
Last game, the photo that explained it all featured Giannis getting demolished by the Celtics' Jaylen Brown. So in a nice twist, the image of the game for the second matchup is Giannis destroying not just Jaylen Brown, but pretty much the entire Boston Celtics team, in return.
6. The Moussaka shimmy
Giannis hit the Steph shimmy 😂 pic.twitter.com/sQLV4CB4kD — Bleacher Report (@BleacherReport) May 1, 2019
We will also accept the Tzatziki tremor.
7. Puppet Bango approves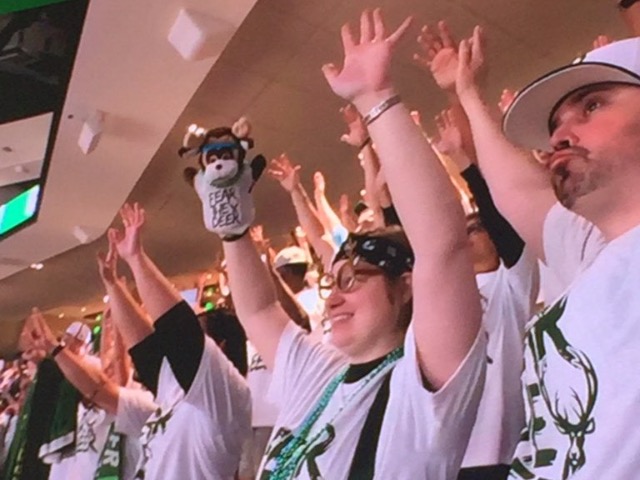 Dawwwww, the puppet's even got his hands in the air like the rest of the crowd, like the puppet thinks it's people! And according to its delightful Instagram, it's even got multiple jerseys and looks. I want to be friends with Puppet Bango.
8. The best in the Biz (Markie)
RIP Biz Markie pic.twitter.com/4nADYJPlks — Tom (@itsTomHandley) May 1, 2019
Before the '90s hip-hop favorite's halftime show, the Bucks only outscored the Celtics by four points. After Markie's performance, the Bucks went on a 24-2 run to turn a tense game into a laugher. In conclusion, Biz Markie should perform the halftime show at every game at Fiserv Forum. And maybe the National Anthem too.
9. Brook Lopez pose
View this post on Instagram
Again, Brook Lopez didn't have his finest game Tuesday night. But when it came to delivering meme-worthy faces and celebrations from the bench, the guy definitely filled the stat sheet.
10. Language, Giannis!
Giannis Antetokounmpo says the Bucks had to respond in a big way because Milwaukee got their "ass whooped" in game 1 pic.twitter.com/19crlBcQLW — Def Pen Hoops (@DefPenHoops) May 1, 2019
I'd say kids are watching, but no children should've been allowed to witness the violence inflicted upon the Celtics Tuesday night.
11. A real superhero
Giannis sat through 3 hours of the Avengers without going to the bathroom he really is the MVP pic.twitter.com/KmS8et295F — Dime (@DimeUPROXX) May 1, 2019
And he didn't spoil the Endgame. What a champion. I hope next game he offers another movie review but for some tiny indie movie. "Giannis, what were your thoughts on the new Werner Herzog?" I demand this, sports reporters.
As much as it is a gigantic cliché to say that one has always had a passion for film, Matt Mueller has always had a passion for film. Whether it was bringing in the latest movie reviews for his first grade show-and-tell or writing film reviews for the St. Norbert College Times as a high school student, Matt is way too obsessed with movies for his own good.
When he's not writing about the latest blockbuster or talking much too glowingly about "Piranha 3D," Matt can probably be found watching literally any sport (minus cricket) or working at - get this - a local movie theater. Or watching a movie. Yeah, he's probably watching a movie.