When we last left the Milwaukee Bucks' evolving entertainment plaza, the plan was for an outdoor bar in the Live Block lot that will connect the new arena with Old World Third St. But that concept has reportedly changed, as the team instead proposed to construct a permanent building there during last week's City Plan Commission meeting.
According to the agenda from the May 7 CPC meeting, Rinka Chung Architecture associate principal Steve Morales, the Bucks' representative, appeared and requested "a Minor Modification to the Detailed Planned Development known as Block 4 - Arena Master Plan (Entertainment Block) to approve the design of Building D, which will be located at 1129-35 N. Old World Third St., on the west side of North Old World Third Street, south of West Juneau Avenue, in the 4th Aldermanic District."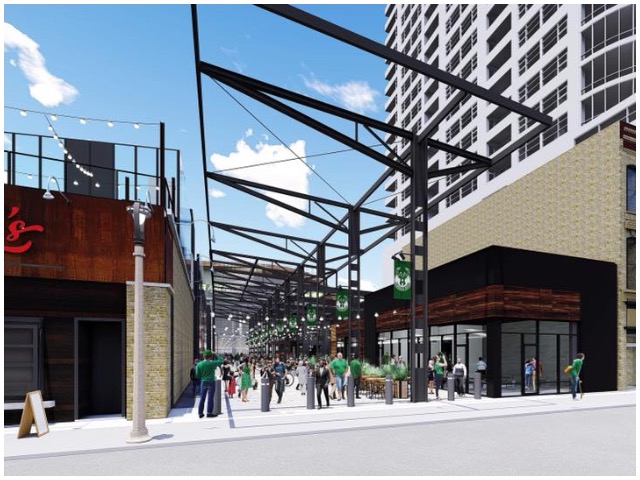 That address, 1129-35 N. Old World Third St., is a lot located between The Loaded Slate and Ugly's Pub that will connect the street to the arena. For what it's worth, the Bucks are calling it a "beer garden." (Via Urban Milwaukee):
The 2,045-square foot, two-tenant building would be geared towards food and beverage tenants. … "When we brought this to you previously, we always hoped that there would be a building there," Morales told the commission. He said plans have [proceeded] faster than expected and the team's real estate affiliate is now ready to commit to building a permanent structure on the north side of the lot.

The extensive lighting system and trellis structure proposed in November are still included in the new plan. As was true with the original plan for the connector, visitors to the arena from Old World Third Street will be able to walk straight west through the site to the new arena's front door.
The Bucks have not announced any tenants for the new arena district, though construction is already well underway.
The Wisconsin Entertainment and Sports Center, which has yet to publicize a naming-rights sponsor, will open in September, with the entertainment plaza scheduled to be complete in 2019.
Born in Milwaukee but a product of Shorewood High School (go 'Hounds!) and Northwestern University (go 'Cats!), Jimmy never knew the schoolboy bliss of cheering for a winning football, basketball or baseball team. So he ditched being a fan in order to cover sports professionally - occasionally objectively, always passionately. He's lived in Chicago, New York and Dallas, but now resides again in his beloved Brew City and is an ardent attacker of the notorious Milwaukee Inferiority Complex.
After interning at print publications like Birds and Blooms (official motto: "America's #1 backyard birding and gardening magazine!"), Sports Illustrated (unofficial motto: "Subscribe and save up to 90% off the cover price!") and The Dallas Morning News (a newspaper!), Jimmy worked for web outlets like CBSSports.com, where he was a Packers beat reporter, and FOX Sports Wisconsin, where he managed digital content. He's a proponent and frequent user of em dashes, parenthetical asides, descriptive appositives and, really, anything that makes his sentences longer and more needlessly complex.
Jimmy appreciates references to late '90s Brewers and Bucks players and is the curator of the unofficial John Jaha Hall of Fame. He also enjoys running, biking and soccer, but isn't too annoying about them. He writes about sports - both mainstream and unconventional - and non-sports, including history, music, food, art and even golf (just kidding!), and welcomes reader suggestions for off-the-beaten-path story ideas.