To better comprehend the coldblooded, unflinching, King-slaying, alpha-dog version of Giannis Antetokounmpo that we watched Tuesday night at the BMO Harris Bradley Center – through fingers covering our faces, with mouths agape – we first need a history lesson. Or perhaps, rather, a reminder that it was always only a matter of time before this unstoppable, inimitable assassin started really wreaking havoc on the NBA, regardless which basketball legend stood in his way.
So, yes, let's go back. Back to Dec. 18, 2013, Antetokounmpo's first career start, when the 5-19 Bucks hosted the Knicks. The Greek forward, who at 19 years and 12 days old became the youngest player ever to begin a game for the Bucks, was matched up on Carmelo Anthony, and the superstar forward was talking smack all night to the gangly rookie, trying to intimidate and distract him.
But even then, wide-eyed and wiry, with his epic stink face still in its embryonic stage, Antetokounmpo displayed a preternatural ability and awareness – to recognize the raised stakes, ascend to Anthony's challenge and use the dis and din as motivation. It was an early glimpse of his precocious, intensive level of concentration and the blazing competitiveness belied by his smilingly affable, ingenuous personality.
Antetokounmpo finished that night with 10 points and seven rebounds in 42 minutes, before fouling out in the second overtime of Milwaukee's 107-101 loss, which was one of the most exciting games of a dreadful Bucks season. More importantly, though, he helped force Anthony into a 9-of-29 shooting performance, later asserting that "he didn't score on me, so I'm good." And most important, after the game, the fledgling Freak gave the first indication that, while he may have been raw and unproven and a virtual unknown, he wasn't someone who was going to back down, from anybody.
Here's what Antetokounmpo said, nearly three years ago, of his battle with Anthony in that initial start:
"He's one of the best players in the league, but he talks a lot. He was trying to intimidate me so I would lose my focus. I tried to play defense the only way that I know. I was prepared. I know he talks so much. But all the guys tried to intimidate me, even the bench. I don't know why. I respect Carmelo. Before this night he was one of my role models. Now he's one of the guys I play against, so I have to (beat) him.

I respect him; he's one of the best players. But he can't come out and start bullying my teammates, me, like, talk to me all the time, say stuff, so I try to not react, talk to him. You have to respect him, but if he do it all night, you can't focus on your game so you have to respond and tell him something, to stop. When you go out there, I don't care who you are, for me it's just a jersey.

Last year I was rooting from the TV, now I'm going against him. But I think he make me be more aggressive, you know, taking the ball and running the offense so I can score on him, so I think he make me play better."
Way back then, in a more heavily accented but nonetheless still self-assured voice, Antetokounmpo made it clear he was up for any challenge. Perhaps that's when he realized he belonged in the NBA. Still, it's hard to imagine even he knew he'd soon be a top-15 player in the league – one who could not only defend Anthony, but duel with Anthony Davis, outplay Paul George, help Milwaukee nearly knock off Steph Curry's Warriors and DeMar DeRozan's Raptors and triumph over LeBron James, like the Bucks did in one of the greatest games the BMO Harris Bradley Center has ever seen.
Point Giannis was already a monster. On Tuesday night, he turned straight-up nasty.
Antetokounmpo was the menacing, marauding belle of the ball in the 118-101 rout of the Cavaliers – some considered it his coming out party, but they were late. He was the undisputed best player on the court. He scored 34 points, tying his career high, while making 13 of 19 shots, grabbed 12 rebounds and dished out five assists. Defensively, he had five steals and two blocks and seemed to get a hand on almost every ball. He was a plus-20 for the night and basically made basketball look easy, which was impressive because he wasn't coasting – though he often appeared to be in transition – but was instead the defensive responsibility of James, at least until the four-time MVP decided to throw in the towel.
Over and over, Giannis drove into the heart of Cleveland's defense, certain he could either finish inside himself or find an open teammate. It was a tour de force of confidence; he looked a lot like LeBron, actually – someone playing the game at a higher level and a slower speed, seeing things others can't and exploiting opposing mistakes with ease. And he was eager to take it to James. Play after play, he violently, viciously, relentlessly attacked the hoop.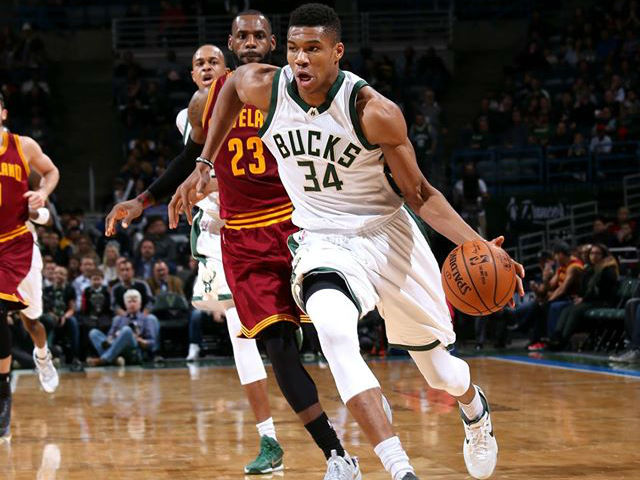 (PHOTO: Jeff Phelps/Milwaukee Bucks)
The moment that will stick with me, as well as many fans probably, was with 7:31 remaining in the fourth quarter and the Bucks up 103-82. The game was effectively already over, but Giannis wanted to step on the Cavaliers' neck, and the guy standing in his way was LeBron, the most physically dominant player in the world, who'd begun guarding him assiduously. Antetokounmpo wasn't daunted.
He got the ball on the left wing, turned and backed down James, giving up perhaps 50 pounds but giving no doubts about his athleticism or intentions, ultimately drawing a foul on – and frustrated incredulity from – the King. On the same possession, Antetokounmpo drew another foul, this time on Kyrie Irving, and a minute later all five Cleveland starters subbed out for good. The Bradley Center crowd roared (most of them, anyway).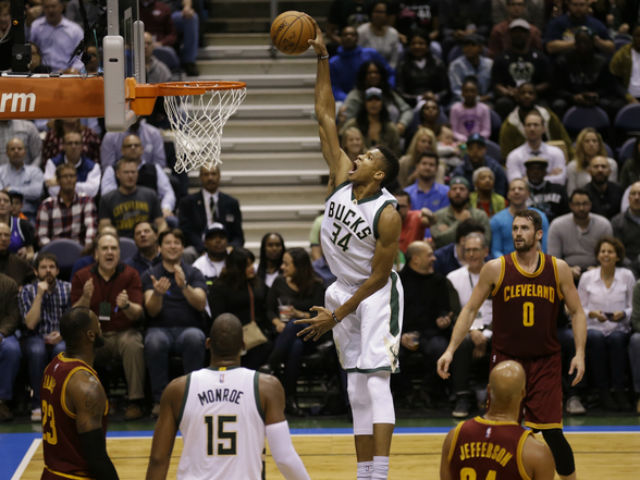 Giannis is the rare attacker who has the killer instinct – that vaunted, cutthroat trait of Michael Jordan, Kobe Bryant, Kevin Durant and other superstars – without yet having a consistent jump shot. The jumper may still develop for the only-almost 22-year-old, but it doesn't even seem to matter right now. His effective field-goal percentage is 54.2, better than James, Chris Paul, Kawhi Leonard and many others.
Antetokounmpo, who has improved his handle and still possesses natural court vision, can get to the basket pretty much whenever he wants, as evidenced Tuesday night, with his half-dozen effortless dunks and lay-ins. The Euro-step has morphed into a balletic Euro-spin; against the Cavs in transition, he showed an Irving-like behind-the-back-and-drive move and later an acceleration burst that didn't feel biologically consistent with his 6-foot-11 body size.
Nicknamed the Greek Freak for his obviously bananas natural abilities, Giannis is now harmonizing his physical gifts and always-competitive nature with the skills, understanding and confidence that he's had to build and improve. On Tuesday, head coach Jason Kidd praised his hard work and growth. Averaging team and career highs in points (22.8), rebounds (8.6), blocks (2.1), steals (2.1), minutes (34.8) and field-goal percentage (52.7), plus a personal-best 5.9 assists per game, Antetokounmpo is a lock – barring injury – to become the Bucks' first All-Star Game selection since Michael Redd 13 years ago.
On a national-attention-starved team like the Bucks, it's not surprising for players to get up for big games – John Henson, especially, comes to mind in this regard – and their urgency of wanting to prove themselves blatantly trumped Cleveland's desire just to get through another November road game.
But something is happening with Antetokounmpo in Milwaukee; we witnessed him taking his next big, long leap the other night. After that first career start against Anthony and the Knicks, Giannis suggested he could be something special; now, only 36 months later, he's making a statement: He's a bad, bad man.
Born in Milwaukee but a product of Shorewood High School (go 'Hounds!) and Northwestern University (go 'Cats!), Jimmy never knew the schoolboy bliss of cheering for a winning football, basketball or baseball team. So he ditched being a fan in order to cover sports professionally - occasionally objectively, always passionately. He's lived in Chicago, New York and Dallas, but now resides again in his beloved Brew City and is an ardent attacker of the notorious Milwaukee Inferiority Complex.
After interning at print publications like Birds and Blooms (official motto: "America's #1 backyard birding and gardening magazine!"), Sports Illustrated (unofficial motto: "Subscribe and save up to 90% off the cover price!") and The Dallas Morning News (a newspaper!), Jimmy worked for web outlets like CBSSports.com, where he was a Packers beat reporter, and FOX Sports Wisconsin, where he managed digital content. He's a proponent and frequent user of em dashes, parenthetical asides, descriptive appositives and, really, anything that makes his sentences longer and more needlessly complex.
Jimmy appreciates references to late '90s Brewers and Bucks players and is the curator of the unofficial John Jaha Hall of Fame. He also enjoys running, biking and soccer, but isn't too annoying about them. He writes about sports - both mainstream and unconventional - and non-sports, including history, music, food, art and even golf (just kidding!), and welcomes reader suggestions for off-the-beaten-path story ideas.