Since seventh-seeded Milwaukee's first-round playoff matchup was set against the No. 2 Celtics – and in the 11 days since – the discussion about whether the Bucks could pull off the upset against injury-depleted Boston basically boiled down to this: They had the best player in the series in Giannis Antetokounmpo, but would he get enough help from his teammates?
On Thursday night at the BMO Harris Bradley Center – with President Bill Clinton sitting courtside, a guest of co-owner Marc Lasry – Antetokounmpo confirmed the first item and rendered the second one irrelevant, leading the Bucks to a series-tying 97-86 victory over the Celtics in Game 6.
Spurred on by a raucously amorous home crowd and serenaded late in the contest with chants of "M-V-P!", the Greek Freak scored 31 points and grabbed 14 rebounds in 41 minutes, all game highs, almost singlehandedly willing Milwaukee to the win that forced a do-or-die Game 7 in Boston on Saturday (7 p.m. CT on TNT).
"At the end, it was about will," Antetokounmpo said. "I was out there, I was trying to make plays, I was trying to be aggressive."
Somewhat contained in the first half, Antetokounmpo asserted himself later on, pouring in 12 of his 31 points in the fourth quarter. When he reentered the game with 7:59 remaining, Milwaukee was clinging to a 78-75 lead after Boston had gone on a 10-4 run to start the period. From that point on, the Bucks outscored the Celtics, 19-11, with the 23-year-old forward scoring on a variety of step-backs, jumpers, lay-ins and free throws.
He also got crucial help from second-year point guard Malcolm Brogdon, who hit a big three-pointer to put Milwaukee up, 84-78, with 5:23 remaining and scored eight of his 16 points in the fourth quarter.
"It's big. We've grown as a team," Antetokounmpo said. "For us to win Game 6, we have a big opportunity ahead of us."
The clutch performances of Antetokounmpo and Brogdon are what finally separated the Bucks from Boston, which found a way to hang around most of the game, despite shooting just 37 percent from the field (27.8 percent on threes) and being outscored in the paint, 50-36. Boston got 22 points from rookie Jayson Tatum, 16 from point guard Terry Rozier and 14 apiece from Jaylen Brown and Marcus Morris. Al Horford added 10 points and 10 rebounds.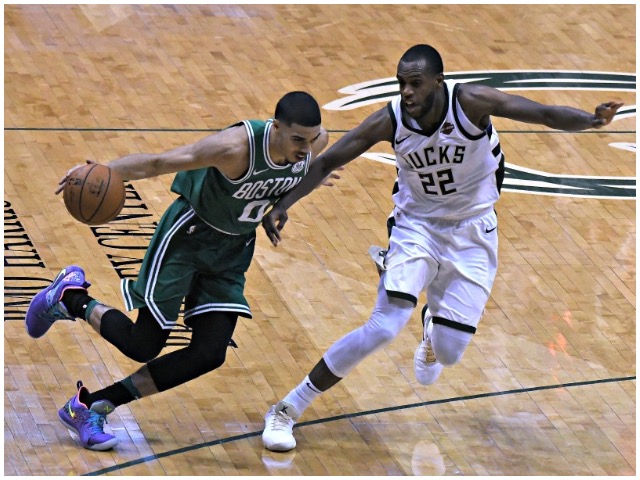 On Milwaukee's side, only one other player scored in double figures. Khris Middleton was quietly efficient, hitting 7 of 8 shots (including both three-point attempts) for 16 points, but he became less involved later in the game. Erratic point guard Eric Bledsoe had nine points on 3-of-10 shooting and, at times, seemed to be too frenetic – and concerned with trash-talking the Celtics – to be effective. Jabari Parker was a spark off the bench in the first half, scoring seven points and grabbing seven rebounds, finishing with nine and 11.
"We got great looks this whole series," Middleton said. "It's a matter of knocking it down and trusting the pass. We need to have that same mentality going into Game 7."
Center Thon Maker, starting for the first time in the series, provided his usual brash and bouncy activity, but was less productive than in previous games, posting four points (0 for 4 on threes), seven rebounds and a block, to go with five fouls and three turnovers. Matthew Dellavedova (six assists, zero turnovers), Tony Snell (two three-pointers) and Tyler Zeller (three rebounds, zero fouls) contributed off the bench.
"This is what you work for," said head coach Joe Prunty. "Embrace that moment. Go out as a team, attack it together ... find a way to get a win."
As it has in each of its three home playoff games this series, with help from its fervent fans, Milwaukee came out with confidence and aggression. Early on, the energy was too wild, with the Bucks turning the ball over and losing their defensive assignments as the Celtics built a 10-4 lead midway through the first quarter. But Milwaukee soon settled down, channeled its effort and played with unrelenting pace, outscoring Boston, 18-0, on fast-break points in the first half and finishing with a 25-4 edge in transition for the game.
"All the meetings have been had," said 18-year veteran Jason Terry, who didn't play Thursday, before the game. "This is more about who wants it more. Are you willing to lay everything out on the line and play this game as if it is your last? Because for some of us it well may be."
They did. And, encouraging, especially for this team, the Bucks ended each quarter strongly – a 12-5 run to close the first, 14-2 to close the second, 13-4 down the stretch in the third and 11-5 to end the game. Thursday night also was the first game the Bucks outrebounded the Celtics, 48-39.
"We got stagnant and we weren't very good," Boston coach Brad Stevens said. "Clearly their speed and length and athleticism affected us. They were quicker to the ball all night than us, best probably exemplified by the rebounding numbers."
In what could be the final game ever played at the BMO Harris Bradley Center, Bucks fans capped off Thursday night's triumph chanting "Bucks in seven!" Indeed, for the first time since 2010 against the Atlanta Hawks, Milwaukee will be playing a Game 7 in the postseason. Their ascendant superstar has gotten them that far; now, will he get enough help – or need any – to take them further?
Born in Milwaukee but a product of Shorewood High School (go 'Hounds!) and Northwestern University (go 'Cats!), Jimmy never knew the schoolboy bliss of cheering for a winning football, basketball or baseball team. So he ditched being a fan in order to cover sports professionally - occasionally objectively, always passionately. He's lived in Chicago, New York and Dallas, but now resides again in his beloved Brew City and is an ardent attacker of the notorious Milwaukee Inferiority Complex.
After interning at print publications like Birds and Blooms (official motto: "America's #1 backyard birding and gardening magazine!"), Sports Illustrated (unofficial motto: "Subscribe and save up to 90% off the cover price!") and The Dallas Morning News (a newspaper!), Jimmy worked for web outlets like CBSSports.com, where he was a Packers beat reporter, and FOX Sports Wisconsin, where he managed digital content. He's a proponent and frequent user of em dashes, parenthetical asides, descriptive appositives and, really, anything that makes his sentences longer and more needlessly complex.
Jimmy appreciates references to late '90s Brewers and Bucks players and is the curator of the unofficial John Jaha Hall of Fame. He also enjoys running, biking and soccer, but isn't too annoying about them. He writes about sports - both mainstream and unconventional - and non-sports, including history, music, food, art and even golf (just kidding!), and welcomes reader suggestions for off-the-beaten-path story ideas.