After a Game 2 clobbering, the Bucks returned fans to their regularly scheduled heart palpitations on Sunday night, coming back from a slow start and a few second-half punches to beat the Hawks, 113-102, taking the lead in the series and taking back home court advantage. It sure didn't look like Milwaukee would be smiling Monday morning, but thanks to a truly heroic performance from Khris Middleton (and a less heroic referee's unfortunately placed foot), the Bucks maintained the momentum from Friday night's smackdown and regained the steering wheel on the way to the NBA Finals.
Now, the Hawks are no strangers to the underdog spot – heck, they've already come back from a 2-to-1 deficit this postseason – so Milwaukee will have to keep the boot on the neck in Game 4. But before we look ahead to that, let's take one final look back at the Bucks' impressive swiping of Game 3 – and Middleton's fourth quarter for the ages.
1. Not-so-terrible city
Are you here with us tonight? 👀🙌 #FearTheDeer pic.twitter.com/cKtGB19L0w — Deer District (@DeerDistrict) June 28, 2021
Milwaukee showed up at home, of course, but the fans also came out for their first road jaunt of the series, filling up the Deer District plaza and helping set a beautiful scene for the Bucks' big Game 3 victory. These sights are only going to get pretty the further we go into toward a championship too ...
2. Eyes on the prize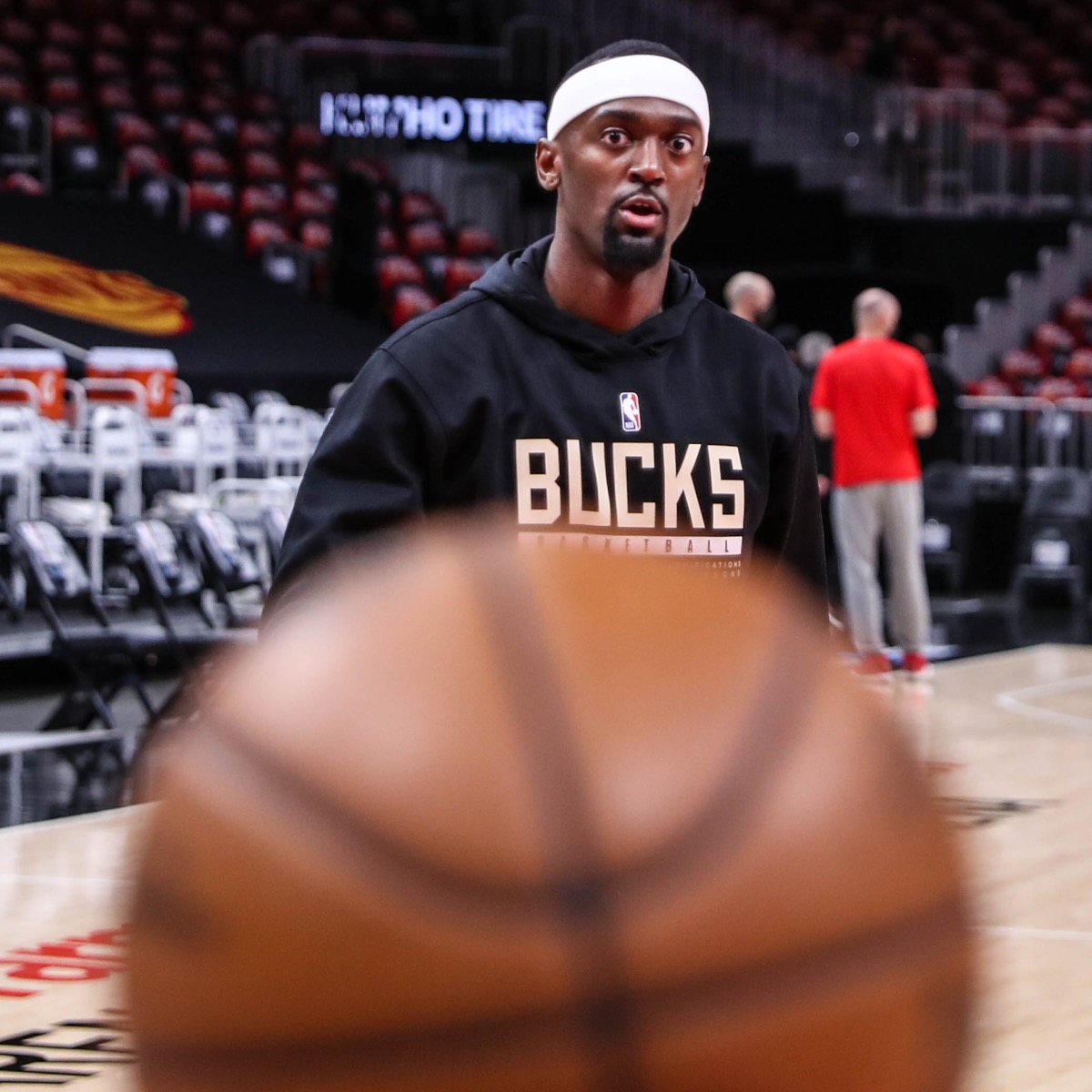 After being nonexistent against the Nets, Bobby Portis is refusing to be left behind again in the Eastern Conference Finals. Milwaukee's joyous sparkplug had another electrifying appearance – this time on the road – scoring 15 points and putting together a +15 performance to help jolt the Bucks awake and into the lead. With Lopez fluctuating between effective and embarrassing this series, Portis is providing some much needed quality minutes that get Bucks fans out of their seats whenever he gets off the bench.
3. Oh, we buck alright ...
Crime Mob is in here performing knuck if you buck lol 🔥 ⁦@ATLHawks⁩ pic.twitter.com/kYqahhq4nV — Taylor Rooks (@TaylorRooks) June 28, 2021
I know the Hawks are fairly new to this whole postseason thing, but I, for one, wouldn't bring in Crime Mob to perform a fairly clear and obvious Bucks rallying cry during my first ECF home game. That's just me, though.
4. Trae doing Trae things
Trae with an early shimmy 👀 pic.twitter.com/nqR7gTgxXt — NBA on TNT (@NBAonTNT) June 28, 2021
Things didn't get off to the finest start for the Bucks, as the Game 1 version of the team frustratingly showed up for large portions of the first half, allowing easy Trae Young floaters, clanking shots and once again making defensive mistakes that resulted in Young having approximately 27 years to hit an open there, topped with a now-signature shimmy. Amazingly, despite the cold start for Milwaukee, the Bucks were only down five at the end of one and miraculously tied at halftime. If the Bucks pryed defeat from the jaws of victory in Game 1, it was polite of the Hawks to return the favor in Game 3.
5. Prevent Pat
Get that outta here. pic.twitter.com/RDhE5xcVNA — Milwaukee Bucks (@Bucks) June 28, 2021
Fun trivia question: Who had the best plus-minus on the Bucks squad last night? No, not Middleton. Not Giannis either. Somehow, it was Pat Connaughton, who quietly gave the Bucks some really essential bench minutes, ending the night with just five points, but one big three, a +25 rating on the game and the above nasty effort block that turned a momentum-shifting moment toward Milwaukee.
6. Not this again! Wait, YES TO THIS AGAIN!
Giannis hits a BIG 3 👀 pic.twitter.com/OfdAlfXiJi — Bleacher Report (@BleacherReport) June 28, 2021
Giannis' shooting has been in the magnifying glass this playoff run, from his lengthy free throw process (6-for-13 last night, with most of the makes coming while the crowd was in maximum countdown mode – so keep it up, Atlanta!) to his headshake-inducing three-point shots. He sure picked a good time to hit one of the latter last night as Giannis pulled up for this pretty triple to bring the Bucks within striking distance of the Hawks in the second half. Watch yourself, though, Giannis; you've been feasting on this team's small and weak down-low defense, so let's just keep eating in the paint, can we?
7. Speaking of threes ...
Just how PJ drew it up 😅 pic.twitter.com/GfRsAtBllb — NBA on TNT (@NBAonTNT) June 28, 2021
Somehow this was one. As far as bad alley oop passes go, this one's my favorite – and probably the most productive!
8. One step too far
Trae Young tweaked his ankle on the ref's foot and had to go to the locker room 😳

pic.twitter.com/BA9X1JNF6h — Covers (@Covers) June 28, 2021
Do ... the basketball gods actually like the Bucks? First the Nets' big three mostly vanished before our eyes thanks to injury, then right Trae Young nabs a freak injury stepping back after a turnover right onto a ref's out-of-bounds foot. The result was a sprained ankle that took Young off the court for about six key minutes of the third and fourth quarters – and even when he came back, his signature speedy attack wasn't quite the same.
For a while, the Hawks held firm while Young was gone, even building a bit of a lead in the fourth. But then ...
9. King Khash
KHRIS CAN'T MISS 🔥

20 PTS IN THE 4TH QTR pic.twitter.com/Y8ZCMc1wt5 — NBA on TNT (@NBAonTNT) June 28, 2021
The thing about Khris Middleton's occasional no-show performances or chilly shooting nights is that they're so apparent because he's so important to this team. When he's bad, the team struggles to win. When he's good, things tend to go the Bucks way. And when he's great – such as last night, scoring 38 points along with 11 rebounds and seven assists, including outscoring the ENTIRE HAWKS TEAM in the fourth quarter by himself – Milwaukee is a championship-level squad. Last night was truly an iconic performance, one that should keep people quiet and calm next time he fades away for a night.
10. I'm not crying; I'm just sweating from an intense game
🥺 https://t.co/Zk1JcerGjw pic.twitter.com/BCguIpftjD — Milwaukee Bucks (@Bucks) June 28, 2021
It's weird to think that we've been watching Giannis and Khris play together for almost a decade, coming to Milwaukee in the 2013-14 season and evolving ever since. Giannis went from a scrawny draft project to a franchise-saving MVP, while Middleton went from a forgotten trade piece to a key number-two who's the team's trusted closer in the most critical moments. It's a power duo that's grown up before Milwaukee's very eyes – and is now finally getting a real moment in front of the nation's eyes. I hope they get used to it, too, because they don't seem like they're leaving Milwaukee, or the league's brightest stages, anytime soon.
As much as it is a gigantic cliché to say that one has always had a passion for film, Matt Mueller has always had a passion for film. Whether it was bringing in the latest movie reviews for his first grade show-and-tell or writing film reviews for the St. Norbert College Times as a high school student, Matt is way too obsessed with movies for his own good.
When he's not writing about the latest blockbuster or talking much too glowingly about "Piranha 3D," Matt can probably be found watching literally any sport (minus cricket) or working at - get this - a local movie theater. Or watching a movie. Yeah, he's probably watching a movie.