For a game the Bucks rarely felt like they deserved to win, it sure feels like the Bucks got robbed a bit on Wednesday night. Thanks to a truly touchy late call in the final few seconds, the Miami Heat were able to claim a 116-114 victory in Game 2, taking a two-game lead in the series and breaking Brew City's collective heart in the process.
Being down 2-0 is, to say the least, suboptimal, but with home court meaning less than ever thanks to the bubble, all hope shouldn't be lost. Right? RIGHT?!
Anyways, let's take one final look back at Game 2 before hopefully we have better news to report from Friday night's critical third basketball battle.
1. Herding together
(PHOTO: Deer District Facebook)
The Bucks may not get a home court advantage while playing in the bubble in Orlando, but the #FeerTheDeer faithful still showed up to cheer on the Bucks together in Deer District thanks to the Beer Garden's wonderful watch party set-up. It's outdoors, masks are required when away from your table, the seating is safely distanced and, best of all, there's drinks for the Beer Garden and food on delivery from Cream City Cluckery. All it needs now is a Bucks win!
2. I missed you guys
The Bucks' home court may have been dark and quiet for these first two games, but at least one part of the Fiserv Forum experience hasn't been canceled: the Rim Rockers, the bouncy game entertainment dunkers.
They are more than just dunkers, check out the Rim Rockers skills with the Trick Shot Challenge!!#FearTheDeer | @redbull pic.twitter.com/QLOqdHpyEG — Milwaukee Bucks (@Bucks) September 1, 2020
No one asked, but my vote's for Neon – though he missed out on calling his dunk "Splash Mountain."
3. Return of the Bledshow
(PHOTO: Milwaukee Bucks Facebook)
After missing Game 1 with a hamstring glitch, Eric Bledsoe was back on the court for the Bucks – and a welcome sight. Even though his box score line wasn't the most impressive – a solid 16 points with seven boards and two assists – every time the Bucks threatened to fall too far back of the Heat, it seemed like Bledsoe made a shot to keep Milwaukee in it and keep whatever momentum they had.
Also: A-grade Outkast shirt.
4. Improvement
Giannis was a topic of hot debate after Game 1 with his not-quite-MVP-level performance against the wall of Heat. Game 2, thankfully, looked a lot better, with Giannis putting up 29 points, 14 rebounds and three assists – including hitting nine out of 13 free throws and this rim-rattling slam that I very much appreciate.
Rises and smashes it. pic.twitter.com/JYvcfWnWcL — Milwaukee Bucks (@Bucks) September 2, 2020
Unfortunately, it didn't come with a win – and there was a certain late play from Giannis that got most of the postgame attention – so the sports talk hot-take conversation is still "IS GIANNIS ACTUALLY GOOD!?" (Answer: No duh.)
And about those certain late plays ...
5. Mark Davis giveth ...
HOPE!
Khris Middleton draws the "foul" & ties the game with 4 seconds to go ! pic.twitter.com/G3aBgvvq5z — Kory Waldron (@KWalHoops) September 3, 2020
Thanks to a ticky-tack call (no complaints here!) on the Heat's Goran Dragic, the Bucks were able to tie the game! All they have to do is play defense for about 4 seconds and not have something ridiculous happen – like, say, a ref making the game about him! But that would never ...
6. And Mark Davis taketh away
Oh.
Have to imagine Jimmy Butler may never walk again after this vicious foul by Giannis pic.twitter.com/yAUXzND5K9 — Barstool Sports (@barstoolsports) September 3, 2020
Thanks to an even tickier-tackier call on Giannis – seen above delicately caressing Jimmy Butler's back well after the shot was gone – the Heat were able to win Game 2 and take a 2-0 lead. My brain says that, sure, why not trade bad calls to equal things out – plus the Bucks were never the better team on Wednesday. But my heart says WHAT IS THIS NONSENSE?! Ending the game on free throws, regardless of the end result and my preferred victor, is a boring, sad and underwhelming way to end a good game. I can handle a loss; a lame, limp reasoning for that loss, though, is insult to injury.
7. No rest for Wes
While sports radio was happy to put the blame for Game 1 on Giannis, anyone who actually watched the game noted that an actual key issue was that defensive wing specialist Wes Matthews wasn't on the court almost at all during Butler's big fourth quarter. So, lo and behold, who was covering Butler on that cursed final shot? And who played six more minutes in total in Game 2? Yep, the Marquette alum.
But mainly, this is all just because I wanted an excuse to include this really nifty photo of Matthews practicing his shot before the game: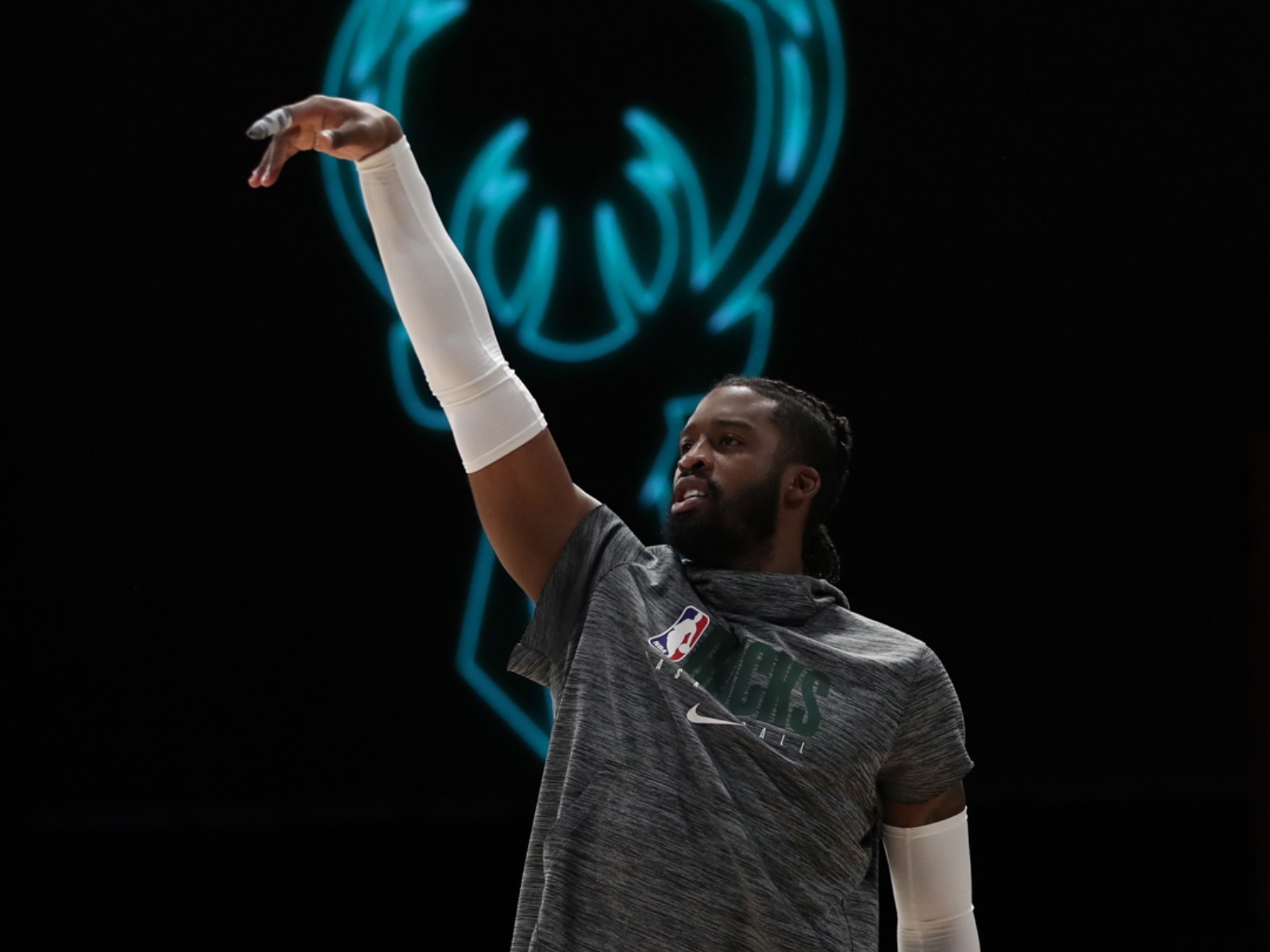 (PHOTO: Milwaukee Bucks Facebook)
8. How Milwaukee feels right now
When they call foul with no time left on the clock �`� #BucksvsHeat pic.twitter.com/lH7Siq0mFW — ShakeDown🏀🎮 (@ShakeDown2012) September 3, 2020
Yep. Pretty much.
But hey, you know who else was down 2-0 in the playoffs last year? The Toronto Raptors, and few teams should know better about how that ended than the Bucks. Plus, can't be #BucksInSix without losing two – so here's to the Bucks finally claiming a game in this series on Friday night. (*nervous gulp*)
As much as it is a gigantic cliché to say that one has always had a passion for film, Matt Mueller has always had a passion for film. Whether it was bringing in the latest movie reviews for his first grade show-and-tell or writing film reviews for the St. Norbert College Times as a high school student, Matt is way too obsessed with movies for his own good.
When he's not writing about the latest blockbuster or talking much too glowingly about "Piranha 3D," Matt can probably be found watching literally any sport (minus cricket) or working at - get this - a local movie theater. Or watching a movie. Yeah, he's probably watching a movie.