The Bucks lost Game 3 to Miami Heat, 115-100, but it sure feels like Milwaukee lost much more than that on Friday night. The historic collapse feels like a franchise-shaking moment – one I'm not sure how the team comes back from next year, much less in this now 3-0 series.
I know this all sounds melodramatic, but for a team that seemed primed for the Finals this year, a team that seemed like it had all the answers, everything is suddenly in question. Is Coach Mike Budenholzer still the guy to lead this team to the promised land? What are we going to do with this supporting cast? What's this team going to look like next year? And, of course, the ultimate question: What does this mean for keeping Giannis in a Bucks jersey after next season? Honestly, yesterday's result was the first time I felt like he might leave Milwaukee, that he might feel like he's hit a ceiling here and that these pieces are not going to solve the puzzle of winning the championship he wants.
And my god, do I want to be wrong.
Anyways, let's take one final spin through yesterday's highlights and lowlights, talk ourselves into the series not being over and, worse comes to worst, comfort ourselves in knowing that at least the Philadelphia 76ers biffed it harder this year.
1. Gonna need something a little harder than this...
Throughout the playoffs, the Bucks have been serving up cocktail recipes on social media. Refreshing!
2.5 hours till tip. pic.twitter.com/rlI28NlIRw — Milwaukee Bucks (@Bucks) September 4, 2020
But what started like a fun and innocent gesture to stay involved with fans now seems ominous considering how things are turning out – like the team is warning you, "Hey, you might need a few of these to get through the next three hours." I look forward to the cocktail of choice in Game 4 to be Everclear with a moonshine twist.
2. A bad omen
And here we were thinking we'd dodged a bullet.
Early in the first quarter, Giannis appeared to twist his ankle, accidentally misstepping onto a Heat player's shoe while running the offense. After several terrifying seconds of Antetokounmpo holding his ankle on the ground, followed by a few slightly less scary but still frightening seconds of him getting his legs again, all seemed OK – though as the game went along, there were moments like this slam that should've been celebratory but instead brought caution as Giannis looked ginger after an awkward landing.
Freight train inbound. pic.twitter.com/wiwvuFXMDs — Milwaukee Bucks (@Bucks) September 5, 2020
Was this why Giannis' minutes were limited yet again? Was the tweak worse than he was letting on? Would he like to borrow my ankles? (I will gladly give them up for a good cause!) Everyone after the game essentially said the injury was a non-factor, so I guess not. But that brings us back to that first, very significant question ...
3. Bud gone bad
Let's just jump right ahead to about 1:50 on this postgame interview.
I hate to be this kind of basic reactionary fan ... but save for a miraculous comeback, I don't see how the Bucks can bring Coach Budenholzer back next season.
I like the guy, and he's a great regular season coach, but for the second straight year, Milwaukee's been wholly outmaneuvered by his rival coaches in the spotlight – mainly because Coach Bud refuses to make any maneuvers. Not playing Giannis intense minutes in the regular season, and even against the Orlando Magic in the first round, makes sense. However, continuing to limit the sure-to-be two-time MVP to under 40 minutes in a must-win game – including sitting him in the middle of the fourth quarter, in the midst of watching your 12-point lead hemorrhage away – is coaching malpractice. Combine that with leaving Wes Matthews off the court while Butler was scorching the Bucks in Game 1 and his overall reluctance to adjust midstream – a trend now two years running in the postseason – and it's hard to justify putting potentially Giannis' final year in a Bucks uniform back in his hands.
4. Burned again
I assumed the Miami Heat were going to be a brutal matchup for the Bucks. During the regular season, Milwaukee clearly struggled against them and for good reason: The team is deep with smart role players, their star player has an aggressive killer instinct on the court and their coach is quietly excellent. I figured the series – two teams of fairly equal strength – would go six or seven games, easily.
I certainly didn't expect sweep – and certainly didn't expect THIS. But after another Butler late-game explosion, ending with 30 points in total, the Heat have proven to be the better team – smarter, more composed and better balanced. Game 1 featured one decent quarter from the Bucks, while Game 2 had no business being as close as it was by the end. Game 3 was the first time the Bucks looked like the superior team – and unfortunately, that was only for 36 minutes.
5. Peak Greek Freak
(PHOTO: Milwaukee Bucks Facebook)
It's a shame the game turned out the way it did and that Giannis – despite almost a triple-double with 21 points, 16 rebounds and nine assists – still seemed fairly pedestrian, because this photo is outstanding and should be attached to a game more pleasantly memorable. I would frame this – just don't remind me of the final score.
6. Brook lookin' good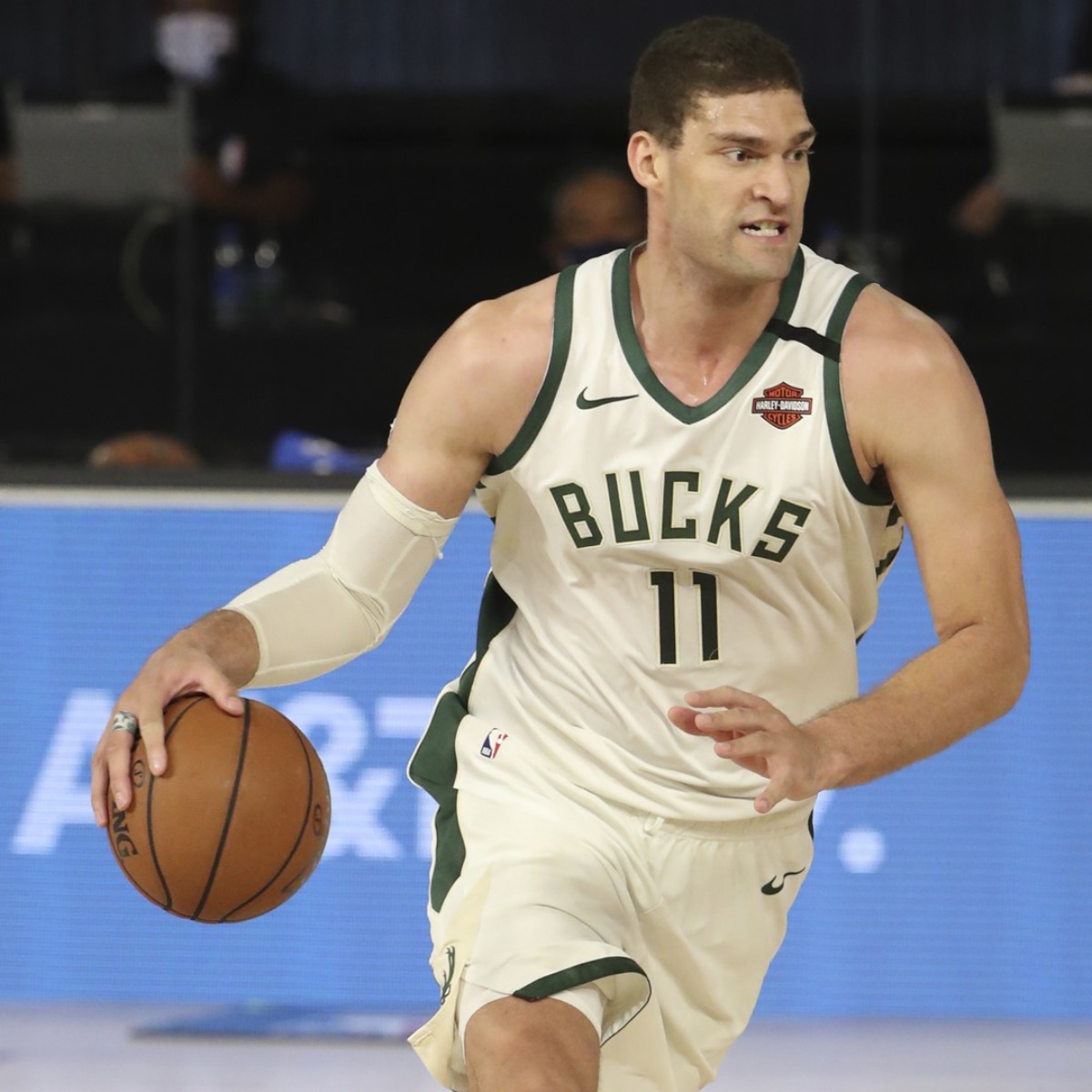 (PHOTO: Milwaukee Bucks Facebook)
Let's hear it for Splash Mountain! Brook Lopez has looked outstanding during this series, putting up a team-high 22 points on Friday night – his second 20-plus point total of the three games – and getting the team started out of the gate with some clutch threes and inside buckets. A shame these solid performances have gone to waste.
7. Teamwork makes the dream work
How about one final positive, nice thing from yesterday's game?
Greek Freak dime, Big Ragu jam.#FearTheDeer | @we_energies pic.twitter.com/TjGT1jNE7Y — Milwaukee Bucks (@Bucks) September 5, 2020
That was a nice pass! Cool play! I can almost remember what happiness feels like again ... wait, no, it's gone again, dammit.
8. Tough job
Have pity on the poor social media manager who was contractually obligated to post this highlight compilation shortly after Friday night's game.
Best of Game 3. pic.twitter.com/UkRqRgpVmo — Milwaukee Bucks (@Bucks) September 5, 2020
I think I would've gone with the Colorado Rockies' recent approach:
We typically have positive and encouraging words when tweeting the final score after losses. Or some kind of clever approach.

Not tonight.

We lost 23-5. It sucked. Good night. — Colorado Rockies (@Rockies) September 2, 2020
9. Yep.
Pretty much.
10. Always look on the bright side of life
Hop your way over to the 1:55 mark for some much needed optimism.
#BucksInSix was getting old anyways. #BucksInSeven? Or how about at least just not a sweep?
As much as it is a gigantic cliché to say that one has always had a passion for film, Matt Mueller has always had a passion for film. Whether it was bringing in the latest movie reviews for his first grade show-and-tell or writing film reviews for the St. Norbert College Times as a high school student, Matt is way too obsessed with movies for his own good.
When he's not writing about the latest blockbuster or talking much too glowingly about "Piranha 3D," Matt can probably be found watching literally any sport (minus cricket) or working at - get this - a local movie theater. Or watching a movie. Yeah, he's probably watching a movie.