Jabari Parker could have hung out at home on Saturday. After playing a season-high 21 minutes the night before in an overtime win over the Raptors – his eighth game since returning from a torn ACL – and getting home late from Toronto, then going through a morning practice in Milwaukee with another game the next day, he could have rested. Indeed, his agent or coaches might have recommended that Parker, a restricted free agent this summer whom the Bucks will be counting on as they push for the playoffs, do just that.
But that's not what Parker does and that isn't who he is. He's made it clear that he plays the game – and works hard enough to come back from two serious knee injuries in 26 months – for the kids that look up to him, particularly the kids in Milwaukee.
So on Saturday, instead of sitting at home with his legs up and resting, Parker was at the Marcus BistroPlex Southridge, in a theater he had completely bought out for a showing of "Black Panther," surrounded by 120 Milwaukee kids having the time of their lives.
Parker had already seen "Black Panther," of course. But just like everyone else who'd seen it, he had to see it again. And he knew that many of the children he's so actively involved with in Milwaukee Public Schools – where he frequently visits, mentors, donates money and devotes time and energy – had not seen the popular movie, which, on its way to breaking box-office records, has become not only critically acclaimed, but also culturally vital. Some of them hadn't had a real movie-going experience at a theater before.
The 22-year-old Parker gave them that, and a whole lot more. Besides buying out the theater, he purchased pizza and popcorn for everyone. He paid for transportation, so that four community-based organizations could bring local youth to Southridge. (Since it was a Saturday, MPS wasn't formally involved, but the organizations – Operation Dream, PEARLS for Teen Girls, Neu-Life Community Development and Silver Spring Neighborhood Center – are composed of mostly MPS students.)
"It was the biggest blessing, especially for my culture and who I am as a black man," Parker told OnMilwaukee. "Just showing kids that we need to celebrate when we do something well – everybody, not even just African Americans, but Africans and our whole Pan-African people. Just to celebrate each other instead of putting each other down and to know that you can do anything and become anybody that you want, because we've got a superhero now.
Parker arrived an hour early and went around meeting and talking to everyone. He brought his own camera to take pictures of the kids, sitting in their oversized comfy armchairs in the theater.
"Jabari had this great idea, and it was his idea completely," said Jack Snow, the Bucks' senior coordinator of corporate social responsibility, who was in attendance on Saturday. "He thought it would be empowering for these kids to see superheroes that looked like them, and especially since there were black female role models too."
Snow said it's common for Parker to propose an idea like this, and the Bucks' community staff just takes it and runs with it. After seeing Kendrick Lamar and other celebrities treat kids to free "Black Panther" screenings, Parker wanted to do likewise. "Jabari just said, 'Do whatever you can to get the kids there,'" Snow said, and the Bucks helped the organizations make it happen.
Part of what made the whole thing so special, Snow said, was that a lot of the kids figured they were just going to see a movie – that Parker, himself, a professional athlete and local hero, wasn't going to be there with them. Many times, players will sponsor a promotion, attend a charity event or make a cursory appearance somewhere, but an authentic, off-the-court hangout? That's virtually unheard of.
"For him to take that time and make that effort, you don't see it often – it was really meaningful," Snow said. "It was awesome to see the kids' reactions."
One little girl, from PEARLS for Teen Girls, a local leadership development program, was looking the other way as Parker walked over. When she turned around and saw the Bucks' brawny, bearded, 6-foot-8 forward standing in front of her, she broke down in tears, "so overwhelmed to see someone she loved and admired," Snow said.
"We got a chance to hang out with each other," Parker said. "I got a chance to learn a bit too. It's not one-sided; I always take something from it too. I offer something, of course, but they offer more, because they teach me a bit of character that I need to have."
There were some giggles during the movie at the mention of the Jabari, one of the tribes of the Wakanda. And, by all accounts, everyone thoroughly enjoyed "Black Panther," which is on its way to becoming one of the highest-grossing films of all time. Especially Parker.
"He was a kid amongst the kids, grinning ear-to-ear, clapping and cheering, high-fiving kids, eating popcorn," Snow said. "Jabari is very much a kid himself."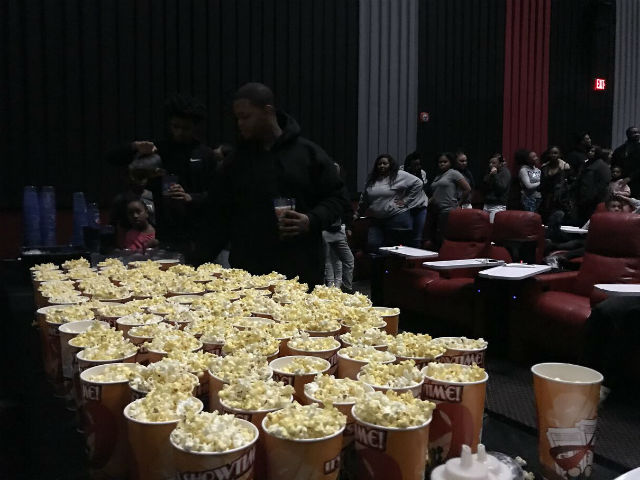 After the movie ended, the kids all thanked Parker. Snow thanked him, too, and the two stood around talking about the motivation behind Parker's community effort and impact.
"He kind of looks at this as business-as-usual," Snow said, while children walked past – part of his personal platform, not a play for publicity. "He told me, 'That's who I do this for, they're who I work hard for.'
"That's why he does what he does. It's another way for him to give back."
Born in Milwaukee but a product of Shorewood High School (go 'Hounds!) and Northwestern University (go 'Cats!), Jimmy never knew the schoolboy bliss of cheering for a winning football, basketball or baseball team. So he ditched being a fan in order to cover sports professionally - occasionally objectively, always passionately. He's lived in Chicago, New York and Dallas, but now resides again in his beloved Brew City and is an ardent attacker of the notorious Milwaukee Inferiority Complex.
After interning at print publications like Birds and Blooms (official motto: "America's #1 backyard birding and gardening magazine!"), Sports Illustrated (unofficial motto: "Subscribe and save up to 90% off the cover price!") and The Dallas Morning News (a newspaper!), Jimmy worked for web outlets like CBSSports.com, where he was a Packers beat reporter, and FOX Sports Wisconsin, where he managed digital content. He's a proponent and frequent user of em dashes, parenthetical asides, descriptive appositives and, really, anything that makes his sentences longer and more needlessly complex.
Jimmy appreciates references to late '90s Brewers and Bucks players and is the curator of the unofficial John Jaha Hall of Fame. He also enjoys running, biking and soccer, but isn't too annoying about them. He writes about sports - both mainstream and unconventional - and non-sports, including history, music, food, art and even golf (just kidding!), and welcomes reader suggestions for off-the-beaten-path story ideas.