Just as the Bucks are about to get back to work adding to their NBA-best record tonight at the Fiserv Forum, the building itself today went back to work adding to its fancy exterior with a brand new statue, adding not only a splash of color to the arena but also a new way to keep up with the Bucks.
Bucks and Johnson Controls officials this afternoon unveiled the first Open Globe sculpture outside the Johnson Controls entrance on the northwest corner of the Fiserv Forum at the intersection of Juneau Avenue and 6th Street.
The new statue is basically a three-dimensional rendering of the Johnson Controls logo: an orb comprised of multi-colored stripes. But it's not as much as what the sculpture looks like that's intriguing; it's what the sculpture can do. The Open Globe structure will feature a flexible lighting system, allowing the orb to glow throughout the night and flash through multiple colors and animated light shows.
Most important, for each Bucks victory, the circle will glow green, signaling to those passing by another notch in the win column. (So those who DVRed a game to watch later may want to take an alternate way home to avoid spoilers.)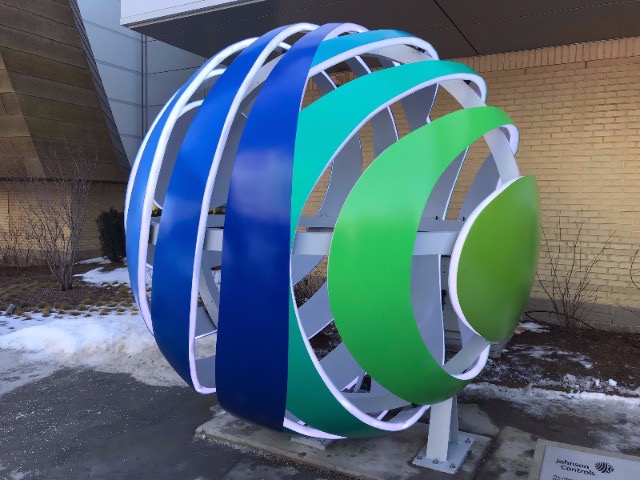 "When the Open Globe is white, we light up the night; but when the Open Globe is green, it's another win for the home team," said Grady Crosby, Johnson Controls vice president of public affairs and chief diversity officer, at the unveiling, reciting a short rhyme for the new structure.
The Open Globe statue will be on display just in time for tonight's second-half opening spat at home against the Boston Celtics at 7 p.m., glowing in its standard static white – until it hopefully turns green. Bucks green, that is.
"This sculpture will be a welcoming symbol to everyone who enters the Fiserv Forum and will represent the world-class technology found throughout the arena as it sits in front of this entrance," said Milwaukee Bucks and Fiserv Forum president Peter Feigin.
"Our further hope is that the Johnson Controls Open Globe sculpture becomes a beacon of light – literally – to welcome the community, to welcome visitors here from around the world, to this great city on a great lake," added Crosby.
As much as it is a gigantic cliché to say that one has always had a passion for film, Matt Mueller has always had a passion for film. Whether it was bringing in the latest movie reviews for his first grade show-and-tell or writing film reviews for the St. Norbert College Times as a high school student, Matt is way too obsessed with movies for his own good.
When he's not writing about the latest blockbuster or talking much too glowingly about "Piranha 3D," Matt can probably be found watching literally any sport (minus cricket) or working at - get this - a local movie theater. Or watching a movie. Yeah, he's probably watching a movie.