It was admittedly hard to get too excited about the Bucks' last victory. A playoff win is a playoff win, but it wasn't exactly the kind of performance that encourages fans that their team is the best on the court. Sloppy offense. Giannis popping ugly threes. A bodyguard on the court somehow. It was a mess.
Judging by Sunday, however, the Bucks are starting to clean themselves up – and just at the right time.
The Bucks shaped up on offense, claimed Game 4 by a score of 107-96 and evened up their series with the Brooklyn Nets – who are pulling a Marty McFly in "Back to the Future" and disappearing before our very eyes. First, Harden was injured in Game 1; now Kyrie Irving's ankle took a hard turn, leaving potentially just Kevin Durant and a bunch of role players to regain the Nets' once-unstoppable momentum. Considering how good of a player Durant is, that might be enough – but the basketball gods seem to be smiling on the Bucks right now. (How rare is THAT!?) And who are we to argue with them or squander their gifts?
Before we look ahead to Game 5 back in Brooklyn, let's take a final glance back at Sunday's super home win that wasn't just survival – it was maybe the series.
1. Buck(s)wild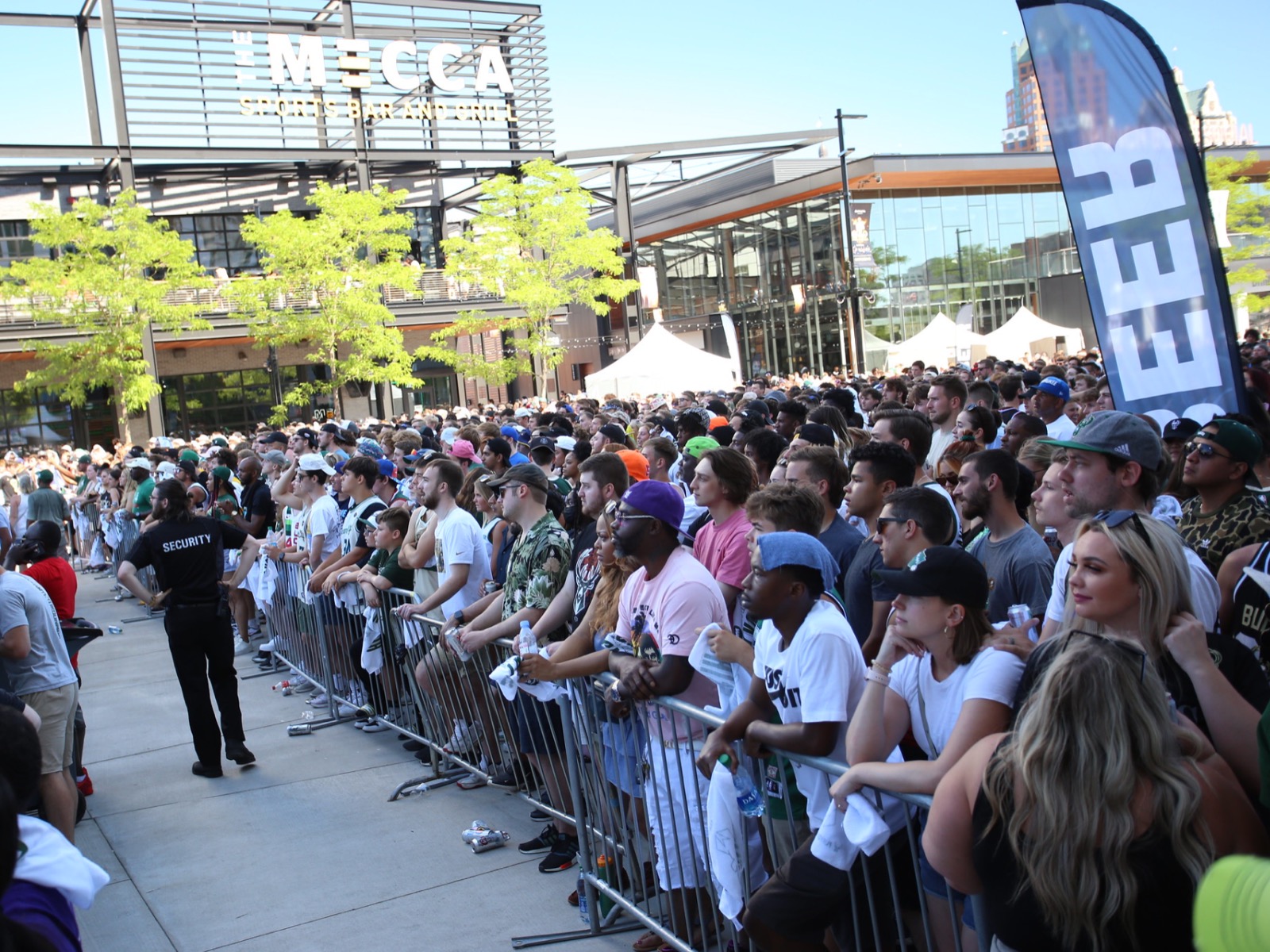 Not that every game isn't important at this point in the season, but Sunday's home game was especially critical – going back to Brooklyn tied 2-2 would be a very different story than returning down 3-1, having to go on a three-game winning streak. And the Milwaukee faithful showed up as if they knew it too, filling the arena – as well as Deer District and its surrounding bars and hangouts – with cheer. And the Bucks thankfully gave them plenty to go crazy about.
2. Commish in the crowd
Adam Silver getting the Deer District tour from Marc Lasry. pic.twitter.com/zFtPpvyK6f — Jim Kogutkiewicz (@jimmyfk) June 13, 2021
One of the premium series of the NBA playoffs got a premium guest on Sunday afternoon: league commissioner Adam Silver, who got the VIP tour of the Deer District alongside Bucks co-owner Marc Lasry. Of course Silver was there to take in an important game – but one has to imagine the All-Star Game, which Milwaukee has yet to host despite its new arena and top-performing team, was a key topic during timeouts ...
3. Game recognize game
#FearTheDeer x #GoPackGo @Showtyme_33 | @KCBoutThatLife | @MVS__11 | @OfficialVern_ | @OnlyOne_JW | @packers pic.twitter.com/9OptcYO7ge — Milwaukee Bucks (@Bucks) June 14, 2021
Once again, the stars came out for the Bucks – and when it comes to Wisconsin, "stars" translates to "Green Bay Packers." Aaron Jones dropped back by after dunking (pardon me, "dunking") around Game 3 – and he brought several friends along with him, including Kenny Clark, Marquez Valdes-Scantling, Vernon Scott and Juwann Winfree. But in case you prefer your Packers cameos a little more old school ...
Free and Mr Lambeau Leap @leap36 - I think we bring that championship energy to the arena 🙌🏽🙌🏽 #FearTheDeer pic.twitter.com/pFRi6bRzxT — Antonio Freeman (@afreeman86) June 13, 2021
We also had '90s Green Bay greats LeRoy Butler and Antonio Freeman in the house, bringing that Super Bowl swagger into Fiserv Forum. But in case THAT wasn't enough ...
Giannis' slam had @JJWatt out of his seat 💪 pic.twitter.com/SPysndilac — SportsCenter (@SportsCenter) June 13, 2021
He may not have signed with the Packers this offseason, but his heart's still got some Sconnie love as former Badger JJ Watt cheered along the Bucks courtside with his wife and Chicago pro soccer star Kealia Watt.
In the end, we may not get Beyonce or Jay-Z in the front row – but our stars still represent pretty dang well.
4. Kyrie breaking ankles
IF KYRIE MADE THAT 😱 pic.twitter.com/J3CB282fNx — ESPN (@espn) June 13, 2021
Kyrie Irving almost ended poor sweet Thanasis' career with this step-back, ankle-breaking move to end the first quarter. Thankfully for the Bucks, he missed – but that would be far from the biggest bummer to strike Irving on Sunday afternoon ...
5. Ankles getting their revenge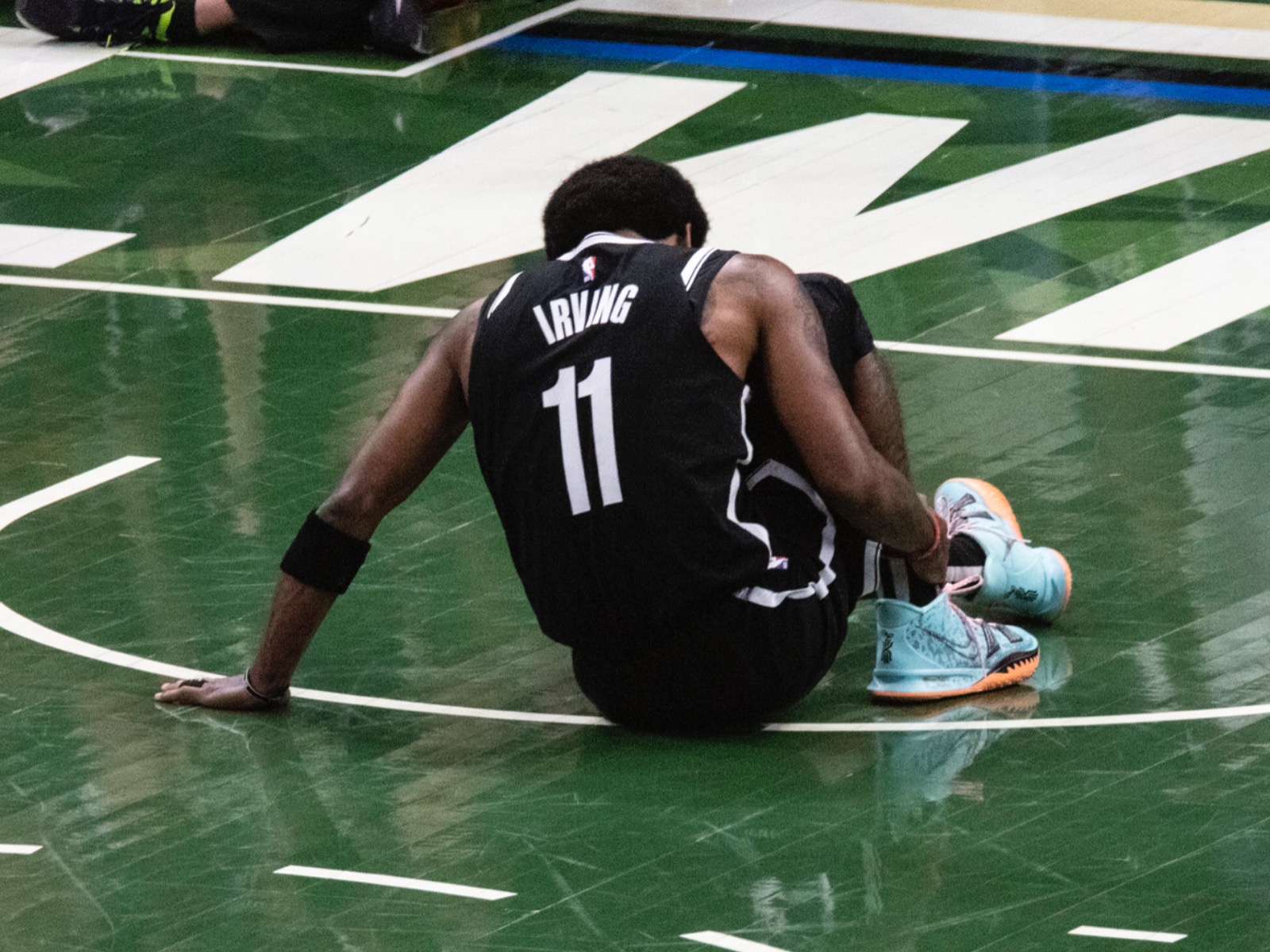 This twisty series took another drastic turn on Sunday when Kyrie Irving went down after a drive inside, bending his ankle in a manner that even made our bar full of Bucks fans cringe and gasp in horror. (Super great job by ESPN, deciding to show the stomach-churning replay from every possible angle; thanks for that!) The official verdict has yet to come in on the severity of the injury, but it certainly didn't look good, meaning the Nets may have to play on without two of their three big stars for the rest of the series. Fate seems to have put its money down on the Bucks this series ...
6. Dynamite dunk
JRUE NUTMEGGED KD 🤯

GIANNIS DUNKED ON BLAKE 😳 pic.twitter.com/l47tnEwhHv — SportsCenter (@SportsCenter) June 13, 2021
I love every part of this play. I love that an improved Jrue Holiday nutmegged Kevin Durant. I love that Giannis finally got one over on Blake Griffin and dunked him into the stratosphere. I love Giannis' celebration, hopefully previewing an increasingly aggressive and confident Greek Freak to come this series. I love that Jrue Holiday, at the end of the clip, reaches out for a Giannis high five but gets ignored, so he just high-fives himself. And I love that this play helped break the game open in the third quarter, giving the Bucks a comfortable lead that they would never give back. Here's to more of this in New York ...
7. Khash getting khomfortable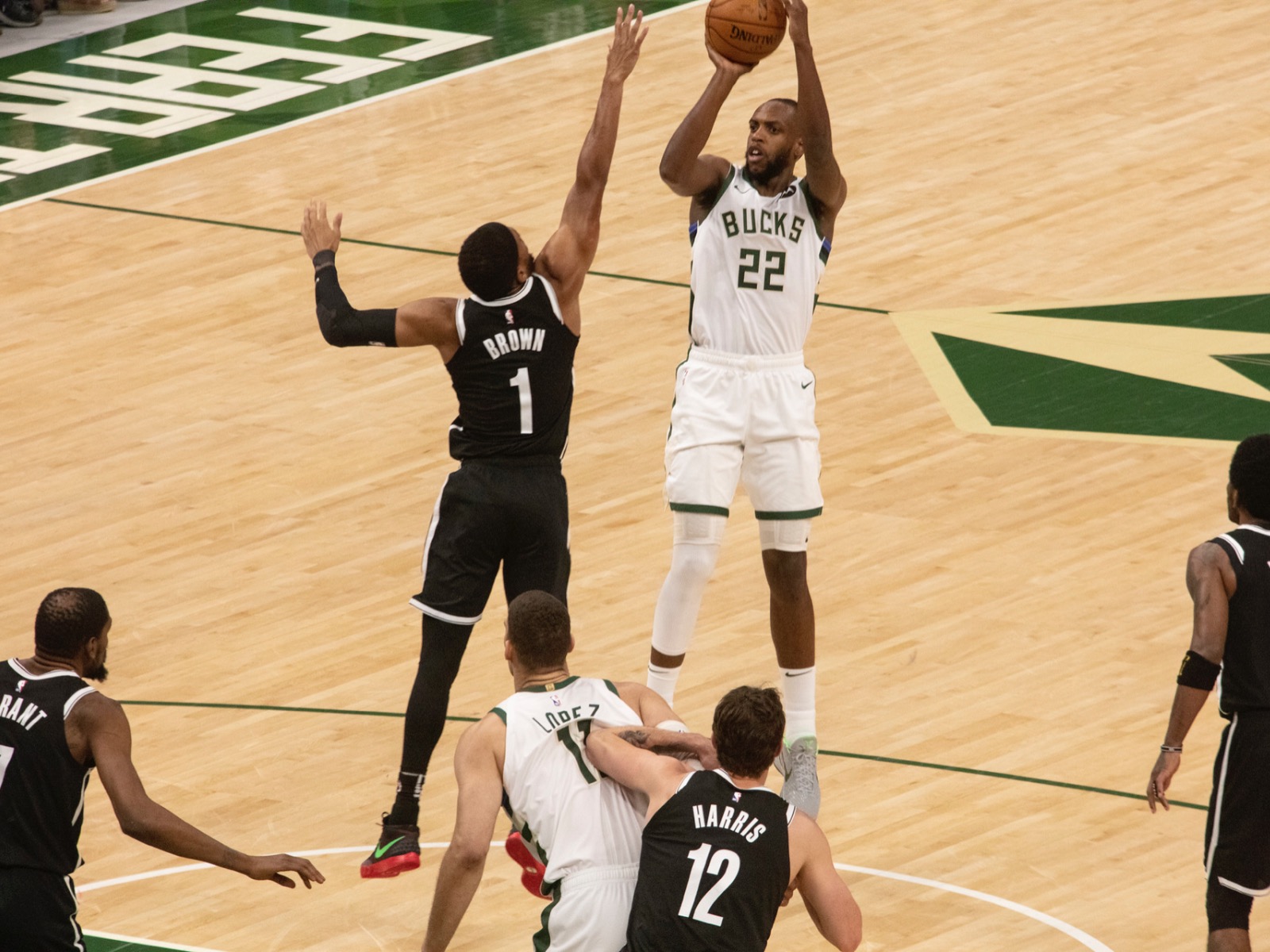 Khris Middleton took a fair beating after Games 1 and 2 after some notable disappearing acts. Credit where credit is due, though: He's returned with a vengeance, putting in 35 points in the last game and 19 critical points – plus eight assists – on Sunday. It's not the sexiest line, but each of those 19 points seemed to come at just the right time as Middleton was much better at finding his shots and getting to his spots on the court, resulting in shooting 46 percent from the field and a +17 rating for the game. The Bucks will need him to keep cashing – sorry, I mean khashing – in these strong performances if they want to put this series in the bank.
8. Playoff Pat
No foul call for Pat Connaughton on this play... pic.twitter.com/yco0J9KN2l — Bleacher Report (@BleacherReport) June 13, 2021
As you can see above, Game 4 certainly made an impact on Pat Connaughton – but the bloodied bench player returned the favor and made his impact on the critical game as well, putting in eight points, four steals, playing solid defense, pestering the Nets and overall doing his best Donte DiVincenzo impression. Even in the last win, the Bucks' bench has struggled to show up, but in Playoff Pat's case, he finally arrived on Sunday – though his bruised face may regret it.
9. The power of PJ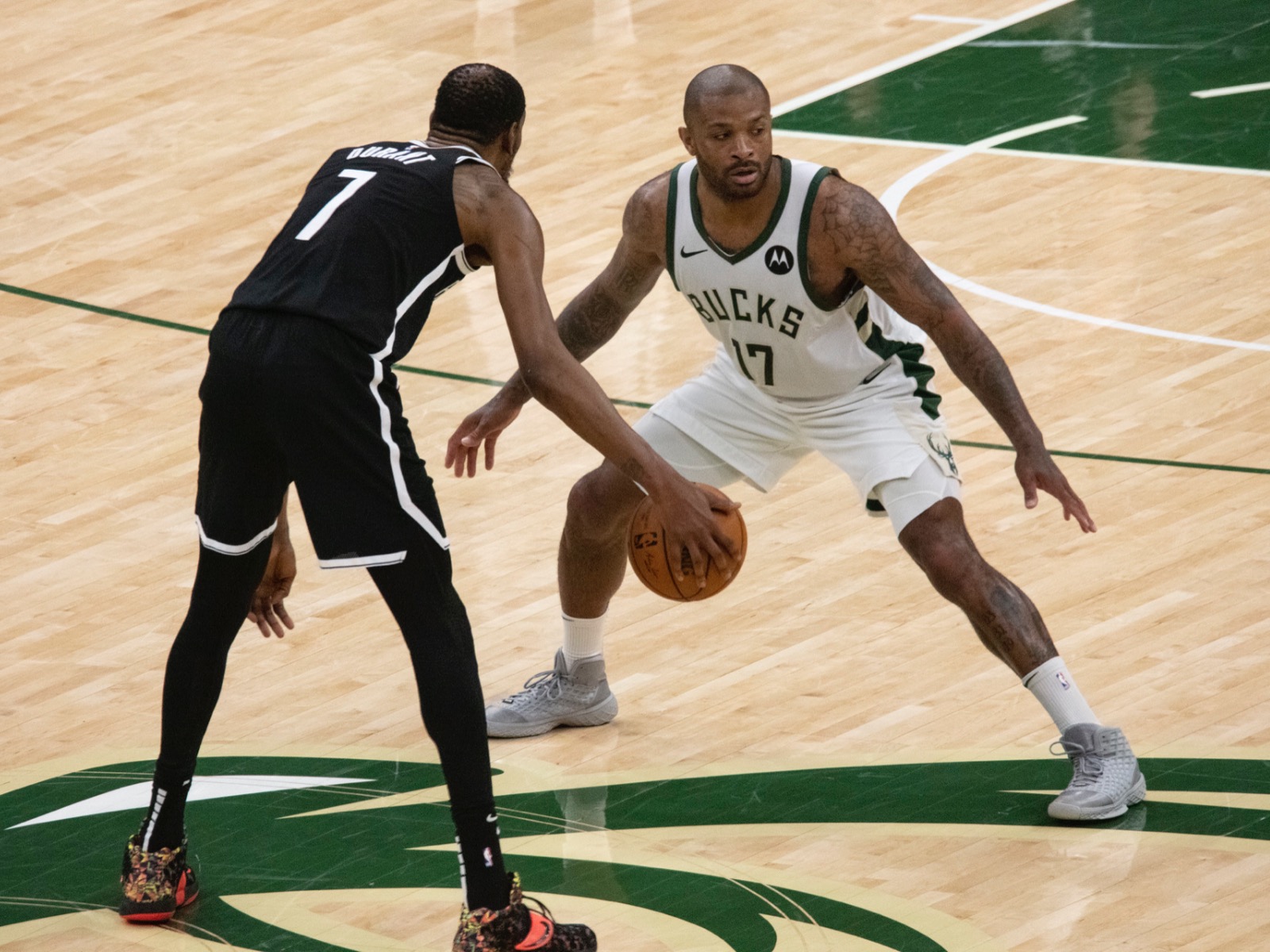 PJ Tucker may not put in the kind of box scores that look important – even in Sunday's game, 13 points and seven rebounds isn't all that eye-grabbing – but if you watched Game 4, it was obvious who the most impactful player wearing white on the court was. Tucker's battering and smothering defense kept Kevin Durant in check once again, getting key stops and bothering the Nets remaining star. Toss in a handful of clutch corner threes, and one thing's for sure: His mid-season signing was no Nikola Mirotic situation.
10. This just in: Giannis is good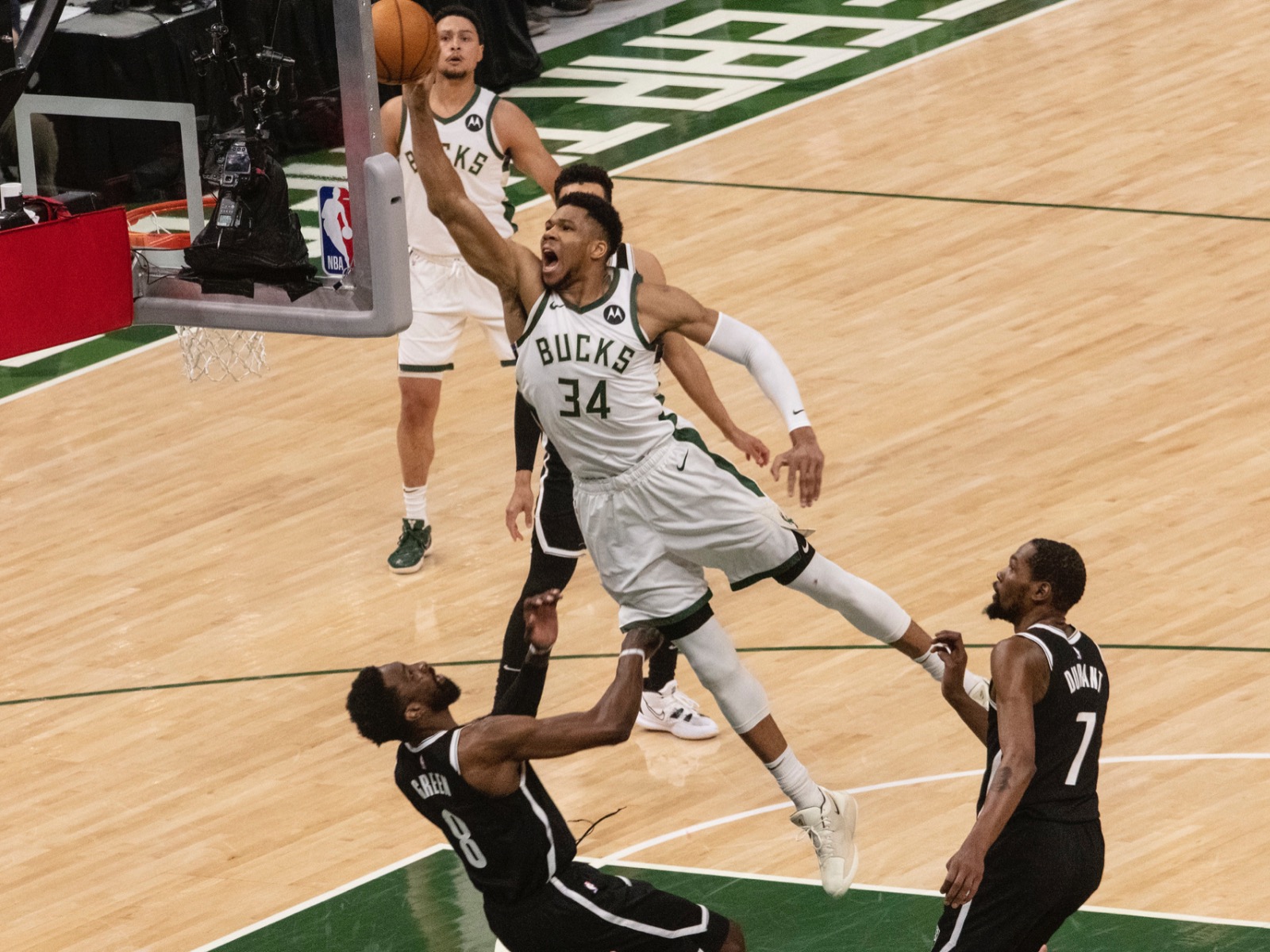 I think this play resulted in a charge call – but let me tell you: I do not care.
Would I love to see Giannis play more aggressive inside still? Sure. Is he still the engine that gets this team where they need to go? Oh absolutely – and he did exactly that on Sunday, scoring a game-high 34 points plus snagging a dozen rebounds, finally getting to the paint regularly and taking on the Nets' previously unimposing defense with power. And best of all? He only took five threes the entire game! Still probably about five too many – but progress!
11. Smooth moves
Turns out Giannis' best clutch play happened off the court ...
Great save by Giannis as he catches a fans phone that dropped as he exited to the locker room 😂pic.twitter.com/wmDmZv7Jda — ClutchPoints (@ClutchPointsApp) June 13, 2021
12. A new ballgame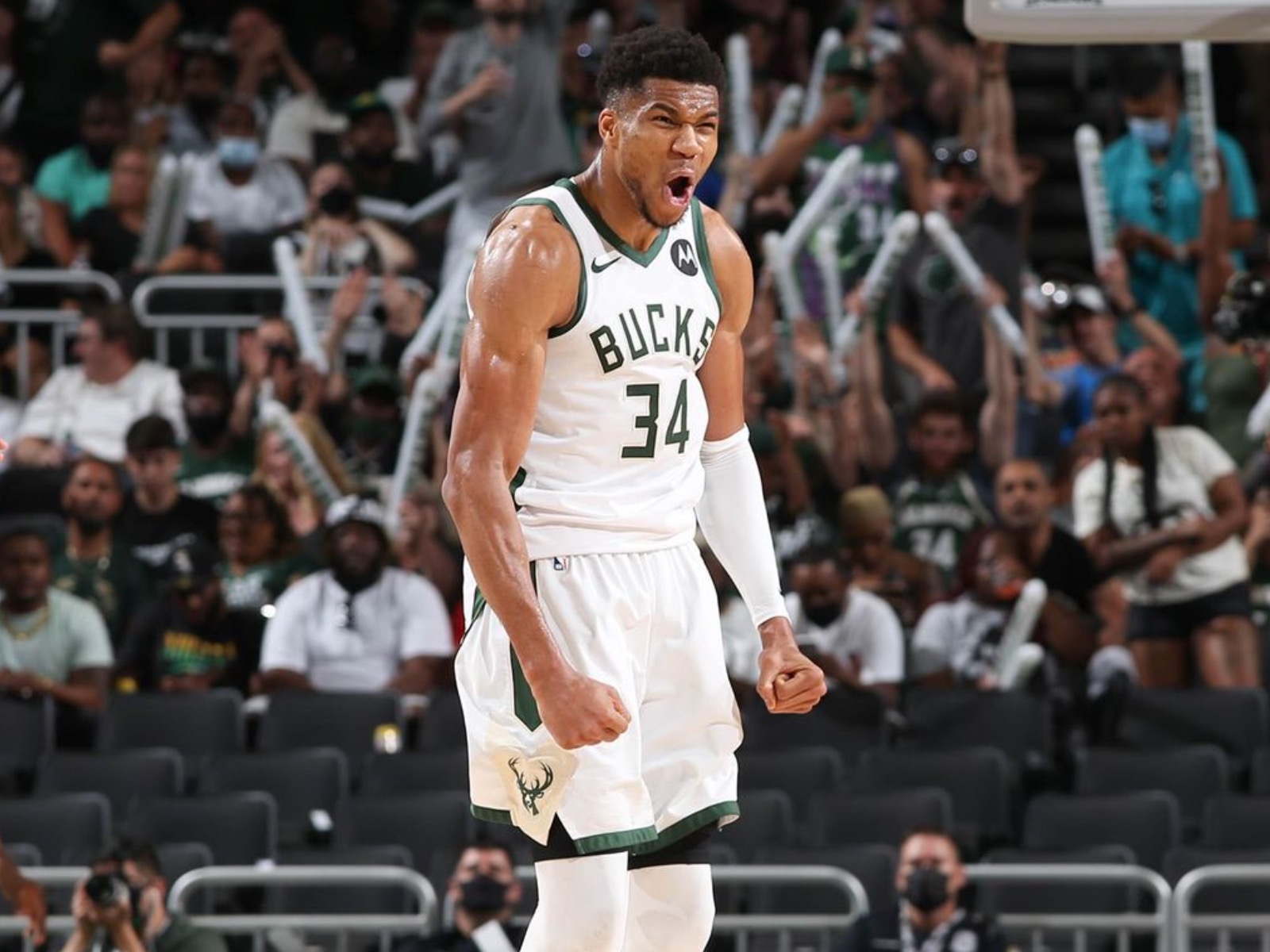 After two brutal beatings in Brooklyn, many Milwaukee fans were just hoping to not get swept and to leave this series with at least some dignity intact. They're getting much more than that, as it's now a best-of three series, with all the momentum moving over to Milwaukee after two home wins and two Nets stars potentially down for the count. Can you hear that, world? That faint but growing chant in the distance? It's saying: Bucks ... in ... six ...
As much as it is a gigantic cliché to say that one has always had a passion for film, Matt Mueller has always had a passion for film. Whether it was bringing in the latest movie reviews for his first grade show-and-tell or writing film reviews for the St. Norbert College Times as a high school student, Matt is way too obsessed with movies for his own good.
When he's not writing about the latest blockbuster or talking much too glowingly about "Piranha 3D," Matt can probably be found watching literally any sport (minus cricket) or working at - get this - a local movie theater. Or watching a movie. Yeah, he's probably watching a movie.