The new Milwaukee Bucks arena is 95 percent complete, according to team president Peter Feigin, with mostly just minor details, furnishings and final touches remaining.
And, while there were still hundreds of construction workers laboring during a media tour on Friday, with cranes, equipment, tools and boxes all over, at least one part of the Wisconsin Entertainment and Sports Center looked fully, fabulously finished.
The arena atrium, "the grand entrance," as Feigin called it, is a glassy, gleaming, multi-level, open-concept vestibule – soaring, bright white and welcoming visitors to the Bucks' world-class home.
The airy atrium, which faces east toward Downtown, will be the main entry for fans, connecting with the Live Block and entertainment plaza.
With hundreds of clear glass windows brilliantly lighting the sweeping foyer, tall columns supporting the upper levels and softly jagged-angled staircases and protruding, irregular features, it's a shimmering, revealing, futuristic-feeling and inevitably interactive space.
On the tour, Feigin said the Bucks had secured arena naming rights, though he declined to reveal a sponsor.
While showing off not only Milwaukee's large, "gold-standard" home locker room, but also the first-class visiting team's quarters, he remarked, "We want every player in the NBA to think this is a great place to play."
Feigin said it's exciting to see how the arena has advanced, but he tries not to think about it until completion. "We feel great," he said, "but we're not there yet."
The Wisconsin Entertainment and Sports Center – or whatever we'll be calling it when the Bucks finally announce naming rights – is scheduled to be finished in late-summer, and Feigin said the team is planning "something very special; we're going to blow out the opening in a really fun way for the public."
Until then, here are the latest photos of the arena: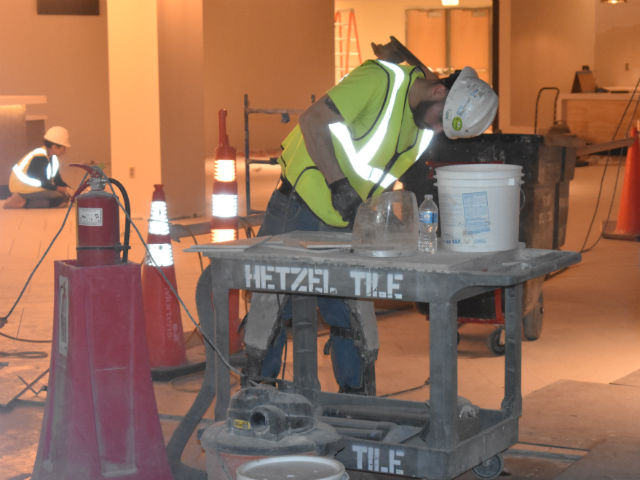 Born in Milwaukee but a product of Shorewood High School (go 'Hounds!) and Northwestern University (go 'Cats!), Jimmy never knew the schoolboy bliss of cheering for a winning football, basketball or baseball team. So he ditched being a fan in order to cover sports professionally - occasionally objectively, always passionately. He's lived in Chicago, New York and Dallas, but now resides again in his beloved Brew City and is an ardent attacker of the notorious Milwaukee Inferiority Complex.
After interning at print publications like Birds and Blooms (official motto: "America's #1 backyard birding and gardening magazine!"), Sports Illustrated (unofficial motto: "Subscribe and save up to 90% off the cover price!") and The Dallas Morning News (a newspaper!), Jimmy worked for web outlets like CBSSports.com, where he was a Packers beat reporter, and FOX Sports Wisconsin, where he managed digital content. He's a proponent and frequent user of em dashes, parenthetical asides, descriptive appositives and, really, anything that makes his sentences longer and more needlessly complex.
Jimmy appreciates references to late '90s Brewers and Bucks players and is the curator of the unofficial John Jaha Hall of Fame. He also enjoys running, biking and soccer, but isn't too annoying about them. He writes about sports - both mainstream and unconventional - and non-sports, including history, music, food, art and even golf (just kidding!), and welcomes reader suggestions for off-the-beaten-path story ideas.