Season's eatings! The weather may be getting colder, but Dining Month on OnMilwaukee is just cooking up, dishing out your winning picks in this year's Best of Dining poll. Dining Month is brought to you by Fein Brothers, your premier food service equipment and supply dealer in Wisconsin since 1929. Congratulations to all of the winners, and happy eating for all those who voted! See all the winners for the month so far here.
On Monday, the Milwaukee Bucks unveiled the new food and concession options available at the BMO Harris Bradley Center this season, and we got a behind-the-scenes first look (and taste).
BMO Harris Bradley Center Executive Chef Dave Zakroczymski was on hand to introduce the new eats, discuss the team's area partnerships and explain how the Bucks settled on some of the new concepts.
Last year, the Bucks rolled out a number of new food offerings, including buffalo cheese curd fries, Philly nachos, a kale and avocado wrap and the indulgent "Everything but the Hoop Burger," as well as new and renovated hospitality areas. This season, the Bucks focused even more heavily on local favorites and unique items that go beyond the typical stadium fare, featuring new vendors Press Waffle, Milwaukee Pretzel, Sprecher and Harley-Davidson.
In the BMO Harris Bradley Center's final season, the Bucks are also hosting a Guest Chef program to spotlight local restaurants, as well as the new Milwaukee Test Kitchen, which will roll out different concessions and rotate every 10 home games. Zakroczymski was particularly excited about the Test Kitchen serving as a kind of try-out incubator for potential future concepts that could find a home in the Bucks' new arena, opening next year.
The first culinary guest is Harley-Davidson MOTOR Restaurant Executive Chef Josh Peterson, who will bring a barbecued flavor to the BMO Harris Bradley Center for the Bucks' Halloween-night game against the Thunder on Oct. 31. Peterson and MOTOR will have bold brisket sliders – smoked in-house for 14 hours – and smoked ribs with a house-made rub and barbecue sauce.
Additionally, for dessert, fans can try the delectable cookie-dough dippers, with housemade dough, heath bar, chocolate chips and a salty pretzel stick. The Guest Chef program is available to season ticket holders in the arena's club areas, and Zakroczymski indicated other selections were being finalized, including Laughing Taco.
"It's about partnering with our community and exposing people to local food," Zakroczymski said. "The Bucks do a great job of having the live entertainment, having things to do throughout the arena. We want to draw people in so that they can enjoy that a lot more than just five minutes before tipoff. It's about having a meal, not just a snack."
Here are five new options to try at Bucks games this year:
1. Press waffles
In 2005, Aaron Rosko and Emily Thomas founded Press, a mobile food operation specializing in Belgian-style waffles, and they quickly found success as a food truck at area events, especially the Tosa Farmer's Market. Now Press will have a home at the BMO Harris Bradley Center, where its beloved waffles will be available on the 200 Level near the Kohl's Gate.
"Press waffles are unlike anything you've ever tried," Zakroczymski said. "It's not that typical dense batter; it's a light, airy brioche-bread dough." Some of the mouthwatering Press waffle options include plain with powdered sugar; Nutella with strawberries and whipped cream, caramel and chocolate sauce; and a local goat cheese waffle topped with fresh bacon bits.
2. Street tacos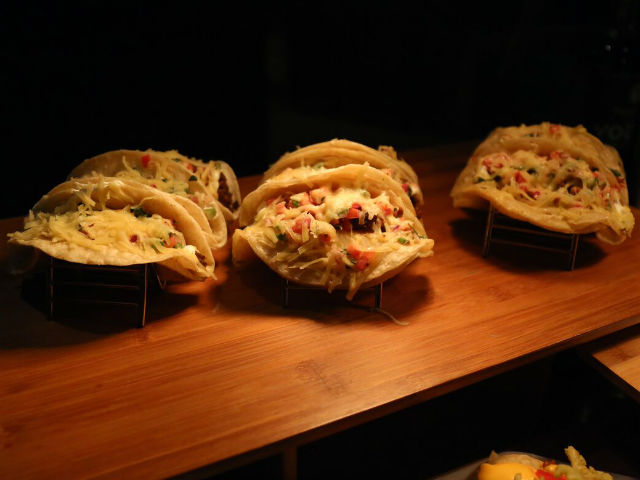 Following in the footsteps of Miller Park's popular J. Agave specialty tacos, the Bradley Center this year will feature food truck-style tacos, as part of the MKE Test Kitchen.
Among the choices will be a chorizo street taco ("who doesn't like chorizo?" Zakroczymski said), as well as a barbecued pulled chicken and ground beef. All of the tacos are topped with pico de gallo, Chihuahua cheese and a little bit of crème.
3. New nachos
For far too long, sports fans suffered the blandness of ordinary stadium nachos. Zakroczymski and the Bucks have decided to change that with their new nacho concepts. Choose the pulled smoked brisket with Monterrey Jack creamy cheese sauce, topped with crispy fried onions and served on homemade potato chips, or try the polled pork on chips with creamy coleslaw, nacho cheese and a crispy fried jalapeno, "for a kick."
Or go the sweet route with dessert nachos (above), featuring a fried flour tortilla tossed with cinnamon sugar and topped with Cedar Crest ice cream, caramel and chocolate sauce.
4. Sprecher floats
Partnering with another local beverage company, the Bucks now offer Sprecher Root Beer and Orange Dream floats. Fresh Sprecher soda will be on tap at the arena, and the floats will be made with Cedar Crest soft serve ice cream.
5. Bavarian pretzels
Continuing to embrace the city's German heritage, all of the pretzels at the BMO Harris Bradley Center will be Bavarian-style from Milwaukee Pretzel Co. The giant German pretzels come with a special stout mustard that's made in-house, and Zakroczymski called it comfort food done high-class and Milwaukee style, engendering "warm feelings" with "local flavors."
And, to celebrate Giannis Antetokounpmo, Zakroczymski said his team would be collaborating with the Greek Freak on a gyro-themed partnership in the future that fans will be very excited about.
Born in Milwaukee but a product of Shorewood High School (go 'Hounds!) and Northwestern University (go 'Cats!), Jimmy never knew the schoolboy bliss of cheering for a winning football, basketball or baseball team. So he ditched being a fan in order to cover sports professionally - occasionally objectively, always passionately. He's lived in Chicago, New York and Dallas, but now resides again in his beloved Brew City and is an ardent attacker of the notorious Milwaukee Inferiority Complex.
After interning at print publications like Birds and Blooms (official motto: "America's #1 backyard birding and gardening magazine!"), Sports Illustrated (unofficial motto: "Subscribe and save up to 90% off the cover price!") and The Dallas Morning News (a newspaper!), Jimmy worked for web outlets like CBSSports.com, where he was a Packers beat reporter, and FOX Sports Wisconsin, where he managed digital content. He's a proponent and frequent user of em dashes, parenthetical asides, descriptive appositives and, really, anything that makes his sentences longer and more needlessly complex.
Jimmy appreciates references to late '90s Brewers and Bucks players and is the curator of the unofficial John Jaha Hall of Fame. He also enjoys running, biking and soccer, but isn't too annoying about them. He writes about sports - both mainstream and unconventional - and non-sports, including history, music, food, art and even golf (just kidding!), and welcomes reader suggestions for off-the-beaten-path story ideas.