The Eastern Conference Finals between the Bucks and the Toronto Raptors was teased and promoted as Giannis versus Kawhi. Game 1 ... wasn't quite that, but Bucks fans won't complain as the hometown team scored the first win of the series, 108-100, in a messy, intense and exciting first round.
Let's marinate in the hard-earned victory just a little bit longer by gazing at these 11 images from inside and outside Fiserv Forum during the Bucks' Game 1 win.
1. Mural mural, on the wall ...
From dying the river green to plastering "Fear the Deer" on as many surfaces as possible, Milwaukee has been resplendent in Bucks playoff spirit. But somehow the best was yet to come – "the best" being this terrific, colorful and awesomely eye-catching mural in Walker's Point, facing Reed Street Yards. Giannis may the MVP on the court, but Milwaukee artist David Mark Zimmerman – aka Bigshot Robot – is definitely the MVP off it.
2. Brew City showed up
Bucks fans herded to Deer District Wednesday night, representing the city well during TNT's pregame coverage outside Fiserv Forum while the fans inside certainly made their voices heard during the game. The only thing missing? An official "Deer Garden" label. The nickname's sticking; make it happen, Bucks!
3. But tell us how you really feel ...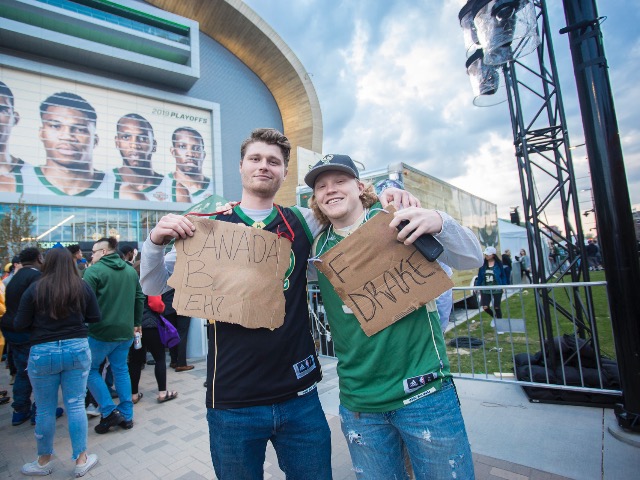 The Drake hate isn't limited to just local radio stations. Canadians may be notoriously friendly, but Milwaukee doesn't look like they're being nice back. (Nice for what?)
4. Party animals
While TNT's producers may be upset with the lack of cheeseheads in the crowd to dutifully cut to, there's no lack of funky Bucks headwear. Take, for instance, these four fans and their probably very confused dog. Ain't no rule that says a dog can't enjoy basketball!
5. Built to give away swag
Built to stay. Built to advance. Built to contend. If this postseason run continues on – and please, please, please keep it going, basketball gods – the Bucks are eventually going to run out of room on their giveaway shirts for all the mottos. They're going to eventually going to have to move from T-shirts to muumuus to make space.
6. Giannis versus Kawhi
All the lead-up to the Eastern Conference Finals was about the battle of the titans: Greek god Giannis against Kawhi Leonard, the King of the Bounce. And while both players showed up – the Greek Freak racked up 24 points and 11 rebounds, while the Raptors star put up 31 points – both struggled. Giannis had to cope with Toronto's defense clogging the lane with piles of limbs anytime he tried to drive; Kawhi seemed to tire as the game went along (no one would blame him; the team's been on his back for two series now) and didn't score in the decisive final frame. In the end, neither one ended up being the story of Game 1.
7. The Kyle Lowry Game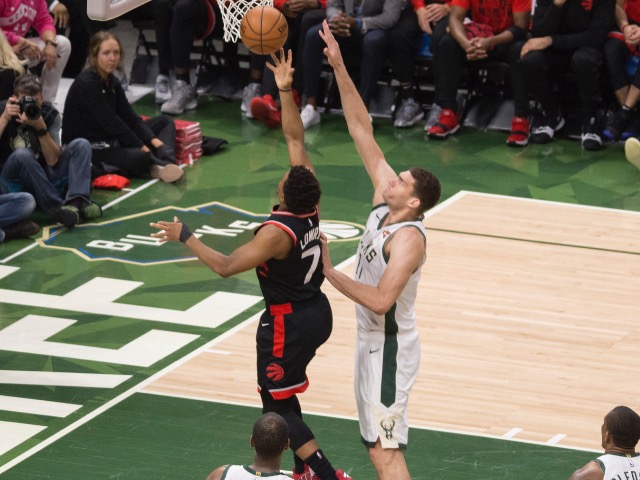 What better way to kill off your reputation as a playoff choke artist than to start a massive series by punching in a postseason career-best game? The Raptors' much-maligned point guard splashed in seven threes and 30 points, seemingly scoring every time the Bucks were creeping back into the game. When the third quarter ended, the headlines were all written: This was The Kyle Lowry Game. Or so they thought ...
8. Famous(ish) faces
👋 Jeff Ament from @PearlJam is repping the Bucks at Game 1!! #FearTheDeer pic.twitter.com/IirB6iJjSc — Milwaukee Bucks (@Bucks) May 16, 2019
See, NBA! Milwaukee versus Toronto IS a sexy Eastern Conference Finals matchup! Wait until next game when we bring in Kato Kaelin, the mom from "Malcolm in the Middle" and a hologram Spencer Tracy!
9. Sorry Kyle; it was actually The Brook Lopez Game
BROOK LOPEZ MEAN MUGGIN' pic.twitter.com/Sq7L2scol1 — SB Nation (@SBNation) May 16, 2019
Brook Lopez, like most of Milwaukee's shooters, spent the first half of the game doing his best impression of Philip Seymour Hoffman in "Along Came Polly," slamming rainmakers off the backboard in ugly fashion.
And then ... that stopped.
Lopez first scored some big buckets near the hoop to get Bucks runs going, and then returned to Splash Mountain form in the fourth quarter, icing a few big threes (plus some big blocks) on his way to scoring 29 points, snatching the victory for Milwaukee, pulling out his own adorable Beaker-esque variation on Giannis's mean mug and turning The Kyle Lowry Game into The Brook Lopez Game.
10. Please clap
Brook Lopez hard clap. pic.twitter.com/XY6fsG5fEz — Cork Gaines (@CorkGaines) May 16, 2019
Congratulations, Brook Lopez; you are now a part of Milwaukee meme history. I will respond to every text message with this GIF forever – regardless of context.
11. Finally! A game!
The Bucks may have played nine times this postseason before Wednesday night, but that was the first true game Milwaukee's been in this playoff run. Every game in the past two series, even the loss, was a blowout, pretty much decided by the fourth quarter. But Game 1 was the first true taste of tense, tight, every-possession-matters playoff basketball. And considering how it ended and how the Bucks stepped up in clutch time, it tasted great.
As much as it is a gigantic cliché to say that one has always had a passion for film, Matt Mueller has always had a passion for film. Whether it was bringing in the latest movie reviews for his first grade show-and-tell or writing film reviews for the St. Norbert College Times as a high school student, Matt is way too obsessed with movies for his own good.
When he's not writing about the latest blockbuster or talking much too glowingly about "Piranha 3D," Matt can probably be found watching literally any sport (minus cricket) or working at - get this - a local movie theater. Or watching a movie. Yeah, he's probably watching a movie.