Officially, of course, the Bucks' complete evisceration of the Raptors in Game 3 of their first-round Eastern Conference Playoffs series on Thursday night began with the score tied at 0-0. It only seemed like Milwaukee started out with the 30-point lead it took midway through the second quarter and held almost the entire rest of the game, which it won easily, 104-77, in a dominant display against shell-shocked Toronto.
Indeed, from the pep rally outside the BMO Harris Bradley Center to the phantasmagoric pregame show, from the sold-out home crowd inside the arena – that was, just as guard Jason Terry predicted at practice on Wednesday, "rowdy, loud and proud," wearing their "Fear the Deer" T-shirts and delighting deliriously over every slam dunk, defensive stop and exasperated Raptors reaction – to even the garbage-time, junk-shot, last-second 3-pointer that reserve Rashad Vaughn swished to put the final nail in the coffin, this night was all Milwaukee.
It belonged especially to ascendant superstar Giannis Antetokounmpo, who had an efficiently impressive performance and was serenaded with chants of "MVP!" in the second half, but it was also shared by his teammates, the Bucks' bench, the franchise's fans and its staff. This was a total team win, a night when the future felt more owned than ever before.
At once riding the energy of the crowd and giving it something to cheer about, Milwaukee – a team that feeds off emotion and gets amped up for the biggest games – raced out to a 9-2 lead, forcing a Toronto timeout that would prove utterly futile to solving any of its portending problems. With guard Khris Middleton breaking out of his shooting slump to hit his first four shots, rookie center Thon Maker grabbing rebounds and jamming on Raptors and Antetokounmpo hitting 3-pointers from 28 feet away, the Bucks went up by 20 in the first quarter and never looked back.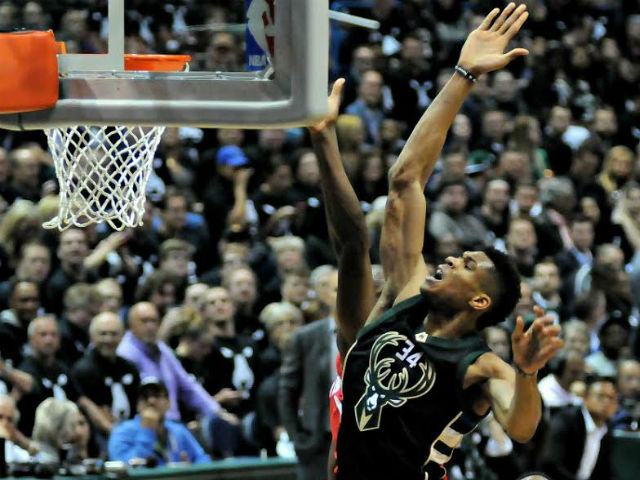 In the second quarter, backup center Greg Monroe entered and ran a low-post clinic on Toronto's overmatched big men, scrappy guard Matthew Dellavedova hit some shots and got on Raptors star Kyle Lowry's nerves, and Milwaukee's lead grew to nearly 30 points. At the break, the halftime entertainment was a man stacking, climbing up and balancing on a tower of chairs, the Cream City Clash fan section was exultant and a man nearby remarked that Toronto "may as well just get on the bus and go back to the hotel."
The Raptors didn't, but they might as well have. The third quarter was more of the same, as Antetokounmpo and the starting group built the lead up to 34, beating up Toronto without giving in to its increasingly chippy frustrations. Antetokounmpo, who came into the game averaging 26.0 points in the series, scored 19 and added eight rebounds, four assists, two blocks and two steals in 33 focused minutes.
Middleton, who'd missed 19 of 29 shots the first two games, made 8 of 15 on Thursday for 20 points, and he added seven assists. Maker scored 11 points, with a 3-pointer and a couple dunks, again making his presence felt on defense.
The second unit didn't miss a beat. Monroe heard "Moose" chants and seemed to thrive on the adulation, finishing with 16 points and seven rebounds in 23 impactful minutes. Forward Michael Beasley, who'd played only six minutes in the first two games, got 20 and scored 13. Dellavedova hit 4 of 5 shots, including both his 3-point attempts, and helped frustrate Lowry.
Guards Malcolm Brogdon, Tony Snell and Middleton all helped force Raptors star shooting guard DeMar DeRozan into one of the worst games of his career, an 0-for-8 shooting night and eight points for a player who averaged 27 during the season.
Afterward, typically understated head coach Jason Kidd said he couldn't take credit for the Bucks' comprehensive display, praising their defensive effort and how they shared the ball on offense.
"I thought, one, the fans were great here at home, giving us the support from start to finish," he said. "And I thought the guys executed the game plan for 48 minutes. It only counts for one in the win column, so understanding that we know they're going to come back Saturday afternoon ready, just like after Game 1. But I thought the guys did everything we prepared them to do."
Sixth-seeded Milwaukee leads third-seeded Toronto in the series, two games to one, in the process probably making the rest of the league do a double-take at the lopsided result from Thursday night. Game 4 is set for Saturday at 2 p.m. at the BMO Harris Bradley Center and should be much more competitive. The Bucks, and their fans, now know what they're capable of doing: making opponents Fear the Deer.
Born in Milwaukee but a product of Shorewood High School (go 'Hounds!) and Northwestern University (go 'Cats!), Jimmy never knew the schoolboy bliss of cheering for a winning football, basketball or baseball team. So he ditched being a fan in order to cover sports professionally - occasionally objectively, always passionately. He's lived in Chicago, New York and Dallas, but now resides again in his beloved Brew City and is an ardent attacker of the notorious Milwaukee Inferiority Complex.
After interning at print publications like Birds and Blooms (official motto: "America's #1 backyard birding and gardening magazine!"), Sports Illustrated (unofficial motto: "Subscribe and save up to 90% off the cover price!") and The Dallas Morning News (a newspaper!), Jimmy worked for web outlets like CBSSports.com, where he was a Packers beat reporter, and FOX Sports Wisconsin, where he managed digital content. He's a proponent and frequent user of em dashes, parenthetical asides, descriptive appositives and, really, anything that makes his sentences longer and more needlessly complex.
Jimmy appreciates references to late '90s Brewers and Bucks players and is the curator of the unofficial John Jaha Hall of Fame. He also enjoys running, biking and soccer, but isn't too annoying about them. He writes about sports - both mainstream and unconventional - and non-sports, including history, music, food, art and even golf (just kidding!), and welcomes reader suggestions for off-the-beaten-path story ideas.