Thursday night's exhausting, excruciating, close-but-not-close-enough, season-ending loss surely still stings for the Bucks, who came back from 25 points down in the third quarter to take a late lead but ultimately fell just short in their Game 6 playoff defeat to the Raptors.
It's difficult to determine what, exactly, to take away from such a display. Before the contest, I said that a Milwaukee loss, on the home floor in front of its charged-up crowd in a do-or-die elimination game, would represent a postseason disappointment, even a failure, given the 2-1 series lead the team held a week ago. And when the Bucks looked as lifeless as they did for two-thirds of the game Thursday night, that seemed like a reasonable view.
But then Giannis Antetokounmpo, Khris Middleton, Matthew Dellavedova, Jason Terry and Greg Monroe – almost by themselves – stormed all the way back. When Antetokounmpo stood, hands on his knees, desperately trying to catch his breath as the BMO Harris Bradley Center resounded with encouraging chants of "MVP!" in the fourth quarter, it was hard not to feel like the Bucks and their revitalized fan base were having a franchise turning-point moment. Milwaukee lost the game, of course, but the enervated team received an enthusiastic ovation and proud "Milwaukee! Milwaukee!" cheers from the crowd, instilling a sense of accomplishment and appreciation.
Afterward, head coach Jason Kidd said it was a growth experience for his young and still-developing team. Players talked about being proud of each other for fighting, that this was another positive step along their journey. Antetokounmpo, the unquestioned leader and subject of immense national attention thanks to his remarkable playoff performance – he scored a game-high 34 points Thursday, and averaged 24.8 points, 9.5 rebounds, 4.0 assists, 2.2 steals and 1.7 blocks for the series – heaped praise on his teammates in his press conference, while also accepting ownership of his questionable decision to take a delayed dunk with four seconds remaining, rather than attempt a tying 3-pointer.
So it's hard to say what somethings are to be gleaned from the Bucks' Game 6 defeat. By Friday morning, Antetokounmpo was posting smiling Snapchat videos on the Bucks' account, thanking the fans and expressing optimism about next season. With that positivity in mind, then, here is something I liked, something I learned and something I'm looking forward to, now that Milwaukee's 2016-17 season is over.
1. Something I liked
Can there be any other answer than the 25-point comeback? As a whole, it was obviously incredible, but there were many little parts, individual snapshots, over the final 15 minutes that were impressive. Antetokounmpo, who played 47 minutes – 98 percent of the game's total – digging deep to go to another level, a superstar level, driving relentlessly into the paint, finding open teammates and repeatedly getting to the line. Rarely do we see professional athletes – especially in the rest-conscious NBA – at their absolute most tired, looking truly human. We saw Antetokounmpo at that point Thursday, though he did his best to prove he's almost not human, and it was genuinely inspiring.
Middleton, who'd struggled the previous two games, in a shooting slump and under the weather Thursday, had nine points, four assists, two rebounds and two steals during the Bucks' comeback. His clutch 3-pointer with 4:05 left got Milwaukee to within 78-77. Veterans Dellavedova and Terry showed why their signings were so important; the former for gritty, hustle plays like an acrobatic offensive rebound over two Toronto big men – plus his 12 points and four assists – and the latter for his poise and outside shooting, hitting two late 3-pointers, including one that gave the Bucks an 80-78 lead.
And the fans, who stayed in their seats and engaged despite the huge second-half deficit, were phenomenal. They cheered at the right times, pressured the referees and provided a legitimate home-court advantage down the stretch."I was extremely tired, but I was just motivated by my teammates and the fans, the crowd," Antetokounmpo said afterward. Terry added, "What a tremendous atmosphere and environment they had in here throughout the playoffs."
2. Something I learned
This game didn't teach us anything we didn't already know or strongly suspect about Antetokounmpo becoming a superstar. The rest of the league has officially taken notice of the Greek Freak, who is now being talked about as a potential MVP and the future king of the Eastern Conference. What it did show us, though, is that the Bucks, as currently constructed, need a lot more help around him.
We learned on Thursday, and in the final three games of the series, that Milwaukee's supporting cast just isn't strong enough. That's not earth-shattering breaking news, nor is it terribly problematic – Middleton, the best floor-spacer on the team, was not himself; the Bucks started two rookies, Thon Maker and Malcolm Brogdon, which is encouraging for the future; and Jabari Parker, one of their (for-now) franchise cornerstones, was out injured.
But even with growth from those players, the Bucks still only have one true NBA difference-maker, Antetokounmpo, and even he almost completely resisted shooting from outside because of that weakness. At their best, Middleton and Parker are both probably third-best players on a championship team; Maker, at 20, showed tremendous promise and could blossom into a blue-chip player. But Milwaukee won't win its first playoff series since 2001 if it's playing guys like Dellavedova, Terry and Monroe down the stretch in an elimination game.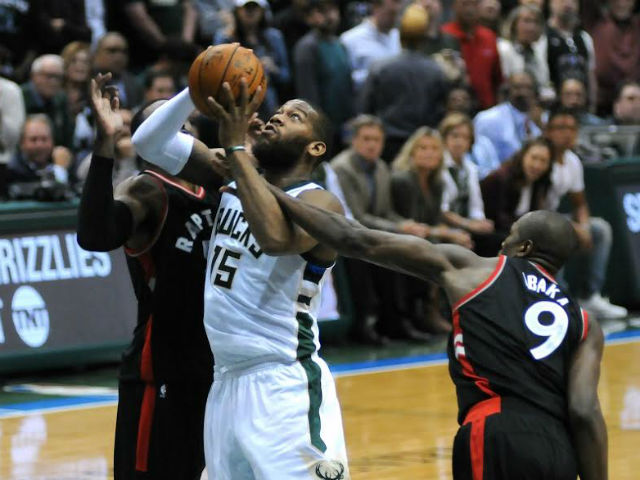 3. Something I'm looking forward to
Where to start? Antetokounmpo's continued development. Parker's knee rehabilitation. The improvement of Maker and Brogdon. A full season of Middleton. Kidd's next eager and animated press conference.
Some questions: Will Monroe opt out of the final year of his contract at $18 million? Will the Bucks trade reserve center John Henson? Will Milwaukee draft another raw, talented prospect like Maker, or an experienced, early-impact college player like Brogdon? Will they extend an offer sheet to quietly efficient 3-and-D wing Tony Snell? Will 2015 first-round pick Rashad Vaughn become anything? Will Milwaukee make a splashy free-agent signing? Can the Bucks be a consistently above-.500 team all season next year, and will they finish in the top four in the East?
Basically, does this team, which has done so well to brand itself, generate excitement around the city and cultivate young talent, make the leap to true contender in 2017-18? The Bucks say the future is now; we will see.
Born in Milwaukee but a product of Shorewood High School (go 'Hounds!) and Northwestern University (go 'Cats!), Jimmy never knew the schoolboy bliss of cheering for a winning football, basketball or baseball team. So he ditched being a fan in order to cover sports professionally - occasionally objectively, always passionately. He's lived in Chicago, New York and Dallas, but now resides again in his beloved Brew City and is an ardent attacker of the notorious Milwaukee Inferiority Complex.
After interning at print publications like Birds and Blooms (official motto: "America's #1 backyard birding and gardening magazine!"), Sports Illustrated (unofficial motto: "Subscribe and save up to 90% off the cover price!") and The Dallas Morning News (a newspaper!), Jimmy worked for web outlets like CBSSports.com, where he was a Packers beat reporter, and FOX Sports Wisconsin, where he managed digital content. He's a proponent and frequent user of em dashes, parenthetical asides, descriptive appositives and, really, anything that makes his sentences longer and more needlessly complex.
Jimmy appreciates references to late '90s Brewers and Bucks players and is the curator of the unofficial John Jaha Hall of Fame. He also enjoys running, biking and soccer, but isn't too annoying about them. He writes about sports - both mainstream and unconventional - and non-sports, including history, music, food, art and even golf (just kidding!), and welcomes reader suggestions for off-the-beaten-path story ideas.