The NBA playoffs are back in Brew City, and after two impressive showings in Canada, splitting their series with the Toronto Raptors, there's actual excitement that this won't just be a one-and-done postseason trip.
After all, the Bucks – led by the best player on the court, Giannis Antetokounmpo – were fully competitive with a team many thought could knock off the defending champion Cleveland Cavaliers in a later round, two cruelly teasing missed threes away from potentially taking a 2-0 lead back to the BMO Harris Bradley Center.
Can the Bucks keep up this level of play against a more seasoned Raptors squad? Can Khris Middleton be konsistent? Which Kyle Lowry will show up? Will Bucks fans show up – and if they do, can the Bucks harness that wild home energy, or will they buck out of control? Will Jason Kidd react and keep up with the game, or will a hot Tony Snell be stuck riding the bench in favor of a lukewarm Dellavadova again? That's just a sample of the endless questions looking for answers when Game 3 tips off.
But let's ignore all of those and instead talk about celebs, hashtags and grown men in cartoon costumes dunking basketballs.
Yes, it seems apparent that the Bucks and Raptors are pretty evenly matched – but what about their respective cities, the weird stuff inside of the arenas and out? Using the very scientific method of "matching up two somewhat related things and snarking wildly about them," we here at the OnMilwaukee labs will settle what team's intangibles reign supreme. Let's tip off with ...
Famous fan
Drake vs. Mallory Edens
Full disclosure: This was originally going to be a "who's got the better famous fans" article, in line with the fan battle we wrote for the Packers-Falcons NFC Championship game. Unfortunately, to pit two teams' celebrity fans against one another, both teams require, uh, celebrity fans. And the Bucks don't have many, their most notable fan being Mallory Edens – famous for being the Bucks representative at the 2014 NBA Draft Lottery and making knuckle-dragging Cro-Magnon men on Twitter get waaaay too uncomfortably excited that she was 18 years old. She's also the daughter of one of the owners – and actually partial to the Knicks. I'd bust out the "She doesn't even go here!" card, but considering our celeb fan roster is, well, no roster, we'll take what we can get.
Meanwhile, the Raptors obviously have Drake, who serves as the team's "Global Ambassador," helped redesign the team's logo and jerseys – including a black and gold Drake alternate, because Drake – and sideline cheerleader/pest. But where were you these last two games, Drizzy? You used to call them on your cell phone ...
But even if you're not impressed by the saddest, dweebiest cool dude entertainment has to offer, the Raptors also have the coolest cool dude in show business in their corner: Samuel L. Jackson. Wait ... again? Dammit, why do we always have to be against Jules Winnfield's team? Anyways, apparently Jackson's been a fan for a while – and not just because he carried around a Raptors bag in "Jackie Brown." Maybe it's because he's in Toronto a lot filming the 27 movies he stars in every year.
Either way, Raptors win – though give Giannis and the Bucks a few more years of showing up in the spotlight, and this might become a tighter race.
Point: Toronto Raptors
Everyday fans
Nav Bahtia vs. Cream City Clash
But who cares about those hoity-toity celebs. What of the hoi polloi, the everyday man turned superfan in the seats? In Toronto, there's Nav Bahtia, a season ticket holder ever since 1995 whose loud chants and on-court agitating abilities have earned him a New York Times profile, cult favorite status in Canada and a role as center Jonas Valanciunas' unofficial English coach/dad.
Meanwhile, the Bucks' most famous fan is actual several fans: the Cream City Clash (formerly Squad 6, Sector 7 and, I don't know, Precinct 11?). Now, numbers would seemingly give the edge to the crowded Area 54 section rather than Nav's lone wolf act – but one hundred points docked from Municipal County 00 for harassing former Buck Zaza Pachulia in his first game back in town in a Mavs jersey to the point the Bucks official Twitter had to apologize. Poor form, Longitude 43.0389 N, Latitude 87.9065 W.
Point: Toronto Raptors
Mascot
The Raptor vs. Bango
Going into this article, I thought Bango had this category in the bag. Whether soaring off a trampoline or a friggin' ladder for a sweet dunk, Bango's always been one of the low-key finest mascots in the game. His fellow mascots recognized his greatness, though, voting Bango the 2010 Mascot of the Year at their annual meeting at the NBA Mascot Conference. Yes, this is a real thing – one that Toronto's mascot has never won.
Plus, the Raptors' mascot doesn't have a name; it's just "The Raptor," which is the equivalent of naming your dog "Dog." What could The Raptor possibly do to impress ...
... I'm listening.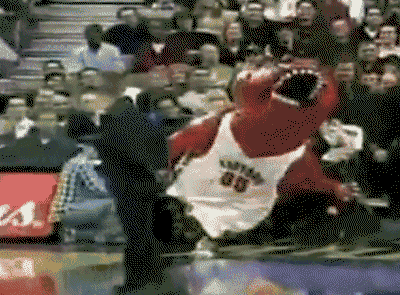 Oh, Mr. Raptor, you sly dog. I never knew how much I wanted to watch a deflating prehistoric creature on roller-skates dissolve into the ground until this moment – and now it's all I want to put in my eyeholes. Has somebody set this to the "Jurassic Park" theme? Somebody needs to do this. It would instantly become the second best "Jurassic Park" movie.
However, last we checked on The Raptor, he was dropping a fan's newly won flatscreen TV down the arena stairs. I don't care if it's just a stunt – it's surely just a stunt – that's some cold-blooded business there, Raptor. The team better have given that fan two flatscreen TVs. No, three. That fan's living room should look like that bearded philosophy dude's room in "The Matrix Reloaded."
Point: Milwaukee Bucks
Motto
"We The North" vs. "Fear the Deer"
I'm tempted to dock the Bucks points because they have two catchphrases: #OwnTheFuture when the team is bad and #FearTheDeer when the team is good. I don't like that kind of catchphrase hedging. But Fear the Deer is so great. It manages to make a team named after polite, cute grass-nibblers – creatures blessed with the temperate ferocity to aggravate Louis C.K., ruin "The Ring" sequels and dumbly sprint into moving cars – sound like something aggressive and awesome ... and only slightly dorky.
Meanwhile, We The North sounds like some "Game of Thrones" cosplay nonsense, the start of a creed recited by dudes standing in a snowy field with plastic swords and wearing their grandparents' old mink coats. Plus, Toronto's not even the northern-most team in the NBA; that title belongs to the Portland Trail Blazers. So more like We Pretty North.
Point: Milwaukee Bucks
Old school uniform
The classic "Irish Rainbow" is a great dustily delightful look – so much so it got gracefully added to the Bucks' current look (we should never stop talking about how great the Bucks' reinvented look is). Plus, the Bucks would seem to have the edge thanks to having much more history to pick through; before their creation in 1995, Toronto only had one year of professional basketball – the Huskies – between 1946-47.
But then this weirdo beauty walks into the room ...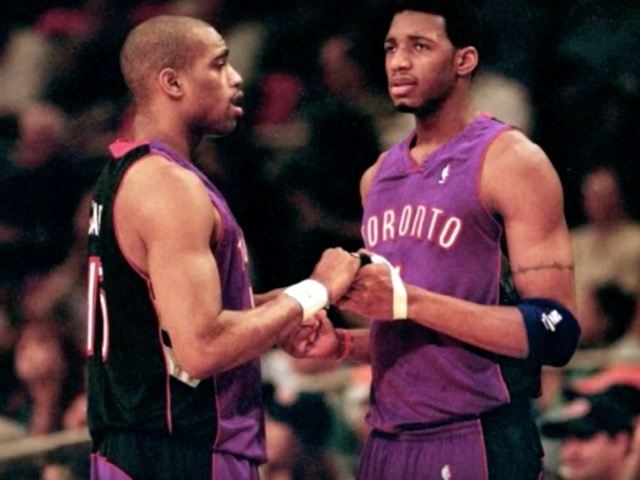 PHOTO: YouTube/Antawn Jamison
IT'S SO TACKY AND SO TERRIBLE AND I LOVE IT SO MUCH.
Why more NBA teams didn't do weird double-sided jerseys like this? Anyways, it's a truly one-of-a-kind look that I wish they'd bring back at least a few times a year. You done messed that one up, Aubrey.
Point: Toronto Raptors
Signature food
Peameal bacon sandwich vs. cheese curds
When we asked a Toronto native what the city's signature food was, he responded with "whatever's trendy, I guess." Not a great contender, there!
With a bit of research, however, I landed on something called a peameal bacon sandwich, which looks a lot better than it sounds. It's basically sliced cured pork loin bacon shoved between two slices of bread and the usual sandwich participants. So just call it a Canadian bacon sandwich, Toronto! I'd eat the hell out of something called a bacon sandwich. In fact, I want one right now. Meanwhile, peameal bacon sounds like some kind of vegan attempt at bacon that makes children cry.
But speaking of things that sound delicious: cheese curds, the most satisfying squeak to come out of the culinary world next to "Ratatouille."
Point: Milwaukee Bucks
Statue
The Bronze Fonz vs. Unfinished Sculpture
I'll admit a Milwaukee sin: I'm not in love with The Bronze Fonz. That being said, at least The Bronze Fonz is, you know, a statue. "Unfinished Sculpture," on the other hand, is rocks. Yes, all statues are essentially rocks, but "Unfinished Sculpture," located in Toronto's popular High Park, is LITERALLY just two big rocks. If I wanted to put on my art critic hat, I'd interpret it as a very vivid statement about two large rocks sitting in a park. And, I don't know, probably something about the patriarchy.
Apparently, the sculptor suffered a breakdown after receiving the boulders and didn't finish. Doesn't get much of a start either! And to think we complain about "The Calling."
Point: Milwaukee Bucks
And so, the Bucks take the off-the-court series, 4-3. Here's to the actual series ending just as successfully!
As much as it is a gigantic cliché to say that one has always had a passion for film, Matt Mueller has always had a passion for film. Whether it was bringing in the latest movie reviews for his first grade show-and-tell or writing film reviews for the St. Norbert College Times as a high school student, Matt is way too obsessed with movies for his own good.
When he's not writing about the latest blockbuster or talking much too glowingly about "Piranha 3D," Matt can probably be found watching literally any sport (minus cricket) or working at - get this - a local movie theater. Or watching a movie. Yeah, he's probably watching a movie.