This story was originally published on Oct. 27, 2017.
For an emphatically future-focused franchise – that, thanks to Giannis Antetokounmpo's colossal leaps toward superstardom, rapidly has become enchanted even with its present – the Milwaukee Bucks' "Return to the MECCA" game against the Boston Celtics on Oct. 26 was a party in the past, the ultimate Throwback Thursday.
As part of the team's season-long celebration of its 50th anniversary, the Bucks played a 2017-18 NBA game in their old historic building, on a special replica of the famed colorful floor, wearing retro classic edition uniforms and facing a longstanding rival opponent, turning back time to the 1970s and '80s, when the Milwaukee Exposition, Convention Center and Arena (MECCA) was Milwaukee's home from 1968 to '88 and hosted the best basketball this city's ever seen – perhaps until now.
On Thursday at the buffed-up UW-Milwaukee Panther Arena, the Bucks didn't play particularly well in a 96-89 loss – their offense was stagnant, with too much isolation play and too little ball movement; the defense was slow on the perimeter and overpowered inside; Antetokounmpo was merely very good, not great, and disappeared a bit down the stretch – and the game itself wasn't pretty, with arguably overzealous refereeing and a lack of up-and-down flow.
But while the on-court basketball was at-times unattractive, the basketball court itself – a replication of Robert Indiana's iconic "floor that made Milwaukee famous," which was used from 1977-88 – was strikingly vivid, the off-court atmosphere around the packed seats and teeming concourses smilingly vibrant.
It was an awesome amalgam of old and new. Longtime broadcaster Jon McGlocklin, the Original Buck who made the franchise's first basket in 1968, addressed the audience; the team's in-game entertainers and cheerleaders wore throwback outfits while tossing out the obligatory Gruber Law Offices t-shirts; vintage '70s disco and contemporary hip hop played all night; even old-school Bango was back.
Kids wearing Antetokounmpo, Jabari Parker, Brandon Jennings and Ray Allen jerseys watched highlights of Kareem Abdul-Jabbar, Oscar Robertson, Sidney Moncrief and Marques Johnson. A team that hasn't won a playoff series since 2001 reminded fans of its happy days at the MECCA, where the Bucks compiled a 582-209 record, made the playoffs 16 times in 20 seasons, captured 12 division titles and won the 1971 NBA championship. The insinuation that the current young squad could soon accomplish similar things was pervasive.
Before Thursday's game, the 67-year-old renovated arena felt its age, drafty and echoing, with Celtics guard Kyrie Irving obliviously maligning the "older court" – it was brand new and league-approved, just painted to resemble the original.
But after tipoff, the sold-out venue felt like the MECCA, intimate and engaged and emotional and loud, with its tri-level bowl of 11,000 seats seemingly right on top of the action and its capacity crowd chanting "M-V-P!" at its beloved Greek Freak, shrieking about each of Milwaukee's 20 fouls.
The leading scorer and sudden darling of the NBA, Antetokounmpo finished with 28-points, 10 rebounds, seven assists and three steals in 42 minutes Thursday, moderately constrained by difference-making Boston center Al Horford, who scored 27 of his own on 11-of-14 shooting. It was Antetokounmpo's season-low for points and field-goal percentage (47.6), though in the comparatively tame performance he still managed to become the first player in NBA history to average at least 35 points, 10 rebounds and five assists over his first five games of a season. But Antetokounmpo only scored six in the fourth quarter, when the Celtics somewhat subdued and kept him out of the lane.
Milwaukee outscored Boston, 38-28, on points in the paint, however that was far from the 50 or so the Bucks typically need inside to win. Greg Monroe was feasting down low in the first half, but after head coach Jason Kidd took him out, the backup center never really got going again, finishing with eight points in 17 minutes, part of a Bucks bench that didn't offer the needed spark. Khris Middleton and Malcolm Brogdon scored 15 points apiece – with the latter also chipping in six rebounds and five assists – while Tony Snell added 11.
But Boston outrebounded Milwaukee, 45-37, and more than accounted for the game's margin at the line, where the Celtics hit 19 off 22 free throws to the Bucks' 8 of 14. Irving didn't seem to mind the floor after all, posting 24 points in 34 minutes.
"The atmosphere was great; I thought it was everything it was supposed to be," Kidd said afterward. "It just wasn't a pretty game to watch."
After Milwaukee won in its season opener at Boston last week, the team split its four consecutive home games and now plays five of its next six on the road. Antetokounmpo still leads the league in scoring, OMG(iannis) highlight-reel plays and adoringly hyperbolic descriptions.
The Bucks' 22-year-old star who's being compared to Abdul-Jabbar talked enthusiastically about the excitement, historic honor and unforgettable experience of playing a game at the MECCA – and, really, that's what fans will remember too. It was a cool idea, a unique venue and an amazing environment; Milwaukee's management and operational staff pulled it all off remarkably well.
With their current home immediately to the north, and their future home immediately north of that, the Bucks paid unneeded-but-appreciated tribute to their past on a treasured Throwback Thursday, and they did so exquisitely. Milwaukee didn't win the game, but the night was unquestionably a success.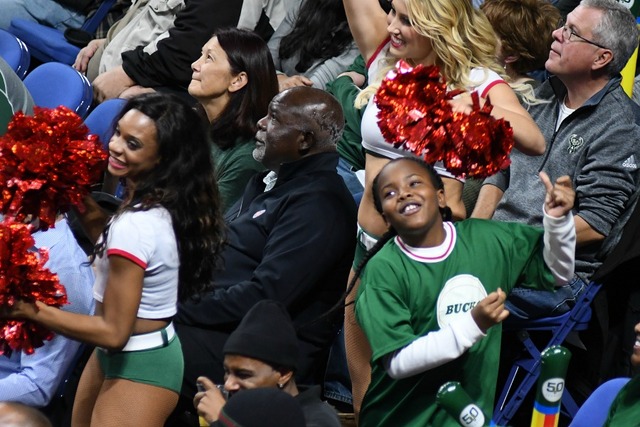 Born in Milwaukee but a product of Shorewood High School (go 'Hounds!) and Northwestern University (go 'Cats!), Jimmy never knew the schoolboy bliss of cheering for a winning football, basketball or baseball team. So he ditched being a fan in order to cover sports professionally - occasionally objectively, always passionately. He's lived in Chicago, New York and Dallas, but now resides again in his beloved Brew City and is an ardent attacker of the notorious Milwaukee Inferiority Complex.
After interning at print publications like Birds and Blooms (official motto: "America's #1 backyard birding and gardening magazine!"), Sports Illustrated (unofficial motto: "Subscribe and save up to 90% off the cover price!") and The Dallas Morning News (a newspaper!), Jimmy worked for web outlets like CBSSports.com, where he was a Packers beat reporter, and FOX Sports Wisconsin, where he managed digital content. He's a proponent and frequent user of em dashes, parenthetical asides, descriptive appositives and, really, anything that makes his sentences longer and more needlessly complex.
Jimmy appreciates references to late '90s Brewers and Bucks players and is the curator of the unofficial John Jaha Hall of Fame. He also enjoys running, biking and soccer, but isn't too annoying about them. He writes about sports - both mainstream and unconventional - and non-sports, including history, music, food, art and even golf (just kidding!), and welcomes reader suggestions for off-the-beaten-path story ideas.