I find it impossible to be mad at the Bucks right now. After all, they've given me the greatest sports memory of my entire lifetime, reached a level that few teams have and given a city a joyous summer that was previously deferred.
But these first two Finals games have been frustrating – especially last night's 118-108 loss to the Suns, putting them in a 2-0 hole. Once again, the team was seemingly within striking distance the whole game, needing just one stop or one made shot to swing momentum in their direction ... and just couldn't do it. The team's big three was just a big one, with Giannis putting in iconic work but getting literally no help from anyone else in a white uniform, wasting an all-timer performance. And, worst of all, we had to look at a lot of fanatical Phoenix crowd shots – especially during Giannis free throws, which is a storyline sports media just refuses to let die.
But as frustrating as that all is, I can't be mad. Giannis silenced the haters, we're in the NBA Finals, Milwaukee's not supposed to win these two games anyways, we're in the NBA Finals, Milwaukee's been down before and still won, and did I mention WE'RE IN THE FRIGGIN' NBA FINALS?! The series now moves to Brew City – and I say we make it a new series on the other end of these next two games.
But first, let's take one final look back at Game 2 – mainly because we shouldn't let that Giannis performance disappear from memory so soon. (The Holiday and Middleton performances, on the other hand ... )
1. Big fan
Fear the Deer @Bucks good luck in Game 2 - I'll be watching & cheering you on ! pic.twitter.com/1G2ArVgeoZ — Kareem Abdul-Jabbar (@kaj33) July 9, 2021
In fairness, Kareem's prediction wasn't wrong last night – it can't be Bucks in six without losing two games! Also: The odds of Kareem showing up for one of Milwaukee's upcoming two home games? Take that bet.
2. Coach Giannis
What would have to happen to have Coach Bud this fired up? pic.twitter.com/k1caQRoyww — Scott Grodsky (@ScottGrodsky) July 9, 2021
After coming out strong and actually winning the first quarter – THE MILWAUKEE BUCKS WON AN NBA FINALS QUARTER IN MY LIFETIME! – the Bucks were put back in their place by the Suns and their hot-shooting stars in the second. Outscored 30-16 in the frame, the Bucks' offense looked stagnant and clank-filled while their defense overhelped, giving the Suns good looks that they really didn't need considering their fiery percentages on Thursday night. It got to the point that Giannis needed to provide some fire of his own on the sideline. Unfortunately it apparently only worked for one guy in a Bucks uniform last night: himself.
3. Holiday
First, let's show something nice from Jrue Holiday on Thursday night:
Jrue chased down Book 😳 pic.twitter.com/WV2P1z2org — NBA on ESPN (@ESPNNBA) July 9, 2021
And now, for something horrific. Bucks fans, you may want to avert your eyes ...
Eric Bledsoe playoff shooting splits with the Bucks:
— 41.1 FG%
— 25.4 3P%
— 73.2 FT%

Jrue Holiday playoff shooting splits with the Bucks:
— 41.1 FG%
— 28.9 3P%
— 67.3 FT% pic.twitter.com/1PRn67M4k2 — StatMuse (@statmuse) July 9, 2021
Now those stats don't include defense, and frankly, those Bledsoe stats are lies and filled with deceit. But Holiday was pretty miserable once again these playoffs on Thursday night, putting in 17 points but on 7-of-21 shooting, once again missing a bunch of easy shots and occasionally clanking baseline jumpers off the side of the backboard. Many argued Holiday was the piece needed for the Bucks to win a championship; two games in, his offensive performances are currently losing them one.
4. The great Freak
Giannis in ATTACK mode.

15 in the 3Q for the @Bucks star on ABC#NBAFinals presented by YouTube TV pic.twitter.com/VqqOlsYQja — NBA (@NBA) July 9, 2021
One thing was for sure last night: Giannis refused to let the Bucks get embarrassed. Barely a week after nearly ending his season (and the next) with a grim knee injury, The Greek Freak put up a historic, all-timer performance on Thursday night, scoring 42 points along with 12 rebounds, four assists and three blocks. That included a third quarter truly for the ages, featuring 13 straight points and a one-man 20-point total that hasn't been seen in 25 years. He demanded the ball during this hot stretch – and by the end of it all, he demanded the league's respect.
5. Alone on the court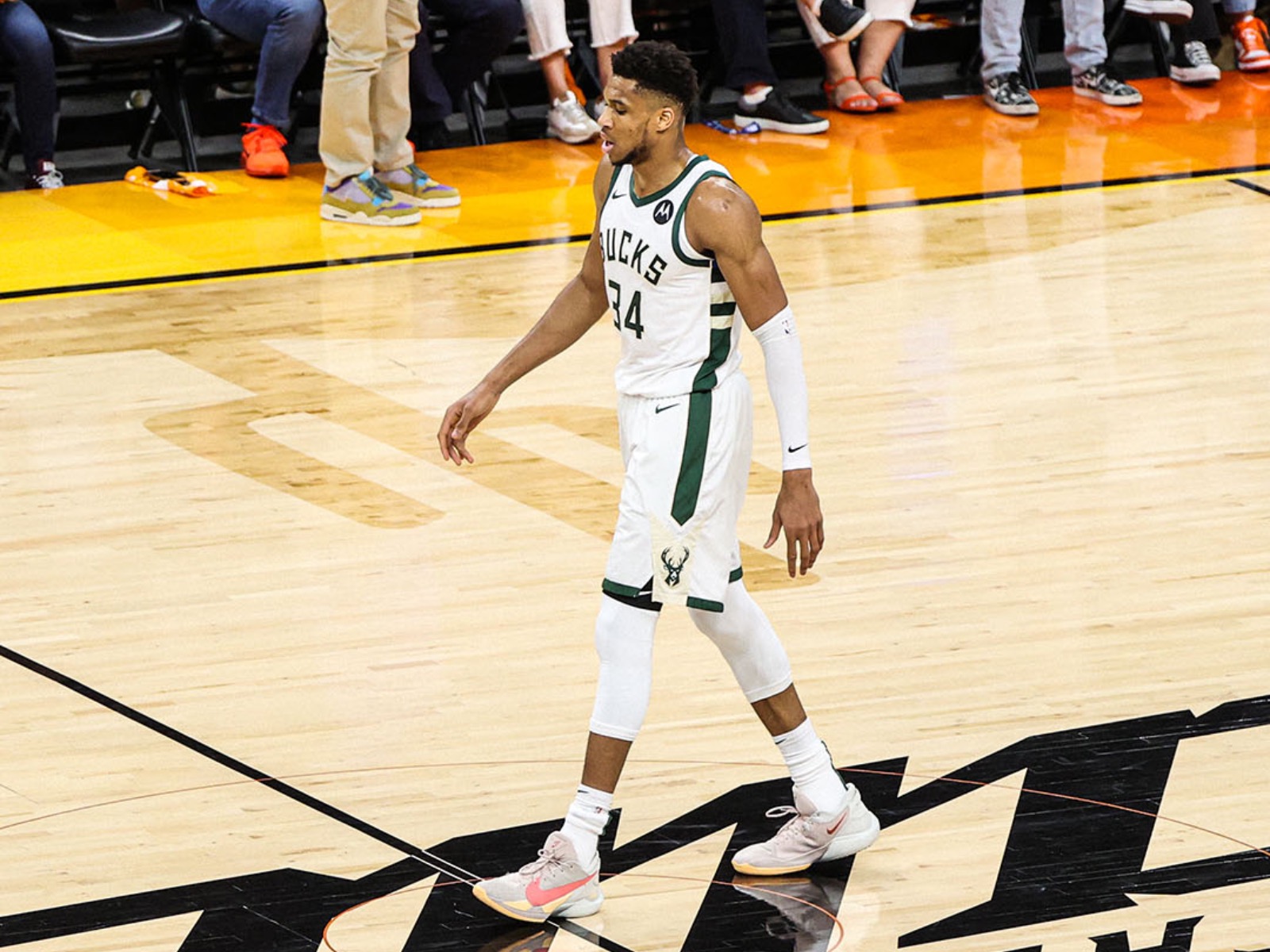 The reward for Giannis' outstanding third quarter performance in Game 2? One point. The Bucks gained one whole point on the Suns while their star player was igniting the floor, still down ten going into the fourth.
The problem? No one else on the Bucks showed up.
Holiday's received the blunt of the NBA Twitter beating, but Middleton was actually worse, only scoring 11 points on 5-0f-16 shooting and getting torched by Mikel Bridges on the other end. It was so dire that Pat Connaughton was somehow the second best Bucks player on the court at times. Thus far, Giannis is only player with a positive plus/minus rating these first two games – and we didn't even think he'd be on the court right now. The rest of his team needs to wake up – and I can't think of a better place to do it than at home.
6. The movement of the sun
This passing by the Suns 🔥 pic.twitter.com/dNlDdxhhTE — NBA TV (@NBATV) July 9, 2021
Thus far, the Bucks rarely look like they have a plan on offense, often getting stuck in predictable iso-ball positions that end with ugly, desperate shots. And then you watch the Suns, like in the possession above, and see a team moving the ball, finding open guys and finding the best possible shot. The Bucks score points, but the Suns run an offense – yes, there is a difference.
7. The dagger
"Ayton the rebound.. Paul for 3.. BANG!"@Suns up 11 under 2 to play on ABC. #NBAFinals pic.twitter.com/KYXlKAJ9Pf — NBA (@NBA) July 9, 2021
Despite Giannis being the only useful Milwaukee player on the court, the Bucks found themselves within striking distance late in the fourth, down just six with around four or five minutes to go. Unfortunately, Pat Connaughton missed an open three that would've halved the margin, and the Suns, in their way this series, hit the shot at the other end to broaden the lead once more.
But the true time of death for Bucks fans in Game 2 was this possession. Down eight with two minutes to go, the Bucks forced the Suns into a miss ... only to give up the offensive rebound. But it's OK, they got another miss ... that turned into another Suns offensive rebound. And if you give a good, smart and hot-shooting team like Phoenix three chances at a bucket, they'll take it. Chris Paul eventually hit an open three in the corner, the lead was back up to double digits and the Bucks faithful started looking ahead to Sunday.
8. Welcome to Flavortown
Now here's a highlight: Guy Fieri of Food Network/spiky haired fame getting some shots in (well, not IN considering the one we see here) after the game.
Final scene from Phoenix before the series shifts to Milwaukee — Guy Fieri bricking a mid-range jumper and then getting one splashed over him 90 minutes after the game is over pic.twitter.com/k1W938gRg6 — Anthony Slater (@anthonyVslater) July 9, 2021
Now that's a Game 2 crowd shot I actually don't mind seeing.
As much as it is a gigantic cliché to say that one has always had a passion for film, Matt Mueller has always had a passion for film. Whether it was bringing in the latest movie reviews for his first grade show-and-tell or writing film reviews for the St. Norbert College Times as a high school student, Matt is way too obsessed with movies for his own good.
When he's not writing about the latest blockbuster or talking much too glowingly about "Piranha 3D," Matt can probably be found watching literally any sport (minus cricket) or working at - get this - a local movie theater. Or watching a movie. Yeah, he's probably watching a movie.