Forget just being happy to be there. The Bucks have now more than arrived; they've won a whole, actual game – and made the Finals a real series now.
After a pair of somewhat frustrating performances in Phoenix, the Bucks returned home and showed what they can truly do, dominating the Suns 120-100 on Sunday night to cut the series deficit, 2-1. Like a happy reversal of the first two games, the Bucks actually came out of the gates a little slower in Game 3 – including a brief surprisingly early exit for Giannis minutes in the first – and lost the first quarter before turning on the jets for the rest of the game, playing smothering D on the Suns' sharp-shooting stars, getting the clutch baskets and turnovers that wouldn't come on the road, and giving Giannis enough support to lock up the game with plenty of time to spare.
And now, to do it again. But first, because this kind of thing doesn't happen all the time – and there's no guarantee it'll happen again – let's take a look back at some of the finest moments from Sunday night's historic win for Milwaukee.
1. #FearTheHeadgear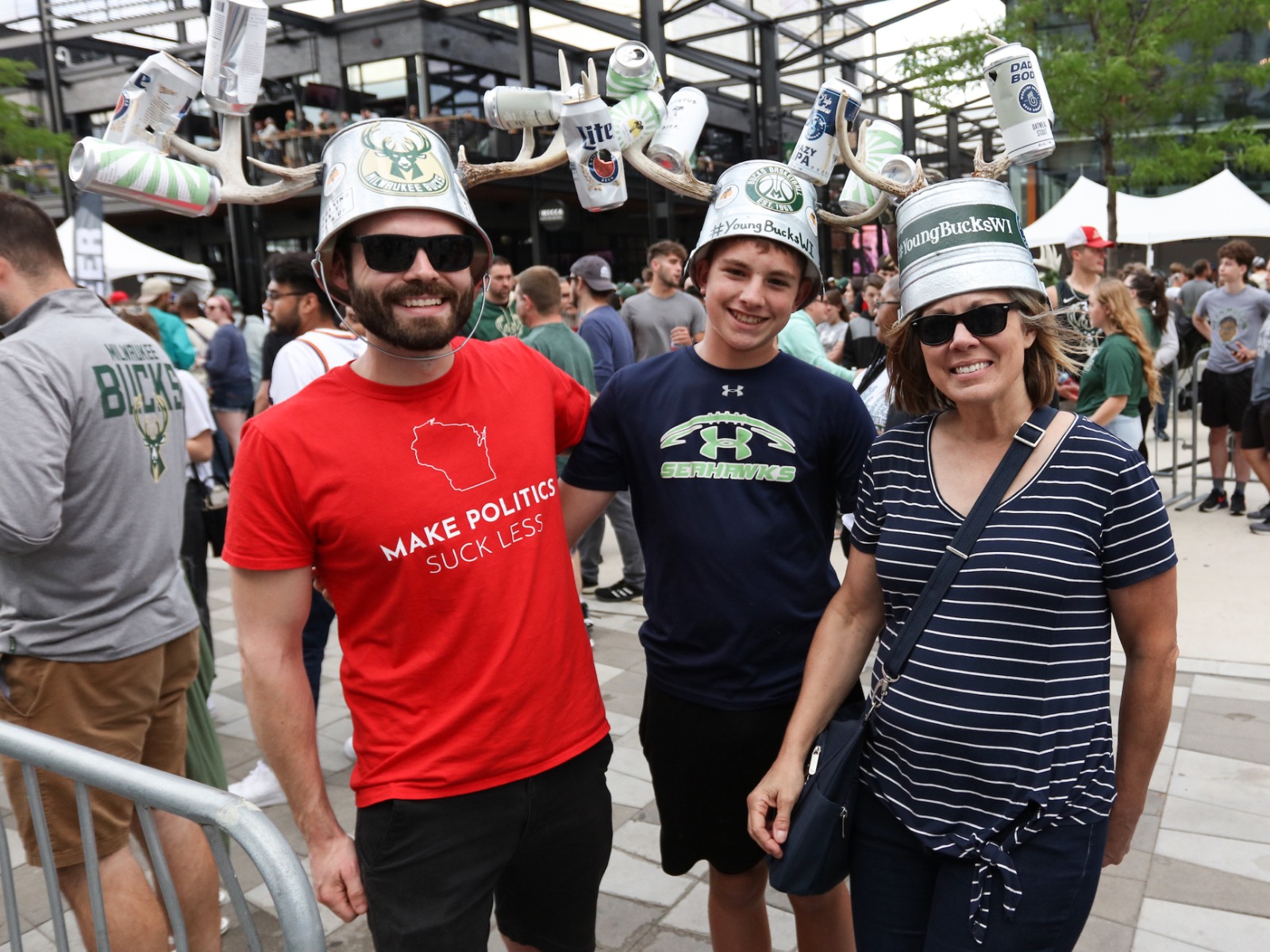 Deer District unsurprisingly showed up on Sunday night for the first Finals game hosted in the city since 1974, with crowds of people pouring into the plaza and cheering wildly for the many, many cameras covering the game. Other fans, however, went more eye-catching than ear-catching with their Bucks-stravagance, in particular these headgear-rocking heroes who might've been the most stylish fans in the joint.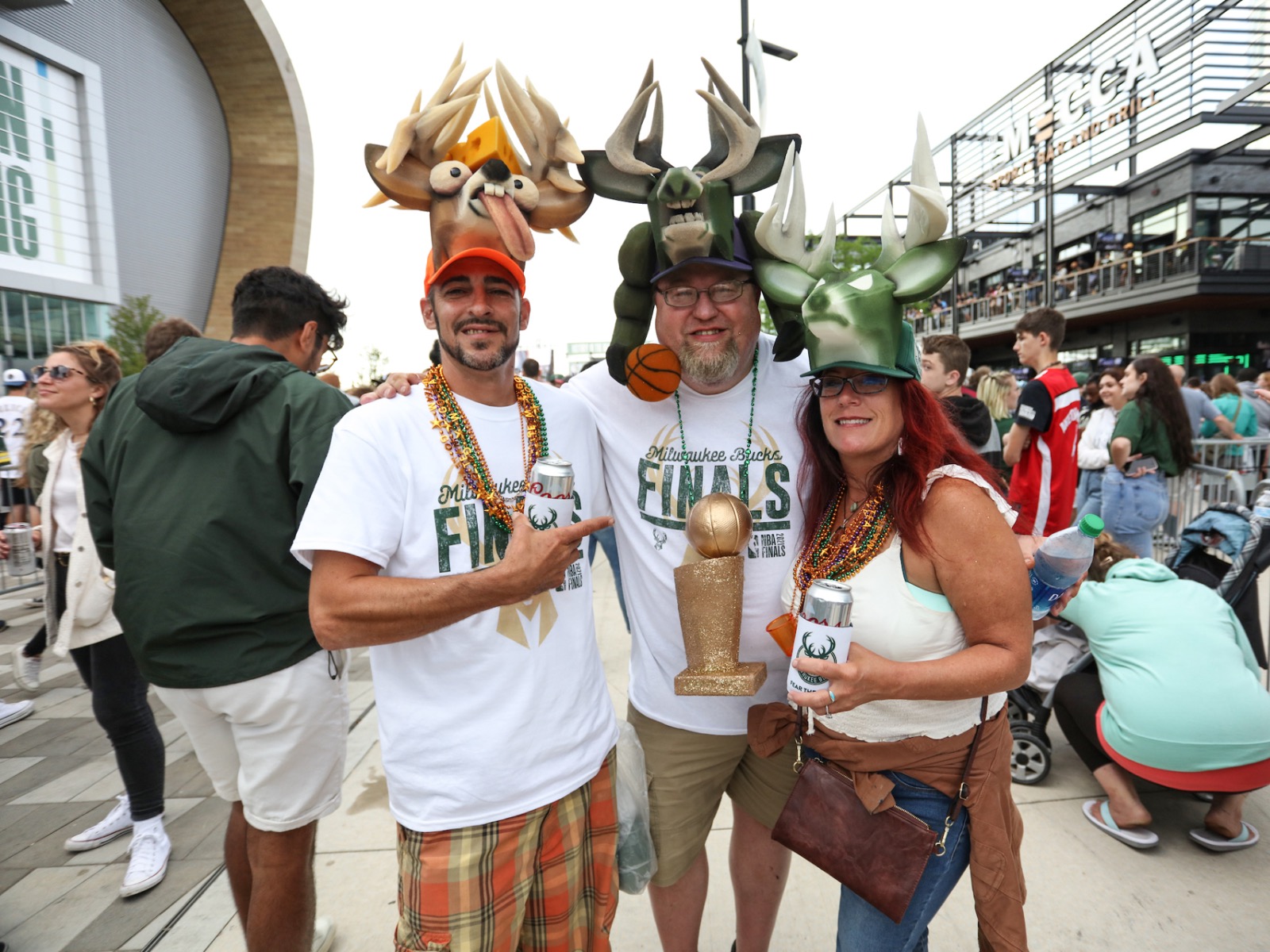 God help whoever had to sit behind them, though.
2. Cold take
As you were warned, "First Take" star Stephen A. Smith came out to Milwaukee for Game 3, covering the game inside the arena for ESPN. But first, he had some frosty takes on the notoriously "terrible city."
Terrible City… pic.twitter.com/a15MGyMst7 — Zack (@zpass18) July 11, 2021
In what world is 100-degree weather preferable to a 70-degree day? Anyways, during the pregame broadcast, Smith also proclaimed that he was indeed in Milwaukee, petition or not – so while the online Brew City blockade may not have worked, it did get his attention.
3. Famous faces in Fiserv Forum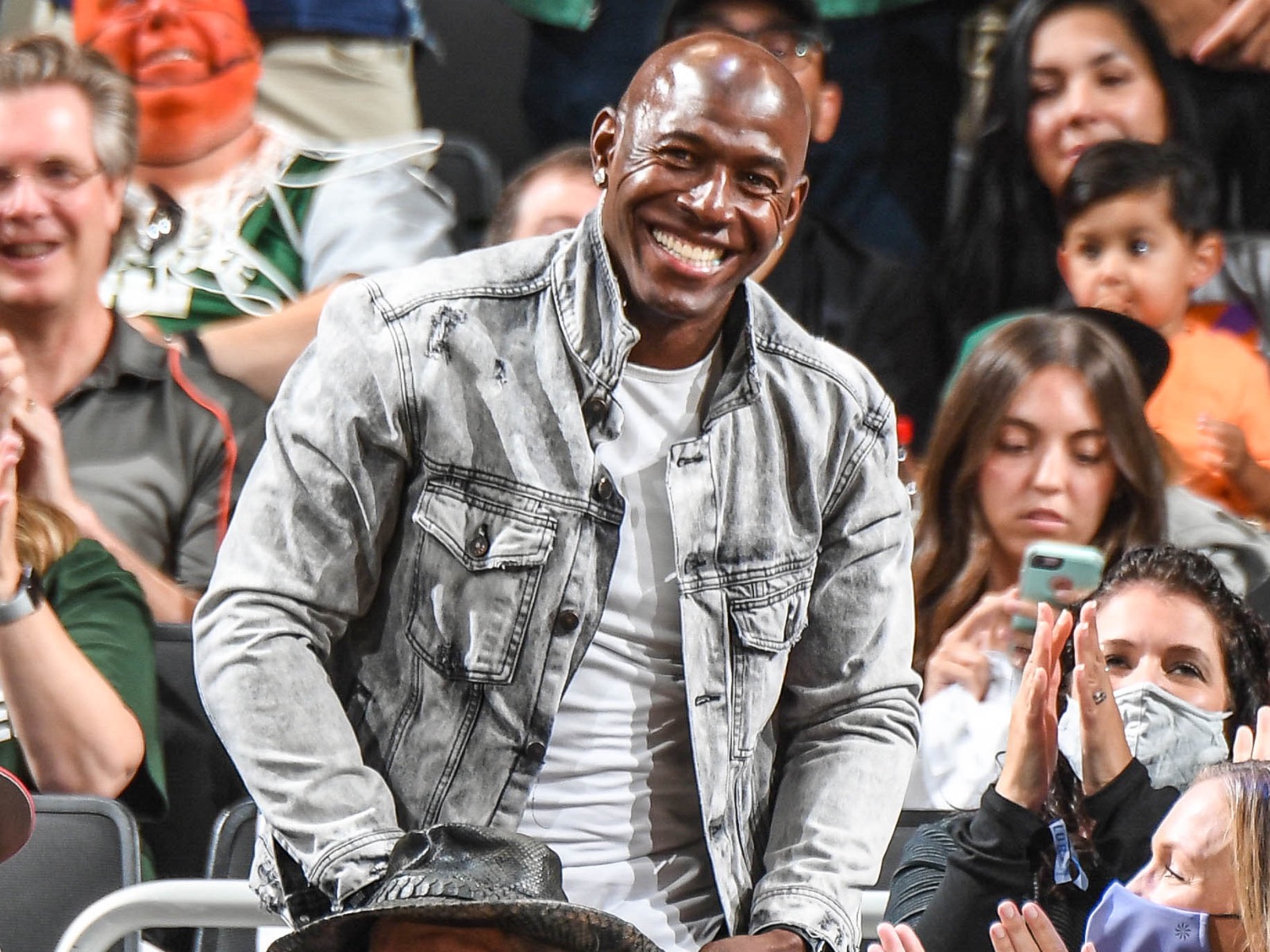 For a supposedly small market team that's nowhere near Los Angeles or MSG, the Bucks had some stars in the crowd for those now-signature ESPN crowd shots – from Packers favorite Donald Driver ...
It's always great to have @chancetherapper in the building!! pic.twitter.com/V75D4aPfwz — Milwaukee Bucks (@Bucks) July 12, 2021
... to Chance the Rapper, cheating on his hometown Chicago team with the Bucks (not that I'm complaining at all) ...
What's up, @gucci1017 and @KeyshiaKaoir? pic.twitter.com/dKK9A5DYLF — Milwaukee Bucks (@Bucks) July 12, 2021
... to, of course, Gucci Mane, making his return to Fiserv Forum after the Eastern Conference Finals might've been a little too touchy to pick a side publicly. (Though he's been on the Bucks bandwagon for several years now, he's also an iconic Atlanta-based rapper.)
4. The real VIP in attendance
You know it's game day when former US Senator and ⁦⁦@Bucks⁩ owner Herb Kohl is in the house! He's given so much to our city - let's get a win for him and all Bucks fans tonight.#FeartheDeer pic.twitter.com/5mE4MNsfbK — Charles Benson (@CharlesBenson4) July 11, 2021
Sure, there were some celebrities in the house for Game 3, but the most important famous figure was Herb Kohl, who did so much for this city and obviously this franchise, integral in keeping the Bucks in Milwaukee and keeping the foundation strong for the next generation of owners. It's truly heartwarming to see him get to witness his team on this grand stage (and get a win on it as a bonus).
5. Deer District delivers again
Milwaukee, you brought the energy AGAIN! 25,000 strong in the #DeerDistrict to cheer on the @Bucks in Game 3 of the #NBAFinals. 😎💪‼️

📸: @maredithemeyer pic.twitter.com/fhPFiZ7xl0 — Deer District (@DeerDistrict) July 12, 2021
The sight of the NBA playoffs has been Deer District – and it did not disappoint on Sunday night, with fans packing the plaza and roaring for the Bucks' first Finals win in more than four decades. The ESPN crew broadcasting from the second floor of The MECCA loved it. The audiences watching the Finals at home loved it. And hopefully, maybe some potential free agents now and in the future loved it enough to want to be a part of it someday. Deer District isn't just a joyful time; it's helping put this town on the basketball map – with Giannis, hopefully for years upon years to come.
6. Jrue-turn in quality
16-0 MILWAUKEE BUCKS RUN!! pic.twitter.com/7xbuhFeWlY — Milwaukee Bucks (@Bucks) July 12, 2021
After taking a beating over the last two games for his lackluster performances – going so far as to have his numbers compared to Eric Bledsoe – Jrue Holiday turned up on Sunday night in a borderline must-win game. In addition to his intense defense locking down Chris Paul, Holiday poured in 21 points and nine assists, hitting some big threes, playing in control and ending the night with a team-leading +22 plus-minus rating. Now it's just a matter of getting this kind of composed and confident-shooting performance from him every night.
7. BP fuels up the crowd once again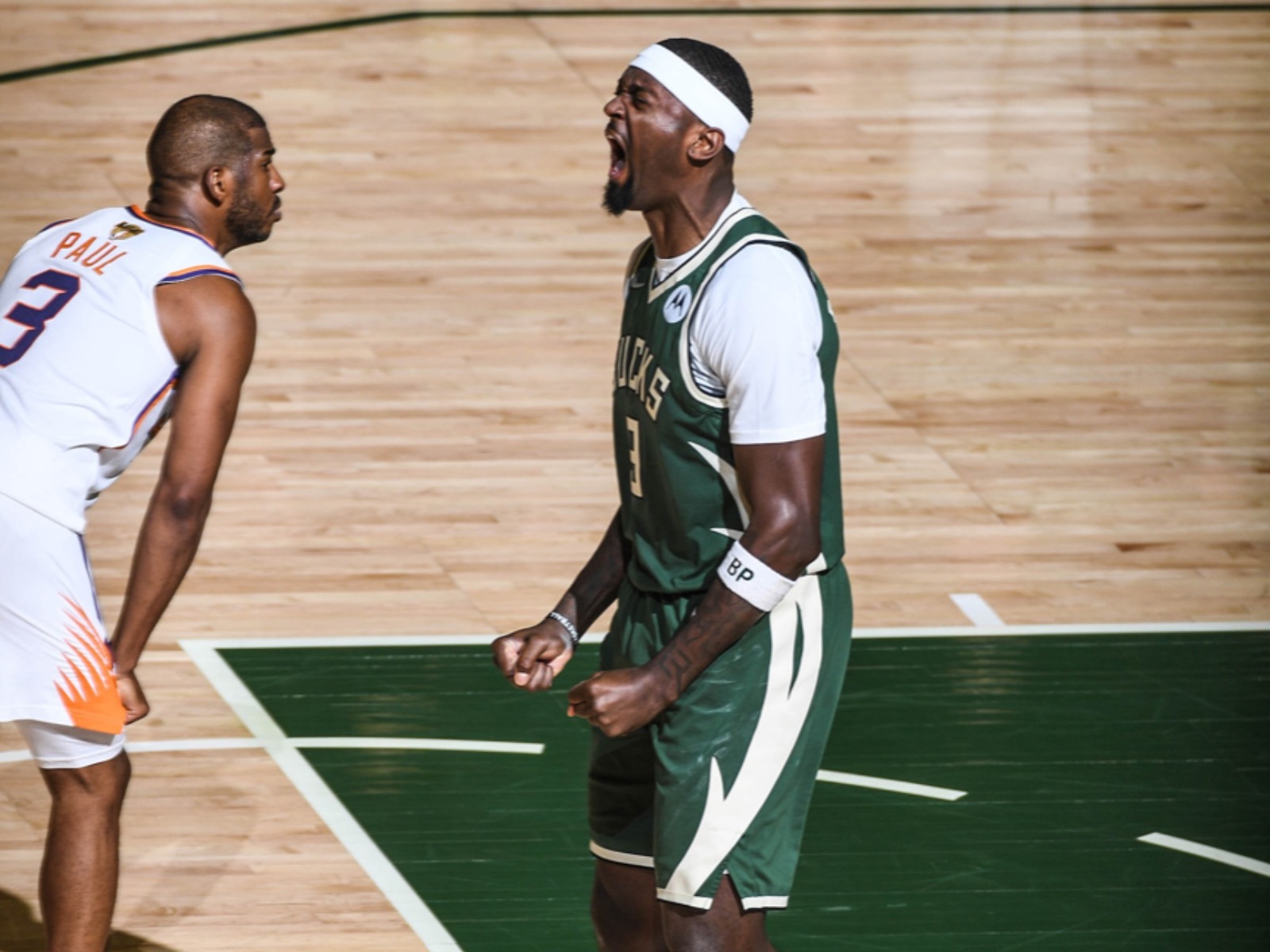 The human sparkplug Bobby Portis lived up to that nickname and reputation once again for the home crowd on Sunday. He wasn't quite efficient (4-of-11 shooting) but he scored 11 points on the night, grabbed eight big rebounds and in general pumped the team and the crowd up with his contagious electricity. It's impossible to not be on your feet when he's playing his game and imposing his will on the court – exactly what the Bucks needed at home down two games.
8. Drinking it in
What's more #Wisconsin than chugging a beer? #Packers @DavidBakhtiari goes for not one but two 🍻 pic.twitter.com/EFalCZYWIN — Margaret Naczek (@MNaczekMBJ) July 12, 2021
The Bucks' unofficial playoff mascot David Bakhtiari was back at it on the sidelines at Game 3, chugging not one but two beers to help energize the Fiserv Forum crowd. But the Packers lineman didn't just bring his thirst and liver to the Finals; he also brought his dad, who also fittingly knocked back a beer in honor of the Bucks.
That being said, they both may have been outdone ...
Bucks fans rn 😂 pic.twitter.com/h9zOjpeUHJ — Bleacher Report (@BleacherReport) July 12, 2021
I really hope that was Mountain Dew.
9. Historic
GIANNIS THROWS IT DOWN AND THE CROWD IS FIRED UP 🔥 pic.twitter.com/P3pPmkDDqt — ESPN (@espn) July 12, 2021
Giannis was dominant once again on Sunday night, refusing to let this team get laughed out of the playoffs. He scored 41 points – smart points, too, with good drives to the hoop and clutch free throws rather than bad, forced jumpers – to go along with 13 rebounds, six assists and a steal, putting the team on his back while devastating the Suns repeatedly. And this time, he actually got some help too, pairing this historic performance up with an actual victory.
10. The Bucks? Looking ... good?
Ok, this is pretty from the Bucks pic.twitter.com/UC9tIF0wCy — CJ Fogler #BlackLivesMatter (@cjzero) July 12, 2021
These playoffs have been a joy for the Bucks, but their run admittedly hasn't always been the most aesthetically pleasing – especially on offense. That wasn't the case, though, on this fastbreak – between Jrue's slick behind-the-back pass, his final pass back to Bobby Portis and the fan favorite finishing things off with an energizing slam. The Bucks didn't just win Sunday night; the Bucks looked good too.
11. Poor P.J.
WHAT A JAM FROM CAM!!! 😱😱😱

(📼 @NBA)pic.twitter.com/coI7bDtsQl — The Ringer (@ringer) July 12, 2021
Admittedly this dunk is impressive – our apologies, P.J. But you know what's even more impressive? The fact that the Bucks survived both the Jae Crowder game (18 points on 6-of-7 threes) and the Cam Johnson game (14 points, including a stress-inducing one-man run in the middle of the night). I'm not sure the Suns will get those kinds of numbers from these role players again – which bodes well for Brew City.
12. Freaky good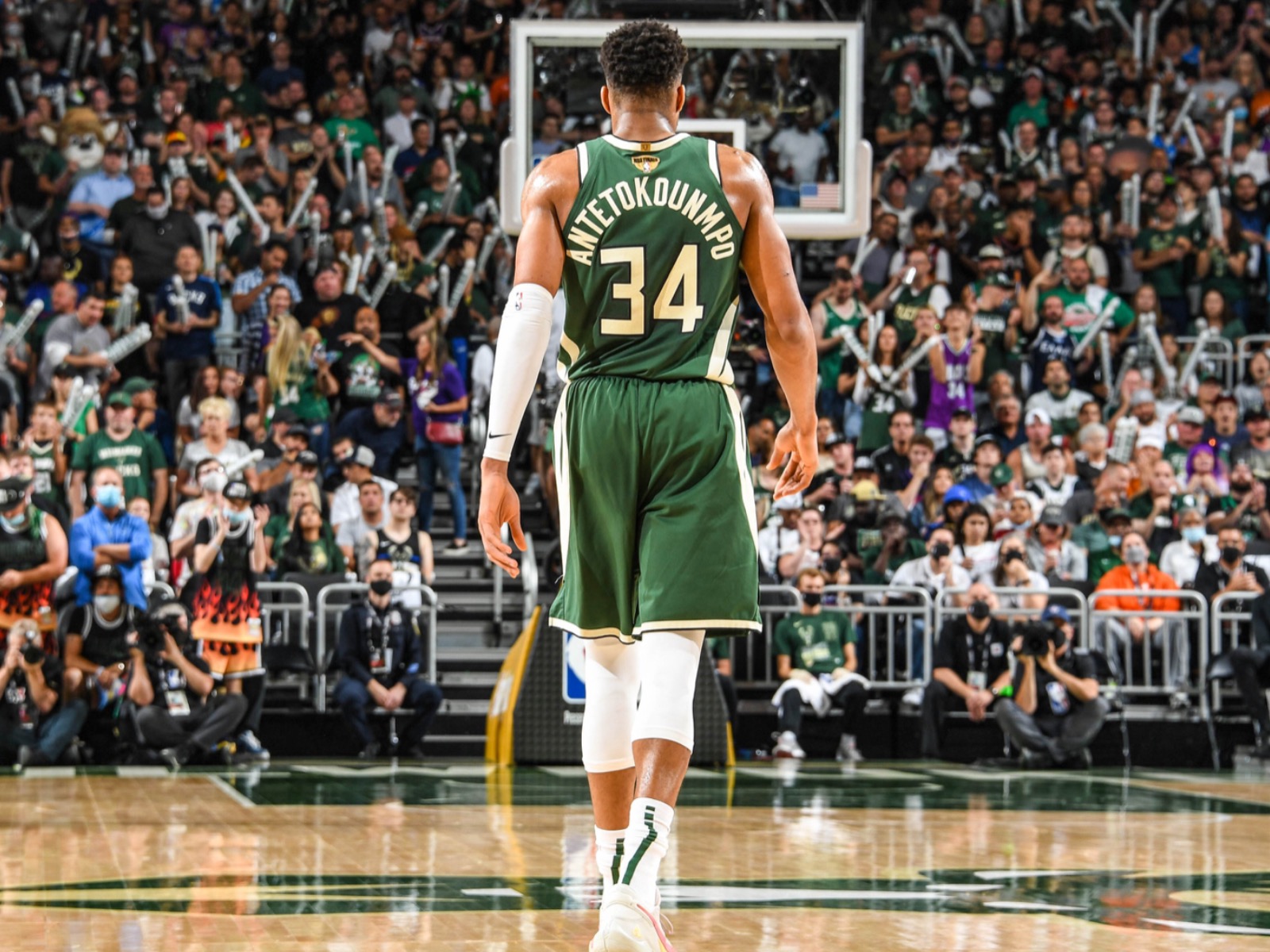 It needs to be said again: What Giannis is doing right now is historic, and Milwaukee is witnessing greatness. In NBA history, only Shaq has scored 40 points and grabbed ten rebounds in back-to-back Finals games. And he's got at least two more games to go to show off what more he can do on the sport's biggest stage. AND WE DIDN'T THINK WE'D EVEN SEE HIM PLAY AGAIN THIS SEASON, MUCH LESS NEXT! He will earn every statue Milwaukee – and the Hall of Fame – build for him.
13. Correct response
This young fan's reaction after meeting Bobby Portis 🥺 ❤️ pic.twitter.com/LjoLWvOkZ2 — ESPN (@espn) July 12, 2021
Watch yourself, Tom Barrett: Bobby Portis is coming for mayor of this city.
14. How're we feeling?
did NOT expect such a spirited response to "tell me what that atmosphere was like" pic.twitter.com/zz7gGgRtSq — Dan Molloy (@DanMolloyTV) July 12, 2021
Bring on Game 4 – but first I've gotta run through a brick wall after watching Milwaukee joy literally pour in from the sides of this shot's frame.
As much as it is a gigantic cliché to say that one has always had a passion for film, Matt Mueller has always had a passion for film. Whether it was bringing in the latest movie reviews for his first grade show-and-tell or writing film reviews for the St. Norbert College Times as a high school student, Matt is way too obsessed with movies for his own good.
When he's not writing about the latest blockbuster or talking much too glowingly about "Piranha 3D," Matt can probably be found watching literally any sport (minus cricket) or working at - get this - a local movie theater. Or watching a movie. Yeah, he's probably watching a movie.