"We didn't want to play with our food."
That's how Giannis and the Bucks started this postseason run – ironic since that's exactly what Milwaukee's done ever since the Miami Heat sweep in the first round. They played around with the injury-devastated Nets and almost lost to the depleted team. They played around in Game 1 of the Eastern Conference Finals and lost home court advantage. They played around in the first half of Game 4 when the Hawks sat Trae Young with his bizarre ankle injury – before the basketball gods took it as an insult and hobbled Giannis as seemingly punishment. And yet each time, the Bucks managed to endure and survive, beating their opponents as well as their own worst tendencies.
And now in the Finals, they did it again, muddling through a must-win until it became a masterpiece. It's not a fun formula – Milwaukee sports, never making it easy – but dang it, you can't argue with the ugly delicious results.
After a commanding Game 3 win that seemingly revealed the blueprint for a championship, the Bucks putzed with their food once again in Game 4, ditching their successful down-low formulas for shots either bad or botched while ignoring their two-time MVP. It was a sleepy, sloppy and just plain confounding opening quarter – and yet, thanks to Khris Middleton's mighty midrange, some equally sloppy Suns basketball and an all-time great play that's immediately etched itself into NBA history, the Bucks prevailed once again, beating Phenix 109-103, giving pundits the close game they've craved and, most important, tying up the Finals at two games apiece.
It's now a three-game series – and the momentum is all Milwaukee's. Now it's time to stop playing around with the food, once and for all – but knowing this team, they probably won't. And strangely, while it's not the best, it's maybe not for the worst either. After all, can't mess with a streak!
But first, let's eat up those miraculous moments from Game 4 one more time. Because, flaws and all, few victories in Milwaukee sports history have ever tasted so good.
1. Damp, but not down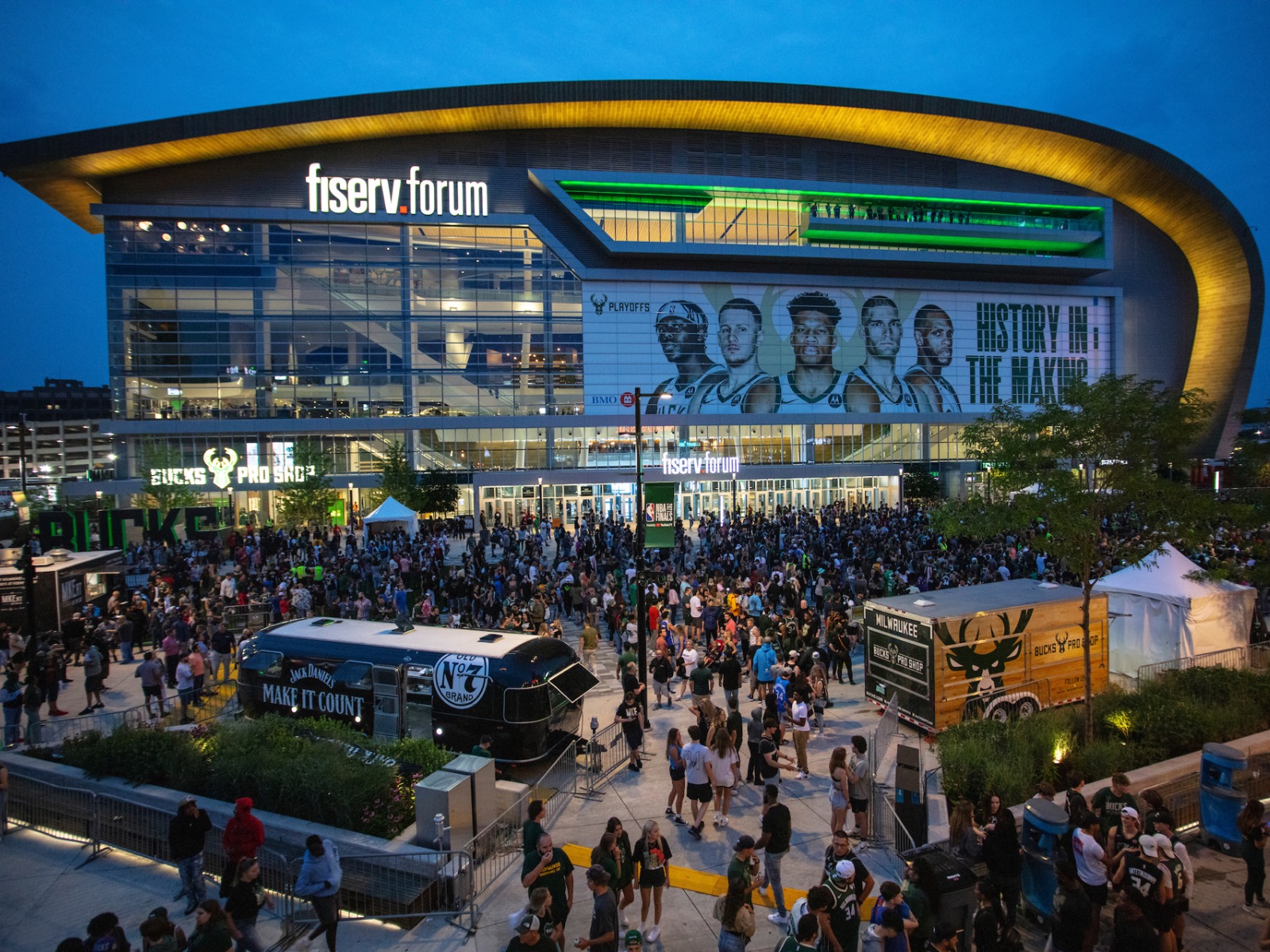 A storm was brewing before Game 4 – and it wasn't just the sense of a Bucks Finals comeback. It was a literal storm seemingly en route to rain on Milwaukee's parade, threatening to turn the triumphant shots of Deer District into a ghost town for potentially the final game of the season in the city. Thankfully, however, the storm gave up early in the day, and the only thunder heard on Wednesday night was coming from the crowd inside and out of Fiserv Forum.
2. Greatness watching greatness
50 years after the 1971 @bucks won a title, NBA legend @kaj33 watches Game 4 tip in Milwaukee on ABC! #NBAFinals • #ThatsGame pic.twitter.com/wnF2aOWKyX — NBA (@NBA) July 15, 2021
A historic night deserves a historic audience – and that's what happened for Game 4 as Bucks great Kareem Abdul-Jabbar was in the crowd, seen here taking in the tip-off of the most meaningful Milwaukee game since his own playing days.
3. Wake up, Milwaukee
Follow your miss!!!

(📼 @NBA)pic.twitter.com/9at4XlJ7PZ — #RingerNBA (@ringernba) July 15, 2021
If fans were hoping for the Bucks to build off of their impressive second half on Sunday night ... well, we should've known better. This team does love to make things harder on everyone – and indeed that's what happened on Wednesday night as the Bucks came out just plain baffling. The Bucks once again couldn't hit a shot – a theme that would mostly continue throughout the night – and they refused to abuse their size advantage, instead trying to get into a shooting rhythm that never really arrived.
Most confounding, after dominating the past two games, Giannis barely seemed to get any touches or involvement on offense, and once again left the game after just a few minutes. He eventually got going – and got the crowd going – after this emphatic putback, but a slow start like this isn't going to play in Phoenix.
4. Stars in the seats
Dave Chappelle is in the building!! pic.twitter.com/IrGUlnFqwL — Milwaukee Bucks (@Bucks) July 15, 2021
Milwaukee's Rolodex has been given a workout during this Finals return, bringing in comedy legend, future Summerfest headliner and generous Brew City fan Dave Chappelle for this key game, along with ...
Welcome, @christuckerreal!! 😂 pic.twitter.com/WjCxBZQRtc — Milwaukee Bucks (@Bucks) July 15, 2021
"Rush Hour" star Chris Tucker! For some reason? I don't care; look at Milwaukee pulling off a respectable big-market city impression! But wait, there's more!
Bucks Legend Michael Redd is at @FiservForum!! pic.twitter.com/oKSq1JDlrg — Milwaukee Bucks (@Bucks) July 15, 2021
Let's hear it for the savior of those 2000s Milwaukee Bucks teams, Michael Redd! He salvaged so much bad basketball those years; I salute you, sir. But then there was also ...
Soak up the sun.@SherylCrow is in Milwaukee!! pic.twitter.com/BRE1W9dJ9T — Milwaukee Bucks (@Bucks) July 15, 2021
.@chancetherapper is back!! pic.twitter.com/t4rBI4evF7 — Milwaukee Bucks (@Bucks) July 15, 2021
... the Bucks' two celeb singers, Sheryl Crow and Chance the Rapper, showing up to represent Milwaukee fandom at home for perhaps the final time this postseason. Also, apparently Alex Rodriguez was there, but I feel fine choosing to ignore this information.
5. The true stars
Kareem Abdul-Jabbar, Oscar Robertson, Bob Dandridge and Jon McGlocklin from the 1971 NBA Championship Team are in attendance and received a standing ovation!! pic.twitter.com/djEztybY3R — Milwaukee Bucks (@Bucks) July 15, 2021
There was no guarantee there would be another home game after Wednesday night, so the Bucks went all out for Game 4 – yes, with the celebs and famous faces but also with hailing back to their history, bringing in Bob Dandridge, Jon McGlocklin and the powerful photo of Kareem and Oscar Robertson, two all-time iconic greats, sitting together and taking in the crowd's adulation. Best of all, the moments on the court matched this moment off of it.
6. Booker brought his bag
Book is a problem.

He's got 36 and counting

(via @NBATV)pic.twitter.com/GLky8cIEnO — Bleacher Report (@BleacherReport) July 15, 2021
There was very little chance Devin Booker was going to have two straight stinkers – but no one could've expected an overcorrection like this. After a miserable Game 3, the Suns sharpshooter put a firm stamp on Wednesday night, putting up 42 points on solid 17-of-28 shooting and seeming unstoppable from the midrange no matter whose hands were in his face. If the Suns won, all we would be hearing about today is how incredible he is, how he's better than Giannis and other silly immediate-aftermath hot takes. Instead, the Bucks won, so we're talking about The Block and Khris Middleton's timely greatness. What a shame, you hate to see it.
7. Requisite Bobby Portis photo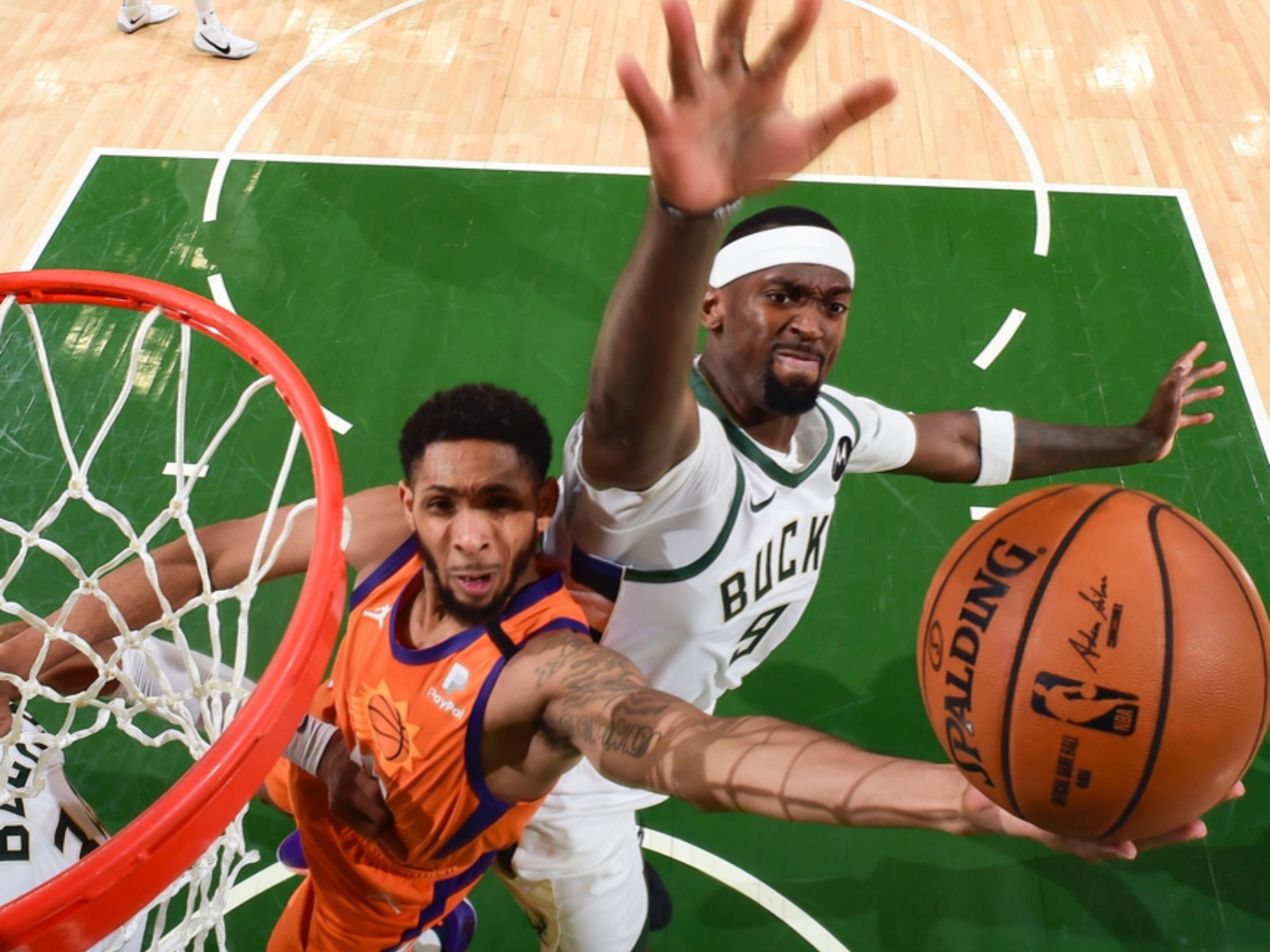 First: Yes, I am contractually obligated to feature a photo of future Milwaukee mayor Bobby Portis in all recaps from here on out. Thankfully, this one is pretty awesome and worthy – even if this possession still ended with Suns points and Portis had a tame night (though he still finished with key rebounds and a +7 plus-minus rating).
But as for keying in to a greater point, this photo does reflect how the Bucks defense made things tough for the Suns. Other than the unconscious Devin Booker, no other Phoenix player scored double-digit points until deep until the fourth. Chris Paul was forced into a flop of a game with only 10 points, and the whole team was nagged into sloppy basketball, turning the ball over 17 times in total including some major mistakes in the final few minutes that turned into Bucks points. Considering how awful the Bucks shot on Wednesday night, they needed to clamp down on defense. They did exactly that.
8. Dodged a bullet
"Devin Booker made a great stop. Play on." pic.twitter.com/1tPK5tsnlG — #RingerNBA (@ringernba) July 15, 2021
My general reaction is rarely ever to blame the refs. Good teams play through and find ways to win no matter the calls – and for the most of Game 4, my stance was if the Bucks lost, it would've been because they came out clunky and clanking, not because of Jae Crowder, Chris Paul and Devin Booker being savvy and selling cheap fouls.
But then this play happened.
With five fouls, Devin Booker form tackled Jrue Holiday on a breakaway ... and somehow nothing was called. Thankfully for Milwaukee – but most of all the refs and the NBA – Giannis got the putback, and Booker only put in two more buckets after this moment. But if the Suns had pulled off the win, and if Booker played any part in salvaging the critical victory, this would've been one of the all-time terrible ref malpractices in sports history, refusing to give Booker a well-earned sixth foul (or seventh, as they could've called another fastbreak bump later) solely because they were too scared to take the Phoenix star off the court.
It could've potentially sullied this entire joyous postseason; thankfully it's now just a sidenote.
9. Earned this bang
PC3. BANG! pic.twitter.com/mPWtvPR5rg — Milwaukee Bucks (@Bucks) July 15, 2021
Yet again, the Bucks were terrible from distance, hitting just seven threes on the night in 29 attempts. Only one starter – Middleton – hit a three on the night, with the leading five going 3-for-21. But they sure picked a good time to start making them – particularly Pat Connaughton, who nailed this late corner three to finally put the Bucks in front and set Fiserv Forum on fire.
(Also, fun fact: Connaughton quietly led the team in plus-minus with a +21 rating on Wednesday night. He's been pretty incredible this series, helping guard the Suns' brutal backcourt, letting Milwaukee play small when needed and giving the Bucks vital quality minutes off the bench while Donte DiVincenzo's hurt and Bryn Forbes is unplayable.)
10. Middleton time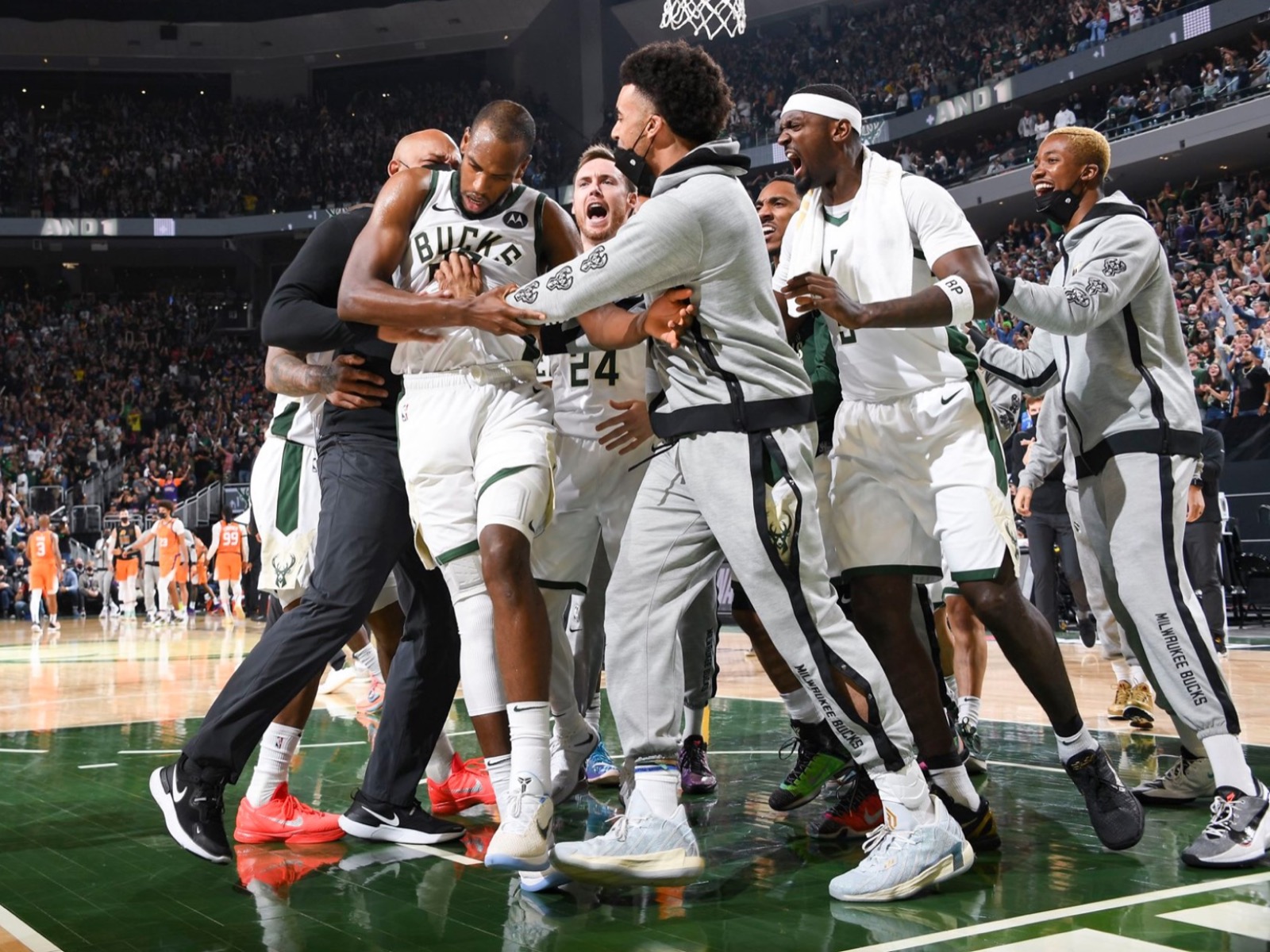 Khris Middleton is a mysterious basketball player in that he can put up 40 points – even in an NBA Finals game – and it seems to come out of nowhere. The man just quietly hits the modest midrange jumpers the Bucks need to survive, whether it's to keep Milwaukee in striking distance in the third or lock up the win.
He did all of that Wednesday night seemingly without a peep, opening the game up as the only person who could hit a shot in a white jersey, keeping the Bucks close as the Suns and Booker lit up the scoresheet in the third and finally taking the game over in the fourth with dagger jumper after dagger jumper after dagger free throws. With Milwaukee down 99-97 with only 2:30 left in the game, Middleton went on a one-man 8-0 run, icing the game pretty much all on his own. After one final drive, the whole Bucks team came out to pick an exhausted Middleton off the ground – only fair after he picked them all up this game.
11. And now ... The Block
Don't mind us, we'll just be replaying Giannis' block until Saturday night. 😍

(📼 @NBA)
pic.twitter.com/EqFa1cYzVn — #RingerNBA (@ringernba) July 15, 2021
Watching sports is sometimes like watching "John Wick": There's so much awesomeness happening so fast that your brain almost can't even grasp what great thing it just saw in the moment.
Case in point: The Block.
Witnessing this moment in person at Fiserv Forum, I couldn't even process what had just occurred. My brain went from horrified seeing Ayton cut open, to joyous seeing Giannis nullify a seemingly certain dunk, to grumpy thinking that there must've been a whistle, to elatedly shocked that there was not only no foul but that the Bucks were sprinting the other way somehow still with the lead, to tense because it was still just a two-point advantage. The Bucks wouldn't score on that next trip, but the block's impact is undeniable, saving Milwaukee from a tied game (or potentially a deficit if Giannis had fouled Ayton) and a crowd-smothering dunk.
Only now, removed from the suffocating suspense of the moment and the immediacy of it all, I can fully appreciate the glory of this play – a recovery that human beings are not supposed to be able to make (much less, one more time, after HIS KNEE WAS BACKWARDS TWO WEEKS AGO). It's easily one of the greatest moments in Milwaukee sports history – and maybe in NBA history, period.
12. Double take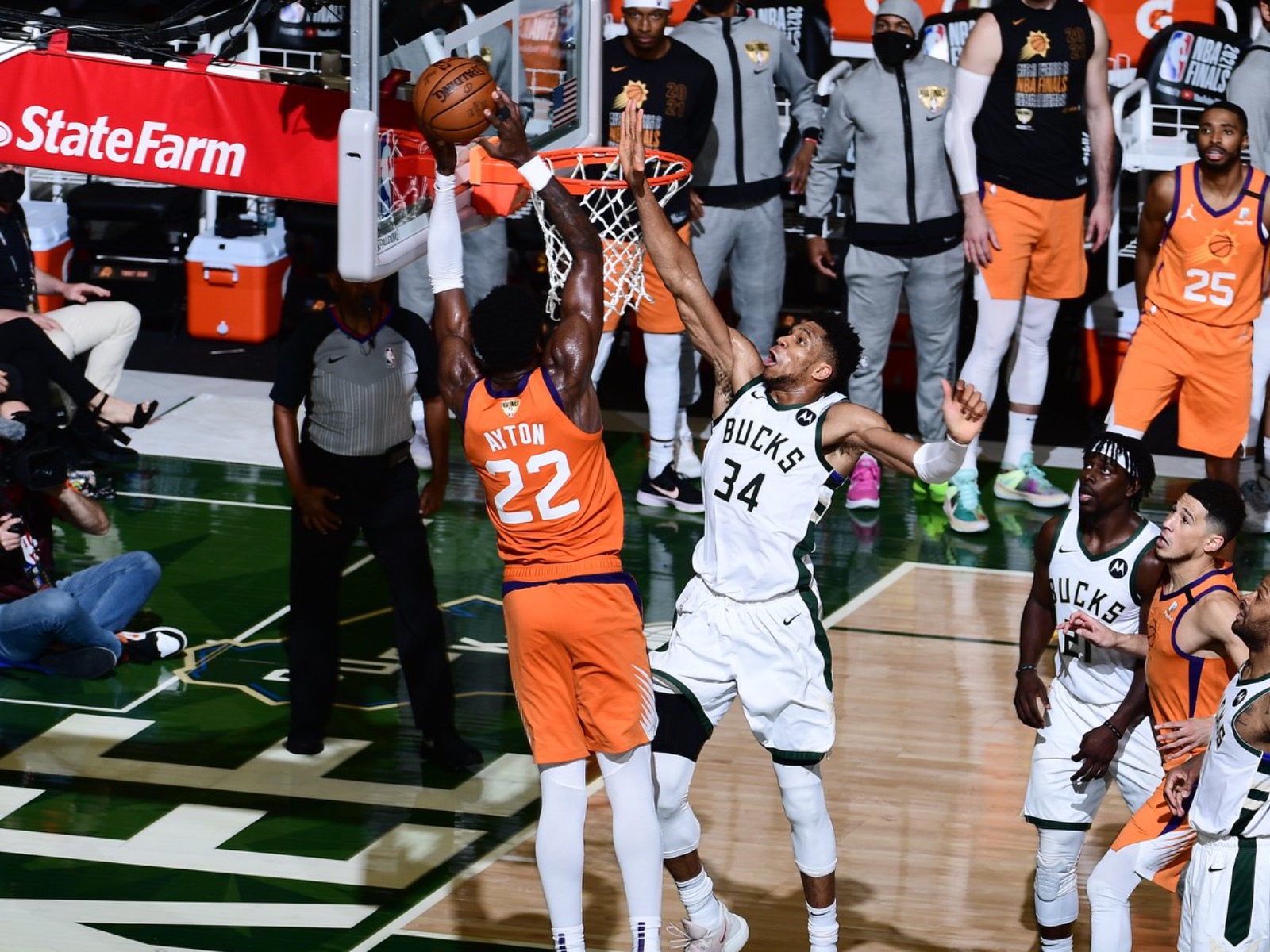 OK, sorry, but I just needed to take another at this. No matter how these Finals end, I'm going to need a statue of this moment outside Fiserv Forum tomorrow.
13. Power couple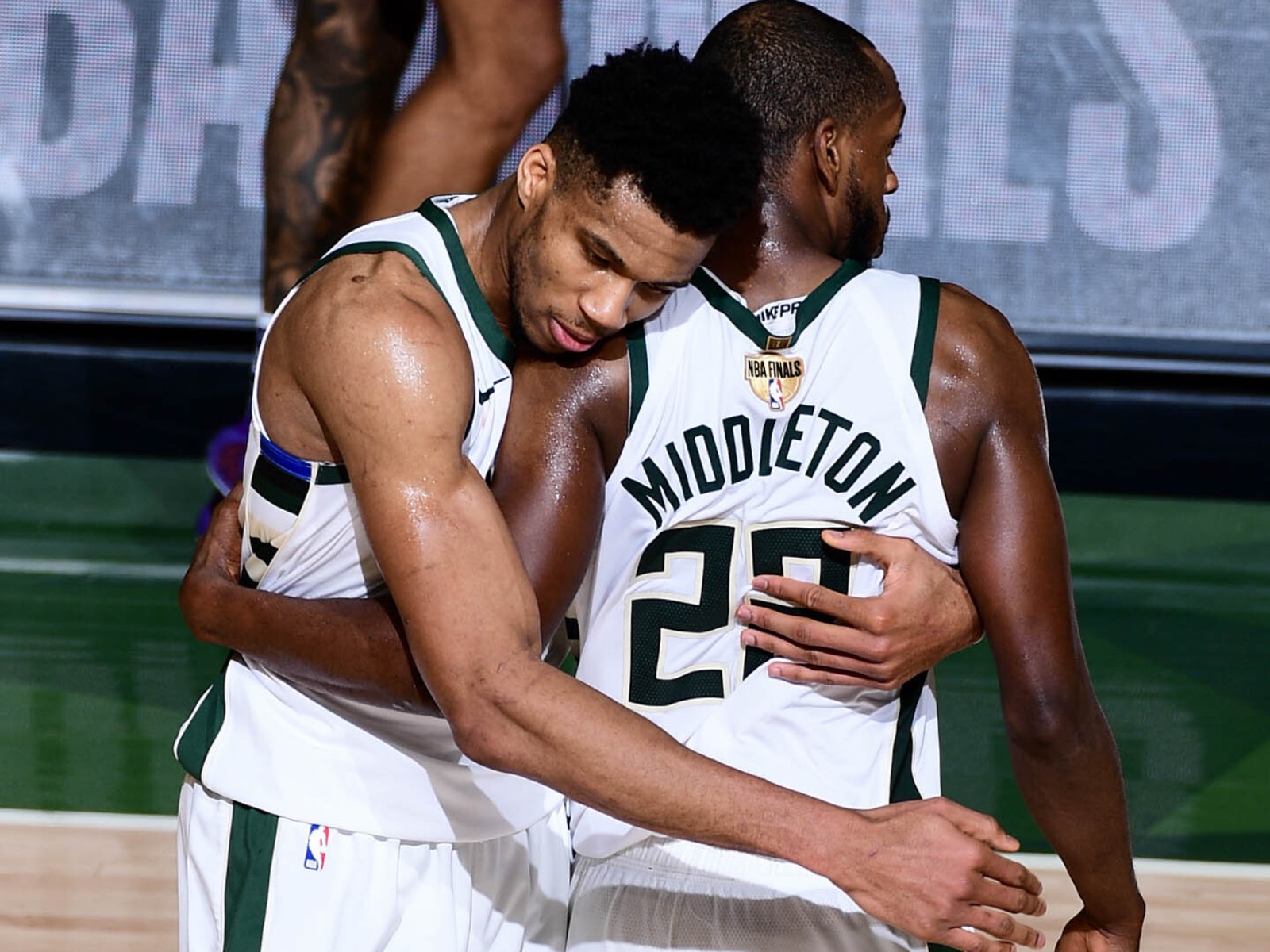 LeBron and AD. Durant and Irving. Tatum and Brown. Embiid and Simmons (lol). NBA pundits love their all-star duos – and now it's time to include Giannis and Middleton near the top, if not the top, of that list. The two are constantly picking each other up, and last night they combined for 66 of the Bucks points alone. Now if we could just add a quality Holiday offensive performance to this combo sometime soon ...
14. Milwaukee's moment
.@WISN_Ben found out just how much of a party some fans had in Milwaukee tonight. Cheers to Ben for this live shot. @WISN12News 🍺🦌 pic.twitter.com/w8miS5d0SM — Derrick Rose (@DRoseTV) July 15, 2021
Here's to WISN reporter Ben Wagner for letting this jubilant live shot play out. And here's to Milwaukee doing what it does best: drinking and celebrating. After The Summer That Wasn't, we've earned both of those things.
15. Bathroom backstory
For those wanting a real explanation for why Giannis has had two straight strange starts in the NBA Finals ... I'm not sure this is it.
"I went to take a tinkle and came back." 😂

—Giannis on leaving early in the first quarter in Games 3 and 4 pic.twitter.com/lChrvXy5ZS — ESPN (@espn) July 15, 2021
I don't believe this story ... but I do love it. And if this is somehow true, sounds like we gotta overhydrate this man before Saturday night too.
As much as it is a gigantic cliché to say that one has always had a passion for film, Matt Mueller has always had a passion for film. Whether it was bringing in the latest movie reviews for his first grade show-and-tell or writing film reviews for the St. Norbert College Times as a high school student, Matt is way too obsessed with movies for his own good.
When he's not writing about the latest blockbuster or talking much too glowingly about "Piranha 3D," Matt can probably be found watching literally any sport (minus cricket) or working at - get this - a local movie theater. Or watching a movie. Yeah, he's probably watching a movie.