It started like a disaster. It turned into a delight. And now, the Bucks are one game away from fulfilling the prophecy and giving the city of Milwaukee something it hasn't seen in half a century. What a life.
Things certainly didn't look that way at the start, though. (And we're not even talking about the pre-game COVID scares.) The Suns came out strong, nabbing a quick 16-point first quarter lead on the back of hot shooting and sloppy Bucks possessions. But what seemed like an early night for Bucks fans turned into a late-night party as Milwaukee got it together for arguably their most complete Finals performance thus far, getting great showings for all of their stars AND their bench players, moving the ball nicely on offense, hitting shots (remember when this team was good at that!?) and playing smothering defense that not only equalized the game but nabbed the Bucks a lead at the half.
Add in yet another iconic play to lock the game up, and Milwaukee's now up 3-2, with two games to win just one. I'll take those odds – but first, I want to savor every shot from the Bucks' big 123-119 Game 5 win. So here are 13 great images from Saturday's spectacular victory – and yes, a significant percentage of them are of The Steal. I apologize for nothing.
1. Deer District dominates yet again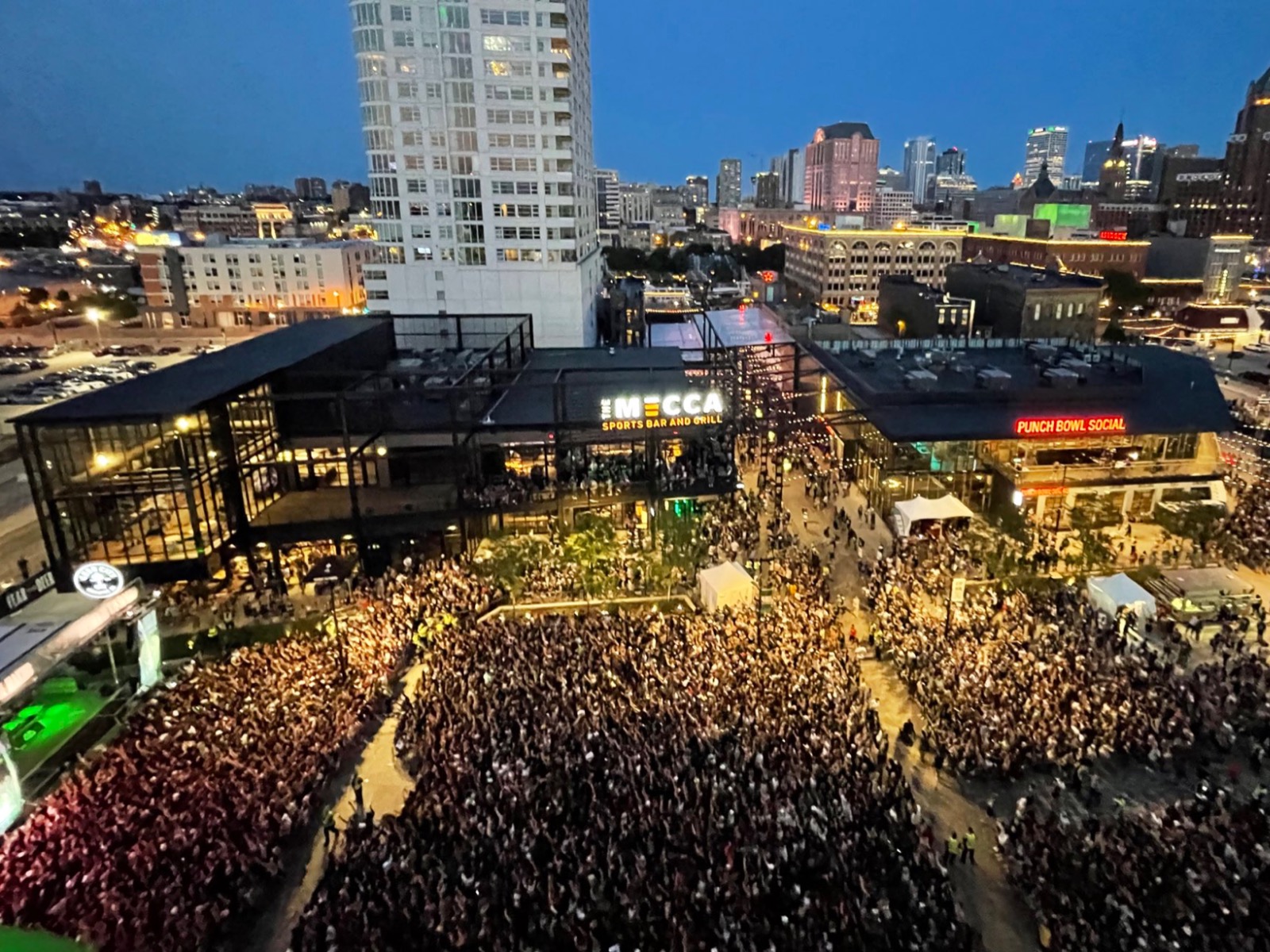 It's impossible not to have civic pride when you see these shots of Milwaukee coming out in droves to cheer on the Bucks. Milwaukee's finally getting its glorious summer deferred – and it's not missing a minute of it. And man, if you think THIS scene is crazy, just wait until Tuesday night. You'll be able to hear that crowd from Cudahy ... Cudahy, California.
2. Counting Ls
It's easy to forget now, but the Bucks got off to a rough start on Saturday night, playing sloppy with several early turnovers and not hitting shots while the Suns were unconscious from ... well, just about everywhere. Down 16 after the first quarter, it seemed like it was just gonna be one of those nights – especially after THIS guy and his Monopoly money showed up in every crowd shot and every Giannis free throw ...
pic.twitter.com/XzGf83k8Jm — keith van fujimoto (@oakleyandallen) July 18, 2021
In case I wasn't ecstatic enough about last night's results, I remember that this guy ended up having a terrible night.
The internet remains undefeated. pic.twitter.com/tQNzV8cLBe — Doug Russell (@DougRussell) July 18, 2021
3. Holiday arrives just on time
This steal and 3-pointer sums up Jrue Holiday's incredible Game 5 pic.twitter.com/WegCHeaqSV — Kevin O'Connor (@KevinOConnorNBA) July 18, 2021
When Milwaukee's tripped up, Jrue Holiday's taken the brunt of the blame as he's struggled shooting for most of the playoffs – most notably a paltry 4-of-20 last game. But finally, he had his game, his moment in the sun, as the Bucks point guard put up an impressive 27 points, 13 assists and three steals all while playing his usual tough lockdown defense that kept Chris Paul mostly out of the picture. There's been no lack of "Jrue Bledsoe" name-calling on Bucks Twitter this postseason, but there was none of that Saturday night – and, after this clutch and complete Finals performance, none from here on out.
4. Bench boys
Giannis celebrating Bobby Portis' hustle 💪 #NBAFinals pic.twitter.com/G1jMKKEXdV — ESPN (@espn) July 18, 2021
This isn't how this is supposed to work. Common basketball knowledge states that bench guys and role players do better at home – and yet there future mayor of Milwaukee Bobby Portis was, outscoring all of Phoenix's bench mob (nine points, while no Suns reserve got higher than six) in their arena and giving the Bucks his signature burst of scrappy energy right when the team needed it. And speaking of critical bench performances ...
5. But actually: Playoff Pat
PC cooking with hot grease!! pic.twitter.com/vMMMPhiRUF — Milwaukee Bucks (@Bucks) July 18, 2021
If the Bucks were going to have a prayer at winning the NBA Finals, they would need somebody on the bench to show up – and that person's turned out to be Jeff Teague. LOL, no, just kidding: It's Pat Connaughton, who's busted out his best Donte DiVincenzo impression throughout these Finals games with better-than-expected defense (did he force Booker to pass out of a one-on-one situation last night, or did I just hallucinate that?), intense hussle play and timely three-point shooting. Again, bench players are supposed to disappear on the road; instead Pat Connaughton was very visible with 14 critical points.
6. And lo ... The Steal
WHAT A PLAY BY JRUE HOLIDAY 😱😱😱 pic.twitter.com/7mrtEByuju — Bleacher Report (@BleacherReport) July 18, 2021
What a blessing for Bucks fans to get not one, but TWO iconic plays during these historic NBA Finals. Meet the sequel to The Block: The Steal, in which Jrue Holiday – only up one point with the final minute ticking away – rips the ball away from a once-again flamethrowing Devin Booker and swindles it down the court. Already, it's a remarkably clutch play ... BUT THEN Giannis flies in from behind Holiday for an alley-oop and-one that helped ice the game.
In retrospect, the alley-oop was a TERRIFYING call, a risky play that might've only put you up three while handing the one-possession game back to Phoenix – or, worse yet, could've ended with no points and Giannis, famously not great at free throws, at the line. It was a crazy heat check moment for the Bucks – and as it turns out, they were still blindingly hot.
7. Eyes on the prize
pic.twitter.com/KTWU6qNNq3 — ESPN (@espn) July 18, 2021
Giannis, meet America. America, meet Giannis. You've now officially met – and had your soul stared into oblivion.
8. Hello from the other side (of a 2-2 Finals tie)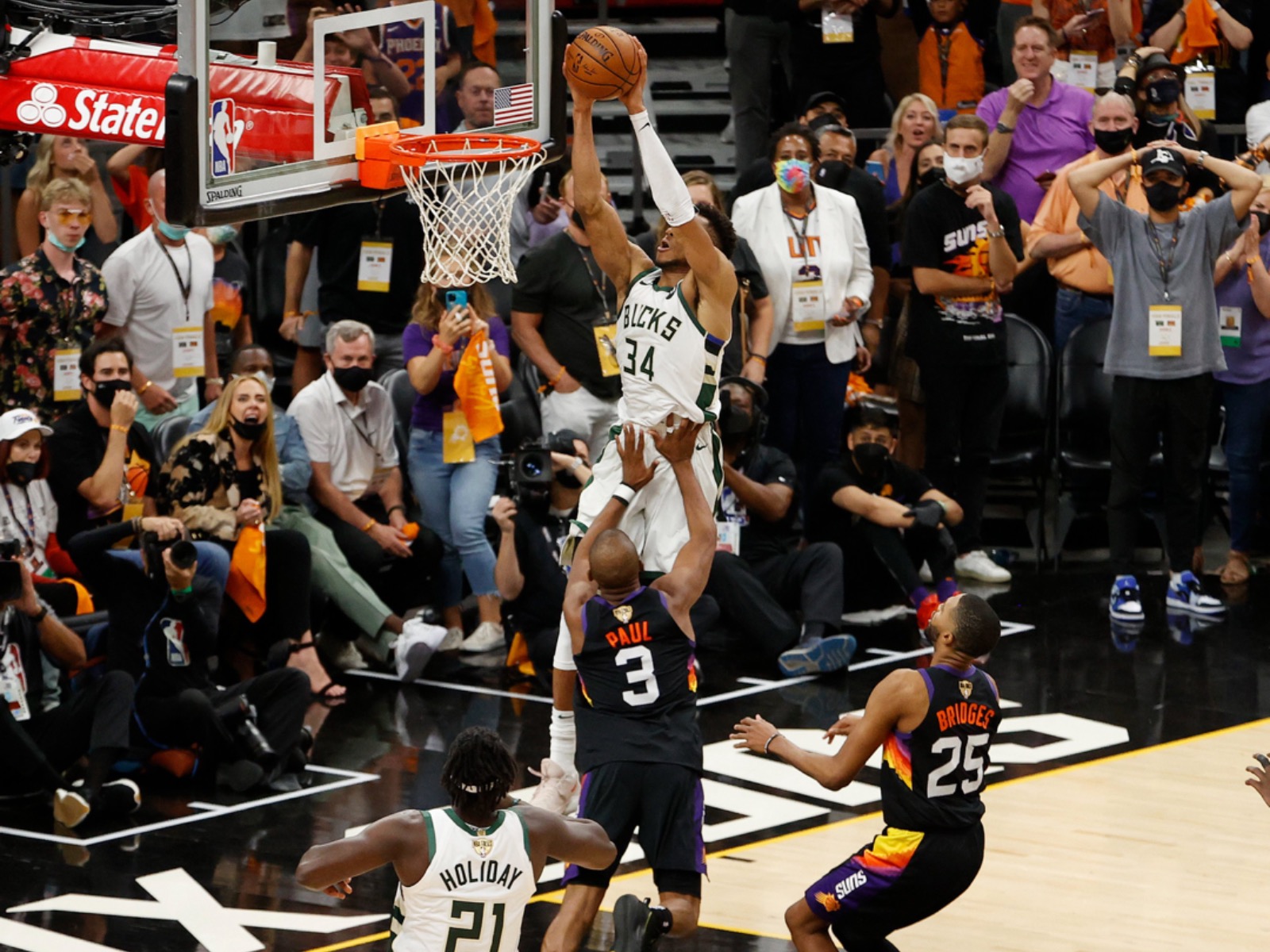 This photo is already incredible and awesome at first glance – but then you notice the great detail of Grammy-winning singer extraordinaire Adele under the hoop losing her absolute mind watching Giannis take to the sky. Adele: never not relatable.
9. Oui, oui!
AS CALLED ON FRENCH TV: pic.twitter.com/pUtxDDK0cm — Timothy Burke (@bubbaprog) July 18, 2021
Timothy Burke threaded together some of the calls from across the nation and globe on The Steal – and they're all outstanding. The best, however, is this French call that translates perfectly, even if the only French word you know is the word "croissant." If only somebody was recording my reaction during this moment; we could've also gotten a broadcast delivered in joyful spirit-possessed tongues.
10. A mosaic worthy of a museum
INCREDIBLE SCENES pic.twitter.com/6kSVHDyvYI — #RingerNBA (@ringernba) July 18, 2021
You remember that Oscars photo the night of the "Moonlight"/"La La Land" debacle where every single face in the crowd tells a story? This is like the NBA version of that. I'm going to study this photo and memorize it.
While I'm working on that, a brutal question: What is the better Bucks play, the Giannis block or the Jrue holiday steal and oop? I look forward to having this debate forever while smiling about the fact that Milwaukee now has two glorious plays embedded forever in modern Finals lore.
11. Milwaukee mayhem
The #DeerDistrict reacts! pic.twitter.com/bZvHmEapU7 — Deer District (@DeerDistrict) July 18, 2021
Combine the thousands of people outside Fiserv Forum with the sold-out crowd inside the arena for the viewing party – all going nuts at the same time on Saturday night – and you've got an explosion of happiness that could almost certainly be heard from outer space. Even the moon knew about The Steal on Saturday night.
12. A big three to see
Bucks big 3 SHOWED OUT in Game 5

Giannis: 32 PTS, 9 REB, 6 AST

Middleton: 29 PTS, 7 REB, 5 AST

Holiday: 27 PTS, 4 REB, 13 AST pic.twitter.com/qVqHXb3qMq — Bleacher Report (@BleacherReport) July 18, 2021
The Bucks have a big three, but very rarely did Milwaukee fans see them all on the court truly at the same time, playing at the same speed. That dream scenario finally became reality during Game 5, as Holiday, Giannis and Khris Middleton were all terrific, only the sixth trio to score 25 points each in 50 years of the NBA Finals. Add in Bobby Portis and Pat Connaughton, and you got a complete team victory – right at the perfect time.
13. Listen to the man
In case somehow you weren't jacked up enough for Tuesday night ...
Milwaukee, a message from @Giannis_An34: pic.twitter.com/zXIhsT0RVt — Milwaukee Bucks (@Bucks) July 18, 2021
As much as it is a gigantic cliché to say that one has always had a passion for film, Matt Mueller has always had a passion for film. Whether it was bringing in the latest movie reviews for his first grade show-and-tell or writing film reviews for the St. Norbert College Times as a high school student, Matt is way too obsessed with movies for his own good.
When he's not writing about the latest blockbuster or talking much too glowingly about "Piranha 3D," Matt can probably be found watching literally any sport (minus cricket) or working at - get this - a local movie theater. Or watching a movie. Yeah, he's probably watching a movie.