The mesmerizing crowds. The shower of glistening confetti. The echoing roar wafting through Downtown. No, you didn't dream it last night; it was all real as the Bucks won the freaking NBA Finals, putting away the Phoenix Suns at home, 105-98, on Tuesday night. History was made. Prophecies were fulfilled. Sleep was wholly abandoned.
But before we claim our spot for the eventual parade – set, according to Peter Feigin, for Thursday – let's take one final look back at the best moment in modern Milwaukee sports history. (Ha, "final" look back – as if we're not going to be watching these highlights, clips and celebration videos on repeat for the next month or so.)
1. You think Milwaukee was excited yesterday?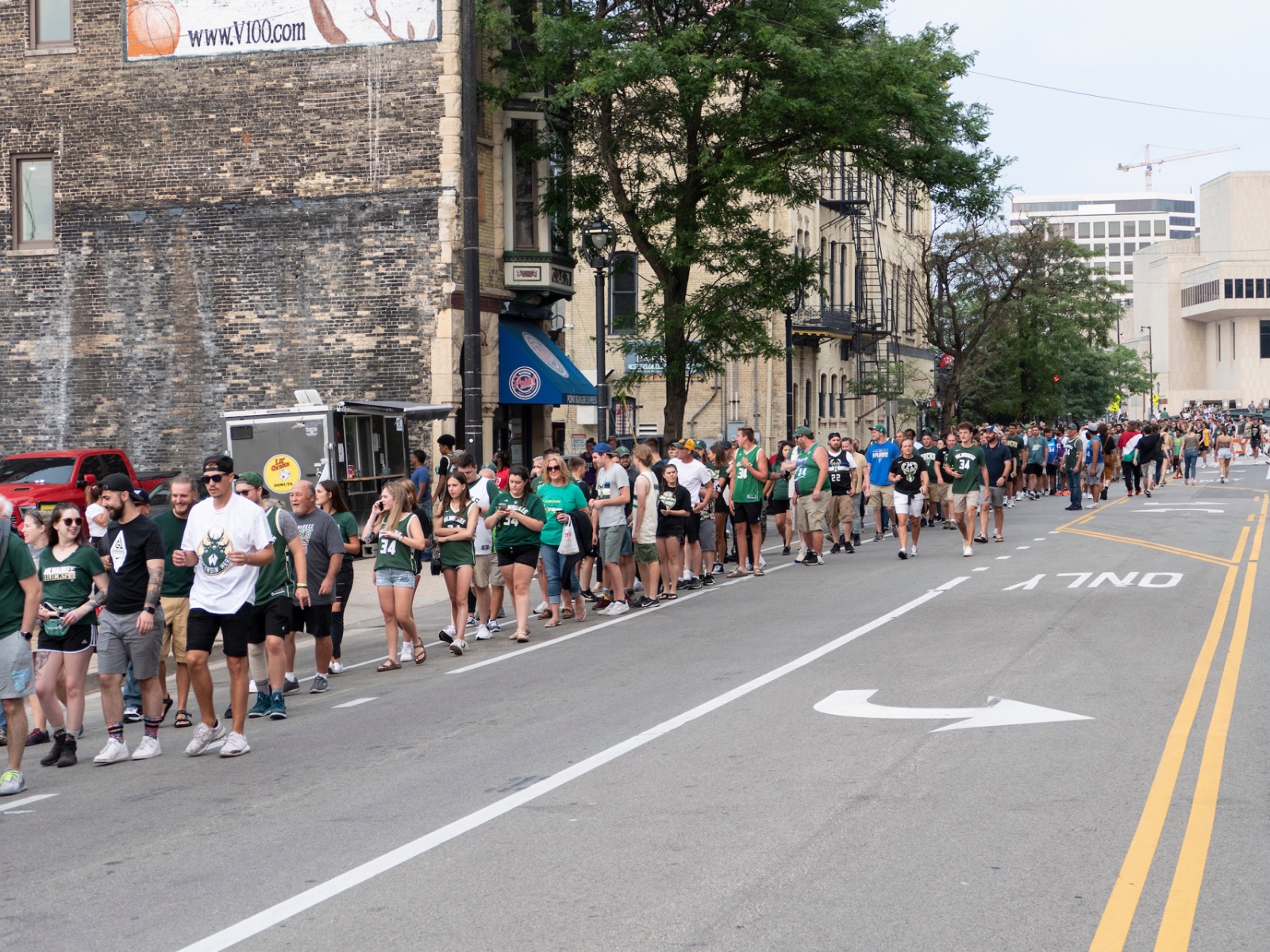 The Bucks enhanced the already behemoth Deer District viewing party crowd to 65,000 for Tuesday night's game – and the fans said, "Challenge accepted," as our fellow Bucks brethren piled into the now-iconic cheering section throughout the day, lining up for blocks, closing down streets and making parking a most glorious nightmare. The result?
2. This
Holy shit, #Milwaukee.

Vid: @TheEarlyReg #FearTheDeer #NBAFinals #BucksIn6 pic.twitter.com/G4aXLIwxkW — OnMilwaukee (@onmilwaukee) July 21, 2021
There are a lot of iconic shots from this Finals run. The Block. The Steal. Middleton's clinching fadeaway. Giannis crying on the side of the court in the confetti. But the most enduring image from this historic event will almost certainly be Deer District, the joyous throngs of people coming to unite after a year apart and cheer on something many had never seen before in their city. Milwaukee is sometimes (not entirely inaccurately) accused of having little brother syndrome, of chasing after the lead of other city's trends. Not in this case. Here, Milwaukee and its jubilant crowds are leading while everyone else gets to follow and wish they were this cool.
3. Kardashian Kurse strikes again
More Celebrities in Milwaukee for Game Six.
Watch Kendall Jenner walk into Fiserv Forum! pic.twitter.com/hVpYS9SqP7 — Charles Benson (@CharlesBenson4) July 21, 2021
Amongst the celebrities in attendance for last night's game were the now-regular sights of Dave Chappelle, Chris Tucker, Christian Yelich, Gucci Mane, Aaron Jones and Chance the Rapper. But also there to cheer on boyfriend was Kendall Jenner, making last night the most embarrassing result she's been associated with since that Pepsi commercial.
4. It begins
Defense leads to offense!!!

(📼 @NBA)pic.twitter.com/joB5o4JHHU — GIANNIS SCORED 50 IN THE NBA FINALS (@ringernba) July 21, 2021
In a glorious sign of things to come for the rest of the night, Giannis opened up the scoring for Game 6 with a block on one end and a smooth finish at the rim. The Bucks would ride that energy in the first to a 13-point lead before, in a bizarre reversal of Game 5, the Suns took their turn at a wild comeback and snagged the lead after a frosty, sloppy second quarter for the Bucks. But then the rest of the game happened ...
5. BP and CP
Bobby Portis looking at CP3 😅 pic.twitter.com/eC2Mv4eNF6 — Bleacher Report (@BleacherReport) July 21, 2021
In case I couldn't love this man more, Bobby Portis giggled in the face of Chris Paul – all-time great point guard as well as an all-time great pest – during a testy interaction. That was great – but you know what was even better? Portis serving as a one-man bench squad during Game 6, putting in 16 points and his usual sparkplug energy to keep Milwaukee in the game and keep fans cheering even when things got tense.
So now that the Finals are over, when does the Bobby Portis mayoral campaign begin?
6. The prophet
Bucks Legend, Brandon Jennings, is here!! pic.twitter.com/85RnVTj4GQ — Milwaukee Bucks (@Bucks) July 21, 2021
Brandon Jennings, the soothsayer who first spoke the great gospel of "Bucks in six," was of course in attendance to see his premonition finally come true. NOW TELL ME MY FUTURE, BRANDON! DO YOU KNOW HOW I WILL DIE!?
7. High-steppin' into our hearts
HE
MIGHT
GO
ALL
THE
WAY pic.twitter.com/SAeHoWjYGa — GIANNIS SCORED 50 IN THE NBA FINALS (@ringernba) July 21, 2021
Listen, if you're gonna get a technical in the clinching game of the NBA Finals – a game in which you've also scored a critical 16 points – you might as well go all out and touchdown stomp your way toward one.
8. One more killer from Khash
Absurd shot from Khris Middleton pic.twitter.com/npRVotiJ2H — CJ Fogler #BlackLivesMatter (@cjzero) July 21, 2021
The Suns refused to go down easy on Tuesday night, taking things into the fourth tied and making the fate of the Finals a 12-minute battle. Fueled by some Chris Paul and Devin Booker jumpers (not to mention a strangely not-awful Frank Kaminsky performance) Phoenix stayed within striking distance – until Middleton hit this ridiculous fadeaway jumper to extend the lead to six with less than a minute to go. It wasn't quite THE dagger, but it sure felt like the moment that Milwaukee fans realized this, truly, actually, could happen. And then it did.
9. Commence celebration
MOOD. pic.twitter.com/kFxPOB2ckz — Milwaukee Bucks (@Bucks) July 21, 2021
The game was too tight for the Bucks to ever get too comfortable and celebrate too early – until the final 20 seconds or so, as Phoenix couldn't hit the necessary shots and Milwaukee kept hitting their free throws. (Even Giannis!) Around that time, Giannis and P.J. finally allowed themselves to realize that, yes, they were about to win the NBA Finals. All that was left was the final whistle and the confetti.
10. Tears of joy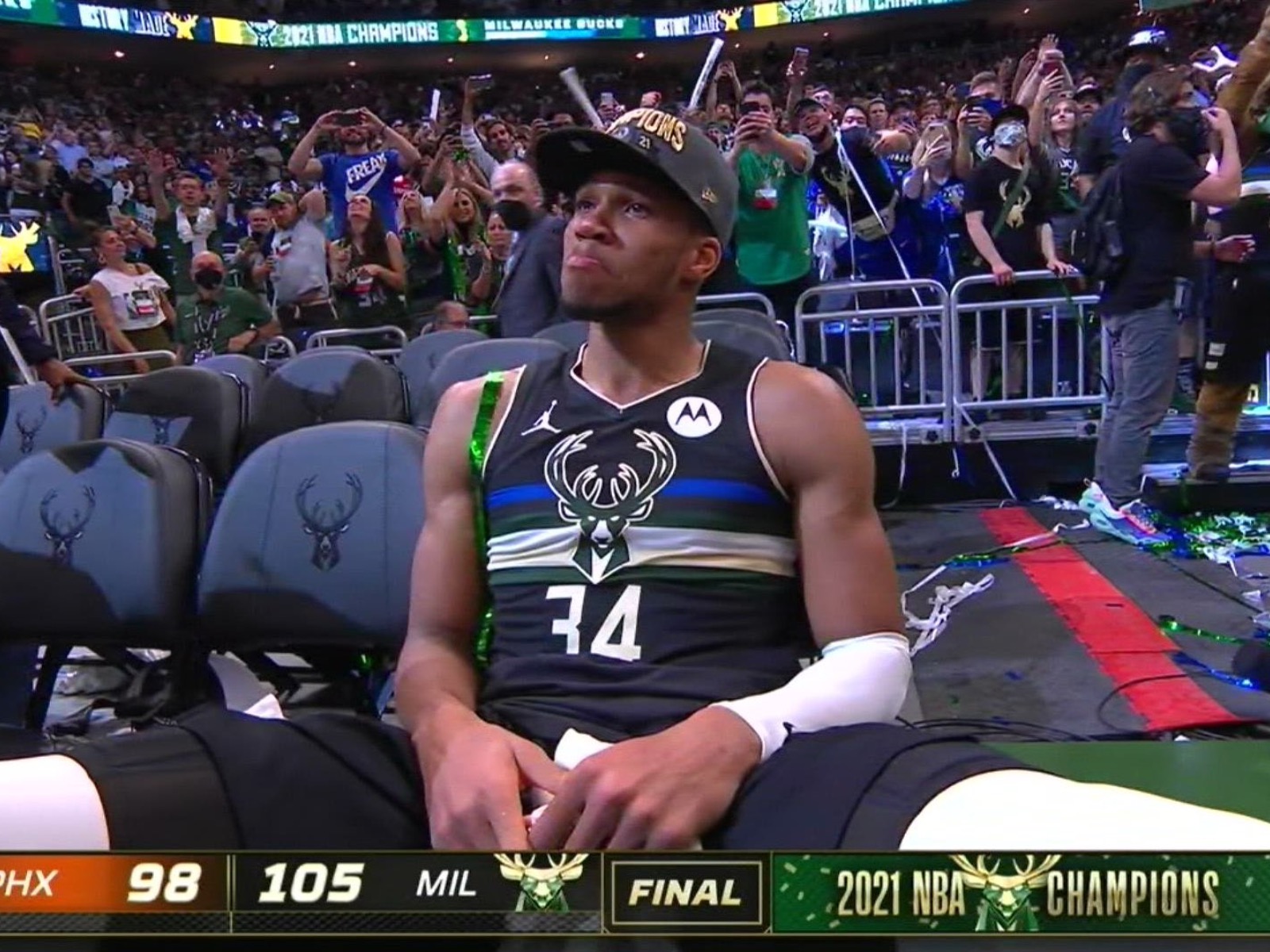 Same, Giannis. Same. The Greek Freak's instant reaction to winning the Finals – finding his family and then sitting down to take in the moment – was so perfectly Greek Freak. We were all doing the same (albeit without the 50-piece scoring line).
11. Impossible became possible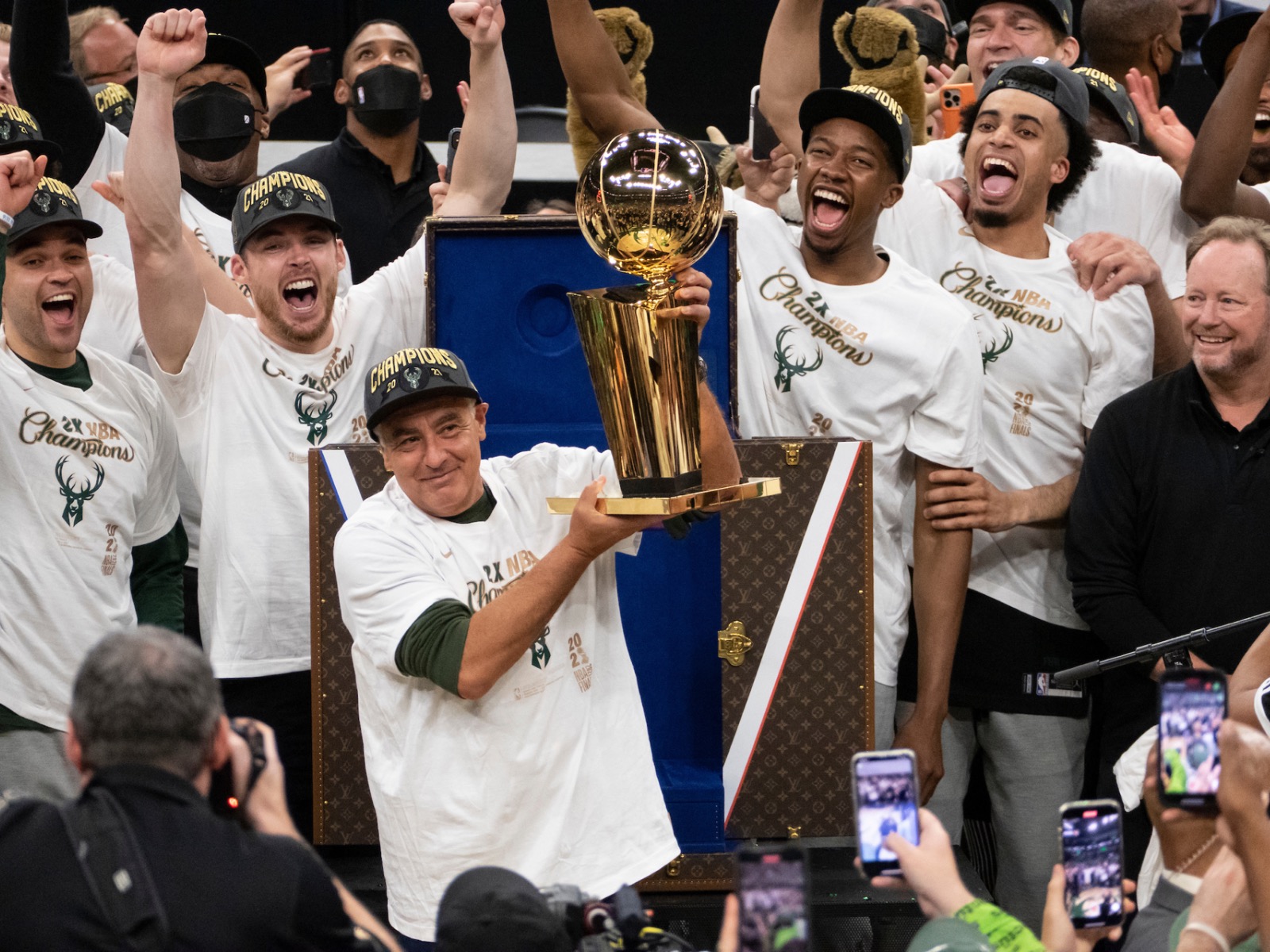 I'm imagining telling myself 10 years ago that the Milwaukee Bucks – then, a team mostly doomed to get the sixth seed at best each year – would hoist the Larry O'Brien trophy in front of a raucous hometown crowd. And in my imagination, Past Matt laughs in my face for being so absurd. But here it is. It happened. It wasn't a dream – not even the Louis Vuitton case.
12. The Great Freak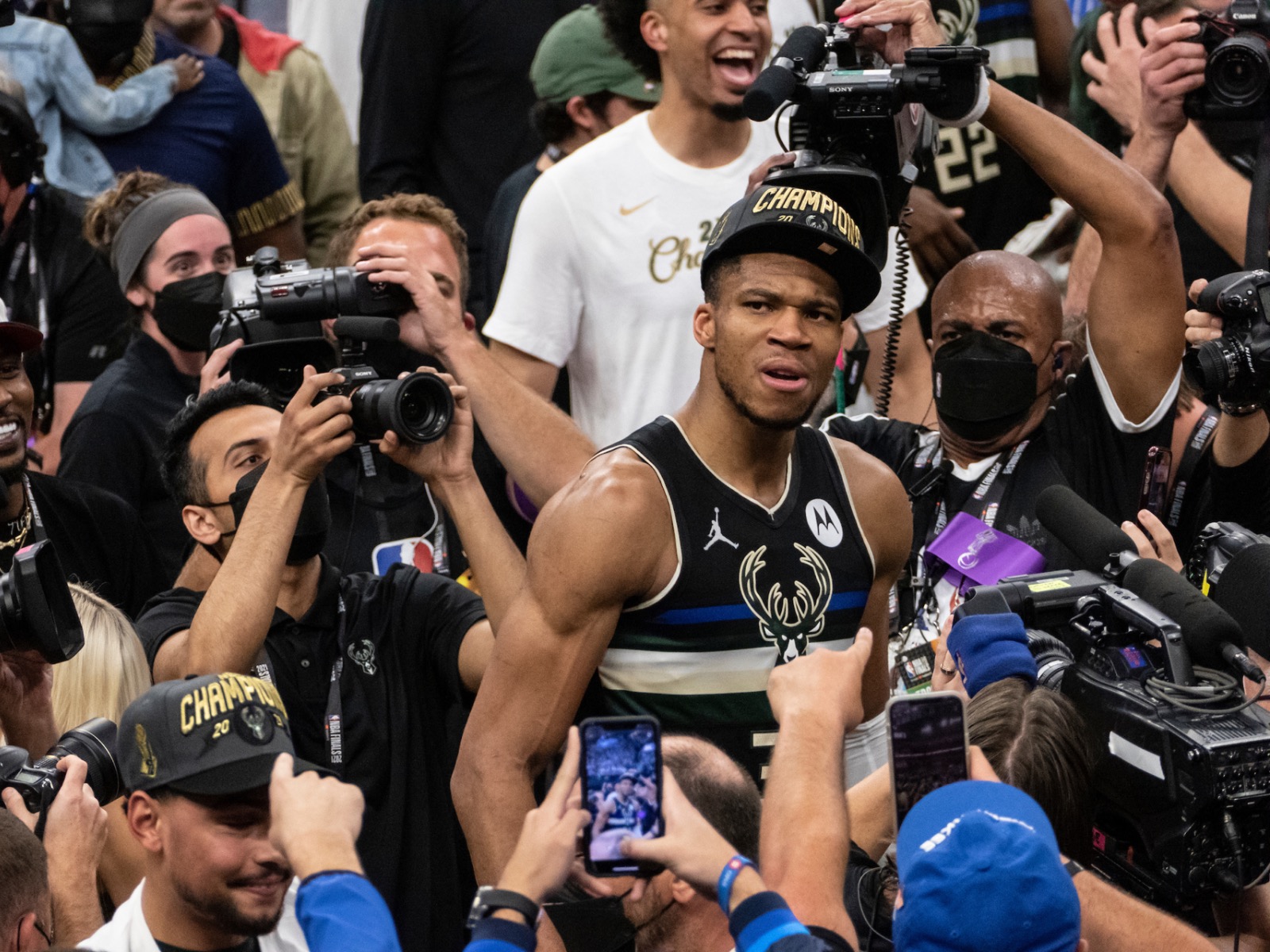 Questions have hounded Giannis: whether he was just a regular-season stat-stuffer, whether he had "a bag" or any skills beyond being tall, whether he was worthy of his two early MVP wins and even whether the team was better without him. (Oh, don't think we didn't see your comments during the Hawks series.)
Consider all those questions firmly answered now.
Giannis delivered one of the all-time great Finals performances, capped by a one-night-only blockbuster show in Game 6: 50 points, 14 rebounds, an absurd five blocks – each one seemingly swatted into beautiful oblivion – two assists and the eventual and inevitable honor of Finals MVP. It was a night we haven't seen since Michael Jordan and an overall six-game run we haven't seen since Shaq. Any questions?
13. Together, forever
"Khris, we did it, huh. We fucking did it." - Giannispic.twitter.com/JjwIF7OB4Q#NBAFinals — Italo Santana (@BulletClubIta) July 21, 2021
When these guys starting playing together back in 2013, they were a part of the worst team in Bucks history, barely scraping together 15 wins. Now, they got 16 wins in the postseason alone on their way to winning the team's first championship in half a century. They are an incredible dynamic duo, and have been – even if the world didn't know it, and even some Bucks fans refused to accept it. But now they do. And these two don't look like they're done either ...
14. Antetokounmbros
Giannis sharing the moments after winning the title on IG Live with his brother. This is amazing start to finish. pic.twitter.com/rEMG7vMS9l — Danny Parkins (@DannyParkins) July 21, 2021
One of the very few bittersweet aspects of last night's win was that Thanasis Antetokounmpo, the team's human victory formation and most ecstatic cheerleader, couldn't be there on the court to celebrate this grand moment with his brother due to COVID-19 protocols. But thanks to the miracle of technology and excellent cell service (hard to come by in Deer District last night!), the two got to share this incredible achievement together. Now all three Antetokounmpo brothers in the NBA have rings – a one-family dynasty if I ever saw one.
15. Smooth moves
walking back into the party after you threw up in the bathroom pic.twitter.com/aoqXldG9TH — Lana Berry (@Lana) July 21, 2021
Of all the slick moves Giannis pulled out on the hardwood last night, this one might just have to be my favorite.
16. The next generation
Baby Liam Antetokounmpo playing with the @Bucks championship confetti. 🥰 pic.twitter.com/Ajh7ZPdVI2 — Stephen Watson (@WISN_Watson) July 21, 2021
A realization stuck me last night watching the celebration: Giannis is probably guaranteed to be a Buck for life now.
There's an alternate universe in which the Bucks don't win this championship, and a tense cloud hangs over the team as they try to get Giannis this key piece of his legacy. And maybe they never do, because small-market teams struggle to get top talent and winning championships is freaking hard, and as a result, Giannis understandably goes elsewhere to get that final box checked on his Hall of Fame resume.
Thankfully, that's not the universe we live in – and now that he's got a championship crossed off his to-do list, I imagine he likely stays and tries to win more here in the city that loves him rather than ever make a desperation dive elsewhere. Which means we get to see this wonderful family continue to grow and evolve before our eyes. What a blessing – on every possible level.
17. Won it for Jim
hold on, I gotta put on my I ❤️ Jim Paschke shirt.@Giannis_An34 | @Paschketball pic.twitter.com/MhTKYh3u6s — Bally Sports Wisconsin (@BallySportWI) July 21, 2021
Thanasis wasn't the only one isolated from the celebration last night as newly retired Bucks play-by-play man Jim Paschke also had to keep his distance from Game 6 with a bout of COVID-19. But once again, Giannis wouldn't let him not be a part of the joy, so for his postgame news conference, he switched into a T-shirt tribute to the beloved voice of Bucks television. Wishing you a good recovery, Jim Paschke, and an even better retirement – what a time to call it a career.
18. The hard way
"I could go to a super team ... but this is the hard way to do it, and we did it. We f---ing did it."

—NBA champ and Finals MVP Giannis Antetokounmpo pic.twitter.com/ni3jG0rOhY — SportsCenter (@SportsCenter) July 21, 2021
You hear that, James Harden?
19. We are the champions, my friends
Fucking hell. pic.twitter.com/IcMBIoJLgT — catfishjohnny (@CatFishJohnny) July 21, 2021
Every video of Milwaukeeans losing their minds last night: Put it in my veins. The inevitable supercut of Brew City going bonkers will get my 2021 Best Picture vote.
20. Phoenix will rise again
Great stuff from Monty Williams 👏👏👏

(📼 @NBA)pic.twitter.com/Lr1AECswRe — GIANNIS SCORED 50 IN THE NBA FINALS (@ringernba) July 21, 2021
If the Bucks had to battle it out against somebody, at least it was a good, fun and worthy team like the Suns – a fellow suffering fan base with no championships ever, a team built from the ground up as opposed to a superteam, a team that plays a solid brand of basketball, a team with some slick uniforms. And, most important, a team led by a great man in Monty Williams, who went to visit the Bucks and offer his congratulations when I'm sure all he wanted to do was crawl into bed and forget everything. This isn't the last we've seen of the Suns – and I look forward to seeing them beat the Lakers and Clippers a lot more in the future.
21. Bud knows best
Coach Bud. NBA Champion. pic.twitter.com/FbqXJP1ivx — Milwaukee Bucks (@Bucks) July 21, 2021
Listen: I've said some mean things about Coach Bud over his tenure in Milwaukee. I said he stubbornly wouldn't make adjustments. I said Bud does not reflect confidence on the sideline. I said, as the Bucks occasionally stumbled their way through the Nets and Hawks, that he could be the first head coach to get fired after winning the NBA Finals. (Gonna bet a "no" on that happening now.)
And now I must say: I'm sorry, and thank you, Bud.
Is Coach Budenholzer perfect? No, but he clearly learned – both from past failures and those this very postseason – and evolved. He made necessary adjustments. He played his best players significant minutes. He moved faster on in-game changes. He did what we should want from all people: He improved and did better from his mistakes. And now the narratives – that he was on the hot seat, that he was a regular season coach – are nonsense. He may not be the best coach – but he's certainly the best coach of the best Bucks team I've been alive to see.
22. Champagne problems
Kristen: "How much champagne have you had tonight?"
Pat & Bobby: "BWAHAHAHAHAHA" pic.twitter.com/x4zsBfthz6 — CJ Fogler #BlackLivesMatter (@cjzero) July 21, 2021
Buddy road trip comedy starring Pat Connaughton and the mayor of Milwaukee Bobby Portis when?
23. Making a splash
Each city has its own special way of celebrating a championship. Philadelphia, for instance, tried to climb poles. In Milwaukee's case, we jumped into a river.
Bucks fans are jumping off a bridge into the Milwaukee River near Pere Marquette Park pic.twitter.com/nIYtP1zPeF — TMJ4 News (@tmj4) July 21, 2021
Honestly, considering the state of the river, maybe flipping The Hop would've been a better choice after all. (But actually good job, Milwaukee, in not flipping The Hop.)
As much as it is a gigantic cliché to say that one has always had a passion for film, Matt Mueller has always had a passion for film. Whether it was bringing in the latest movie reviews for his first grade show-and-tell or writing film reviews for the St. Norbert College Times as a high school student, Matt is way too obsessed with movies for his own good.
When he's not writing about the latest blockbuster or talking much too glowingly about "Piranha 3D," Matt can probably be found watching literally any sport (minus cricket) or working at - get this - a local movie theater. Or watching a movie. Yeah, he's probably watching a movie.