It'd been 50 years since the Bucks got to host a prime Christmas day game – and for the Golden State Warriors, it was 50 years too soon as Milwaukee clobbered Steph Curry's squad, 138-99, in front of an empty stadium but a nationally televised crowd.
After their heartbreaking season-opening loss against the Celtics on Wednesday, the Bucks showed off an impressive short memory and an even more impressive full-team effort in their home opener at Fiserv Forum. Giannis only scored 15 points in a bit of a struggle of a game, but Khris Middleton splashed in a game-high 31, Donte DiVincenzo showed he deserves his starting lineup slot with 13 points and some key baskets in the opening frame, and the once-absent bench logged a combined 59 points. The Warriors, without Draymond Green or Klay Thompson, didn't stand a chance.
So let's keep celebrating this most wonderful time of the year by looking back at ten fun moments and images from the Bucks' first W of the new season – the first of hopefully many more to come, going far into next summer.
1. Follow the leader
MERRY KHRISMAS. 😂 pic.twitter.com/2NhOVKAgEP — Milwaukee Bucks (@Bucks) December 25, 2020
Last year, the pregame ritual was fake wrestling matches. Perhaps this is the pregame goof this season, these odd imitation walks back into the locker room. I hope this turns into a game of human snake and each time adds a new player to the chain – maybe the assistant coaches and bench staff can get into it too! And then we add fans when they're allowed into the arena!
2. You can get me gifts after Christmas too, right?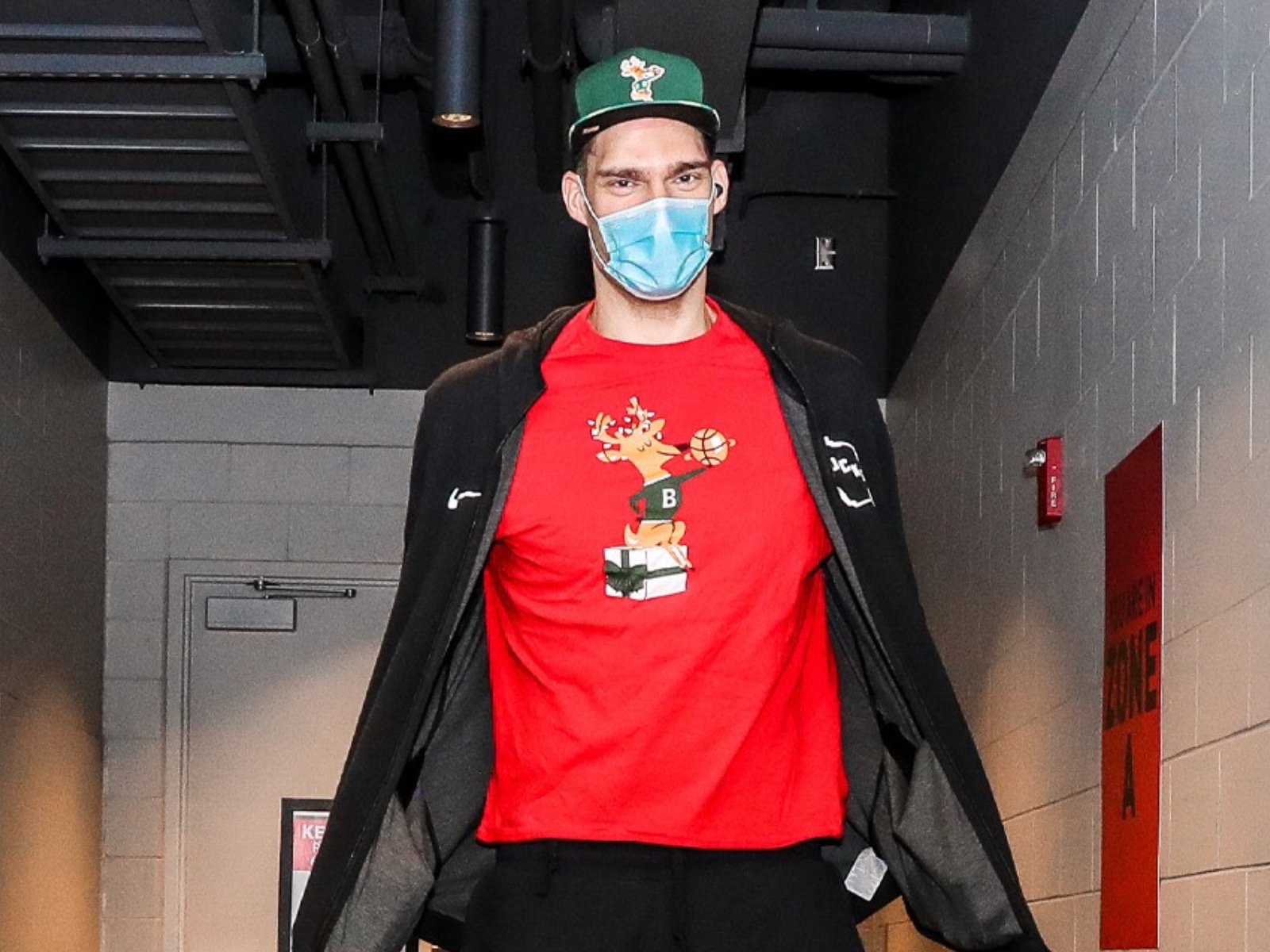 Sure, the other guys may come dressed in fancier clothes, but for my money, Brook Lopez is the best dressed man on the team – including Disney references, minor league team shoutouts and now this terrific Bucks shirt that I wish I'd known about before I made my Christmas list this year. Well, uh, maybe we exchange gifts for New Year's too this year? I mean, we deserve it after (*gestures at all of 2020*).
3. I'll be home for Christmas
Looks like Jordan Poole is a man of word. I heard he was repping @RufusKingHoops pregame before @warriors face the @Bucks in an hour on Christmas Day #Bucks #Warriors pic.twitter.com/4Ostsl1V50 — Lance Allan (@lanceallan) December 25, 2020
The Bucks weren't the only ones making a return to Milwaukee after a long time away. (Not-so-fun fact: Their last home game at Fiserv Forum was on March 4. We were so young and innocent then.) Golden State's Jordan Poole, a Marshfield native and Rufus King grad, showed up representing his high school stomping grounds as he made a return to his home state. His team may have lost, but I say he won on Friday too with this welcome home-coming gesture.
4. A blue Christmas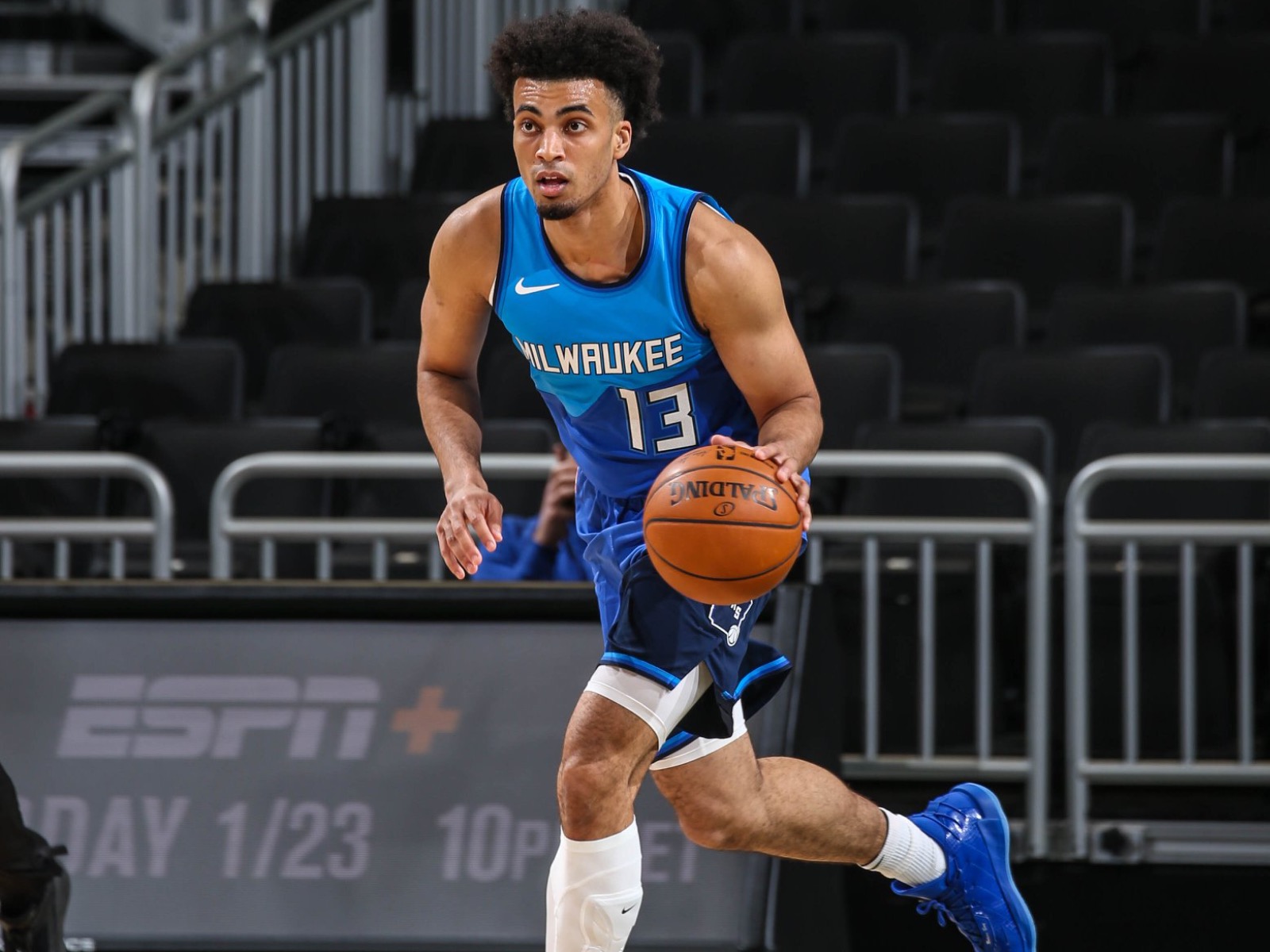 Friday didn't just mark the home debut for the Bucks this season; it also marked the debut for the Bucks' much-ballyhooed blue City edition uniforms. And besides the initial confusion and weirdness of seeing Milwaukee in so much blue – and the supposedly wet-textured numbers not making a visual impact – the Bucks looked great in the new duds, so mark this down as another W for the team's design crew. Plus, it came with the best sports fashion accessory: a win.
5. The floor of the future?
.@bucks you don't even have to pay me just please make this court so we don't have to see the blue jerseys on a green court all season long pic.twitter.com/KXK4NdIVNN — ryan (@ryaninsix) December 25, 2020
For some fans, the only problem with the new uniforms was the cognitive dissonance of seeing an all-blue team battle it out on its green home court. So credit to Twitter user Ryan In Six for creating this slick-looking alternate court for the Bucks to hopefully work into the rotation this season. We've already got the Fear the Deer black court; let's go blue too! Give the (hopefully future) fans in the stands blue t-shirts and we can call the games wash-out themed. #FearTheFlood?
6. Merry Khrismas
A cool 20 and counting for Khris. pic.twitter.com/xHItGlH1UB — Milwaukee Bucks (@Bucks) December 25, 2020
A reminder: The Bucks have two all-star players, and Khris Middleton made sure the big Christmas day audience didn't forget that, putting up a silky smooth game-high 31 points with his signature deadly combination of lethal threes and death-by-a-thousand-cuts midrange game. Congrats to the national audience watching this beatdown for discovering what we've known for a few year now: The Bucks are more than just Giannis.
7. The bench mob's back again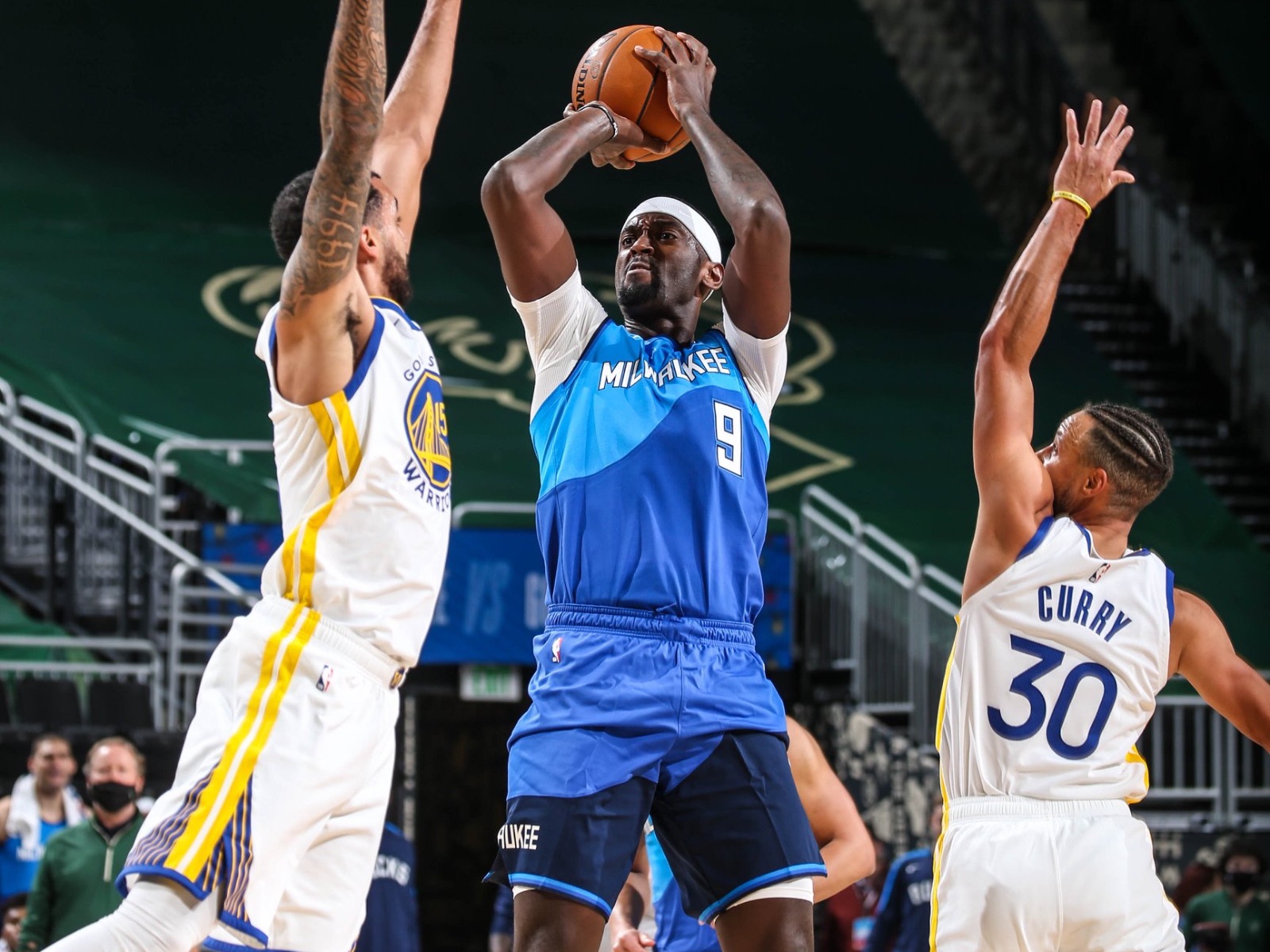 Giannis' missed free throw got all the attention from the Bucks' opening night game on Wednesday, but one of the real issues for Milwaukee against the Celtics was the new-look bench, which only put up 12 points combined. Friday was a different story, though, as the new pieces sure looked comfy in their new home stadium.
In his first game for the Bucks, D.J. Augustin put up a solid 13 points and played some slick pick-and-roll offense for Milwaukee, so it appears George Hill's old role is nicely filled, while low-key signing Bryn Forbes put in some pretty heat-check threes. Even rookies Jordan Nwora and Sam Merrill put in a combined 13 points.
Most impressive, though, was Bobby Portis, who racked up 10 points and a dozen rebounds. Portis has always had a lot of potential but never got to use it much playing for the hapless Wizards and Knicks. In Milwaukee, though, he's playing for a contender, and judging by this early re-energized performance, he could be a very helpful part of keeping things that way, giving fellow bigs Giannis and Brook Lopez time to rest without the risk of hemmorhagging away the game.
With contributions like these against Golden State, give these guys some actual time to gel as a new unit (remember: there was almost no training camp or exhibition time for teams this year), and the bench mob may have a new look but the same important impact like past seasons – including hopefully showing up in the playoffs too.
8. Who needs three wisemen when you've got Wiseman?
Curry ➡️ Wiseman

Get used to this.

(via @warriors)pic.twitter.com/QIZVfXkdq9 — Bleacher Report NBA (@BR_NBA) December 25, 2020
When you lose by almost 40 points, there aren't usually a lot of positives to take from the situation – but if you're the Warriors, you can't be too defeated. They're 0-2, but they lost to the two front runners in the Eastern Conference, and they're without two of their key pieces: Draymond Green and Klay Thompson. And it looks like they've got a promising young player in new draft pick James Wiseman, who put up an impressive 18 points and snatched a nifty mid-air block late in the game. It could be worse for the Warriors – plus they could always sign Giannis next seasOOOOH TOO SOON, WARRIORS FANS!?
9. Anything you can do ...
We COULD talk about how Giannis had a pretty weak game, struggling in the first half, finishing with only 15 points and, once again, clanking at the free throw line by only hitting seven of his 15 tries. But why would we do that when the Bucks still won the game by a whole friggin' bunch and Giannis was still doing stuff like this:
Just Giannis doing Giannis things 😤 #NBAXmas pic.twitter.com/JnsO42UFq9 — ESPN (@espn) December 25, 2020
Important note: In a "disappointing" performance, Giannis still put up a double-double. The reigning MVP: still pretty good as it turns out!
10. ... I can do better!
Thanasis takes flight. pic.twitter.com/ORVQZ0WkD8 — Milwaukee Bucks (@Bucks) December 25, 2020
You know things went either horribly wrong or incredibly right if Thanasis Antetokounmpo is playing minutes – and thankfully, in the case of Friday's game, it was the latter as Giannis' brother added the perfect exclamation point to the Bucks' return home for the holidays and return to their winning ways. Here's to keeping that going on Sunday night in New York against the Knicks – and scoring the first two wins of the season against two teams who really thought Giannis might be theirs next year. Talk about insult to injury.
As much as it is a gigantic cliché to say that one has always had a passion for film, Matt Mueller has always had a passion for film. Whether it was bringing in the latest movie reviews for his first grade show-and-tell or writing film reviews for the St. Norbert College Times as a high school student, Matt is way too obsessed with movies for his own good.
When he's not writing about the latest blockbuster or talking much too glowingly about "Piranha 3D," Matt can probably be found watching literally any sport (minus cricket) or working at - get this - a local movie theater. Or watching a movie. Yeah, he's probably watching a movie.