With seven games in the next 13 days, the end of a long season is near for the bruised and battered Milwaukee Bucks. It seems like not much can be gained from that short a time, but they are still meaningful games for the players who are being evaluated.
Many fans are focused on their "lead" in the standings over Philadelphia for the worst record in the NBA, but on the court, the focus is on improvement.
"We'll continue to teach, particularly our young guys," head coach Larry Drew said. "We'll just continue to try to give our young guys playing time and teach them and continue to just play the right way. We're just focusing on those guys getting better. Every day is an opportunity for them to get better so we want to take full advantage of that."
1. Can Giannis Antetokounmpo finish strong?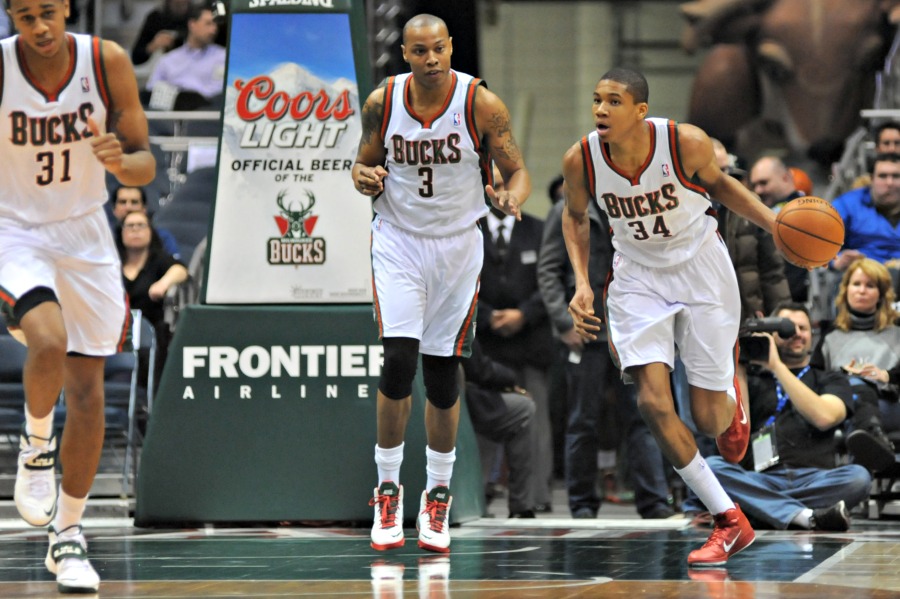 The teenager has played the most basketball of his life this season, and he has definitely shown he can be a franchise-changer. But, he's had his struggles, too. In the month from Dec. 11 through Jan. 13 he averaged 30.2 minutes per game, but just 8.9 points on 6.6 field goal attempts. He did pull down 6.6 rebounds and hand out 2.5 assists though in that time while shooting 43.4 percent from the floor and 23.8 percent from the 3-point line.
Since then however, Drew has reigned in him a bit, as he is seeing 25.5 minutes of action. Naturally, his averages have diminished with nearly five fewer minutes of action – but his shooting has dropped from 39.4 percent from the field. (He is shooting better from long range though, up to 37.1 percent).
"I think this is a very valuable time for Giannis," Drew said. "As the season winds down, one thing that we can't allow to happen is even slippage at this point. Yeah, we only have (seven) games left and that will be the end of our season, but I think it's important that he learns how to play under these type circumstances, under these type conditions."
Antetokounmpo is doing that so far. He's played really solid basketball the last five games, shooting 53.8 percent from the floor as he's cut down on his 3-point attempts.
"I want him to understand how to be a pro in this situation," Drew said. "And being a pro means you still lace 'em up the same way, you come out here and compete at a high level the same way you did when you first stepped in back in October."
2. Brandon Knight


A lot of well-deserved attention has been placed on the Bucks' first round pick from a year ago, but the former lottery pick general manager John Hammond imported this offseason has blossomed.
Right now, Knight has career highs in points (17.5), assists (4.9), rebounds (3.5), steals (1.0) and field goal percentage (41.7 percent). His personal fouls are down, and his turnover rate has not gone up despite averaging the most minutes of his career.
It seemed like he finally got healthy way back on Nov. 29 – and while he played in just six games prior to that contest at Charlotte – it was enough to deflate his averages. Since then, a span of 60 straight games, the 22-year-old is averaging 18.8 points, 5 assists, nearly four rebounds and shooting 42.5 percent in 34.2 minutes per game.
3. Is Jeff Adrien a keeper?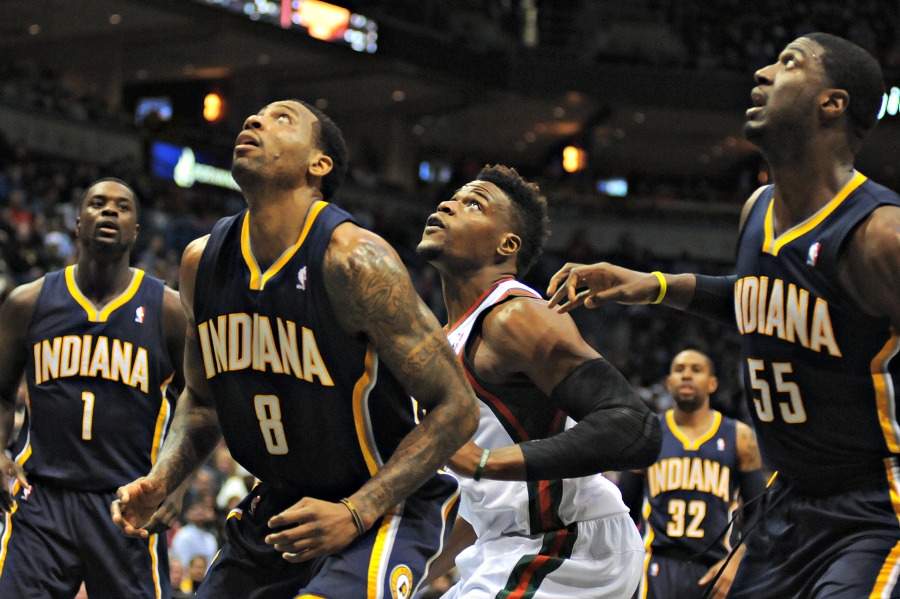 Not much was known about the 28-year old fourth year player out of Connecticut when the Bucks acquired him from Charlotte in the Gary Neal trade. The Bucks were his fourth team in four years, and he never played more than 13 minutes a game.
Since coming to Milwaukee though, the 6-foot, 7-inch forward is getting over 21 minutes of court time and taking advantage of it. He's shooting 51 percent from the floor while averaging 9.8 points and 6.9 rebounds.
He is not going to be a starter, or even one of the first off the bench on a playoff team, but he seems like a positive influence on the court and is a hustle guy willing to scrap. He'll be an unrestricted free agent at the end of the year, and shouldn't command a huge raise from his $916,099 salary this season.
4. John Henson's playing time
This has become a hot topic on talk radio and on Twitter of late, even though Henson's workload has doubled from his rookie year (13.1 minutes to 26.4), and as a result he's shooting 53 percent and averaging career highs in points (10.9), rebounds (7.2) and blocks (1.7).
He's played less than 20 minutes just eight times since the new year (35 games) but his minutes are down slightly (24.6) from his season average in that stretch. This could be fatigue, Adrien's effectiveness, or just the fact that Drew has figured out that the 24-26 minute range best suits Henson's game. But, with Drew's emphasis on getting his young guys work, Henson could see a spike in minutes.
5. Effort
Drew began talking about energy and effort from nearly day one, and it's been a theme in practice and game day throughout the year. He doesn't like talking about, or having to, but unfortunately it's been something he's had to do. Over their last 16 games they are 2-14, have been blown out (10-plus point deficits) five times, have been within just two possessions four times. In their final seven games the Bucks play two first place teams (Toronto, Indiana) three times and two second place teams (Chicago, Washington) and will host Atlanta in the regular season finale with, potentially, a playoff spot on the line for the Hawks. It's a good test and we'll see if the Bucks are up for it.
Jim Owczarski is an award-winning sports journalist and comes to Milwaukee by way of the Chicago Sun-Times Media Network.
A three-year Wisconsin resident who has considered Milwaukee a second home for the better part of seven years, he brings to the market experience covering nearly all major and college sports.
To this point in his career, he has been awarded six national Associated Press Sports Editors awards for investigative reporting, feature writing, breaking news and projects. He is also a four-time nominee for the prestigious Peter J. Lisagor Awards for Exemplary Journalism, presented by the Chicago Headline Club, and is a two-time winner for Best Sports Story. He has also won numerous other Illinois Press Association, Illinois Associated Press and Northern Illinois Newspaper Association awards.
Jim's career started in earnest as a North Central College (Naperville, Ill.) senior in 2002 when he received a Richter Fellowship to cover the Chicago White Sox in spring training. He was hired by the Naperville Sun in 2003 and moved on to the Aurora Beacon News in 2007 before joining OnMilwaukee.com.
In that time, he has covered the events, news and personalities that make up the PGA Tour, LPGA Tour, Major League Baseball, the National Football League, the National Hockey League, NCAA football, baseball and men's and women's basketball as well as boxing, mixed martial arts and various U.S. Olympic teams.
Golf aficionados who venture into Illinois have also read Jim in GOLF Chicago Magazine as well as the Chicago District Golfer and Illinois Golfer magazines.