The Milwaukee Bucks' $524 million arena and entertainment district – a massive project that the team says will revitalize Downtown and activate commercial, residential and office development to attract an additional $500 million worth of private investment – is a couple years from being completed.
Ground was broken on June 18, but the Wisconsin Entertainment and Sports Center (the placeholder name for now) isn't expected to open until September 2018. In the meantime, the Bucks want to stimulate excitement, grow support, provide information and, of course, sell their much-hyped future, both figuratively and literally.
That's why they recently launched the WESC Preview Center, an innovative digital and physical showcase for the new arena development, occupying 13,000 square feet on the fourth floor of the team's Schlitz Park Stock-House Building offices. Over the next two years, while the new arena and entertainment district are being constructed a few blocks away, the Preview Center will serve as an "interactive education and sales platform for the project," while "further articulating the project's transformational impact on Downtown Milwaukee," according to the team.
The expansive space allows visitors to experience virtual tours of the facility and gain a tactile feel for "premium seating concepts," particularly through the fully built replica of a customizable luxury suite. This, arguably, is the primary purpose. The Preview Center also offers fully interactive models, including a large, movable augmented-reality overlay that will live and change over time, as the actual development evolves, and a technologically agile touch-screen representation.
This was cool. Interactive new #Bucks arena touch screen toy. pic.twitter.com/k8ExKx9DLm — Jimmy Carlton (@jimmycarlton88) August 5, 2016
In design and decor, the Preview Center pulls strongly from Milwaukee civic and Bucks franchise history – there's a wall-length timeline spanning from the city's 1846 founding to the arena's future opening in 2018 – and it conspicuously utilizes area raw materials, including Cream City brick, reclaimed barn wood from Wisconsin farms and original Schlitz concrete. It's sleek, cool and cutting-edge, as most of the Bucks' sales and marketing efforts have been under the new ownership.
There's an adjoining private event and social space, Suite 414, which has authentic Milwaukee flourishes, a full bar and premium catering. An upscale lounge, it complements and supports the Preview Center and is also available for rent for non-arena events.
Ted Loehrke, the Bucks' executive vice president, strategy and development, says the goal of the Preview Center is to allow people to touch and feel the physical space and see the live plans – including blueprints and building material – before the new arena opens.
"Part of this is we're building something that won't be fully realized for another two years," he says Friday during a media tour, "so we want people to be able to experience it."
Loehrke says the Bucks have gotten a "great response to the suites." Besides the impressive luxury box replica, which has a screen showing a game going on in the new arena, there is a display case in the Preview Center containing Schlitz bottles that represent the number of suites that have been sold; it's already about half-filled. Loehrke jokingly calls it "the world's most sophisticated inventory management system."
The space is currently only available for Bucks and corporate partner events, but Loehrke hopes the public will be allowed in for tours by next spring.
Prior to the Bucks buying and building out the Preview Center, the space was vacant. It will live for the next two years, serving its sales and information purpose for the team during WESC construction, and then be shut down to become an event space managed by Schlitz Park.
Here are first-look photos from Friday's media tour:
Ted Loehrke gives a tour of the Preview Center
The Bucks' past, present and future buildings

"This is a big project," Loehrke says, "and it's going to take big partners to get there"
The three conference rooms are named Kilbourntown, Juneautown and Walker's Point
Juneautown is the largest and features a touch-screen model
It's interactive and showcases different aspects and angles of the new arena
A wall-size rendering of the arena and entertainment district, with Bradley Center seats
The augmented reality overlay of the arena district and surrounding neighborhood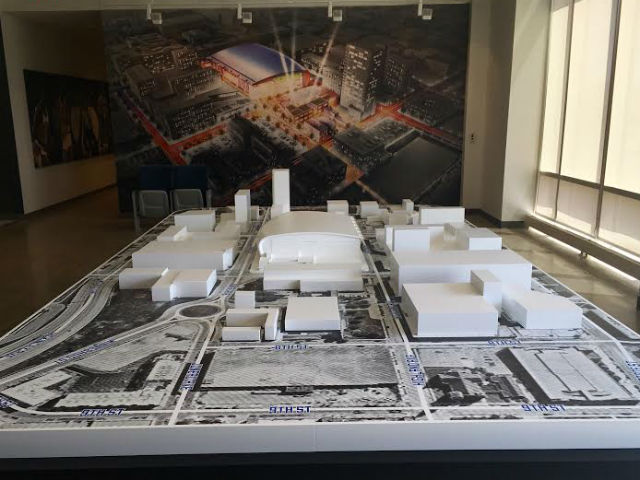 This movable model will live and change to represent the evolving project
And outside, a view of the actual construction site
This room lets visitors see blueprints and live plans
These are floor plans for the arena concourses
There's a wall-length timeline, starting with Milwaukee's 1846 founding ...
... And ending with the 2018 Bucks arena opening
Each Schlitz bottle represents a luxury suite the Bucks have sold for the new arena
This is what a luxury suite in the WESC will look like

The suite replica includes a video screen showing a game in the new arena
Suite 414 is an adjacent private event space
This representation of Milwaukee was made with reclaimed Wisconsin barn wood
The lounge space features a full bar and premium catering
Building materials include Cream City brick
And, of course, Bucks president Peter Feigin wearing a Bucks-themed NYFD jacket
Born in Milwaukee but a product of Shorewood High School (go 'Hounds!) and Northwestern University (go 'Cats!), Jimmy never knew the schoolboy bliss of cheering for a winning football, basketball or baseball team. So he ditched being a fan in order to cover sports professionally - occasionally objectively, always passionately. He's lived in Chicago, New York and Dallas, but now resides again in his beloved Brew City and is an ardent attacker of the notorious Milwaukee Inferiority Complex.
After interning at print publications like Birds and Blooms (official motto: "America's #1 backyard birding and gardening magazine!"), Sports Illustrated (unofficial motto: "Subscribe and save up to 90% off the cover price!") and The Dallas Morning News (a newspaper!), Jimmy worked for web outlets like CBSSports.com, where he was a Packers beat reporter, and FOX Sports Wisconsin, where he managed digital content. He's a proponent and frequent user of em dashes, parenthetical asides, descriptive appositives and, really, anything that makes his sentences longer and more needlessly complex.
Jimmy appreciates references to late '90s Brewers and Bucks players and is the curator of the unofficial John Jaha Hall of Fame. He also enjoys running, biking and soccer, but isn't too annoying about them. He writes about sports - both mainstream and unconventional - and non-sports, including history, music, food, art and even golf (just kidding!), and welcomes reader suggestions for off-the-beaten-path story ideas.