The Milwaukee Bucks moved its personnel into the organization's new office at Schlitz Park in early February, but the team invited media to walk through the Eppstein Uhen-designed space Tuesday afternoon.
The plan was for a more employee-centric space that combined the history of the Stock House building and the organization with modern workplace concepts.
"They have an appreciation for history and for Milwaukee so that's one of the things I think we've all been pleasantly surprised with," Eppstein Uhen president Rich Tennessen said. "They're not trying to come in and make it how they do it in New York. It's about learning about Milwaukee and appreciating what's here."
Following the slow demolition of the historic Brew House, windows were added to the Stock House and the interior was opened up – changes that could be made because the building has no historic designation.
"We had to do it the old fashioned way, with debt and equity, which very few people do today," said John Grunau of the Schlitz Park ownership group.. "Once we were able to do that, with the park and with this building, we were able to attract tenants."
The first tenant at the complex at 235 W. Galena St. was UMB Fund Services.
"They were the key component of activating this space," Grunau said. "Once they came we were able to really showcase this building, and one of the first groups that came in were the Bucks."
After several months of negotiations, construction began in early November and on Feb. 3 the Bucks consolidated all of their operations in the building, marking the first time in two decades that all of the team's employees were housed in one space.
"Everything revolved around being employee-centric and creating a dynamic environment with a lot collaborative space, a lot of natural light, places where people want to come and to work," Tennessen said.
In a nod to the team's history, the organization's retired numbers adorn the walls with subdued coloring that mimics the design of a basketball net. The lobby will also feature a collection of Bucks bobbleheads on one wall.
The firm employed what's called a "heavy benching" application, which means employees are close together, with few barriers between them. There are few executive offices, but they are all glass-walled to promote transparency and collaboration.
"We really focused on less individual space but allocating the rest of the space for more 'we' areas, more team spaces," said Jackie Posselt, a senior interior designer and associate at Eppstein Uhen. "We wanted open space for people to collaborate easily. That's why there's really no partitions. The low partitions were really part of design and keeping the high energy floor. It's kind of attributed to a trading room floor."
There are three conference rooms, which employees named the "Eastern Conference Room," the "Trophy Room" – which is a proper board room – and the "Johnny Mac Ticket Shack" for the sales team which features a wall-sized photo of the BMO Harris Bradley Center interior.
In the center of the office is a gaming lounge (which will also be named by the employees), which features a large television and couch seating.
There are standing tables to gather around and talk, as well.
In the work cafe, a ping pong table will be brought in along with booth seating along the walls. The original championship banner was also placed in that space to once again tie the team history into this new space.
Even the very back hallway space was utilized, featuring every incarnation of the Bucks jerseys throughout the years.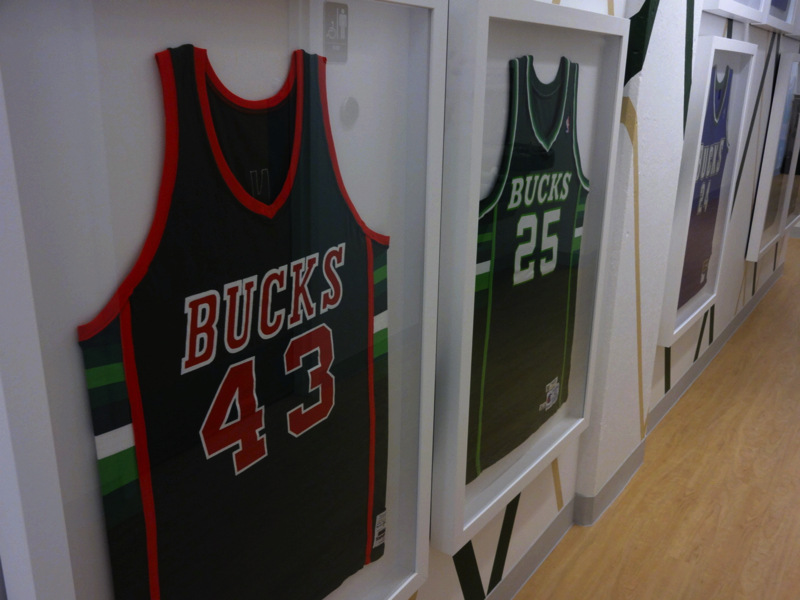 "One thing (Bucks president) Peter (Feigin) has talked about is setting the standard for NBA offices, wanting to be that standard that others can aspire to," Tennessen said. "So, I don't know if they've seen this elsewhere in the NBA."
Jim Owczarski is an award-winning sports journalist and comes to Milwaukee by way of the Chicago Sun-Times Media Network.
A three-year Wisconsin resident who has considered Milwaukee a second home for the better part of seven years, he brings to the market experience covering nearly all major and college sports.
To this point in his career, he has been awarded six national Associated Press Sports Editors awards for investigative reporting, feature writing, breaking news and projects. He is also a four-time nominee for the prestigious Peter J. Lisagor Awards for Exemplary Journalism, presented by the Chicago Headline Club, and is a two-time winner for Best Sports Story. He has also won numerous other Illinois Press Association, Illinois Associated Press and Northern Illinois Newspaper Association awards.
Jim's career started in earnest as a North Central College (Naperville, Ill.) senior in 2002 when he received a Richter Fellowship to cover the Chicago White Sox in spring training. He was hired by the Naperville Sun in 2003 and moved on to the Aurora Beacon News in 2007 before joining OnMilwaukee.com.
In that time, he has covered the events, news and personalities that make up the PGA Tour, LPGA Tour, Major League Baseball, the National Football League, the National Hockey League, NCAA football, baseball and men's and women's basketball as well as boxing, mixed martial arts and various U.S. Olympic teams.
Golf aficionados who venture into Illinois have also read Jim in GOLF Chicago Magazine as well as the Chicago District Golfer and Illinois Golfer magazines.