The Milwaukee County Transit System's popular Bus Shelter Art Project is kicking off its second season with the installation of eight new pieces of artwork on bus shelters in Milwaukee.
The first location, at the intersection of 27th Street and North Avenue, features artwork by Tyler "Tystarr" Copes. Seasons 414 is a colorful illustration that depicts a diverse group of individuals enjoying Wisconsin's summer, spring, fall and winter months.
"Growing up in Brooklyn, I was basically raised on public transportation and I loved seeing people from all walks of life trying to get to their destinations," Copes said. "Milwaukee is no different. This is my love letter to the city that adopted me and to all the passengers who rely on the bus every day – no matter the season."

Seasons 414 by Tyler "Tystarr" Copes.
Also new to the project is a bright design at 1st Street and National Avenue in the Walker's Point neighborhood. Big, Giant Hugs, by Matt Juzenas, features a rainbow background with large, bubbly text.
"I wanted to create a piece that would simply make people smile," Juzenas said. "I am beyond honored that this fun message of positivity is being displayed in a neighborhood where I have personally experienced the love and support of our LGBTQ community. I love Milwaukee and this is a way for me to give one of my big, giant hugs to the entire city!"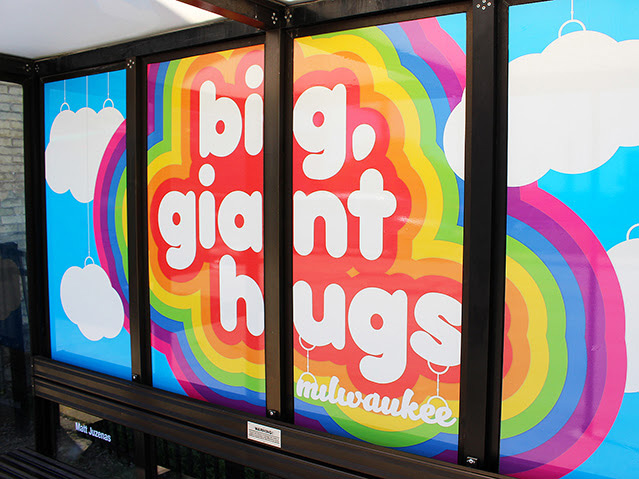 Big, Giant Hugs by Matt Juzenas.
Other artists chosen for the project's new season include: Nellie Gehrig, Dré Black, Larry Booth, Noel Clark, Dena Nord and Shawn Bhatti. Their designs will be installed in the coming weeks and months.
The Bus Shelter Art Project, which launched one year ago this week, is an innovative collaboration between MCTS and The Bus Art Project MKE. The Bus Art Project MKE, founded by Libby Olbrantz, works with the artists and raises money to pay for the production and installation of the art, then MCTS provides the space on its bus shelters.
"Six of the eight locations chosen for our new season are in Milwaukee's central and north side neighborhoods," Olbrantz said. "I'm excited to help bring art to parts of the community that don't always get the chance to enjoy public art."
The project's success is thanks, in part, to the support of Milwaukee County Executive Chris Abele. His personal donations have funded the printing and installation of many of the designs, including the eight being unveiled this season.
"Milwaukee County is home to talented artists who create public art and add to the cultural fabric of our communities," Abele said. "The transformation of bus shelters into art installations across the County will strengthen our legacy of public art and enable artists to share their work in our neighborhoods."
Visit RideMCTS.com/Art to see the current designs and learn how you can help support the project.