Having a bad day? Bust some stuff.
Having a good day? Bust some stuff.
Not sure? Then you really should bust some stuff.

It's tempting to say the first "rage room" – called Bust -N-Stuff – opened in Wisconsin this weekend, but owner Eugene Trotter is not a fan of that term.
"I prefer calling it a 'Bustaporeum.' I want people to come here and have fun, first and foremost," says Trotter.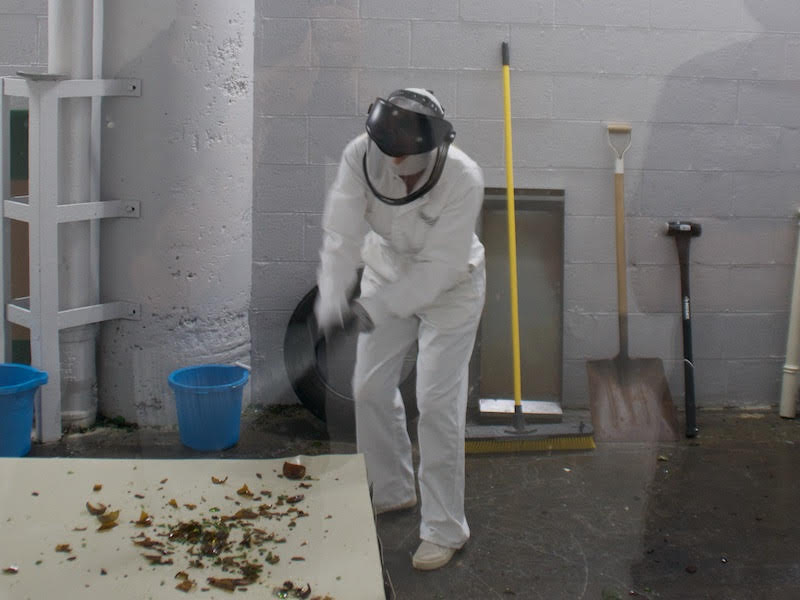 Bust -N-Stuff is now open in the Lincoln Warehouse, 2018 S. 1st St. Starting at $25, guests are invited to come alone or in pairs (date night?) to laugh and blow off some steam. Parties, corporate teams or larger groups are welcome as well and for a discounted price.
"Busters" pre-register online for a specific date and time and pay with Paypal or a credit card. It's also recommended they fill out a waver prior to showing up so they don't have to spend time doing so once they arrive.
Safety is Bust-N-Stuff's top priority. Participants suit up in protective jumpsuits, a face mask/head protector, painters sock, closed-toed shoes, ear plugs and cut-resistant work gloves before entering one of the two "busting" rooms. There is only one person allowed in the room at a time to bust stuff, but large, thick windows allow others in the group to observe the smashing.
Once inside the room, guests set up glass bottles and jars of all shapes and sizes onto a table and then pick a busting tool of choice - a bat, a golf club, a sledgehammer, a shovel – and start busting. Trotter calls the busting devices "done4s" because that glass, after a swing or two, is done for.
There are also group busting games available – including a version of "Jenga" – if the party is interested.
Most people will find the sport of busting extremely satisfying but also strenuous. Guests are allowed 20-50 minutes in the busting room, but most likely will tire out before time's up.
"On a good day, I can bust stuff for maybe eight minutes," says Trotter.
Bust-N-Stuff only supplies metal and glass items for smashing – no electronics – and recycles all of the fragments or donates them to artists. (Tell your mosaic-making friends!)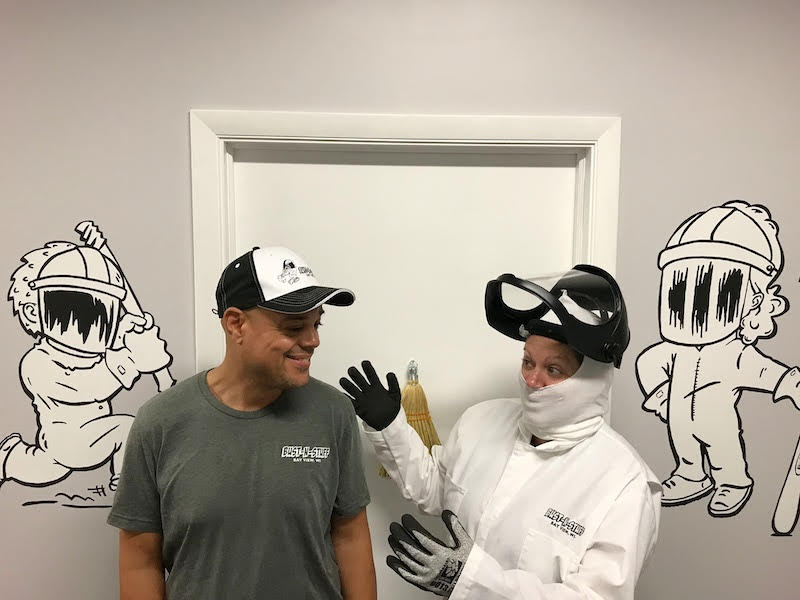 Trotter, who was an MPS teacher for 19 years prior to embarking on this new venture, says he got the idea years ago from watching a Japanese TV show.
"Finally, about 10 months ago, I really started to think about this, and I told my brother and my wife. My brother thought it was hilarious and my wife said 'go for it,'" says Trotter. "So here we are."
Schedule your appointment to bust stuff here. Note: participants must be at least 18 years old.
OnMilwaukee recently took a field trip to bust some stuff. We found it extremely exhilarating, liberating and a little bit naughty. But don't take our word for it, check it out:

Molly Snyder started writing and publishing her work at the age 10, when her community newspaper printed her poem, "The Unicorn." Since then, she's expanded beyond the subject of mythical creatures and written in many different mediums but, nearest and dearest to her heart, thousands of articles for OnMilwaukee.

Molly is a regular contributor to FOX6 News and numerous radio stations as well as the co-host of "Dandelions: A Podcast For Women." She's received five Milwaukee Press Club Awards, served as the Pfister Narrator and is the Wisconsin State Fair's Celebrity Cream Puff Eating Champion of 2019.