It's difficult to imagine how Prospect Avenue on the lower East Side once looked, lined on both sides with stately 19th century mansions. But, thankfully, at least a few examples survive to give us an idea.
One of the loveliest is 1875 Italianate home that landmark Milwaukee architect Edward Townsend Mix designed for local pharmaceuticals magnate Henry H. Button. That house, at 1024 E. State St., on the corner of Prospect Avenue, has been home to the David Barnett Gallery for nearly 35 years.
"Every day now since 1985, I drive up Prospect and I see the house, and it has that magical quality about it," says owner David Barnett. "It's just a masterpiece of Victorian/Italianate architecture."
Despite the fact that its aspect has changed over the years – losing its stately tower and the L-shaped porch out front – Barnett is, of course, correct.
The home is simply gorgeous, dressed as it is in weathered cream city brick, with a classical pediment, braced with stunning, heavy brackets and filigreed with slim, elegant chimneys.
"This structure is an excellent if not outstanding example of Italianate residences as constructed in the city," waxed the Wisconsin Historical Society in its architectural inventory.
"Built with cream city brick, its asymmetrical form is embellished with an elaborate detailed cornice, hood molds and an intricate molded porch. It is in immaculate condition with only the slightest of alterations. Extant structures of this caliber are rare in this city."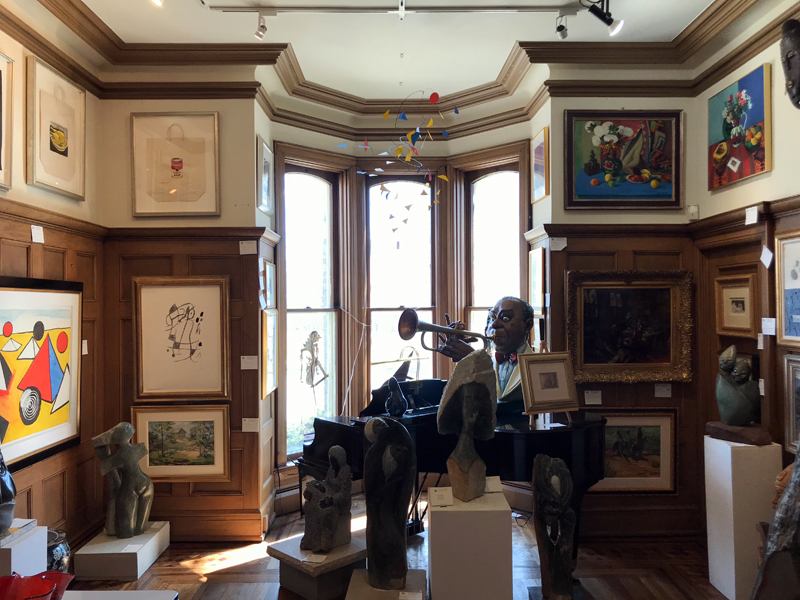 "The Button House is also significant as an important surviving residential commission of architect Edward Townsend Mix," noted the City's Historic Designation Report on the property, prepared in 2002.
"(It) is the best surviving Italian Villa style residence by Mix in the city and shows him a master of fine detail."
In his "Heritage Guidebook," architectural historian Russell Zimmermann focused on those details.
"In a day when wooden details could be ordered from a catalog, at a saving, this house and all its ornament was carefully designed by the same man," he wrote. "The sandstone keystones and window details, as well as the wooden brackets and porch, show the unmistakable touch of a single guiding hand."
The interior is just as beautiful, with original door hardware (some of it made of wood), intricate inlaid floors, room after room fitted with fine fireplace surrounds (seven of the original 10 survive in place) in walnut and marble, moldings, and one of the loveliest second floor landings you'll find, illuminated by leaded glass windows and a skylight.
On the roof, there's a deck offering stunning 360-degree views, but I was most intrigued by the attic through which one must pass to reach the top.
Here, toward the back, there are rooms that suggest servants' quarters (above) and, toward the front, the base of the former tower. You can go into that space (pictured below), if you get really low.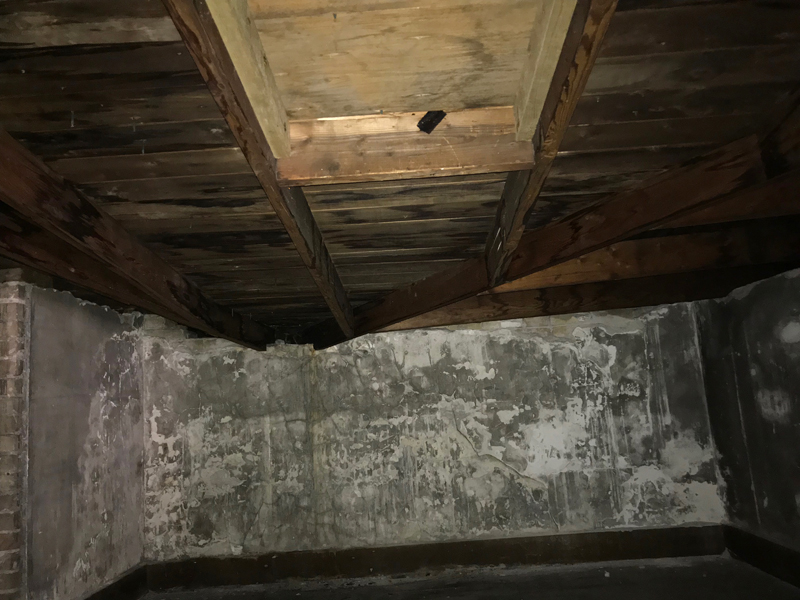 From the roof, you can see where the tower once stood, too:
This home isn't wood-framed with a brick veneer outside. Climbing through an opening to get into that old tower space you can also get a glimpse into an interior wall ... built with cream city brick (pictured below).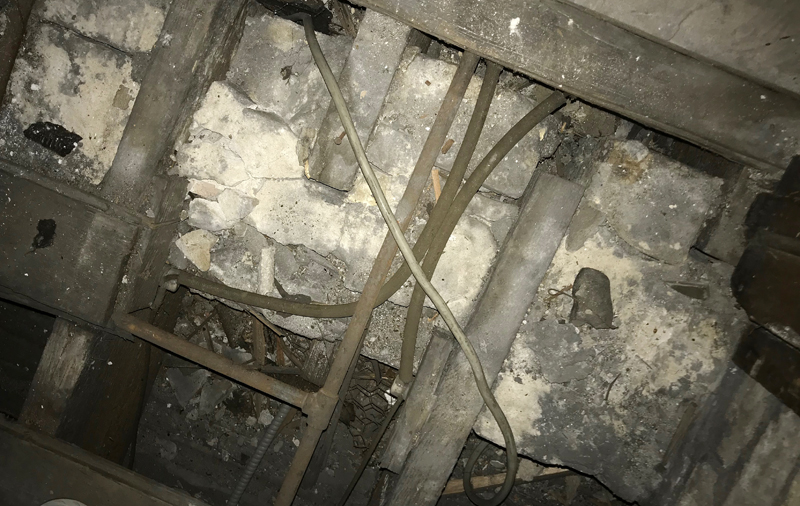 Even more beautiful is the fact that Barnett is a working gallery, so there is artwork – paintings, prints, drawings, sculpture – everywhere, splashing color throughout the home, which on a sunny afternoon finds light streaming in every window.
I ask Kelsey Soya, who recently began working at the gallery as an art consultant and assistant to Barnett, if it's difficult to get anything done surrounded by all this beauty. She smiles and says that while she does sometimes catch herself stuck staring at some work or another, it's also an inspiring atmosphere.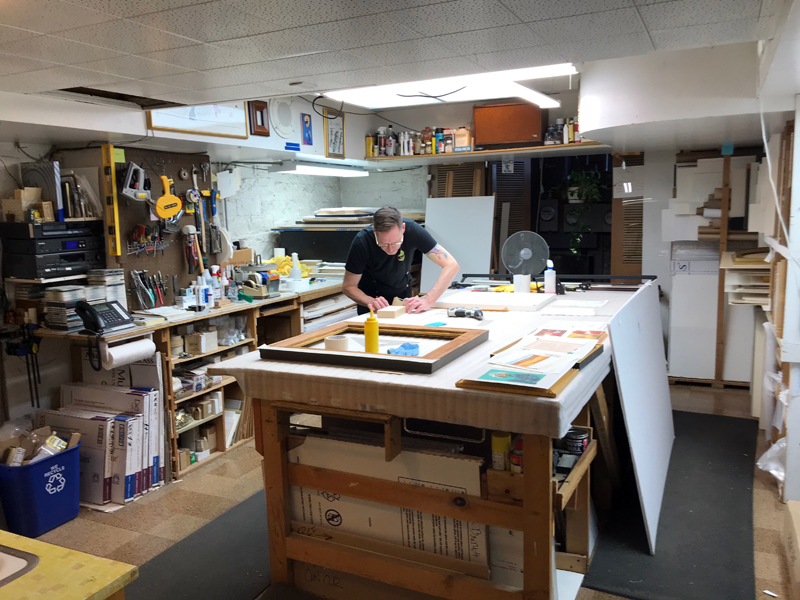 In the basement, where there's even more art, there's also a framing shop, storage and other support spaces.
Who was Henry Button?
Born the son of a farmer in Wallingford, Vermont, in August 1818, Henry Harrison Button graduated from Brown University in 1842 and earned a degree from the Medical Department of the University of the City of New York in 1845. He apprenticed under a Dr. Spears and, worked as a private tutor in Virginia.
Button had his own medical practice for four years in Brooklyn, during which time he married Rhode Islander Elizabeth Arnold Pearson.
According to "The Medical History of Milwaukee: 1834-1914," by Louis Frederick Frank, "the limited opportunities for advancement in the east prompted him to take up the west as his abode."
As I wrote in the past, Button's friend – and a cousin of his wife's – Thomas Greene bought Henry Fess Jr.'s drug store and lured Doc Button to town in 1848 to partner with him.
The two created a successful wholesale and retail pharmacy enterprise. According to the historic designation report, within 10 years, the company's assets were estimated to have grown six times over the original investment.
Frank wrote that, "his new business enterprise was exceptionally successful, as also his career in social and business circles, being at one time president of the Chamber of Commerce, and for many years of the Merchants and Manufacturers' Association, director of the Milwaukee Gas Company and the Northwestern Life Ins. Co."
In 1866, Button made the Sentinel's list of the 48 most prosperous men in the city. Two years before his home was built, Button spent an entire year in Europe with his family.
Button owned the plot of land for five years before building on it, but when he built, he BUILT.

(PHOTO: Courtesy of David Barnett Gallery)
"The $30,000 house was built of pressed local cream city brick and trimmed with stone," noted the designation report. "When one takes into consideration that the average worker made less than $1,000 annually, the house was definitely in a class of its own." (NOTE: In that Sentinel article nine years earlier, Button was said to be earning $15,442 annually.)
The Downtown building at Clybourn and Water Streets that bears his name – and was recently converted to a hotel – was built by Button's family two years after his death at home in February 1890 as an investment and a monument to him.
The home after Button's death
After Button's death, his widow continued to live in the State Street house. In 1903, she spent $10,000 to build an Elizabethan Revival house, designed by Henry Messmer & Son, on the western part of the lot.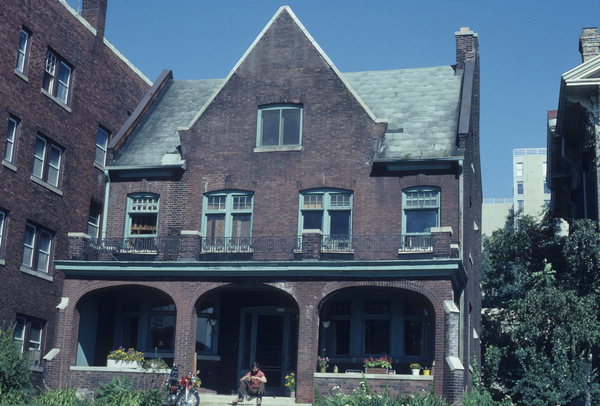 (PHOTO: Courtesy of Wisconsin Historical Society)
That home, pictured above, was razed in the 1990s for a parking lot. (Another home, to the north, built simultaneously by Mrs. Button, also designed by Messmer, was torn down in 1971)
Five years later, Mrs. Button also passed and the home was owned by Henry Jr. and his wife, who lived nearby. The historic designation report couldn't uncover to whom they rented the house from 1909 to 1919, and scanning through city permits offered little in the way of clues.
A 1912 classified ad sought a "competent girl for general housework in small family," which doesn't help much, but references to a Hathaway family at the Button House address can be found from 1911, when Ruth appears in the list of seniors at Rockford Seminary, through 1913, when Fred Clermont Hathaway appears at the same address in a Beta Theta Pi roster for the University of Wisconsin.
A 1916 ad for the Hudson Super-Six automobile noted that a certain Allen S. Hathaway, who lived in the home, was the proud owner of a cabriolet version of the car, and the following year, Fred – by then a year out of college – was listed by the same fraternity as an insurance man still living in the Button House.
The family was listed at other addresses in the 1910 and 1920 censuses.
In 1920, a year after Henry Button Jr. died, the home was converted into a luxury duplex, with Carl Barkhausen (who designed the Button Block) doing the drawings. Tenants were the likes of the treasurer of Cutler-Hammer and presidents of Western Lime & Cement and the Milwaukee Company.
In 1941, Button Jr.'s widow lost the house to foreclosure and was purchased by the Milnette Realty Company, and at around this time the first floor was converted to office space. In 1948 Dr. Herman Schumm bought the home, living upstairs with is wife Sara and operating his practice downstairs.
In 1956, Dr. Ralph Sproule bought the house and, like the Schumm's, lived upstairs and worked downstairs running an ear, nose and throat clinic. Sproule added the garage to the basement the year he moved in. That space and its overhead door survive, but it is no longer used as a garage.
Sproule also installed an elevator so tight that it makes a Parisian lift feel tres spacious. That elevator still works, though it is used only to move artwork between floors. The interior is painted to resemble a blossoming tree.
"Mrs. Sproule painted this," says Barnett. "For years I never picked up on this, but this is the magnolia tree out front."
In the 1970s, the house was home to an investment and accounting firm, and in the early '80s, Psychiatric Associates had offices there and then, briefly, there was a law firm. Barnett bought the place in 1985, becoming, he says, its seventh owner.
Early on he, too, lived upstairs and operated his business on the first floor, but now the entire building is given over to the gallery.
Buying it wasn't easy, says Barnett (pictured below), who jumped through hoops to make it happen, even when it seemed like the deck was stacked against him.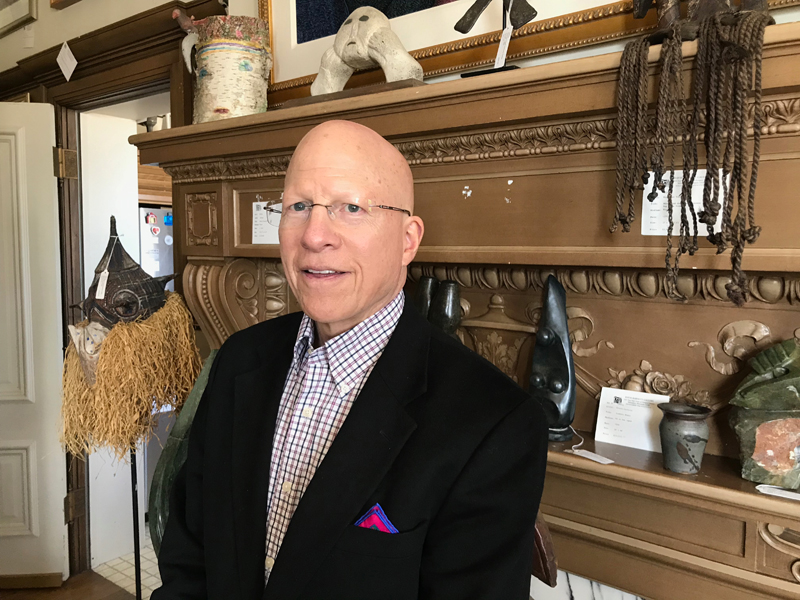 "I was obsessed with buying this house," he recalls. "I said, 'This is my house. Mine. This isn't getting away from me, I don't know what I'm going to have to do'."
But, he figured it out. And all these years later?
"(I'm) still here," he says. "And I couldn't be happier."
Born in Brooklyn, N.Y., where he lived until he was 17, Bobby received his BA-Mass Communications from UWM in 1989 and has lived in Walker's Point, Bay View, Enderis Park, South Milwaukee and on the East Side.
He has published three non-fiction books in Italy – including one about an event in Milwaukee history, which was published in the U.S. in autumn 2010. Four more books, all about Milwaukee, have been published by The History Press.
With his most recent band, The Yell Leaders, Bobby released four LPs and had a songs featured in episodes of TV's "Party of Five" and "Dawson's Creek," and films in Japan, South America and the U.S. The Yell Leaders were named the best unsigned band in their region by VH-1 as part of its Rock Across America 1998 Tour. Most recently, the band contributed tracks to a UK vinyl/CD tribute to the Redskins and collaborated on a track with Italian novelist Enrico Remmert.
He's produced three installments of the "OMCD" series of local music compilations for OnMilwaukee.com and in 2007 produced a CD of Italian music and poetry.
In 2005, he was awarded the City of Asti's (Italy) Journalism Prize for his work focusing on that area. He has also won awards from the Milwaukee Press Club.
He can be heard weekly on 88Nine Radio Milwaukee talking about his "Urban Spelunking" series of stories.