Realtor and homeowner Alaina Zieman has some perhaps unorthodox advice for home buyers, especially first-time home buyers:
"I always encourage my buyers to look for the worst house in the best neighborhood," she says, bucking the idea that you should never buy the best, nor the worst (depending on who you ask), house on the block.
Zieman says the best deals can be found in the fixer-upper market. She knows this from experience, as she and her husband, Scott Fleming, traded the home they'd gotten into the condition they wanted for a place in Wauwatosa that needed a bit of work.
"We had done a decent amount of updating on our first home and it was ready to say goodbye," she says. "We took the proceeds from that sale and put most back in to this house I found – the most outdated house in the one of the best neighborhoods. We were able to negotiate the price down and made the leap.
"I'm a Realtor so I know how crazy this market is. (But) I have an eye for interior design and my husband is a hobby woodworker, so we knew we would do something special. I'm not going to lie, closing day was a little scary, leaving our gorgeous first home for shag carpet and wallpaper."
The couple has updated every room in some way, doing a lot of the work themselves and hiring experts to do the rest.
"We did pretty much everything aside from moving walls," Zieman says. "We started with the easy stuff first: floors, walls and light fixtures. Ripping out the carpeting and refinishing the original oak hardwood floors, and then painting all the walls and millwork goes such a long way and provides an immediate morale boost."
Updating lighting is a "fairly painless" way, Zieman suggests, to make a big difference in a home.
After that, they tackled bigger jobs, like gutting the kitchen and installing a new one, as well as updating the bathroom and powder room, and then looking outside.
"One surprising area we were able to add value, and that's often overlooked when thinking about a home renovation, was outside," says Zieman. "Along the back of our yard were two severely overgrown perennial gardens that weren't aesthetically pleasing in the least. We completely cleared them out and my husband built two decks – one of which is home to our hot tub. This added over 300 square feet of entertaining space and gave our yard a big boost."
Zieman and Fleming did run into some unexpected work – anyone who has ever watched a home renovation show on television knows to expect the unexpected – like having to replace all of the exterior siding, which was causing an issue with water and which was a hit to the wallet.
"That was a big blow to the bank account but ultimately will improve the value of the home," Zieman says. "All the other surprises were minor in comparison. The first week in the house I had the fireplace inspected, and the old gas line was leaking so the fire department had to come and shut it off until we got it repaired. We also had to run a new gas line up into the kitchen as the previous stove was electric. These are small things you should expect to happen when you buy a fixer upper."
Zieman's experience as a Realtor, a home buyer and fixer-upperer means she has some great advice for anyone who's looking to take the plunge.
When it comes to buying, she says, "Don't rush. That house for you might not be the first one you see, or even the 10th, but have patience. Make sure you don't overpay for the house and that you're able to get the money back out that you put in. Look for a house that is structurally sound but if you can envision changing the cosmetic aspect of it, you can make a decent amount of money. Have cash on hand and then some more."
Once you've closed the deal, "Plan to be uncomfortable for a bit if you're living in your fixer upper. We had countless nights with takeout and I don't even know how many times I've had to clean dust off of the baseboards and walls after renovations.
"Once you purchase the house everything probably will not be done immediately, it takes time. I think the largest piece of advice is to know yourself. Know both what you're physically capable of in terms of helping out with the projects, but also what your mental limits are. Since there's a certain level of unpredictability, you need to be adaptable and roll with the punches so to speak. Another big part is knowing when it makes sense to hire a contractor versus tackling a job yourself."
Before and after at the Zieman-Fleming home: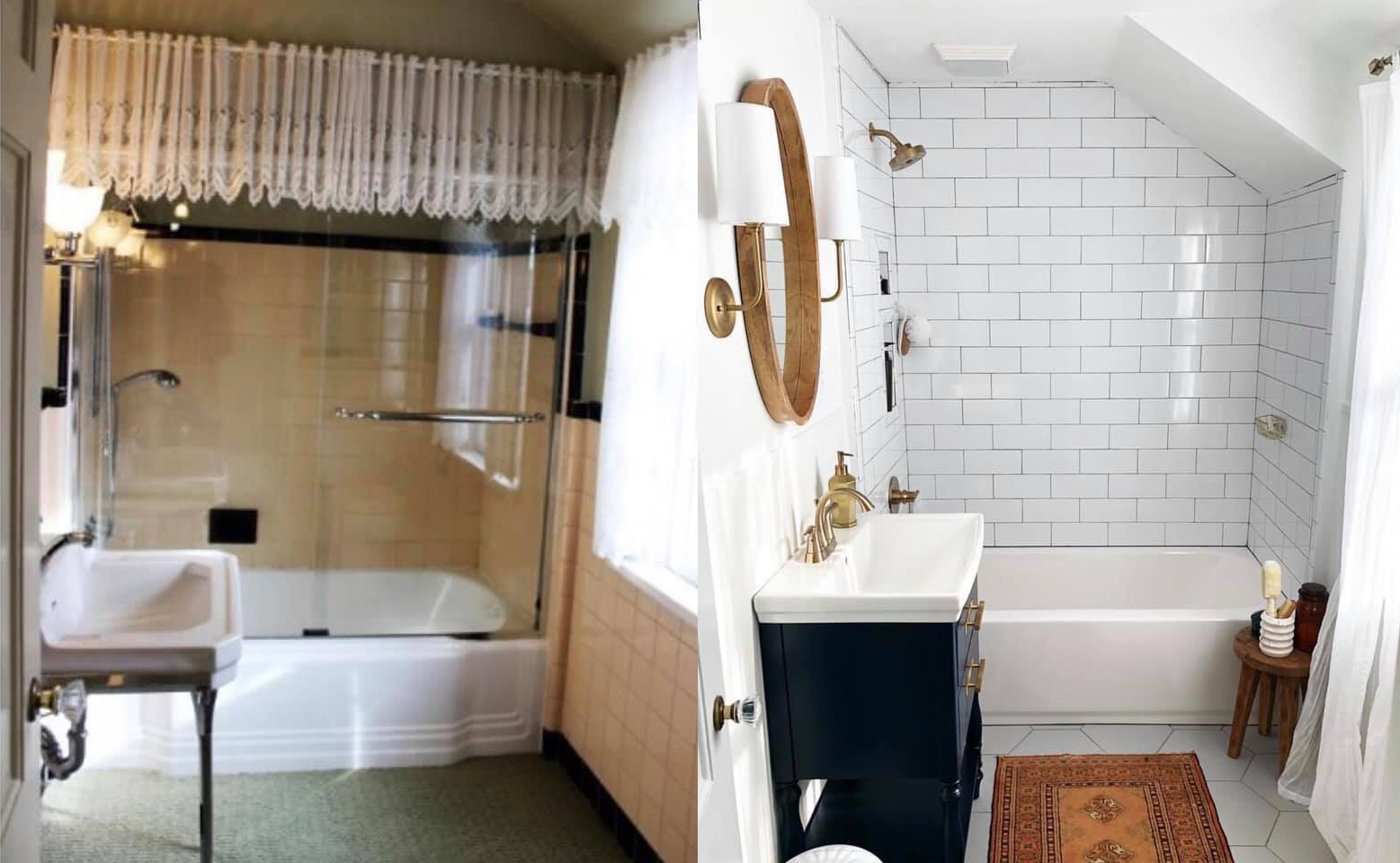 After searching for six months and losing a number of bidding wars for homes, Kelly Byrne found a fixer-upper in the Story Hill neighborhood that she really wanted. Offering above asking price, she got the place and spent the next month fixing it up with a little (or maybe a lot) of help from friends and family.
The list of the work she accomplished is pretty impressive, from light fixtures and ceiling fans to refacing kitchen cabinets, replacing the bathtub and toilet, removing carpeting and refinishing floors, to painting every wall in every one of the nine rooms, and on and on.
"Most of the work was done by myself, my parents and several friends and family," says Byrne. "My dad is very handy and took charge of many electrical projects and plumbing projects as he has had experience in those projects over the years in his own houses. My mom, dad, an aunt and I all did the vinyl flooring. Most of the friends and family that came over to help did some form of painting and came with experience of having painted before.
"The only thing I used a contractor for was the removal of the cast iron tub, replacement of the sub-floor in the bathroom, and the hook-up and placement of the bathtub and surround."
In all, Byrne says she spent $8,300 to complete the work, including about $1,700 on unexpected bathroom upgrades.
"When unexpected costs come up," she advises, "consider adjusting some of the finishes you haven't purchased yet to off-set the price increase. I utilized Habitat for Humanity's ReStore for multiple items and was able to save about $3,000 in costs," she says. "Sometimes companies or builders will purchase items and they realize that item doesn't fit and it gets donated to Restore.
"Nearly everything I got from ReStore was brand new in the box, just at a huge cost reduction. I did take several trips to ReStore (and) sometimes I found some great items, sometimes those visits were a complete bust."
Before and after at the Byrne home:
Talking to Realtors in the area brings more sage advice for anyone considering a fixer-upper.
Amanda Schroder of Keller Williams Realty says making sure you consult a Realtor will help you tap into that advice and avoid potential missteps.
"Sometimes, a cosmetically outdated home seems like a 'fixer upper,' but it's a wonderful opportunity," she says. "And sometimes, what seems like a home that doesn't need much can be a real can of worms. That's why it's important to have a knowledgeable, trustworthy realtor to help you sort through your options and navigate the market, especially when it comes to considering what your home could be worth after updates are made. You don't want to end up in the most expensive house in the neighborhood."
Peter Adams, who works with Shorewest, warns that whether you do the work or you hire a contractor, be sure the work is done properly.
"It's important to make sure things are done correctly and to not cut corners," he cautions. "When you are ready to sell the house, you don't want some shoddy work to come back to haunt you when it's time for the inspection."
Shorewest's Tina Balaka says that in the end, if done correctly, a fixer-upper can provide some unrivaled satisfaction for a home buyer.
"Buying a fixer upper gives you the opportunity to build sweat equity and personalize the home to your taste and needs. In the DIY era we are in you can have a lot of personal satisfaction working on projects that fit your skill level, and seeing the final results of your hard work. If you're not handy you can have just as much satisfaction working with contractors and seeing your vision come to life."
Born in Brooklyn, N.Y., where he lived until he was 17, Bobby received his BA-Mass Communications from UWM in 1989 and has lived in Walker's Point, Bay View, Enderis Park, South Milwaukee and on the East Side.
He has published three non-fiction books in Italy – including one about an event in Milwaukee history, which was published in the U.S. in autumn 2010. Four more books, all about Milwaukee, have been published by The History Press.
With his most recent band, The Yell Leaders, Bobby released four LPs and had a songs featured in episodes of TV's "Party of Five" and "Dawson's Creek," and films in Japan, South America and the U.S. The Yell Leaders were named the best unsigned band in their region by VH-1 as part of its Rock Across America 1998 Tour. Most recently, the band contributed tracks to a UK vinyl/CD tribute to the Redskins and collaborated on a track with Italian novelist Enrico Remmert.
He's produced three installments of the "OMCD" series of local music compilations for OnMilwaukee.com and in 2007 produced a CD of Italian music and poetry.
In 2005, he was awarded the City of Asti's (Italy) Journalism Prize for his work focusing on that area. He has also won awards from the Milwaukee Press Club.
He can be heard weekly on 88Nine Radio Milwaukee talking about his "Urban Spelunking" series of stories.