Perched atop a hill overlooking Mitchell Boulevard, just south of Bluemound Road is architect Erhard Brielmaier's 1899 Calvary Cemetery Chapel, a Romanesque cream city brick building that, interestingly, appears to turn its back on Milwaukee.
But now it may seem as though Milwaukee has shunned the building constructed atop the 100-foot Jesuit Hill, replacing a large wooden cross that once marked a spot that has been called Milwaukee's highest point – and before the city grew – offered views as far as Lake Michigan.
However, it's not true. The Friends of Calvary Cemetery group has been working to secure, preserve and restore the chapel for more than two decades and folks clamor to get a look inside, making it one of the top 10 attractions during Historic Milwaukee Inc.'s annual Doors Open Milwaukee. Thousands turned out in September to take a tour.
Recently, I got a private tour – with Doors Open MKE's Amy Grau and architect Keith Stachowiak – from Keith Schultz, a local architect who is also president of the board of the Friends of Calvary Cemetery.
The best – and perhaps only – approach to the chapel is through the cemetery's main gate on Bluemound – another stunning Brielmaier work, this time Gothic and in wood, built in 1897. Brielmaier, who had offices in Milwaukee and Chicago, reportedly designed more than 1,000 churches, hospitals, schools and other buildings across the United States and in Canada. He is buried at Calvary.
You don't need a map to find the chapel, as it towers above all else. Pull up next to the gorgeous cream city brick Queen Anne maintenance building (my favorite structure on the site), and climb.
From below, the chapel looks fine. But as you get closer the veneer starts to fade a bit. Most of the glass is missing from the rose window above the entrance, the front door has been replaced and around the sides, two large entrances to the crypt have been sealed with cinder blocks. There are cracks and some deteriorating brick work outside.
Considering that the chapel was due to be demolished when the Friends started work, it's amazing not only that the building survives, but that it looks as good as it does. Sure, it needs work inside and out, but it's surely not beyond repair.
"We have pulled together enough funds to actually replace all the roofs," says Schultz, who is rightfully proud of the work his group has accomplished since it formed in 1992. "The half domes were all covered in plaster and straw and one of the reasons why they wanted to plow the building down is that the plaster popped off, the bricks were falling off and they didn't want someone to get hit in the noggin.
"So we came through and we saved the building from the wrecking ball. I think it was the end of '93 when we had enough money to replace the domes and cover them in nickel-coated copper. We ended up raising enough money to do the dome and then the gabled roofs. So we've got all the roofs taken care of, which stopped the water infiltration. We wired up windows. All the pigeons are out. The floor used to crunch (from dried bird poop)."
The chapel is as basic as you'd expect in a Romanesque religious building. It's a small cruciform plan, with a cross-topped wooden altar up a few steps and behind a wrought iron rail. There's a barrel vault above.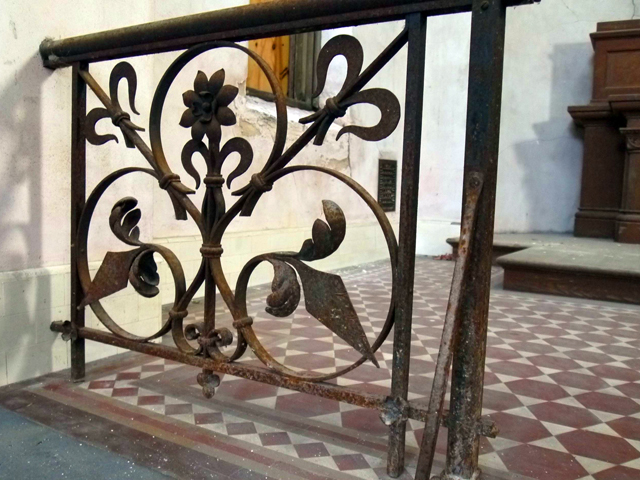 On either side is a small chapel with windows. The one to the north has two broken statues – one of St. Joseph – that Schultz says have been here from the beginning. Just next to this alcove stood a broken pieta' that was later completely destroyed by vandals.
The floor is handsomely tiled and subway tiles run around the base of the walls.
Gaze upward and be amazed by a gorgeous octagonal dome.
"This is a simple type of architecture," says Schultz. "It's not overly decorative. The arches out front are very simplistic. The detailing is very simplistic. What you see here is what was constructed back in 1898. This is what it looked like. There was no adoration of anything in here; no stained glass windows."

Despite the soft-spoken architecture and decoration, the chapel was apparently anything but simple to complete. Construction was delayed when the mason walked off the job as the result of a labor dispute, and Schultz has seen a copy of a letter Brielmaier wrote to his employers.

"The letter he wrote was almost apologetic saying, "'I'm sorry that this project has become so political and bureaucratic and full of red tape and that the costs have increased because of all this paperwork.' So here's a letter being written in 1898, which could've been written today."

The chapel was built, says Schultz, as a resting place for Father Giles Tarasiewcz, the beloved founder of St. Casimir Polish church in Riverwest (Brielmaier built that building, too, right around the same time). Whether or not that's the only reason, I can't say, but it's true that when the priest shuffled off this mortal coil in 1903, a long cortege carried his remains to Calvary, where they were interred in the crypt beneath the chapel.

Follow one of the small staircases that flank the altar down to the crypt and it's completely dark except for a little daylight filtered through some cloudy glass circles in two panels installed in the floor of the chapel above. Two more such panels out on the porch were removed, as was the tunnel below, connecting the crypt with a road about halfway down the hill to the west.

Behind a wrought iron gate that looks like it was fashioned out of a half-dozen spears are two levels with spaces in the walls for the burials of a couple dozen people. However, only one of them is sealed with a stone and that is the tomb of Father Tarasiewicza (as it's spelled on the stone).

Hanging off its hinges on one of the old, wide access portals is the original wooden door with iron straps.

"When we came through here, originally back in 1993, all of these stones were here," says Schultz noting the heavy stones meant to seal the tombs, some of which are precariously positioned. "The stones that you see in here are where they were. We didn't touch any of these. These are extremely heavy."

Though folks would come down into the crypt, says, Schultz, it doesn't appear they did much damage down here.

"Basically what happened is they would raid in here and have a booze party," he says, noting that drinkers also used the vent chute openings outside as depositories for empties. So, sometimes when he comes down to the crypt, he finds a pile of bottles at the other end of the chute.
It's a little creepy down here, but it's worth checking out because it offers a little insight into the construction of the building.

"This building is relatively simple," Schultz notes. "The floor above you, we've got the steel beams right across. All the brick is actual barrel vault … they came in and stacked in these steel beams and they would have scaffolding underneath and what they would do is they would construct these brick barrel vaults and they would remove the scaffolding and pour concrete topping. Then they would lay the tile above so you'd have a way to keep this in place. It's a very sturdy structure."

The burning question, of course, is why the crypt is full of empty tombs. Why is there only one person interred?

"One of the reasons why this was abandoned, and this is my best educated guess as an architect and an architectural historian, is that it had improper ventilation," says Schultz. "If you take a look over here, that's a vent and we have a vent above and there's a couple of other vents. My best guess is that you had serious off gasses. Father Tarasiewicz had already passed away so they exhumed him and brought him here, he was already off-gassed.

"Because you have insufficient venting here so this place would've reeked and it probably would've attracted all sorts of critters getting in here. (Near) here was the Fairview Mausoleum. I was in there while they were demolishing it and that place was loaded with pipes, ventings and ducts and all sorts of stuff and I talked to one of the caretakers and he said that technology of 1914 when that mausoleum was built was still inefficient, it was still reeking; there was a lot of decay and yuck. I believe the health department or the archdiocese or somebody else said, 'There's no way we're going to bury people in here.'"

If the crypt went unused, the chapel upstairs served as a setting for funeral services and there was an annual All Saints Day service, too. But it wasn't really very long. Schultz says that by 1932 the chapel fell into disuse.

And so the decline began. But the Friends of Calvary Cemetery continue to work to restore it to its simple glory, and with each Doors Open MKE event more and more Milwaukeeans get to see the building and understand why it's worth saving.

"Right now we're in the process of raising funds to help restore (the interior) and replace the doors," says Schultz. "We're also raising money to replace all the windows."

Hopefully, when you visit next September during Doors Open, you'll get to see some of those improvements that will help carry this Milwaukee gem into the future.
Born in Brooklyn, N.Y., where he lived until he was 17, Bobby received his BA-Mass Communications from UWM in 1989 and has lived in Walker's Point, Bay View, Enderis Park, South Milwaukee and on the East Side.
He has published three non-fiction books in Italy – including one about an event in Milwaukee history, which was published in the U.S. in autumn 2010. Four more books, all about Milwaukee, have been published by The History Press.
With his most recent band, The Yell Leaders, Bobby released four LPs and had a songs featured in episodes of TV's "Party of Five" and "Dawson's Creek," and films in Japan, South America and the U.S. The Yell Leaders were named the best unsigned band in their region by VH-1 as part of its Rock Across America 1998 Tour. Most recently, the band contributed tracks to a UK vinyl/CD tribute to the Redskins and collaborated on a track with Italian novelist Enrico Remmert.
He's produced three installments of the "OMCD" series of local music compilations for OnMilwaukee.com and in 2007 produced a CD of Italian music and poetry.
In 2005, he was awarded the City of Asti's (Italy) Journalism Prize for his work focusing on that area. He has also won awards from the Milwaukee Press Club.
He can be heard weekly on 88Nine Radio Milwaukee talking about his "Urban Spelunking" series of stories.