After months in the works, the second location for one of Milwaukee's most popular Walker's Point hang-outs has opened its doors to the public.
Camino in West Allis opened quietly at 7211 W. Greenfield Ave. last week for dine-in service after offering carry-out and delivery throughout the month of June.
Owner Casey Rataczak says business has been good thus far. "We've been doing a lot of take-out," he says. "Inside, we're working at 50% capacity, which allows us to seat about 45 people. And guests have been really respectful with regard to wearing masks and social distancing."
Currently, Rataczak says they are operating with inside tables spaced about eight feet apart, and they've cut back on bar seating to allow for distancing. Meanwhile, the large garage door across the front of the restaurant allows a good amount of fresh air to flow through the space.
Starting later this week, Rataczak says they'll also be adding tables out on the sidewalk in front of the restaurant to accommodate a bit of outdoor dining while the weather cooperates. He says he's likely to invest in a larger parklet-style patio space for next season.
Craft beer & better bar fare
On the food and beverage side, West Allis guests can expect the same quality fare as can be found at the Walker's Point location, including a varied selection of craft bears.
The bar features 20 beers on tap, with more options in cans and bottles (along with growlers available to go). Most tap selections, Rataczak says, are focused on selections from the Midwest and Wisconsin with appearances from breweries like 3 Floyds, Central Waters, Lakefront and New Glarus.
Any one makes a fine pairing for Camino's delicious fried Clock Shadow Creamery cheese curds ($9), which have been named among the best in the area.
On the food side, Rataczak has retained Chef Ramses Alvarez, who is working long hours managing the West Allis kitchen, which offers a full menu of classic Camino sandwiches including their house spicy polish sausage served with sauerkraut, tomato and horseradish cream ($8); mid-rare Yellowfin tuna served with fresh basil, wasabi mayo, tomato and lemon on a brioche bun ($13); Nashville chicken sandwich ($9) and their classic half-pound burger topped with American cheese and sizzled onion ($10; add bacon for a slight upcharge).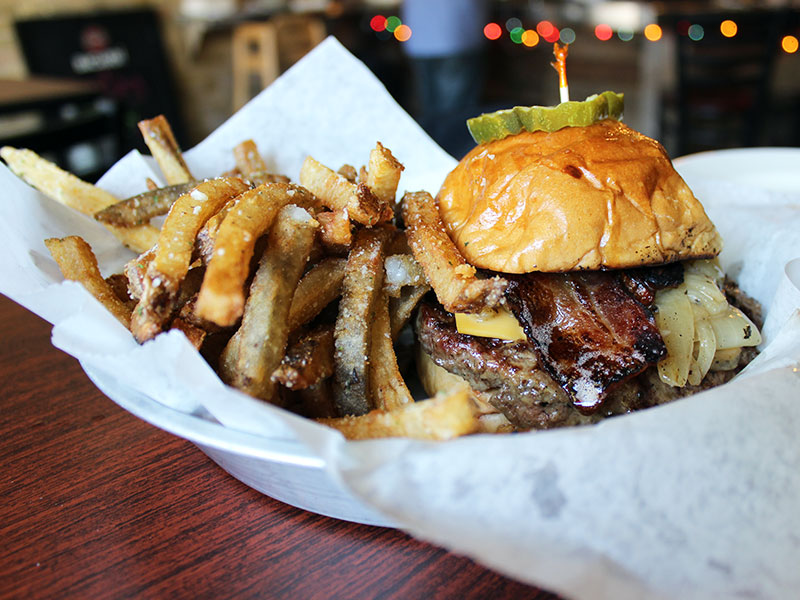 Vegetarian options are just as compelling and include their delicious beet reuben with Swiss, sauerkraut and Russian dressing ($8); the Hella Bella with marinated, roasted portobella mushroom caps, Swiss cheese, sizzled onions and mixed greens ($10); and the brussels sprouts grinder with sprouts, apples, cheddar and walnut butter, served on a french roll ($8).
Daily specials include $5 burgers on Monday, Tuesday sausage plates with one slide and a tall boy for $9.99; Wednesday build-your-own mac and cheese starting at $9.99 and Thursday wing nights featuring a pound of wings and a side for $9.99.
Of course, there are West Allis only specials too, including a Friday night fish fry (pictured above) featuring three generous pieces of wet-battered fried cod served with coleslaw, rye bread and cajun remoulade ($12.95), along with Saturday night fried chicken plates featuring a half chicken fried using the Rataczak family recipe served alongside fries, house slaw and cajun remoulade ($12.95).
Camino West Allis is open Sunday through Thursday from 11 a.m. to 10 p.m. and Friday and Saturday from 11 a.m. until 11 p.m. Orders for carry-out can be placed online for pick-up.
Lori Fredrich (Lo) is an eater, writer, wonderer, bon vivante, traveler, cook, gardener and girlwonder. Born and raised in the Milwaukee area, she has tried to leave many times, but seems to be drawn to this quirky city that smells of beer and alewives.
Some might say that she is a little obsessed with food. Lo would say she is A LOT obsessed with food. After all, she has been cooking, eating and enjoying food for decades and has no plans to retire anytime soon.
Lo's recipes and writing have been featured in a variety of publications including GO: Airtran Inflight Magazine, Cheese Connoisseur, Cooking Light, Edible Milwaukee, Milwaukee Magazine and the Milwaukee Journal Sentinel, as well as on the blog Go Bold with Butter, the web site Wisconsin Cheese Talk, and in the quarterly online magazine Grate. Pair. Share.