A brand new outdoor space and an extended footprint are on the docket for Camp Bar in Wauwatosa.
Plans for the expansion and renovation, which will utilize both the building and parking lot adjacent to Camp Bar at 6606 W. North Ave., were approved unanimously by the Wauwatosa Plan Commission on Monday evening.
Owner Paul Hackbarth, who purchased the property next door shortly after opening Camp Bar, initially searched for a restaurant tenant. Benji's Deli was among those considered for the venue, however, difficulties in renovating the space brought the plans to a standstill.
"We knew the neighborhood wanted something there that would really add value, so we worked really hard to try to find a great tenant," he explains. "Ultimately, the costs to transform the space exceeded what was realistic for most operators. So, after two years, we've made the decision to expand Camp Bar Tosa and add a beautiful landscaped garden area."
Hackbarth says one element Camp Bar Tosa is lacking is room for corporate events and gatherings for larger groups. Based on the success of his other venues, including The Atrium in Shorewood, initially he contemplated converting the building to follow a similar format, complete with a mezzanine.
But after some consideration, he decided to retain the apartments on the building's second floor and transform the ground level into a flexible area that could be used for both gatherings and to accommodate overflow for Camp guests. The space, which will be opened up to adjoin Camp Bar on the East, will include a bar and pool tables, notes Hackbarth, as well as an open area for additional seating. Under the updated plan, it's expected the new space will accommodate approximately 100 guests.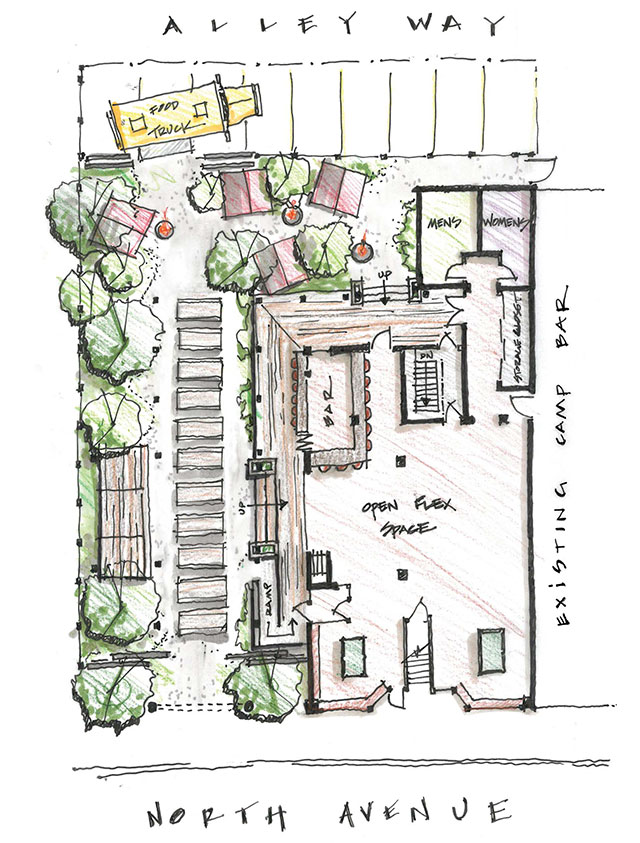 Rendering by Galbraith Carnahan Architects
Meanwhile, the parking lot just to the west of the property will be transformed into a one-of-a-kind green space. The garden, like Camp Bar, will emulate the qualities of the North Woods. Hackbarth says he envisions a variety of seating options, including picnic tables, along with multiple fire pits and beautiful landscaping with native trees like birch.
Parking for food trucks is also included in the plans, just to the north of the park-like addition, offering convenient off-street access for Camp Bar and garden patrons.
In an effort to preserve the parking sacrificed for the garden, parking stalls will be added to the area just behind the building. Hackbarth estimates there will be parking for about nine cars with access through the alley.
As for a timeline on the expansion and garden, he says they'll tackle the outdoor space first, and then will move forward on the interior expansion. Plans will be designed by fellow Wauwatosa firm Galbraith Carnahan Architects.
"Paul, Natalia and the team at Camp Tosa have a solid connection with their surrounding neighbors and the East Tosa community," notes Alderman Joel Tilleson. "Once again they are working hard to improve an underutilized space, and we join them in celebrating their continued growth."
Watch OnMilwaukee for additional details as they become available.
Lori Fredrich (Lo) is an eater, writer, wonderer, bon vivante, traveler, cook, gardener and girlwonder. Born and raised in the Milwaukee area, she has tried to leave many times, but seems to be drawn to this quirky city that smells of beer and alewives.
Some might say that she is a little obsessed with food. Lo would say she is A LOT obsessed with food. After all, she has been cooking, eating and enjoying food for decades and has no plans to retire anytime soon.
Lo's recipes and writing have been featured in a variety of publications including GO: Airtran Inflight Magazine, Cheese Connoisseur, Cooking Light, Edible Milwaukee, Milwaukee Magazine and the Milwaukee Journal Sentinel, as well as on the blog Go Bold with Butter, the web site Wisconsin Cheese Talk, and in the quarterly online magazine Grate. Pair. Share.