"Bar Month" at OnMilwaukee is back! For the entire month of March, we're serving up fun articles on bars, clubs and beverages – including guides, the latest trends, bar reviews, the results of our Best of Bars poll and more. Follow along with the #DrinkOnMke hashtag too. Grab a designated driver and dive in!
There really aren't a lot of rules at Capt'n Nick's in West Allis, according to owner Lawrence Robe, Jr.
"Unless you're an assh-le, you're welcome here," says Robe, who bought the bar in the summer of 2019, just two days before the busiest time of year: the Wisconsin State Fair. Just two blocks south of Greenfield at 1503 S. 81st St., Capt'n Nick's sign is visible from just outside the festival grounds.
"That sign's like a beacon for walk-in customers," he says. "You can't even have signs like these in West Allis anymore – this one got grandfathered in – and I'm keeping it as long as possible."
Capt'n Nick's opens every day at 6 a.m. Thus, there's a popular neighborhood phrase, "Nick's at 6?" At one time this was to accommodate 3rd shift workers, but these days, it's mostly for retirees and neighborhood drinkers within walking distance. It also gets a fair share of customers "bar hopping" the area as it's located near Paulie's, Paulie's Field trip and TomKen's.
Capt'n Nick's has a full bar, but beer is the libation of choice here. Mini pitchers in particular, which are $3.50. During happy hour, 3 to 6 p.m. daily, bottles of Miller are $1.75 and on Mondays a variety of cans sell for a buck.
"We're one of the cheapest bars in town," says Robe.
Every Saturday night, anywhere from 8 to 18 people come for "bowling night" at Nick's. They don't bowl on lanes, rather they competitively play a bowling game that costs 50 cents and is just a little bigger than a pinball machine.
"There's no commitment to be in this bowling league, just come in at 7:30 (p.m.) on a Saturday," says Robe.
Capt'n Nick's serves Emil's pizzas, garlic bread and bags of munchies.
The tavern has been around since the 1940s and features a completely round bar which inspired its original name, The Drum. The front of the bar had X's on it, like an actual drum," says Robe.
The bar later became Capt'n Nicks, named after the dog of a previous owner, and although the business has changed hands, the name stuck. Robe says he considered naming the bar The Dr's office, which was the name of a bar he once owned on Hawley Road.
Prior to buying the bar last summer, Robe had been living in Arkansas for a couple of years to assist his aging mother and uncle. He decided to return to his hometown – Robe was a bartender at Capt'n Nick's years ago – and try bar ownership again.
"This is a good place," says Robe.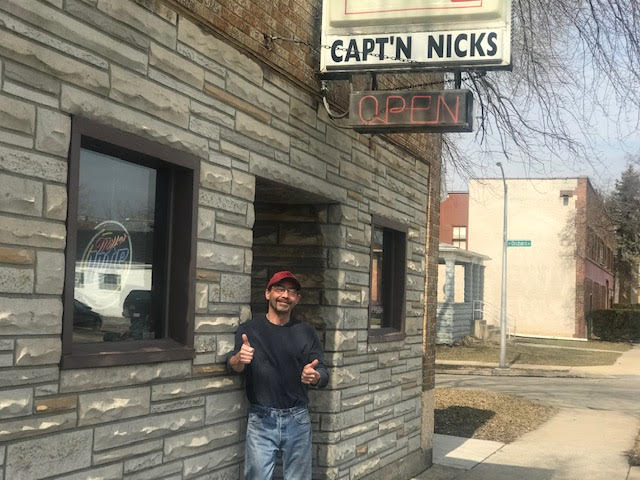 Molly Snyder grew up on Milwaukee's East Side and today, she lives in the Walker's Point neighborhood with her partner and two sons.
As a full time senior writer, editorial manager and self-described experience junkie, Molly has written thousands of articles about Milwaukee (and a few about New Orleans, Detroit, Indianapolis, Boston and various vacation spots in Wisconsin) that range in subject from where to get the best cup of coffee to an in-depth profile on the survivors of the iconic Norman apartment building that burned down in the '90s.
She also once got a colonic just to report on it, but that's enough on that.
Always told she had a "radio voice," Molly found herself as a regular contributor on FM102, 97WMYX and 1130WISN with her childhood radio favorite, Gene Mueller.
Molly's poetry, essays and articles appeared in many publications including USA Today, The Writer, The Sun Magazine and more. She has a collection of poetry, "Topless," and is slowly writing a memoir.
In 2009, Molly won a Milwaukee Press Club Award. She served as the Narrator / writer-in-residence at the Pfister Hotel from 2013-2014. She is also a story slam-winning storyteller who has performed with The Moth, Ex Fabula and Risk!
When she's not writing, interviewing or mom-ing, Molly teaches tarot card classes, gardens, sits in bars drinking Miller products and dreams of being in a punk band again.