No Canadian has invaded the hearts and ears of America quite like Celine Dion. The Quebec native and pop legend has been blowing people away with her voice since she was a child, and with decades of experience and hit singles on her resume, even today her talents and performances are unmatched.
So when Dion announced her first Milwaukee show in over a decade, as part of her world tour in support of her upcoming studio album, fans rushed at the opportunity to fill Fiserv Forum and witness the queen in action. Celine had been breaking records and filling seats in Las Vegas for 16 years, but a North American tour was far from a gamble for the music icon, as practically any market across the world would love the chance to host one of her breathtaking performances.
From start to finish, Celine's set was complete with moments that her Milwaukee fans won't soon forget. Whether it's her powerful vocals, one of her gorgeous outfits or one of her corny but hilarious dad jokes to keep the crowd entertained, there was no shortage of standout moments on Sunday evening.
Here are our seven favorite moments from Celine Dion's Milwaukee tour stop at Fiserv Forum:
1. The grand entrance
With only a DJ to set the tone for Sunday night's sold out performance, anticipation for Dion's grand entrance was at an all-time high before the iconic diva hit the stage to greet her Milwaukee fans. As the house lights cut and screams filled the room, a black and white video introduction displayed across the stage's massive video board.
The cinematic intro centered around Dion preparing herself for showtime, staring at her reflection across a Hollywood style vanity table. Celine's eyes opened wide as the word "Courage," the title and theme of her upcoming studio LP, is repeated until Dion emerged from beneath the stage in a stunning sparkly red dress.
With a large spotlight hovering above her, Dion opened her set with a preview of the chorus from her 1996 hit single, "It's All Coming Back to Me Now", and paused to take in all the applause. Seconds later, Dion and her band took the song from the top with the lyrics "there were nights when the wind was so cold," a lyric that holds an unfortunate literal meaning for November nights in Milwaukee.
From the very beginning of her set, Dion showcased her vocal talents for the packed arena. Originally written for the '80s pop group Pandora's Box, "It's All Coming Back to Me" was almost a Meat Loaf single but was eventually made famous by Dion in 1996. The power ballad reached number two on the Billboard charts and ranked second to the "Macarena," but anyone in attendance on Sunday night can tell you which song is the better of the two.
As Celine kicked off the performance with a simple fist pump, before diving into the track's most difficult notes, it all came back to Dion's local fans, despite the many years that separated Sunday's show from her last Milwaukee visit.
2. When she expressed her love for Milwaukee
Sin City has had an noncompetitive monopoly on Dion performances in the last decade and a half, with two record breaking residencies in Las Vegas, but with her current 122-date "Courage World Tour," Dion is making up for lost time in some of her favorite cities across the globe. Of course, one of those cities is Milwaukee, which hasn't been blessed by Celine Dion since 2008, during her sold out show at the Bradley Center for her "Taking Chances World Tour."
Dion apologized for the hiatus on Sunday, telling her "Brew City" fans that it had been way too long and that she planned on fixing things that night. While 11 years and 50 feet separated her most recent Milwaukee performances, the 51-year-old singer's unparalleled voice and charismatic stage presence stayed with her and perhaps was only heightened by the more than 1,000 performances she delivered at Las Vegas' Caesars Palace. She even showed a little Milwaukee-themed humor by asking if someone replaced her water with beer.
Although fans hope that it won't take another 11 years for Dion to return to Wisconsin, the singer more than made up for the gap between her visits with her amazing performance last night.
3. Her many outfit changes throughout the night
Dion has been a style icon in the music world for decades, so of course she had to bust out multiple outfits throughout the night. From the beautiful sparkly red dress at the beginning of the show, which was split down the side to show off her long legs, to the large white gown for the night's encore performances which would put any bride to shame on her wedding day, Dion slayed in a number of eye-catching outfits.
The wardrobe changes were elegant, and some were even adjustable. Although she made sure to avoid any potential wardrobe malfunctions, Dion got a little more comfortable midway through her set as she shed off the largest billow sleeves you'll ever see, which originally complemented her black pants and tuxedo shirt, one of her standout ensembles from the night.
With a voice like hers, Dion needs nothing but a crowd and a microphone to blow people away, but that doesn't mean she can't also look flawless in the process.
4. When she recruited the crowd's help for "You're the Voice"
After ripping the puffy sleeves off her white tuxedo top, Celine gave intro to her first true cover of the night, Australian singer John Farnham's "You're the Voice." And while the dedicated audience gave their unsolicited backup vocals to Celine throughout the entire night, Dion called for the crowd's specific help for her cover of the 1986 single.
Prepping the audience's engagement, Dion joked with the Milwaukee crowd that their part was very easy, as it literally had no words, and with the help of her talented crew of backup singers, Celine and the sold-out crowd joined for a special performance of one of her favorite songs. Milwaukee covered the "oh-wo-wo's" and Celine of course did the heavy lifting for the soft rock track, but now thousands in Milwaukee can say they've sung with one of the greatest to ever live.
A little crowd participation isn't uncharted territory for a music concert, but when it's with Celine Dion, it's simply better.
5. The beautiful duet with her lead backup vocalist
Although some may forget, "My Heart Will Go On" wasn't Dion's first big hit from a major film. The title track for Disney's "Beauty and the Beast" also serves as one of Dion's best-known recordings, which also won the singer her first Grammy.
Peablo Bryson joined Dion for the 1991 film's soundtrack, but her lead backup vocalist, Barnev Valsaint, joined her for the duet performance on Sunday night. Dion shined during the duet, as one can expect, but Valsaint won fans over as well. Immediate following the touching performance, Dion gave praise to her talented backup singer. After the performance, Dion performed another one of her famous duets, "The Prayer," which she originally recorded with Andrea Bocelli. Valsaint sat out for this one however, leaving Celine to perform the song all by herself.
If you're curating a movie soundtrack, there is no better performer than Celine Dion – a lesson that "An American Tail: Fievel Goes West" learned the hard way when passing on Celine for singer Linda Ronstadt for the film's song "Dreams to Dream." Ronstadt is a talented singer, I'm sure, but one who isn't selling out Fiserv Forum anytime soon. Perhaps "An American Tail" didn't want to outsource to Quebec.
6. Celine renditions of David Bowie, Queen and more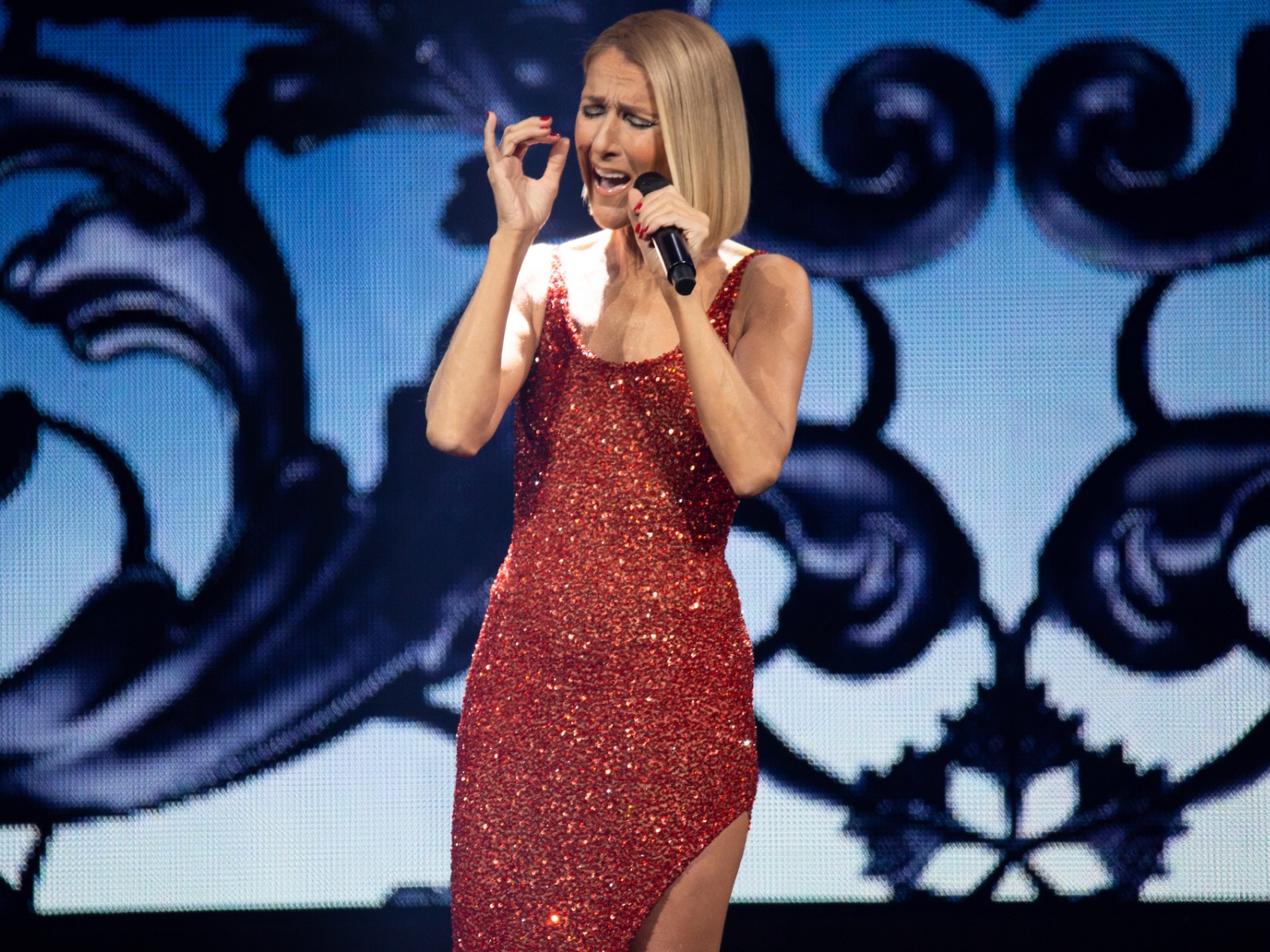 To cap off her already great performance, Dion closed out her regular set with an extensive melody of covers. Putting her spin on David Bowie's "Let's Dance," Queen's "Another One Bites The Dust," Prince's "Kiss," Ike and Tina Turner's "River Deep, Mountain High" and the sexually suggestive French-English frequently-covered classic, "Lady Marmalade," the fun melody put a light-hearted twist on a setlist that was overpowered with a number of heavy-hitting love songs.
Following the 11-minute performance of covers, Dion ended her regular set with a few more fist pumps and waved goodbye to her fans before stepping off stage. But with one particular hit left to go, the crowd stayed put and waited for the queen to return for an inevitable encore performance.
7. Her encore performance of "My Heart Will Go On"
When Dion returned to the stage, complete with a gorgeous white ball gown, everyone knew what song was coming next. The music to Dion's signature hit single, "My Heart Will Go On" from James Cameron's blockbuster "Titanic," began and the reception was as big as the British passenger liner of the same name.
And while the show's production was relatively tame for an arena show, the production reached another level for the encore. Several lighted drones floated eloquently above the pop superstar during the performance with great detail in their coordination. The added wow factor was a great treat and an added bonus to a song that technically needs no theatrics.
Next, with her biggest hit in the rearview, Dion ended the encore with a cover of John Lennon's "Imagine." The emotional performance of the hope-filled classic brought some to tears and set an entirely different mood from her covers earlier in the night.
The night's encores alone were worth the price of admission, but they were just the tip of the iceberg of an amazing performance. Fans went into Sunday's performance holding only the highest opinions of Dion, and they only had their beliefs validated after the pop legend put together a flawless show from start to finish.