With its towering portico, keystoned lintels and garland-adorned cut-stone panels, the building at 1532 N. Wauwatosa Ave. is pure Colonial/Georgian Revival.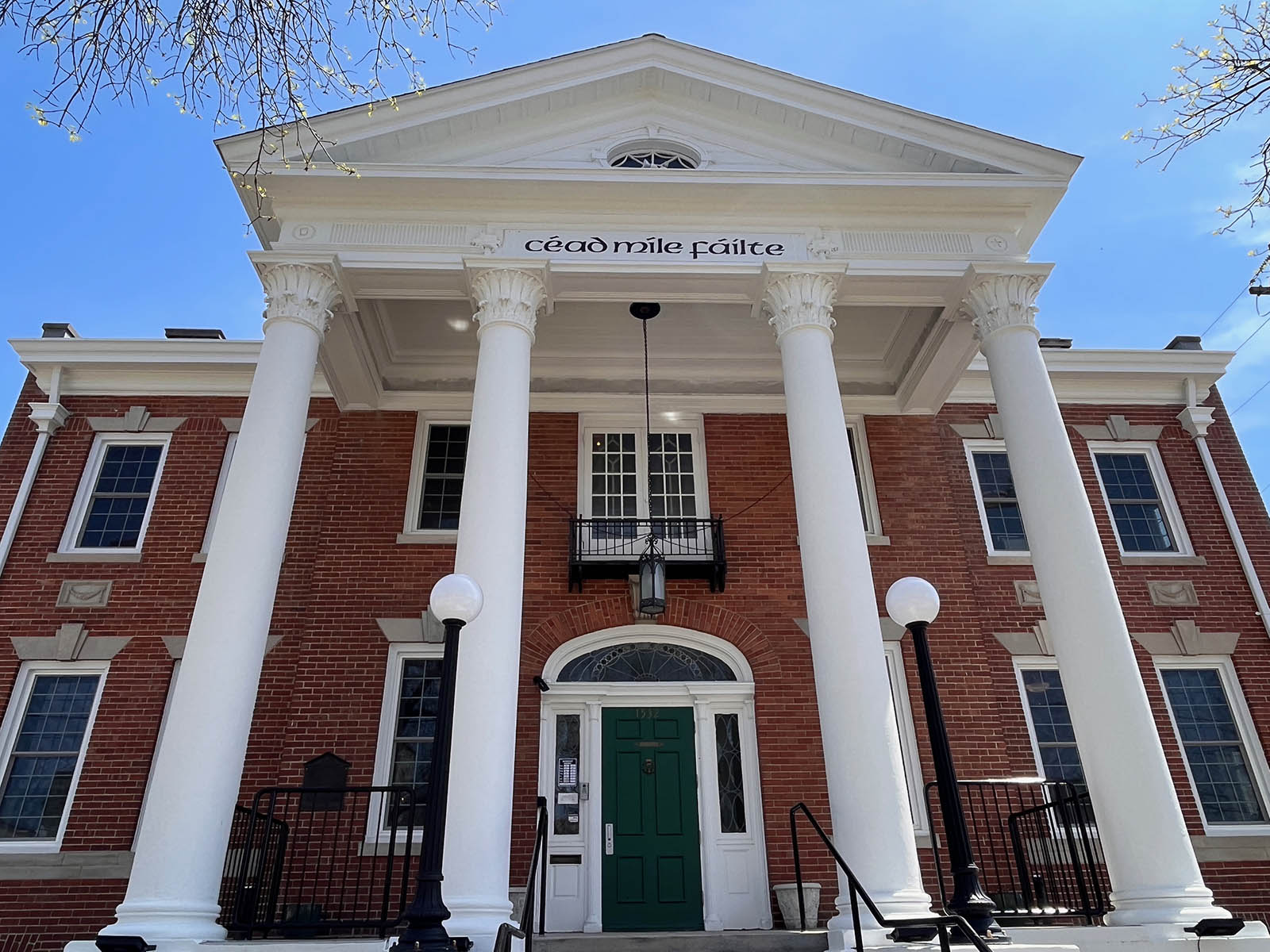 It hardly looks like the exterior of a beehive of Celtic cultural activity, but that's exactly what it is today.
Built in 1918 for the Wauwatosa Masonic Lodge No. 267 of the Free and Accepted Masons, the two-story red brick building on the northwest edge of Tosa Village has been the home to CelticMKE since 1998.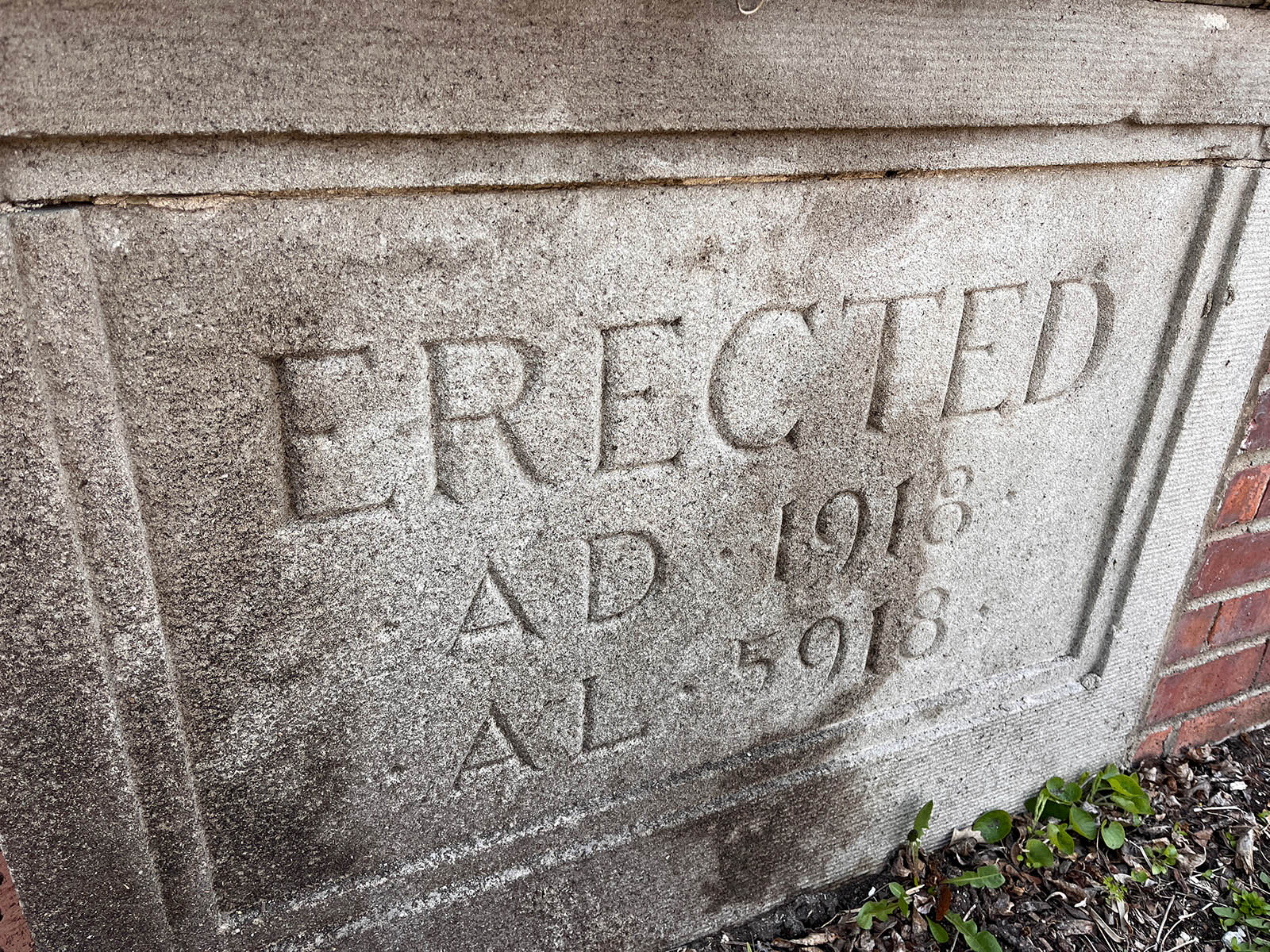 Inside, there are the offices of the group that organizes the annual lakefront Irish Fest; runs the Irish Fest School of Music; hosts concerts, dance and other events; houses the Ward Irish Music Archives; operates a summer school; runs the Irish Fest Foundation; leads an Irish and Celtic book club; and rents space out for events.
I drive past it often and, honestly, have rarely seen anyone coming or going there, but the day I visited recently, there was a buzz of activity inside.
So, don't let appearances fool you.
Ward Irish Music Archives Director Barry Stapleton showed me around.
The John J. Ward Jr. Irish Music Archives were founded in 1992 by the late Ed Ward, who was instrumental in the creation of Irish Fest in 1981 and the Foundation in 1994, too.
The collection – named for Ed Ward's father – is among the largest of its kind in the U.S., with an inventory of more than 60,000 items!
There's everything from sheet music (more than 6,000!), to Edison wax cylinders and V-discs, to 78s, 45s, LPs, CDs, musical instruments, manuscripts, phonographs of all kinds and more.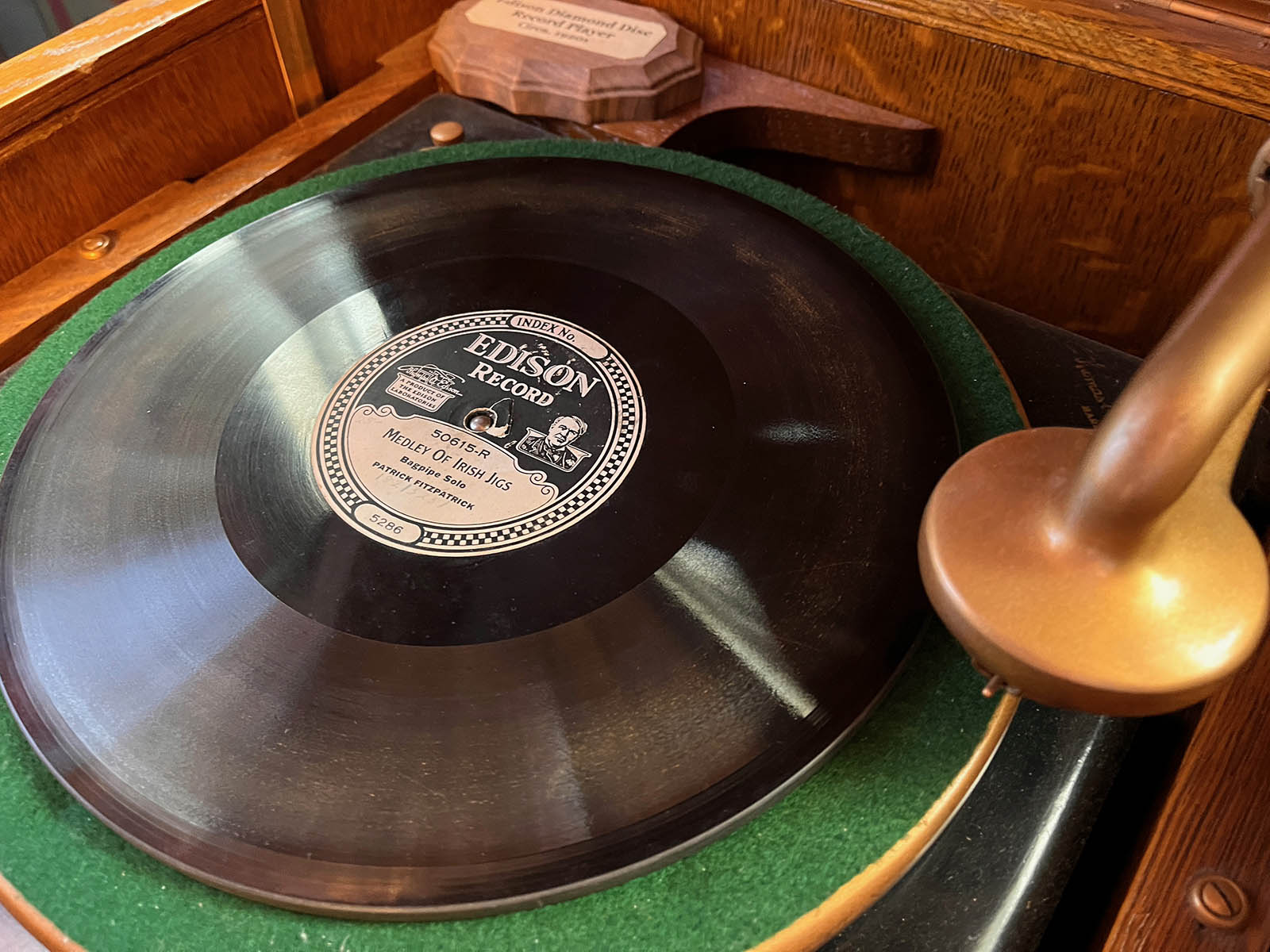 The archive, which is maintained at the Wauwatosa Avenue building, is pretty incredible.
When I visited Senior Archivist Jeff Ksiazek showed me two-inch videotape, donated to by no less than Tommy Makem, of Makem & Clancy's 1977 PBS series; huge scrapbooks with Irish-related articles from across the 20th century and of the early days of Irish Fest; and the Dunn Family Collection of much sought-after, irreplaceable and culturally significant wax cylinders of Irish musicians recorded in Chicago in 1904.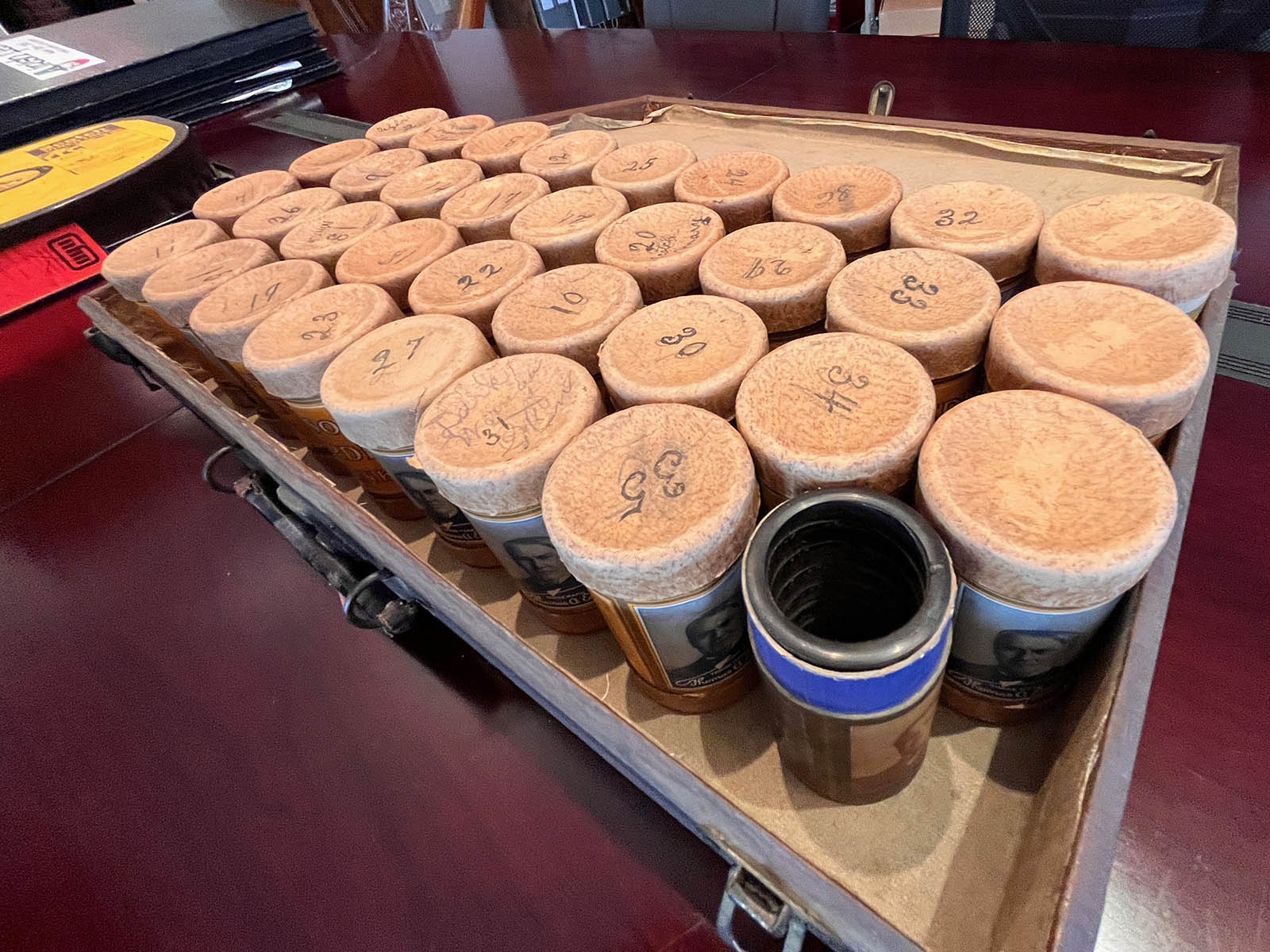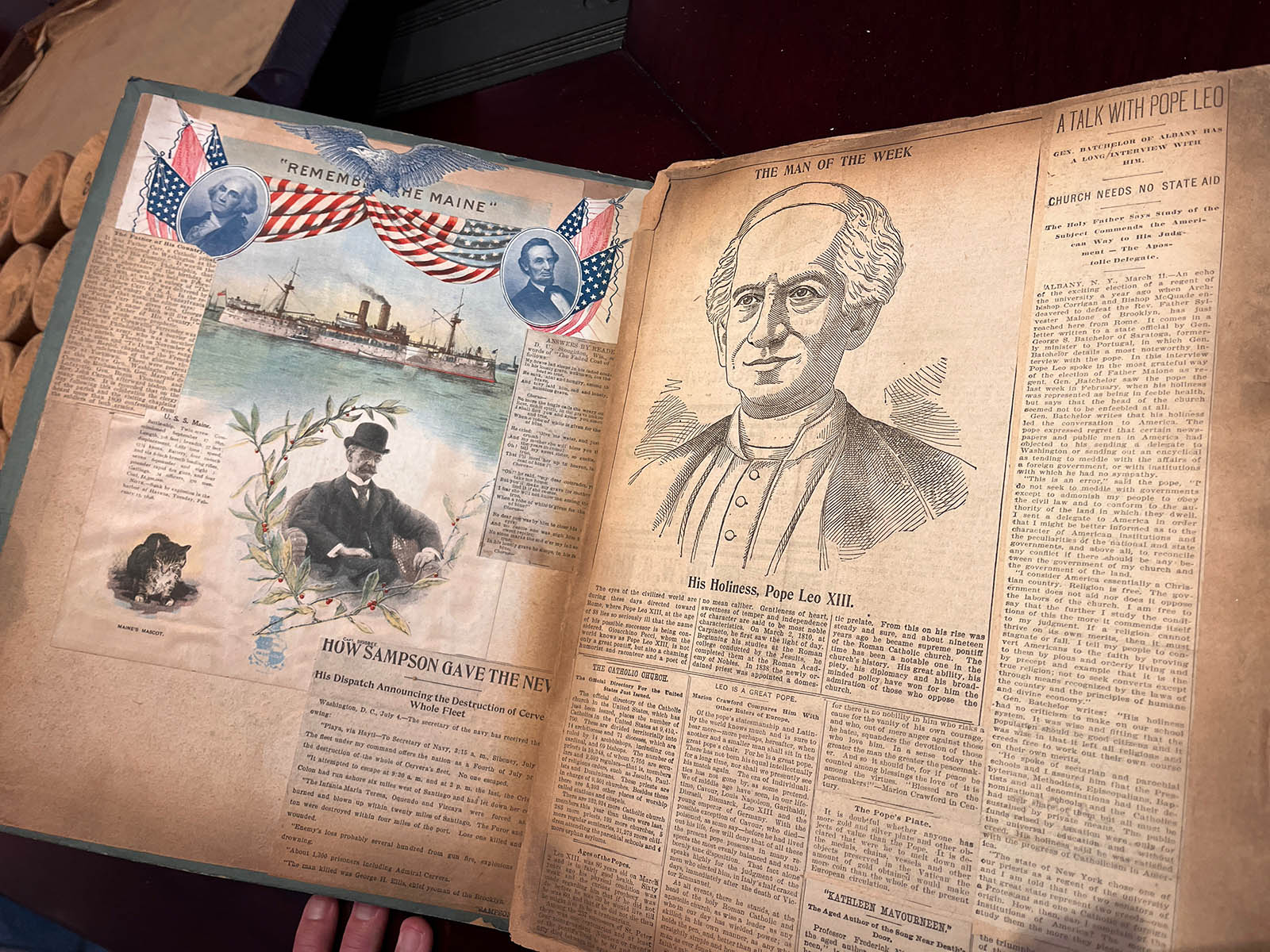 And it's not all early 20th century uihlean pipers and Bing Crosby 78s. More modern Irish music from the likes of U2 and Hozier is also included.
Much of the collection is stored in the lower level, where there's a hall with a stage for performances as well as a cafe for food and beverage service during events.
The building has a certain church vibe, with the basement feeling a bit like a church basement, where coffee hours might be held after services. The space is described in one architectural drawing as the Fred Stevens Banquet Room.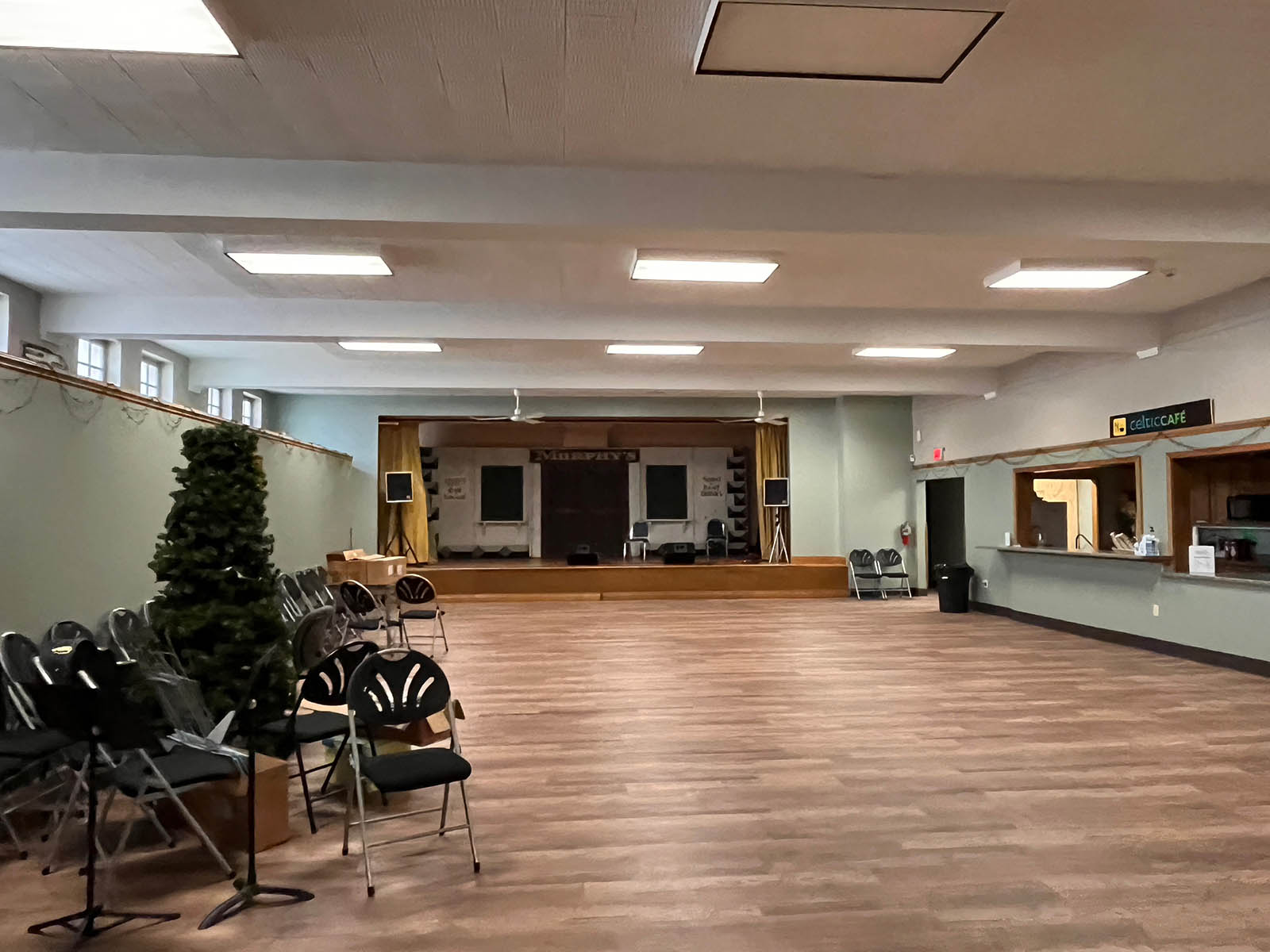 It's no coincidence that Masonic meeting halls were typically called "temples."
Stapleton – who has long been associated with CelticMKE and Irish Fest – gives me a tour of the building.
He used to work in construction and was involved in some of the renovation of the former temple after it was purchased a quarter-century ago.
Despite a Wisconsin Historical Society online listing that puts the founding of lodge at 1869, that does not appear to be the case.
In fact the group – which WHS erroneously calls No. 246 (it was 276) – was founded in 1895 by nine masons who held a meeting that September in a dentist's office and decided Tosa needed its own lodge.
They, along with another 17 men, petitioned to start their own lodge, which was given the nod by the by the nearest masonic group at the time, the Kilbourn Lodge, in October.
"The Grand Lodge granted a charter to Wauwatosa Lodge No. 267 in June 1896, with Dr. M.H. Fisk as the first Master and Theodore Grover and J. E. Bossingham as the Wardens," reads a history on the lodge website.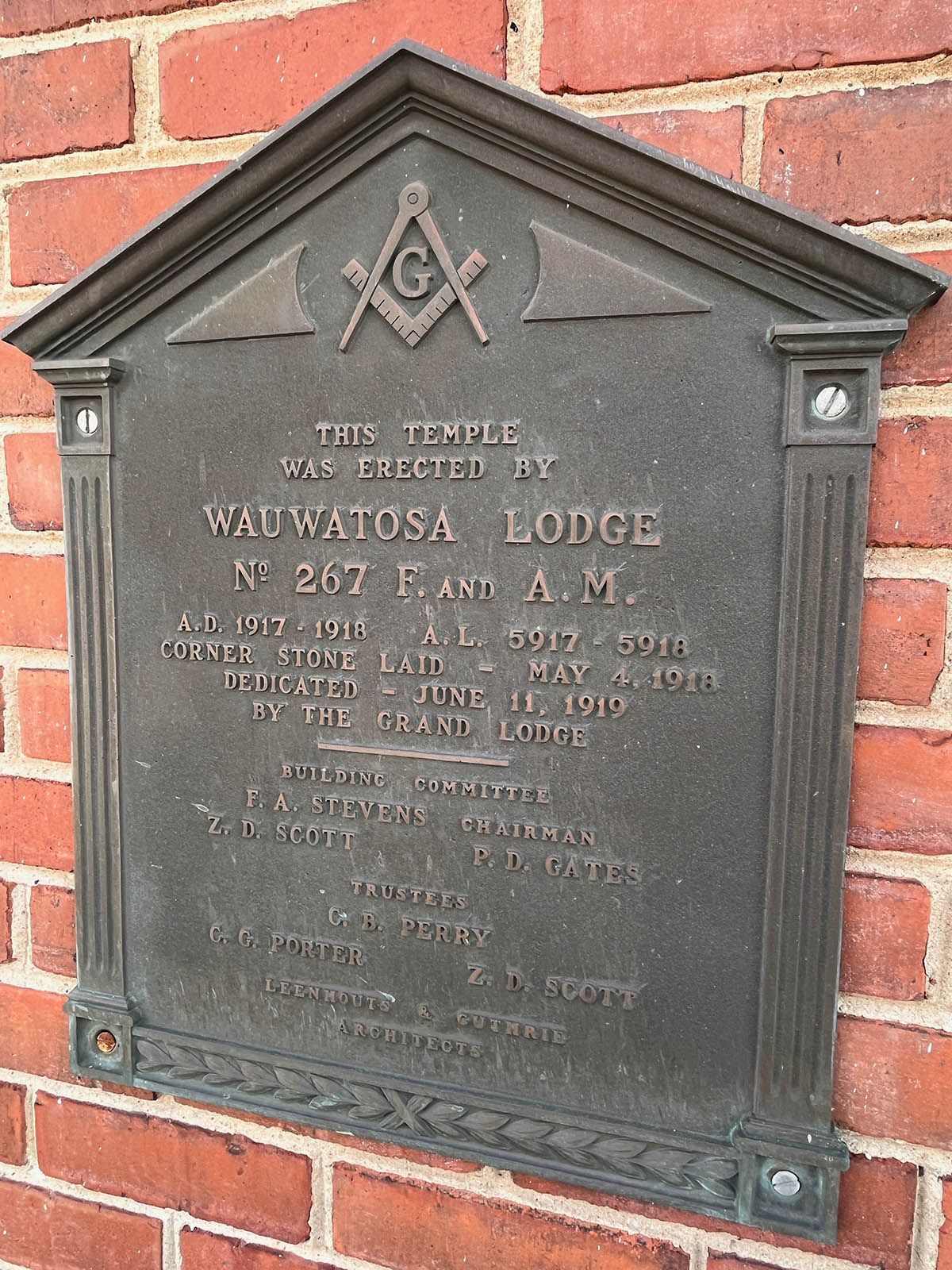 A Milwaukee Journal brief in November 1895 announced the formation, noting that there were to be 25 founding members, adding that, "there are a large number of masons belonging to the lodges in Milwaukee who have their residences in Wauwatosa and many of these will join the new lodge."
The lodge's first home was in the Lefeber Building, which burned in 1963, and the site on State and Harwood is now occupied by the mixed-use Lefeber Point development, built in 2001. In 1907, it moved to the turreted, triangular Robertson Hardware building across the street.
However, three years later, the lodge bought the site on Wauwatosa Avenue and a building committee was formed.
Site work began in December 1917 and the cornerstone for the new temple was laid on May 4, 1918. The building was formally dedicated on June 11, 1919, six months after the first meeting was held there.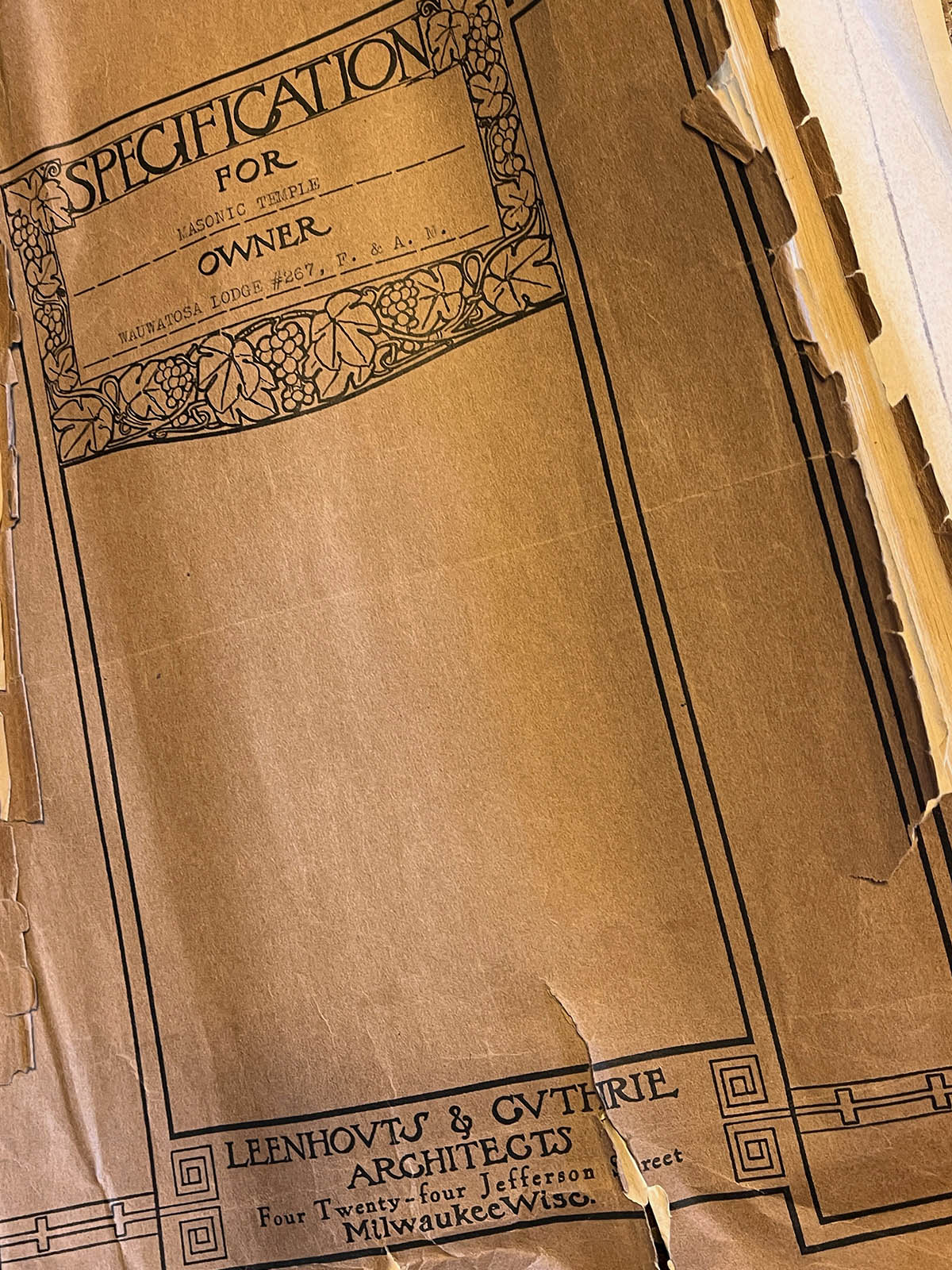 And so began almost exactly 80 years of Masonic meetings in and stewardship of the building, which during that time also served as a temporary home, notes the lodge history, "of the local Methodist, Congregational, Lutheran and Episcopal churches, all of which now have fine buildings of their own."
Lodge No. 267 is now located on Pilgrim Road in Brookfield.
The building was designed by the Milwaukee firm of Leenhouts and Guthrie, and the CelticMKE archives holds the original specifications book prepared by the firm to guide construction, as well as original drawings.
(Interestingly, the same architects drew a red brick Colonial/Georgian Revival home just up the street at 1809 N. Wauwatosa Ave., in 1909. It's unknown whether or not its owner – woodworking machinery inventor and manufacturer John M. Nash – was a lodge member and if there had been some connection. Another Georgian/Colonial Revival meeting place, this one for the Wauwatosa Woman's Club, at 1626 N. Wauwatosa Ave., was built in 1924 to designs by Kirchhoff & Rose.)
But, Stapleton notes, there was some confusion, and he shows me three sets of drawings, each from a different architectural firm.
The Leenhouts and Guthrie plans are surely the originals, as even the bronze plaque out front with detailed information about the genesis of the building names them as the architects. (Plus, there are those construction specs from their office.)
A second set – with some drawings that look a bit like they could be interior design renderings – were signed by Walter Pollatz, who had offices in Tosa (though some drawings list Milwaukee, instead).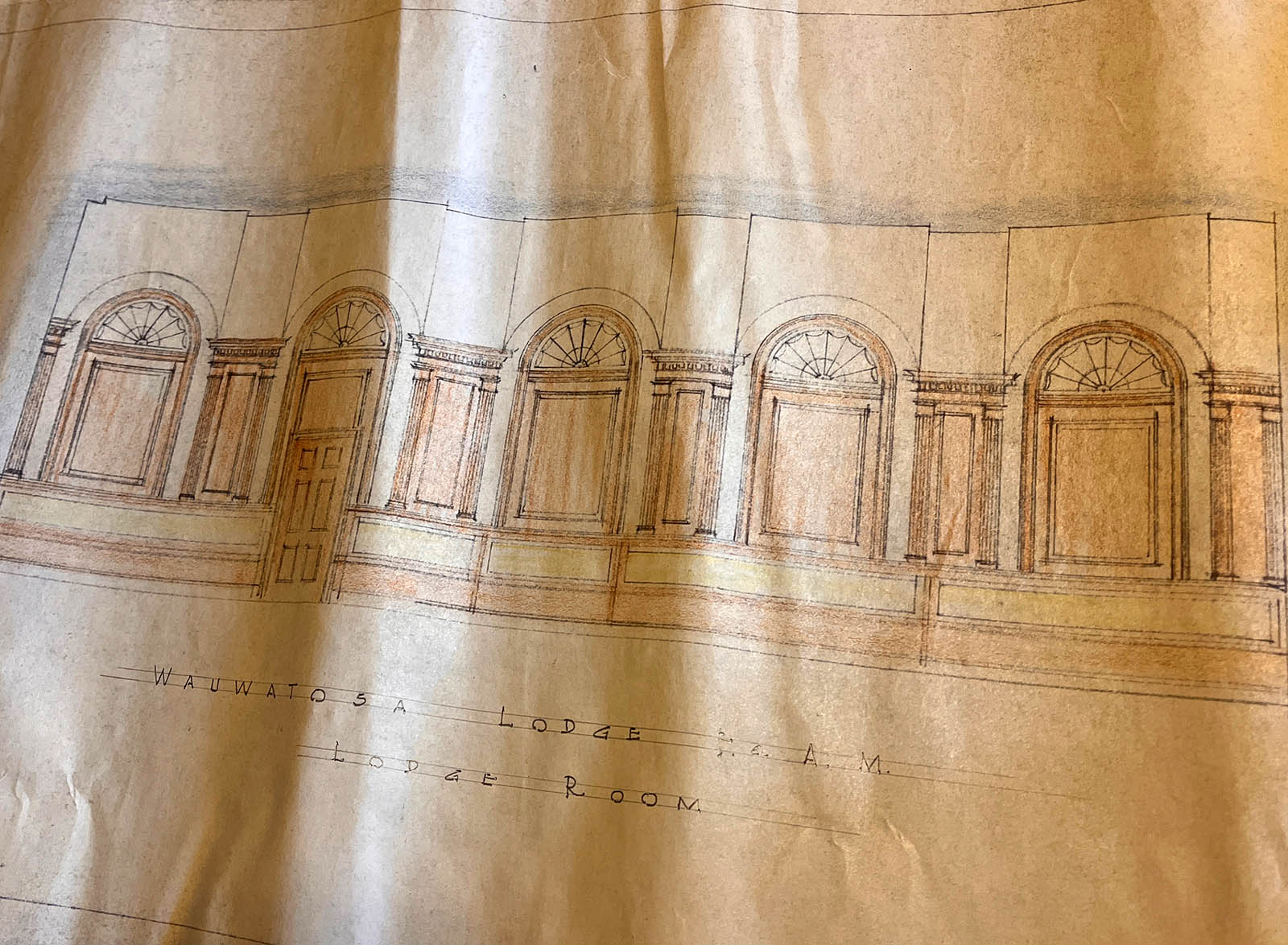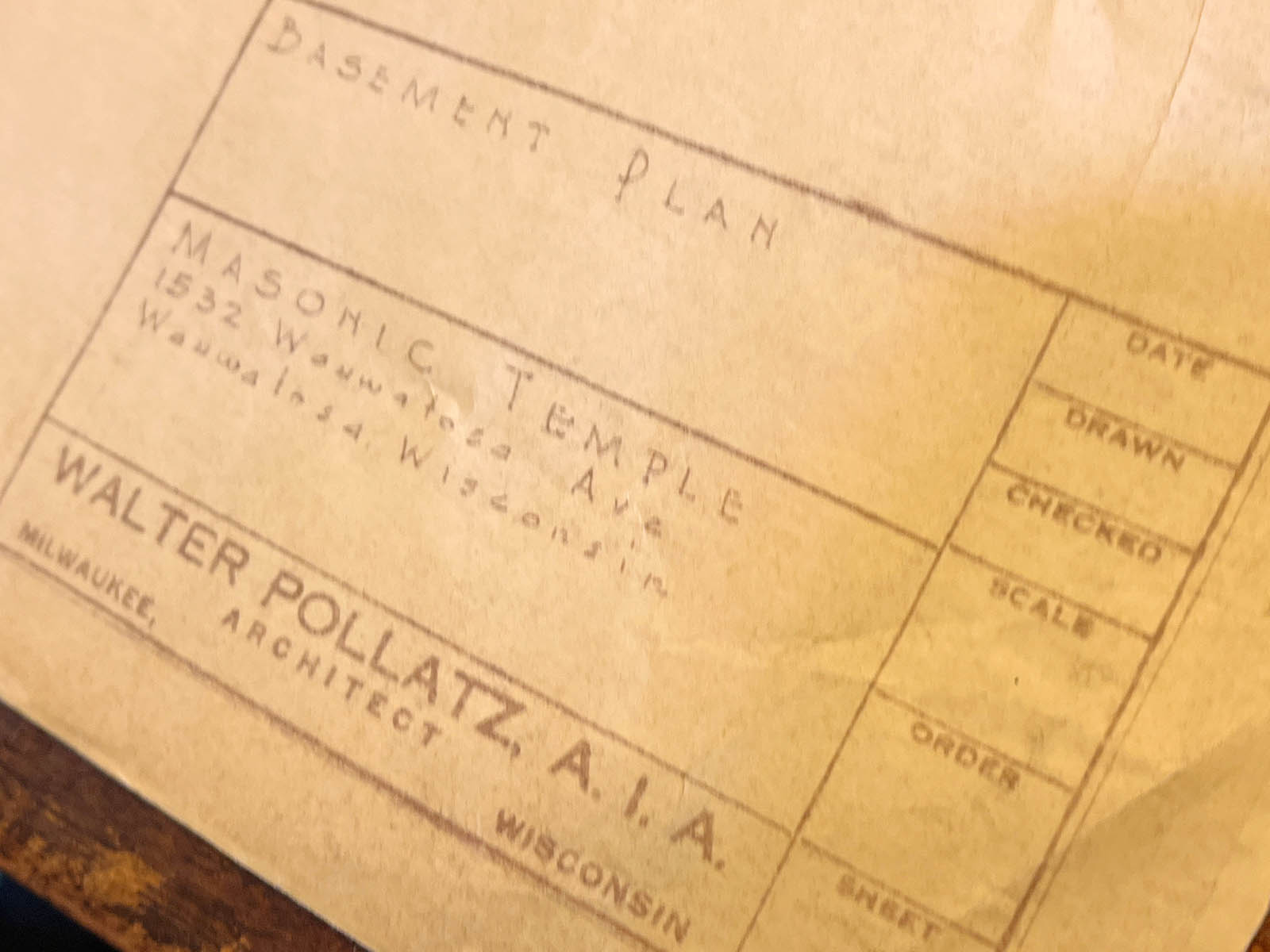 But Pollatz was born in 1908, so unless he was a child prodigy, his drawings are surely not for the original construction of the building. More likely they were for later changes to the interior and/or exterior.
Also not likely original are a set of smaller scale, highly faded renderings signed by a firm called either Djann/Viars Architects or Bjann/Viars Architects. Because of the fading, it's hard to tell which spelling is correct.
Either way, I have had no luck finding anything about these architects, though I'd guess based on the more modernist signature of the firm that these, too, are for later work, either completed or just proposed.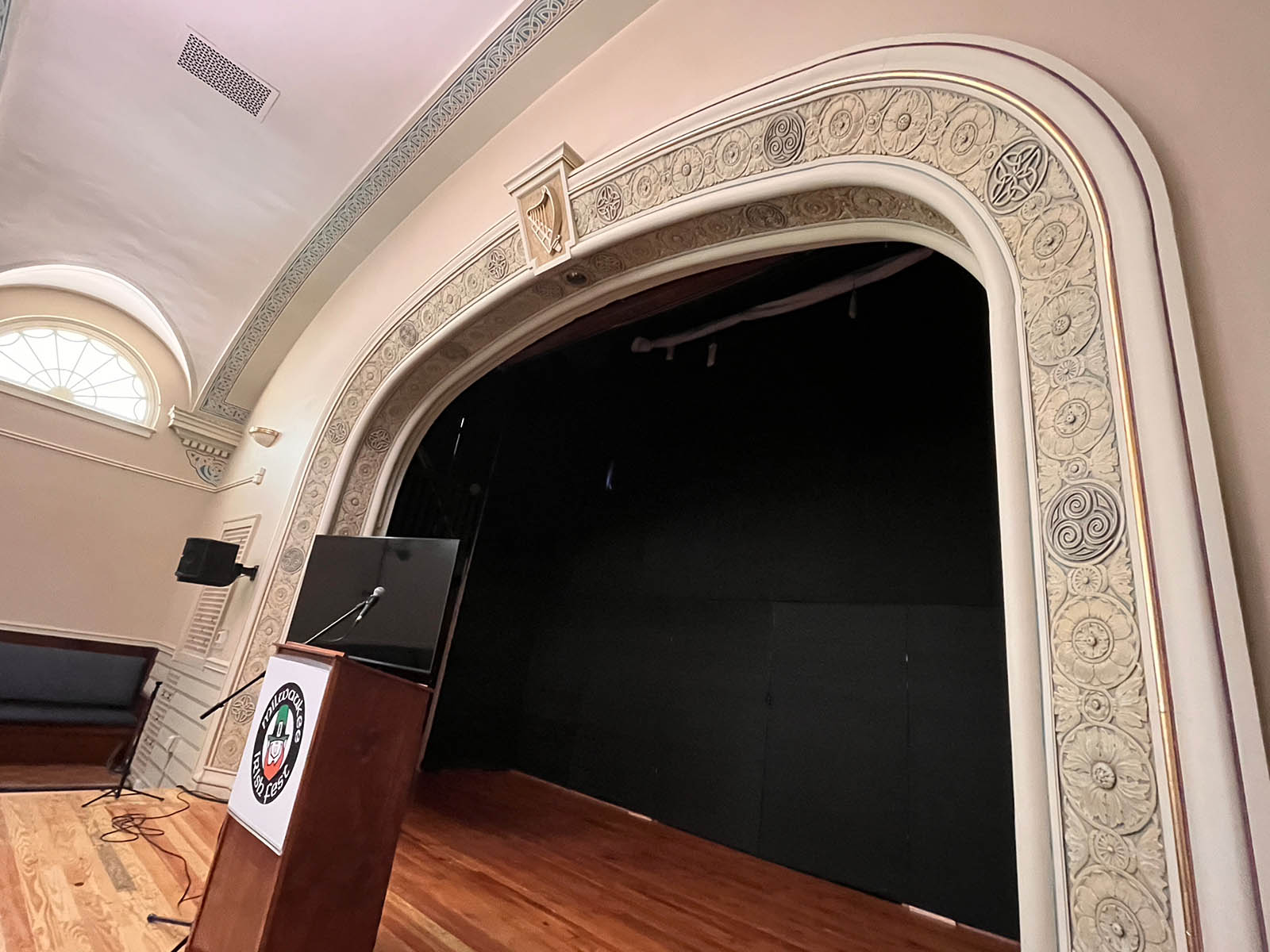 The main meeting room is quite nice, with a proscenium around the stage opening and at the opposite end, an organ loft that has long since lost its organ.
Where the barrel-vaulted ceiling meets the side walls there are arched fan-light clerestory windows.
Along each of the side walls are built-in benches running along the entire length of the walls. According to Stapleton there was a second row of these benches running parallel to the surviving ones, but those were removed during the 1998 conversion.
That work also led to Celtic symbols replacing Masonic ones on the proscenium, including an Irish harp. Fortuitously, perhaps, the railing of the organ loft already had a harp in its center.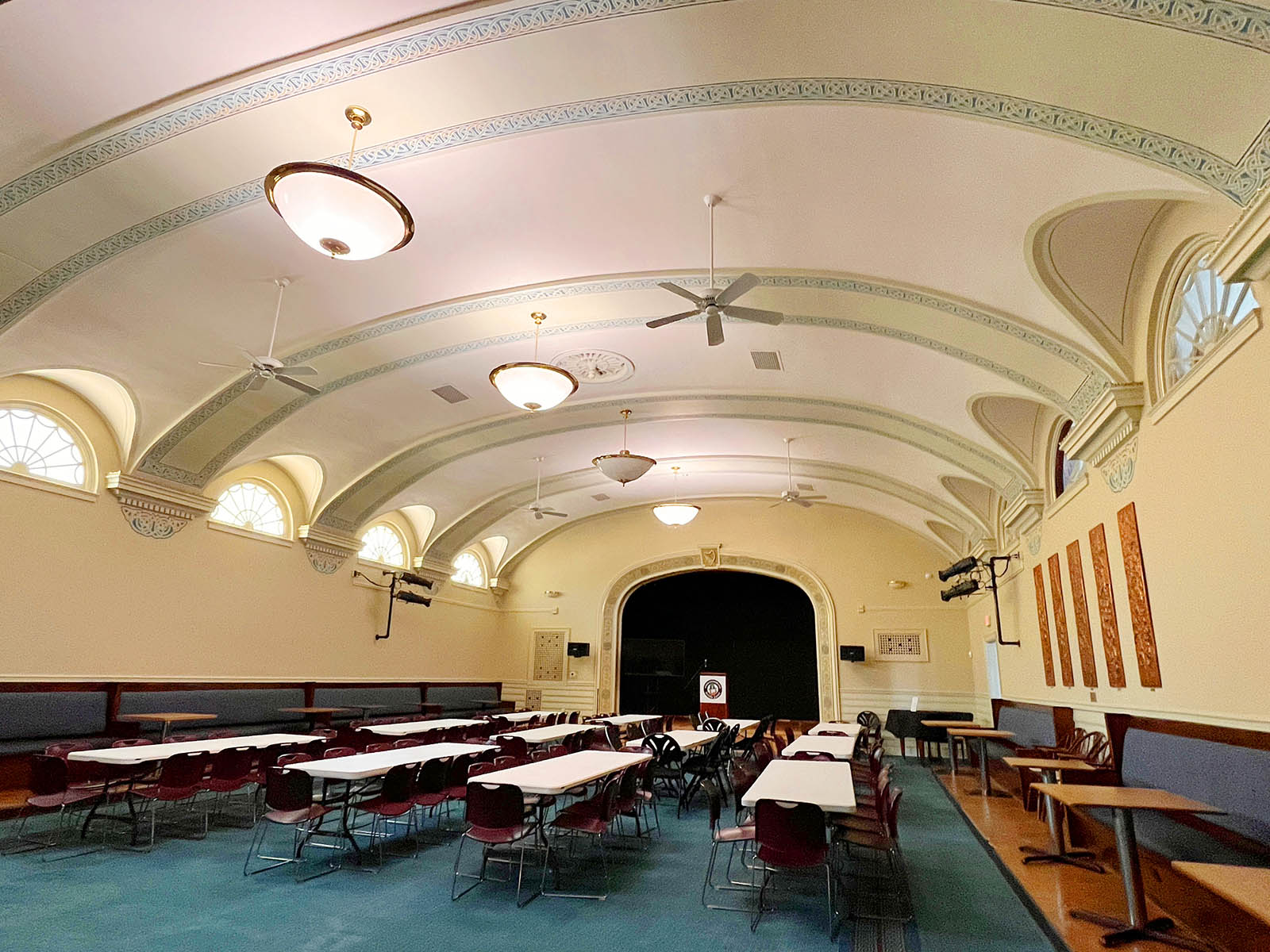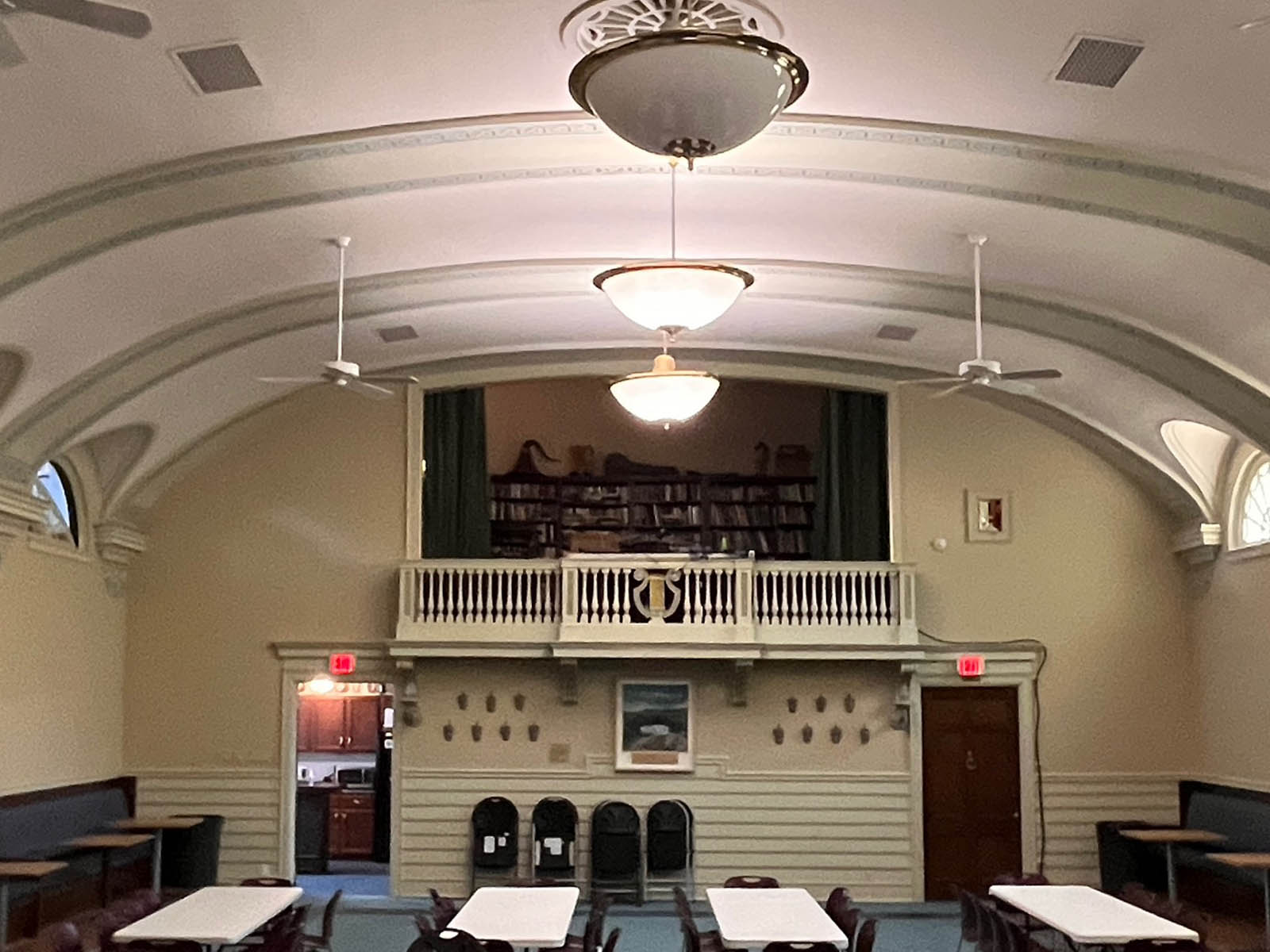 "It had all the eyes and pyramids and stuff like that, and there was a ceremonial thing in the middle there," Stapleton says. "So we had an artist come in."
Along the south wall, those fan-light windows open offering a view into the hall from a private balcony-level former dining room (now packed with gems from the music archives collection) that was used by higher-level masons, Stapleton says.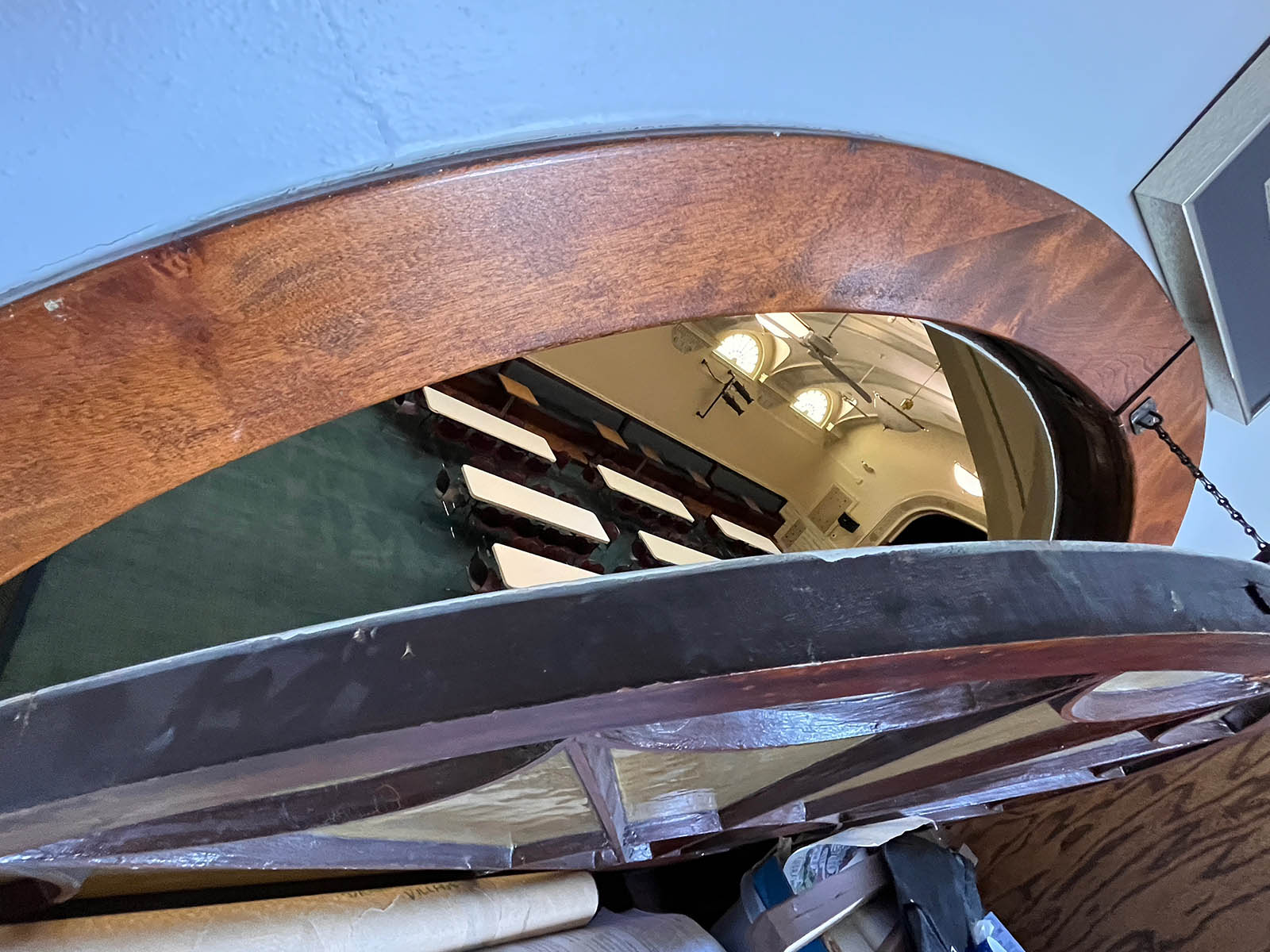 Out front is a reception area and offices, and here there is a lovely staircase down to the lower level and up into the hall. On the landing halfway down is a small door leading to a closet that CelticMKE has, with a smile, dubbed the "leprechaun door."
(Stapleton did not have a key to this portal, so I can neither confirm nor deny the presence of pots of gold in the closet.)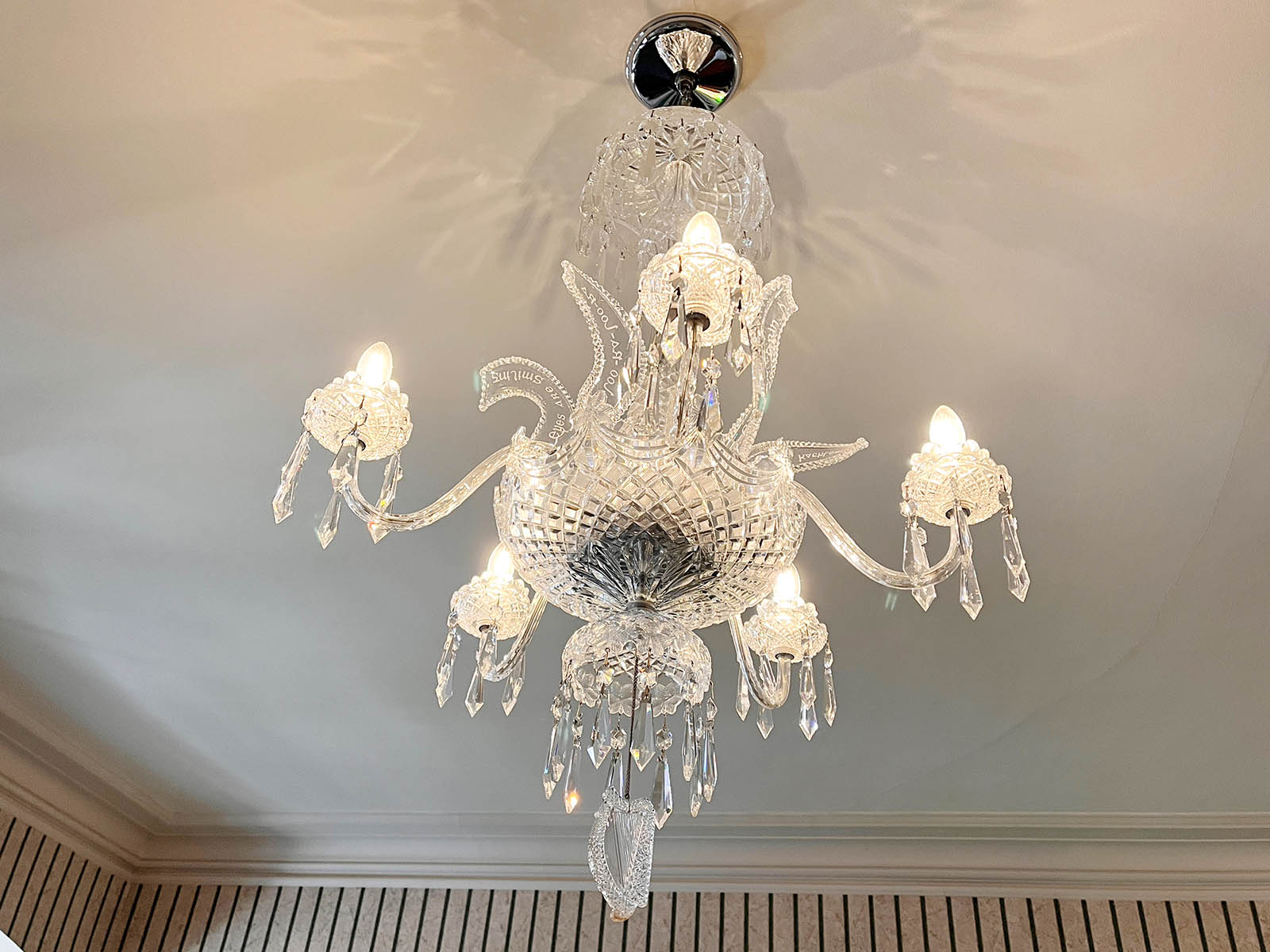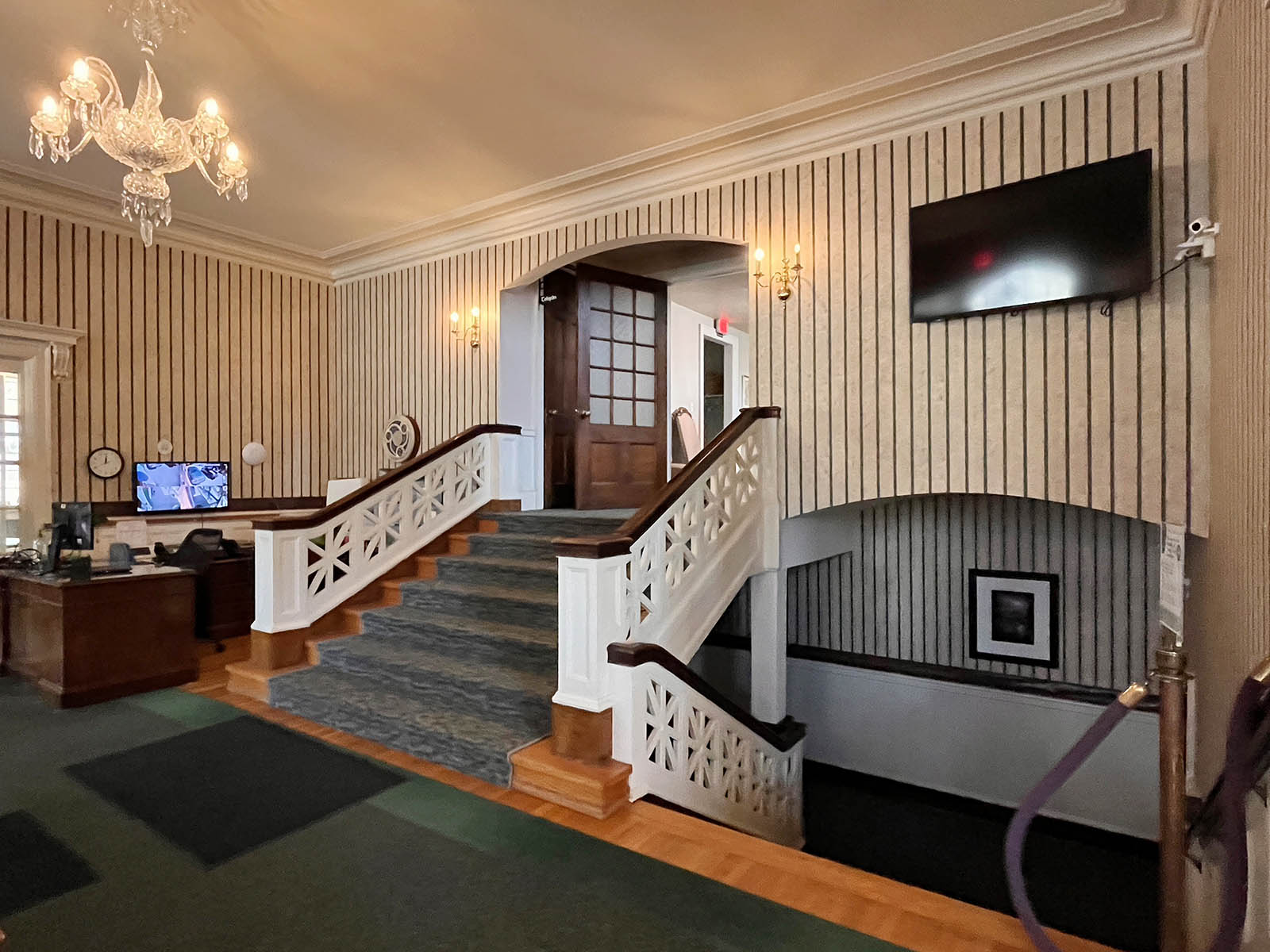 At the center of the reception area is a Waterford crystal chandelier that was a gift from former Irish President Mary McAleese, upon her visit to Milwaukee in 2005.
On the upper levels of this part of the building are more offices and a former billiards room that is now used for meetings and events and by the Ward Irish Music Archives.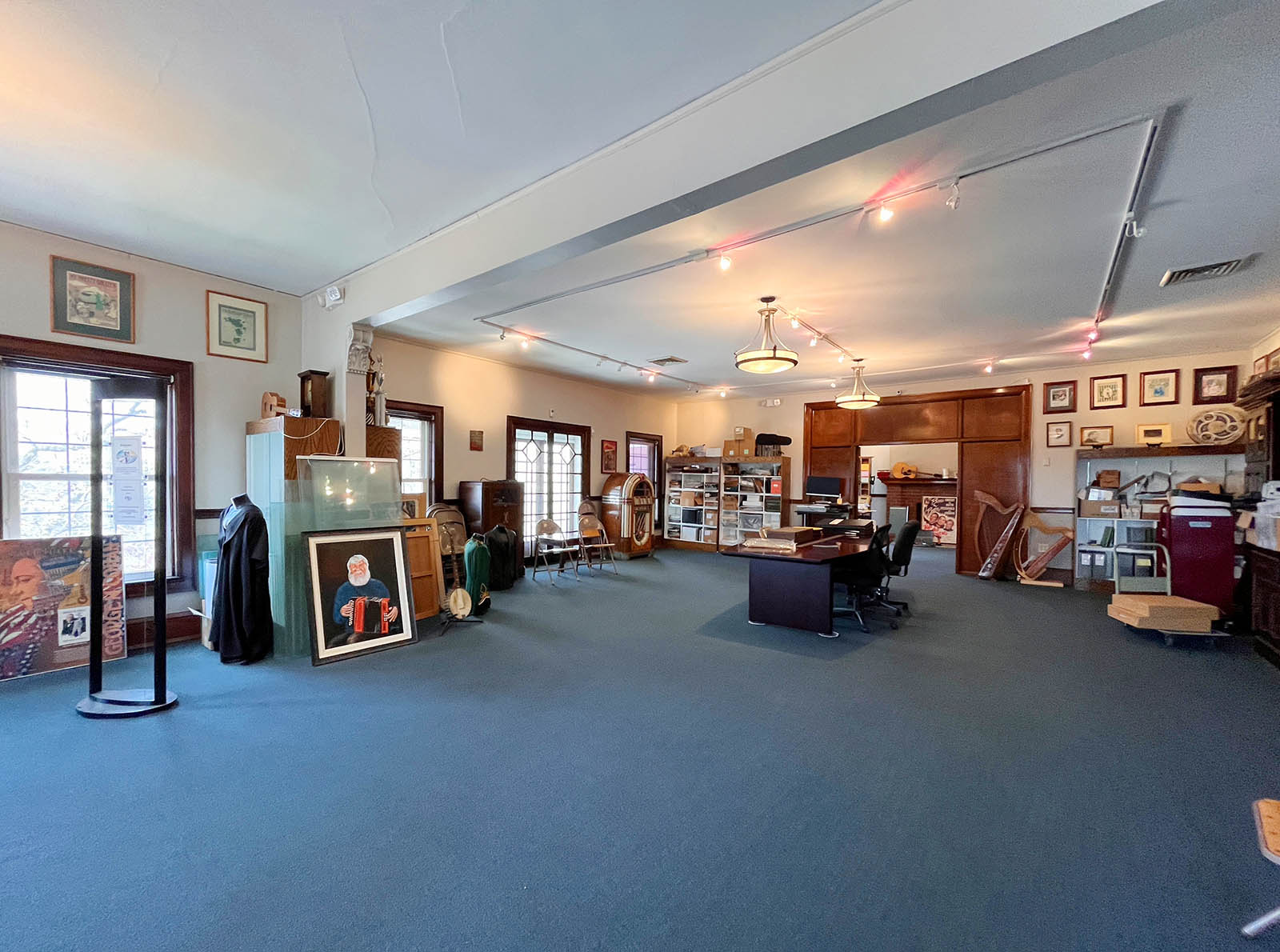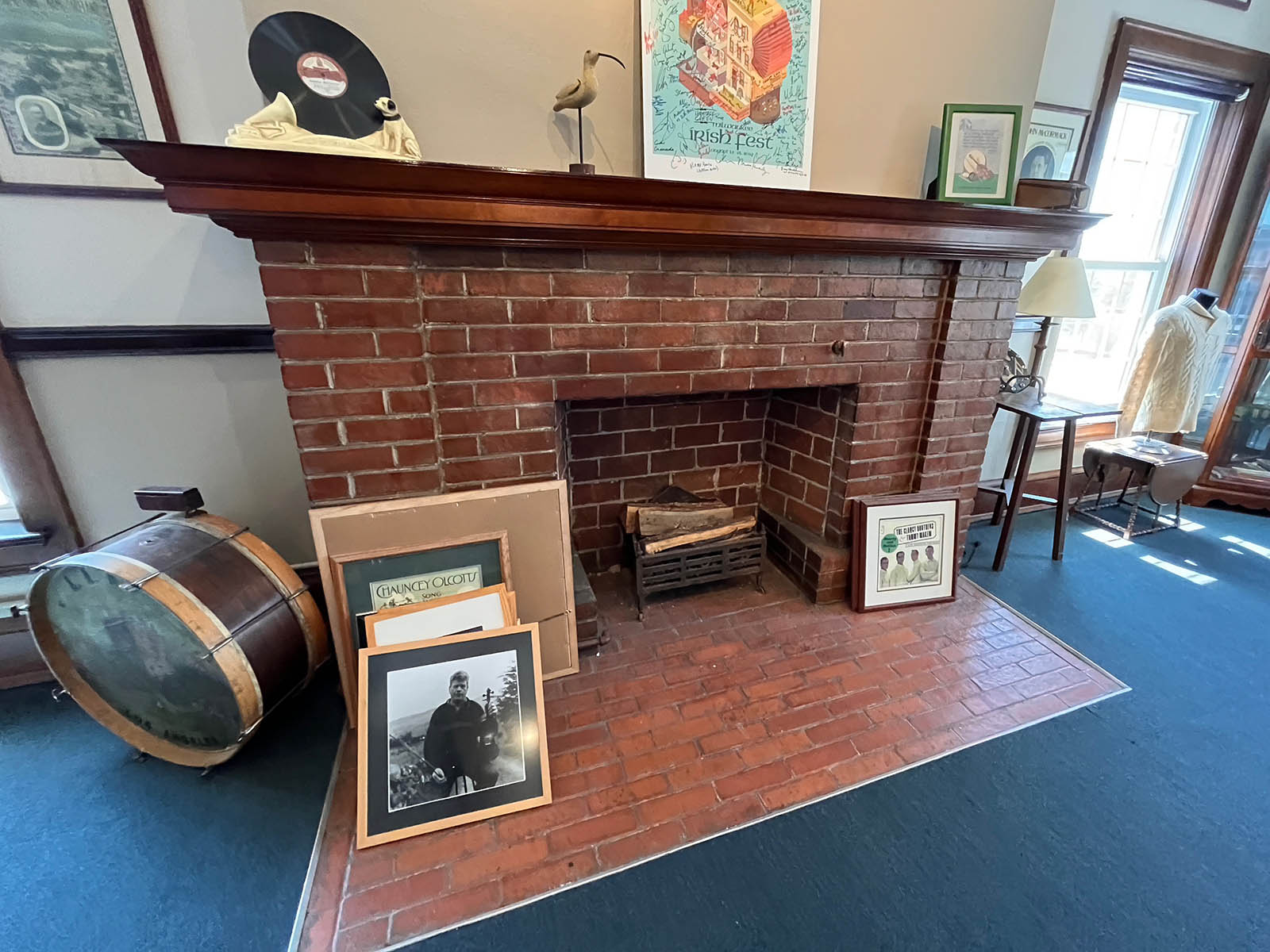 On each of the three floors there are two fireplaces, one on the south wall and another on the north. Each pair matches, though each floor's pair is of a different design.
Back in the main auditorium, Stapleton tells me a bit about what's changed since the Masonic temple era.
"We added a couple feet to the stage," he explains. "There wasn't anything on the walls, so we stenciled and painted that (in a Celtic style). When we came in, the organ wasn't up there (in the loft) anymore, but there was at one point an organ up there. There were some old theater seats up there that were pretty rough, so we took those out."
Although the building was in good condition, Stapleton says, there was work required to update it.
"This (auditorium) would have one outlet, you know, and there was no air conditioning," says. "So we did a ton of work. The building is strong as a rock. I was in construction and I remodeled some stuff upstairs and (the building) is all like within an eighth of an inch of being perfect.
"So heating, air conditioning, plumbing and then just an overall makeover. We really didn't knock down walls or anything like that."
Amazingly, there had been talk of demolishing the building, Stapleton says.
"One of the reasons why we got it was other entities wanted to buy it and make it into a parking lot," he says, shaking his head. "They wanted to tear it down. That's why (the lodge) gravitated to toward us."
Interestingly, says Stapleton, not everyone gravitates toward the building itself. In fact, the opposite has, at times, been the case.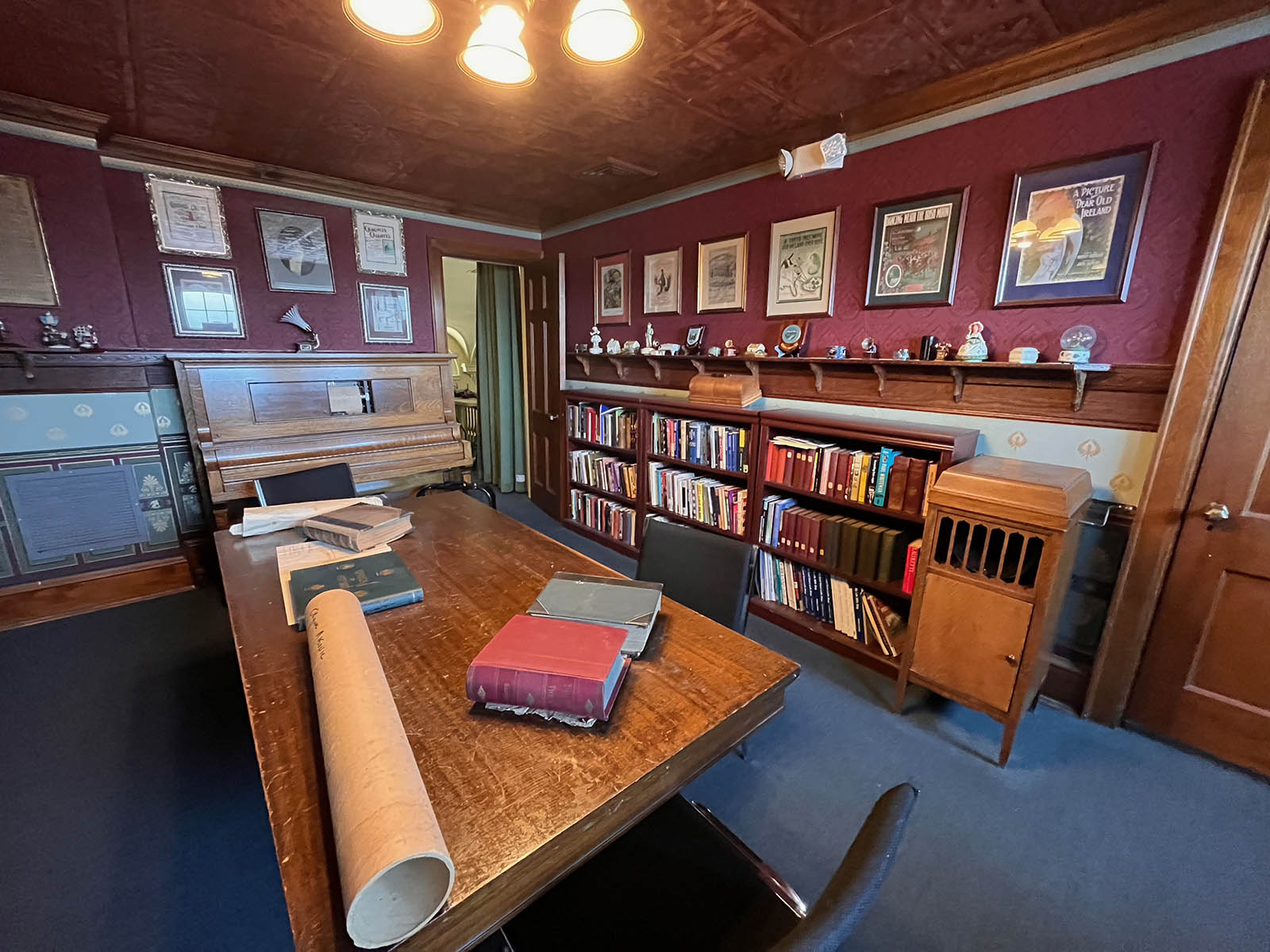 "When we got in here, and still sometimes, people walking down Wauwatosa Avenue will go to the other side of the road and come back across once they've passed," he says.
It doesn't happen as much these days, Stapleton adds, but if folks were doing that in the early 2000s, it seems likely they'd been doing for many years before that.
"At first, we didn't know why they were doing it. But Masonic lodges in their earlier days were so full of secrets that people were scared of it. So they would actually go to the side of the street and walk around!"
Born in Brooklyn, N.Y., where he lived until he was 17, Bobby received his BA-Mass Communications from UWM in 1989 and has lived in Walker's Point, Bay View, Enderis Park, South Milwaukee and on the East Side.
He has published three non-fiction books in Italy – including one about an event in Milwaukee history, which was published in the U.S. in autumn 2010. Four more books, all about Milwaukee, have been published by The History Press.
With his most recent band, The Yell Leaders, Bobby released four LPs and had a songs featured in episodes of TV's "Party of Five" and "Dawson's Creek," and films in Japan, South America and the U.S. The Yell Leaders were named the best unsigned band in their region by VH-1 as part of its Rock Across America 1998 Tour. Most recently, the band contributed tracks to a UK vinyl/CD tribute to the Redskins and collaborated on a track with Italian novelist Enrico Remmert.
He's produced three installments of the "OMCD" series of local music compilations for OnMilwaukee.com and in 2007 produced a CD of Italian music and poetry.
In 2005, he was awarded the City of Asti's (Italy) Journalism Prize for his work focusing on that area. He has also won awards from the Milwaukee Press Club.
He can be heard weekly on 88Nine Radio Milwaukee talking about his "Urban Spelunking" series of stories.