The whiskey world thrives on history, even if sometimes that "history" is more myth than reality.
But when Central Standard Craft Distillery moves into its new home at 320 E. Clybourn St. in August, it will be rich in real Brew City history.
For a start, it's located in a stunning 19th century building – designed by landmark Milwaukee architect Edward Townsend Mix – that has a link to the distilling and brewing world.
You can read more about that here.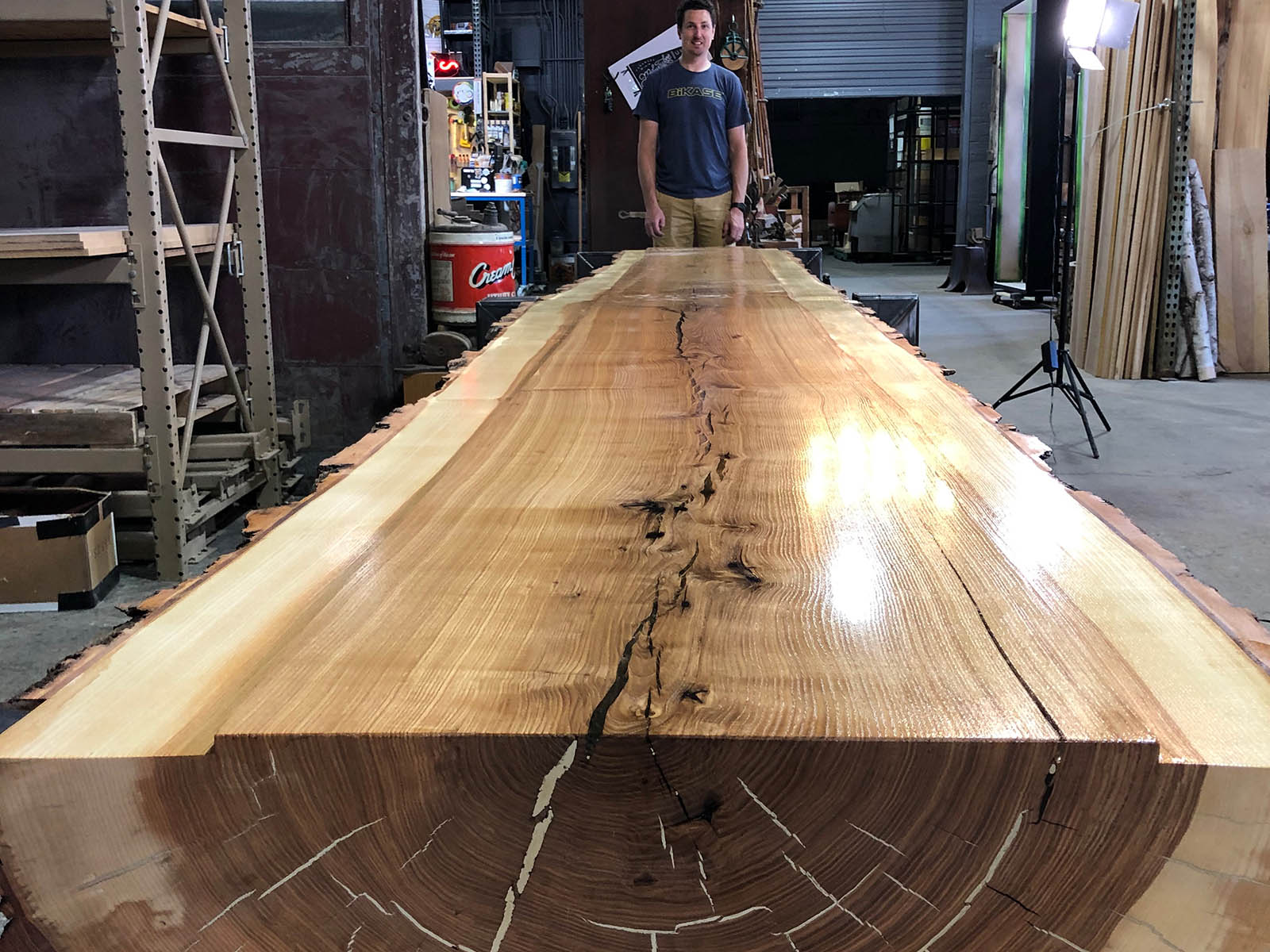 But, once inside, look around and you'll see decor that incorporates things like motor parts, gears and other pieces of the building's vintage freight elevator.
One of the most intriguing and beautiful objects rooted (quite literally) in Milwaukee history is the nearly 20-foot bourbon tasting table in the lower level.
The table will be moved into its new home on Monday, June 7.
A forklift and flatbed truck will be required to transport the roughly 3,000-pound table from the Riverwest workshop where it was created from a 10-foot section of a tree cut down in front of the Pabst Mansion in late 2019.
The table will be one of the showpieces of the three-story, 11,700-square-foot distillery, visitors center, tasting room, restaurant, events space, rooftop patio and tour destination. (There will also be some office space for lease on the third floor.)
The ash was planted as a young tree around 1908 – the year the Milwaukee Archdiocese bought the mansion from the Pabst family as a residence for Archbishop Sebastian Messmer – and grew to a towering height over 50 feet tall, on the eastern edge of the Pabst property.
But years of lightning strikes and the dreaded emerald ash borer brought its life to an end.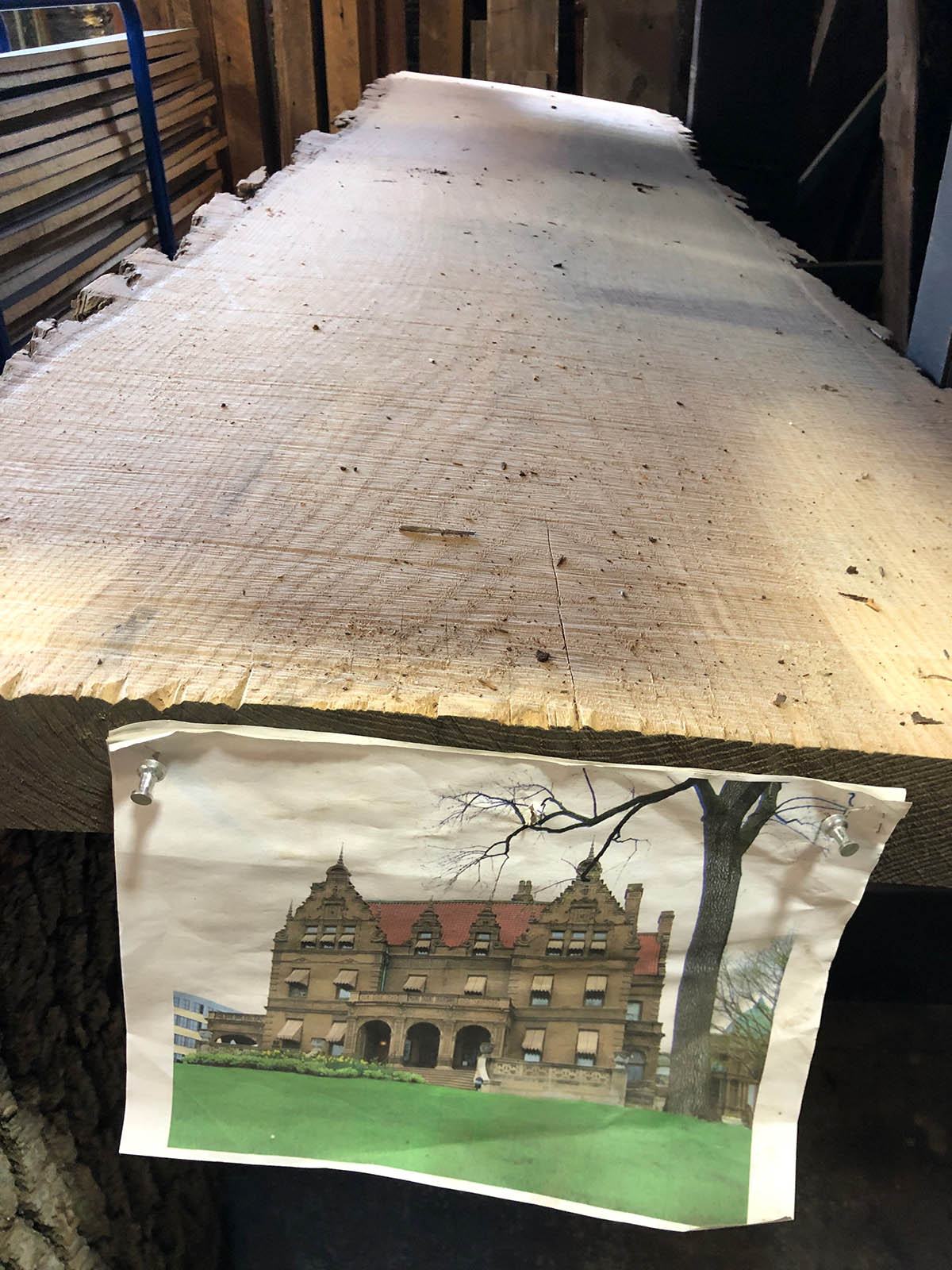 A 30-foot section was delivered to The Urban Craftsman – aka Nick Hardrath – headquartered in Riverwest.
"The Pabst contacted me and said, 'Hey, I know you're milling lumber. Can you take this tree? We'll have it felled, and then you mill it, and we'll do something with it.' And then it just kind of fell through the cracks.
"So I milled half of it into slabs. And then I just sat on this whole guy for a long time. Then the Central Standard guys said, 'Hey, we're thinking about doing something really wild. Let's make a whole table out of a tree'."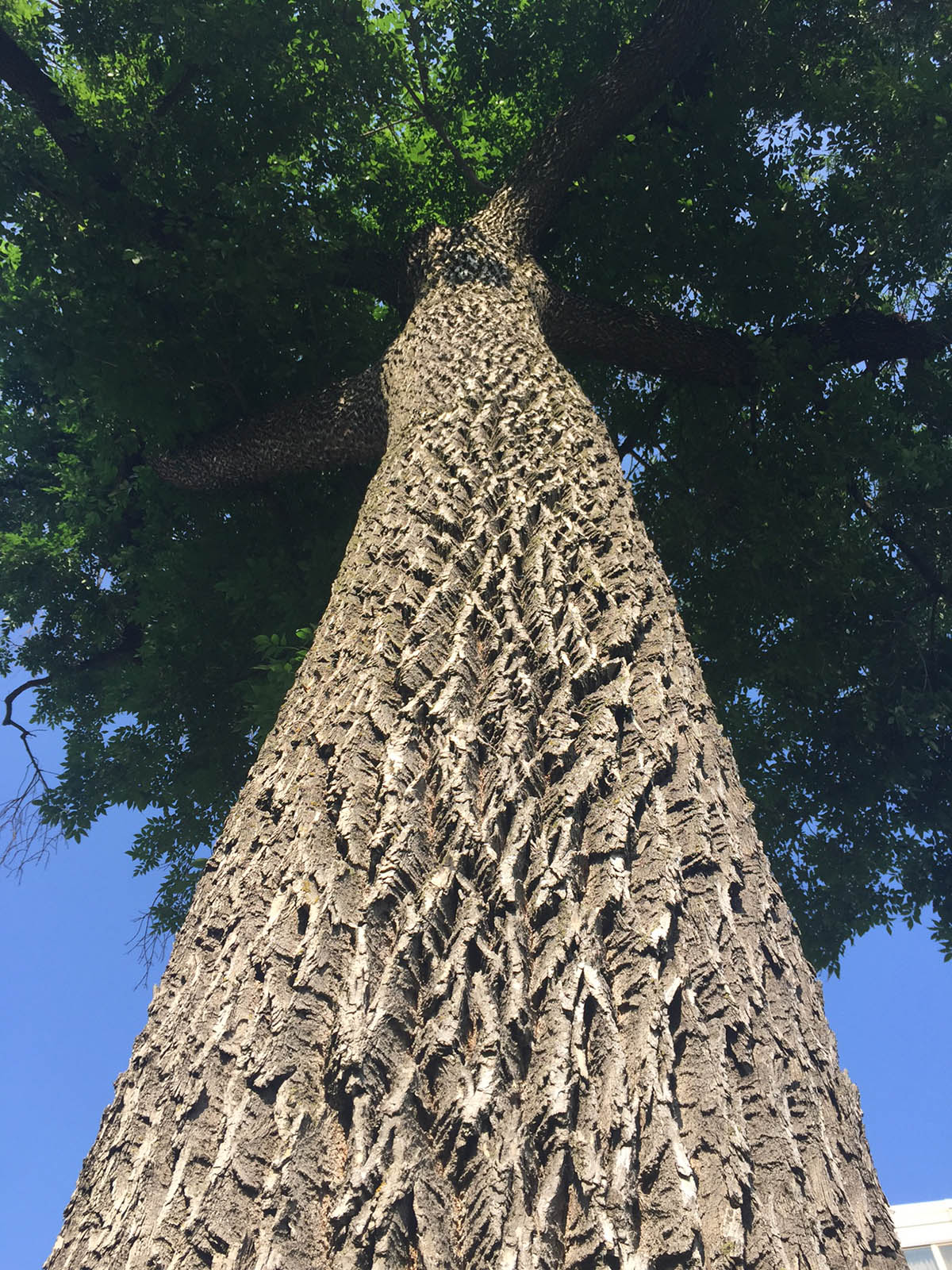 Hardrath used some of the slabs for other projects and some are still seasoning in Riverwest, awaiting still other uses.
The huge 10-foot section was halved and tapped for the Central Standard project.
"They came here to chat about some things, and I brought them outside (to the tree yard)," recalls Hardrath, "and I showed him this tree. It was the right size, the right length. And, obviously, I will only have one of these because there was only one tree on that property, and when you think 'Milwaukee,' what could be more historic than the Pabst Mansion?
"So it was the perfect storm."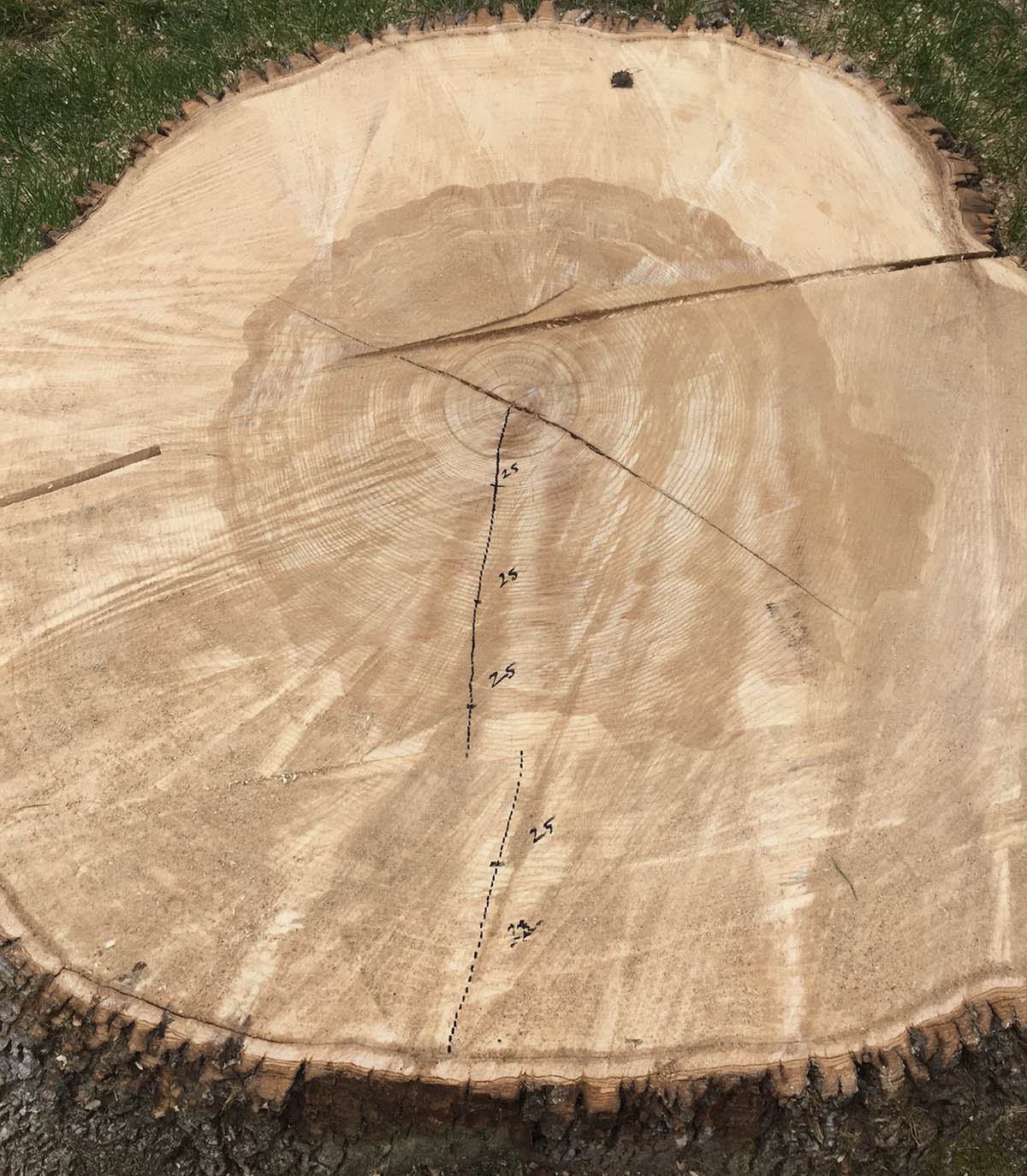 It's a stunningly woodgrained and age-ringed tree, with gnarly bark remaining on the table's underside. Two long grooves have been cut along each long side of the table to accommodate the thick shatterproof glass that will be added there.
The weighty shafts are supported by heavy iron stands, each end of which will feature a unique decoration.
"The hardest part was milling it," says Hardrath, who thinks he's spent about a solid month working on the project, spread out over time. "I used a big bandsaw mill. I actually maxed it out. It's about as big as I can go with that saw. Then I had to let it dry for almost a year to get all the moisture out of it. Then getting it set up where I could keep it flat."
Hardrath has been woodworking full-time as The Urban Craftman for about three years. He started out doing projects on the side and then traded in his white color for a blue one.
"This is by far the biggest project in heft, weight and magnitude I've worked on in my career."
He's especially proud to be working on urban trees, which often get tossed into landfill or chipped into mulch, their unique qualities sadly overlooked.
"The other part of the story is, it's all urban lumber," he says. "The only reason I got this tree, is because they knew I was the guy that would take urban lumber.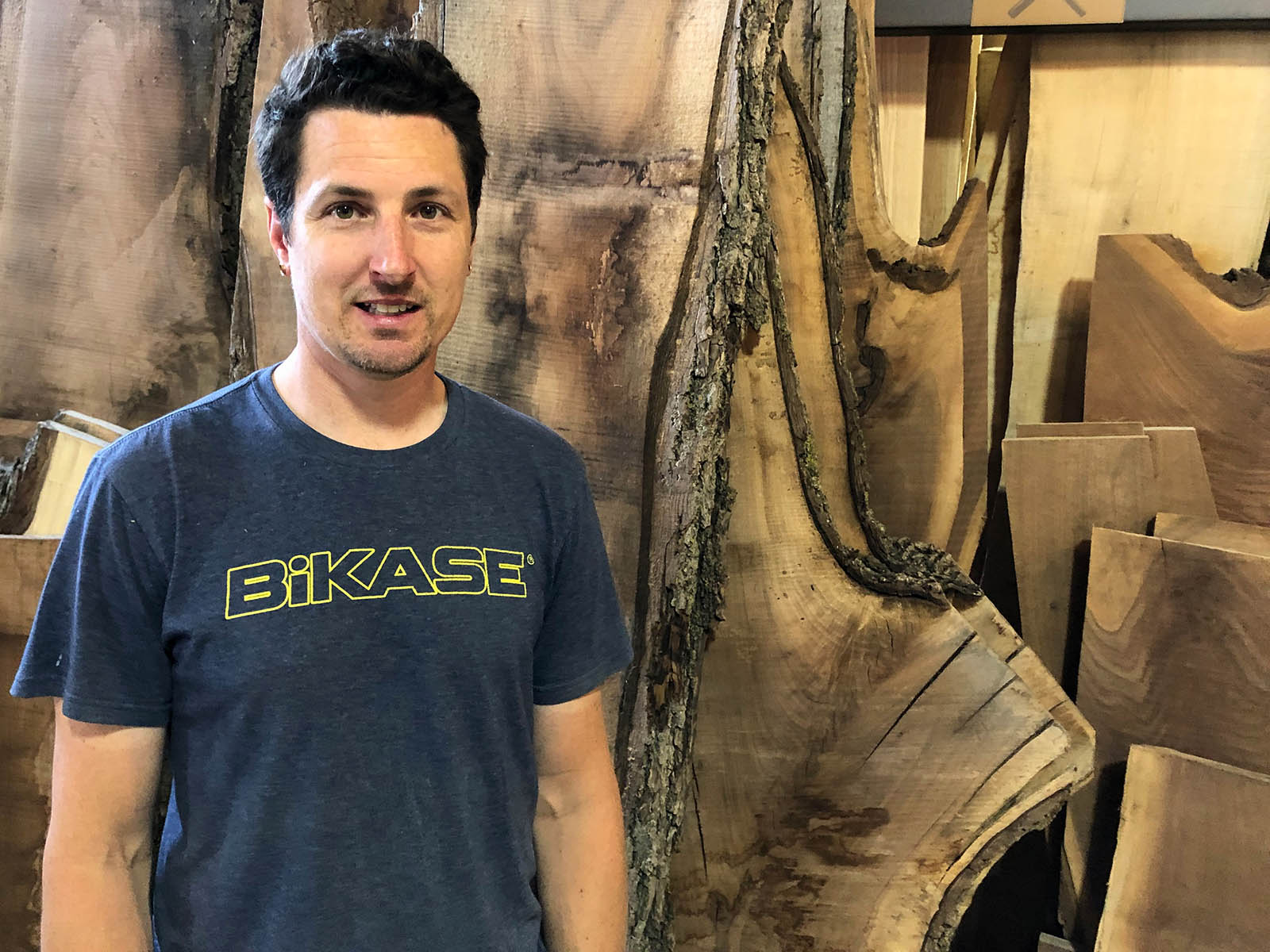 "Outside the city, they grow trees really fast to mill into lumber for Home Depot and Lowe's and all that kind of stuff. If you cut down an ash in a forest, it would never have all of this stuff going on.
"This lumber is beautiful because it has other things going on (that leave their marks on the wood): pollution, winds, fighting other elements and things. There's always more character and things going on in an urban tree."
Because so few people work with urban lumber (there are a few others), says Hardrath, he's become a go-to guy for municipalities like Shorewood and Whitefish Bay, who prefer to bring him trees than to ship them out to the landfill in Menomonee Falls.
"As they cut them down, they bring them here and drop them off," Hardrath says. "So there's more lumber out there (in the yard) than I'll probably ever be able to mill."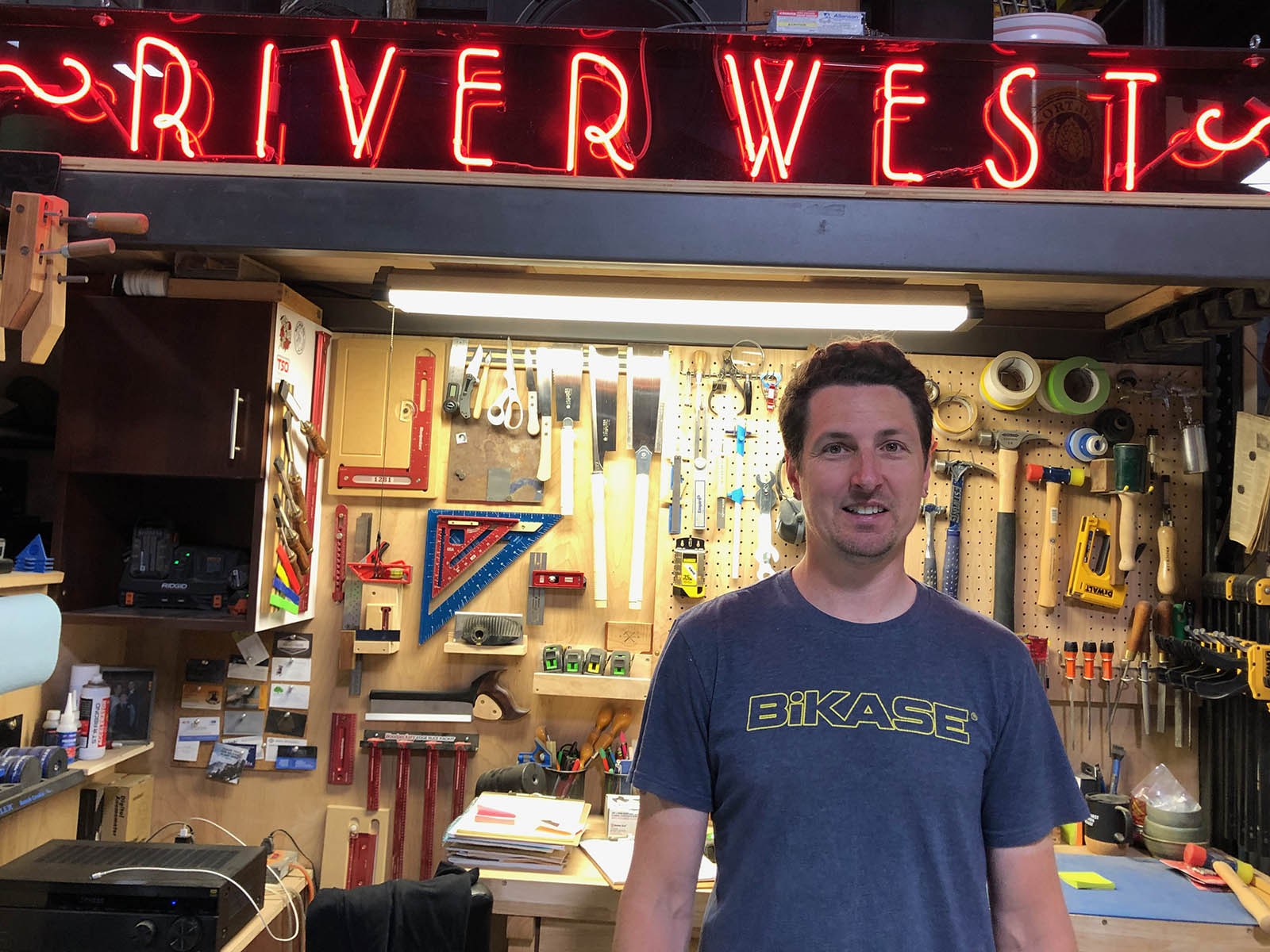 He's got maple, ash, walnut and other species both inside his shop and out in his storage yard.
The sustainability of reusing wood like this was a draw for Central Standard co-owner Pat McQuillan.
"When done, this table will symbolize everything we're about as a small business," McQuillan says.
"We're dedicated to sustainability and local helping local, and the table will truly embody the crafted-to-gather manifesto for our spirits. We can't wait to serve folks around this table come August."
McQuillan's partner, co-owner Evan Hughes – a history buff – is thrilled by the tree's backstory.
"Think of all the local history that tree witnessed: Soldiers returning home two world wars, the expansion of Milwaukee, the end of prohibition and so much more," says Hughes.
"We're just incredibly proud to give it a permanent home and help save it from being mulched or dumped in a landfill."
Born in Brooklyn, N.Y., where he lived until he was 17, Bobby received his BA-Mass Communications from UWM in 1989 and has lived in Walker's Point, Bay View, Enderis Park, South Milwaukee and on the East Side.
He has published three non-fiction books in Italy – including one about an event in Milwaukee history, which was published in the U.S. in autumn 2010. Four more books, all about Milwaukee, have been published by The History Press.
With his most recent band, The Yell Leaders, Bobby released four LPs and had a songs featured in episodes of TV's "Party of Five" and "Dawson's Creek," and films in Japan, South America and the U.S. The Yell Leaders were named the best unsigned band in their region by VH-1 as part of its Rock Across America 1998 Tour. Most recently, the band contributed tracks to a UK vinyl/CD tribute to the Redskins and collaborated on a track with Italian novelist Enrico Remmert.
He's produced three installments of the "OMCD" series of local music compilations for OnMilwaukee.com and in 2007 produced a CD of Italian music and poetry.
In 2005, he was awarded the City of Asti's (Italy) Journalism Prize for his work focusing on that area. He has also won awards from the Milwaukee Press Club.
He can be heard weekly on 88Nine Radio Milwaukee talking about his "Urban Spelunking" series of stories.