Centro Cafe, 808 E. Center St. in Riverwest, will be welcoming back customers for a brand new al fresco dining experience beginning today, July 31.
The grand re-opening will offer guests the opportunity to make reservations for patio dining on either of two well-appointed socially distanced patios. Both options provide a beautiful garden-like ambiance perfect for enjoying a dinner of seasonal Centro pasta and a bottle of wine. You can peruse the current menu here, which will expand in the weeks ahead, augmented with new seasonal items and specials.
"We're so happy to be hosting people in our space again," says Peg Karpfinger, who owns and operates Centro Cafe with Patrick Moore. "What we've always been good at is creating spaces for people to enjoy, and we've missed being able to give people those experiences."
Karpfinger says she's also excited for guests to experience the fruits of the labor she and Moore put in creating the restaurant's front and back patio spaces.
European style al fresco dining
As customers approach the venue, their eyes will likely be drawn first to the restaurant's dulcet sidewalk patio – a longtime summer tradition at Centro – which has been enhanced by a set of new slatted four-top tables.
The street-side urban ambiance is softened by planter boxes between each table and mellowed by the sound of jazz trailing through the windows of the Centro bar.
Of course, there's more.
Guests also have the opportunity to experience a brand new patio space located just behind the building. It's an area that has been utterly transformed. What once was a ragged gravel-covered space is now the scene of a beautifully terraced back patio that welcomes guests with all of the charms of a secret garden.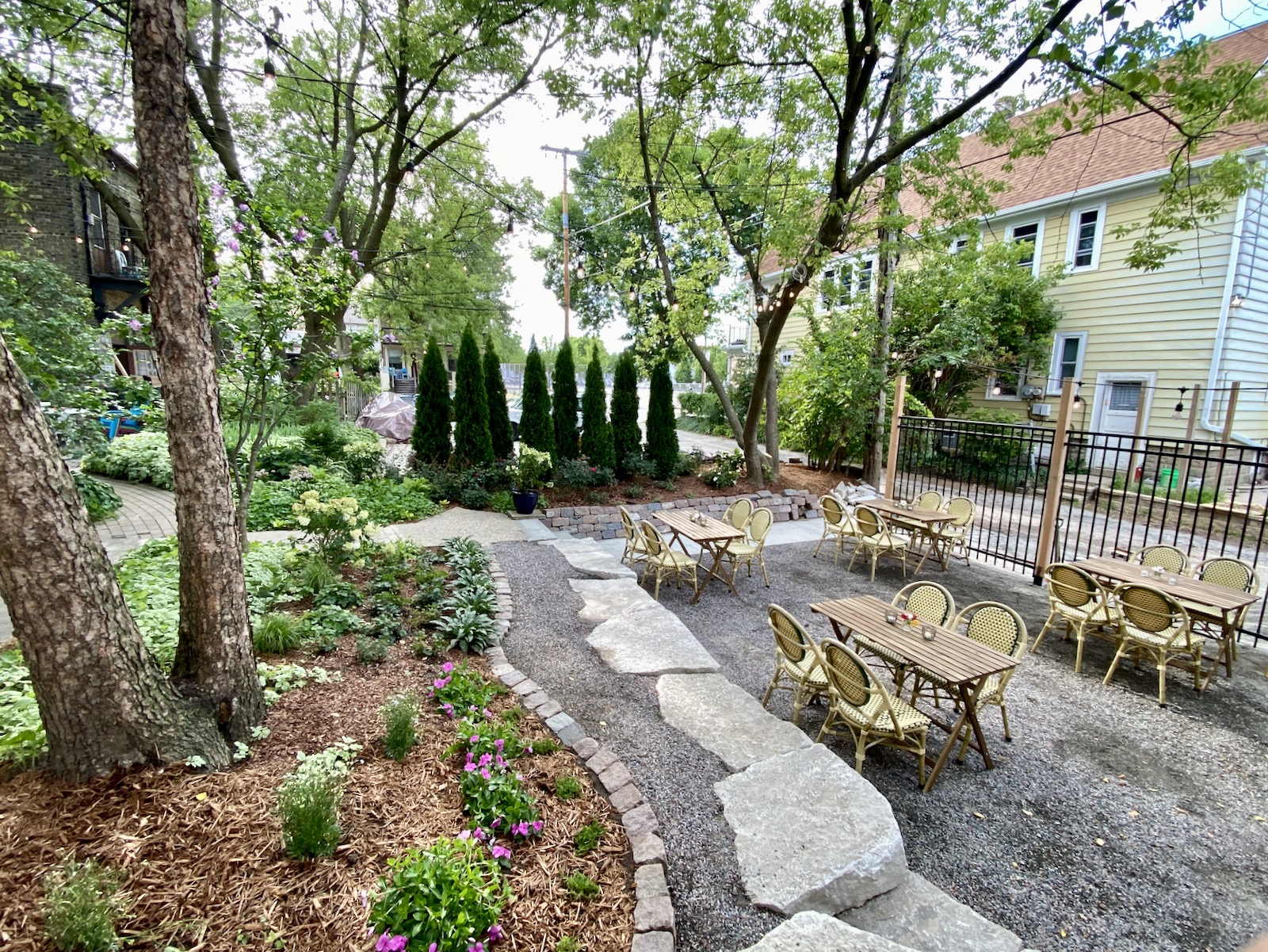 Five socially distanced four-tops provide quaint, intimate seating. They're decorated by candles and small floral arrangements and surrounded by a picturesque gardenscape that's bordered by cedars, blooming trees and gardens filled with a combination of roses, impatiens, hostas and hydrangea.
The gravel patio base and accompanying overhead patio lights give the space a European feel, which is enhanced by granite pavers repurposed from a apartment home where Karpfinger lived years ago.
There's also a reminder for diners painted on the brick wall to the East of the patio: "Take care of each other," it says.
It's a phrase Karpfinger says her mother used frequently and which Moore had painted on the street-facing portion of the building after the murder of George Floyd; and she says it's continued to be a good reminder that we are all in this together. The patio version was painted by Riverwest neighbor Dan Zwart, who also helped to run the mini-excavator and helped us to complete the stone work on the patio.
What to know before you go
Reservations are recommended for patio seating, although walk-ups will be accommodated on a first-come-first-served basis. Upon arrival, customers can make their way to the host stand inside the restaurant where they will receive a brief explanation of protocols before being led to their seats.
"We're being very careful," says Karpfinger. "Everyone on our staff has been tested for COVID-19, we're doing regular temperature checks, and we have been diligent with masks and cleaning. So, we're providing as safe an environment as possible for our guests. We are glad to be back, and we just want to keep everyone safe and well."
Centro Cafe is open for patio dining (and touchless carry-out) Monday through Saturday from 5 to 9 p.m. Reservations can be made online.
Lori Fredrich (Lo) is an eater, writer, wonderer, bon vivante, traveler, cook, gardener and girlwonder. Born and raised in the Milwaukee area, she has tried to leave many times, but seems to be drawn to this quirky city that smells of beer and alewives.
Some might say that she is a little obsessed with food. Lo would say she is A LOT obsessed with food. After all, she has been cooking, eating and enjoying food for decades and has no plans to retire anytime soon.
Lo's recipes and writing have been featured in a variety of publications including GO: Airtran Inflight Magazine, Cheese Connoisseur, Cooking Light, Edible Milwaukee, Milwaukee Magazine and the Milwaukee Journal Sentinel, as well as on the blog Go Bold with Butter, the web site Wisconsin Cheese Talk, and in the quarterly online magazine Grate. Pair. Share.