The Chainsmokers brought the party to Milwaukee on Tuesday night as their "World War Joy Tour" with 5 Seconds of Summer invaded Fiserv Forum. The Grammy-winning duo, made up of Alex Pall and Drew Taggart, is no stranger to Milwaukee. From a headlining show at Summerfest to a small club appearance at the Lucid Light Lounge, you don't travel the world as much as The Chainsmokers without making a few stops in Milwaukee.
Their recent stop may be their best yet – and not just because The Chainsmokers are seasoned veterans at this point but because of who they brought to the party with them: Australia's 5 Seconds of Summer. The "Youngblood" performers didn't sit at the top of the marquee for Tuesday's show, but last night was as much a 5SoS concert as it was a Chainsmokers concert. Lucky for everyone in attendance, both acts killed it.
Here are our five reasons you shouldn't have missed 5 Seconds of Summer and The Chainsmokers at Fiserv Forum.
1. 5 Seconds of Summer isn't your typical opening act
Minutes before Australian punk-pop band 5 Seconds of Summer stepped on stage to greet their Milwaukee fans, it was clear that they weren't your average opening act. While The Chainsmokers have massive notoriety, huge hits and the ability to pack arenas with zero support, last night served as a 5 Seconds of Summer concert with a free EDM show to follow.
The screams were at their highest levels during the band's supporting set, 5SoS merch was flying off the shelves and a simple poll throughout the crowd would have revealed that most fans were there to see 5 Seconds of Summer. The band may be second billing on the tour, but those in attendance would argue otherwise.
Not only did 5 Seconds of Summer fill the seats on Tuesday, but they blew fans away with their performance. Although without the elaborate production that an arena headliner is afforded, 5SoS crutched on the music alone to reward their loyal fans.
2. It isn't your typical "boy band" either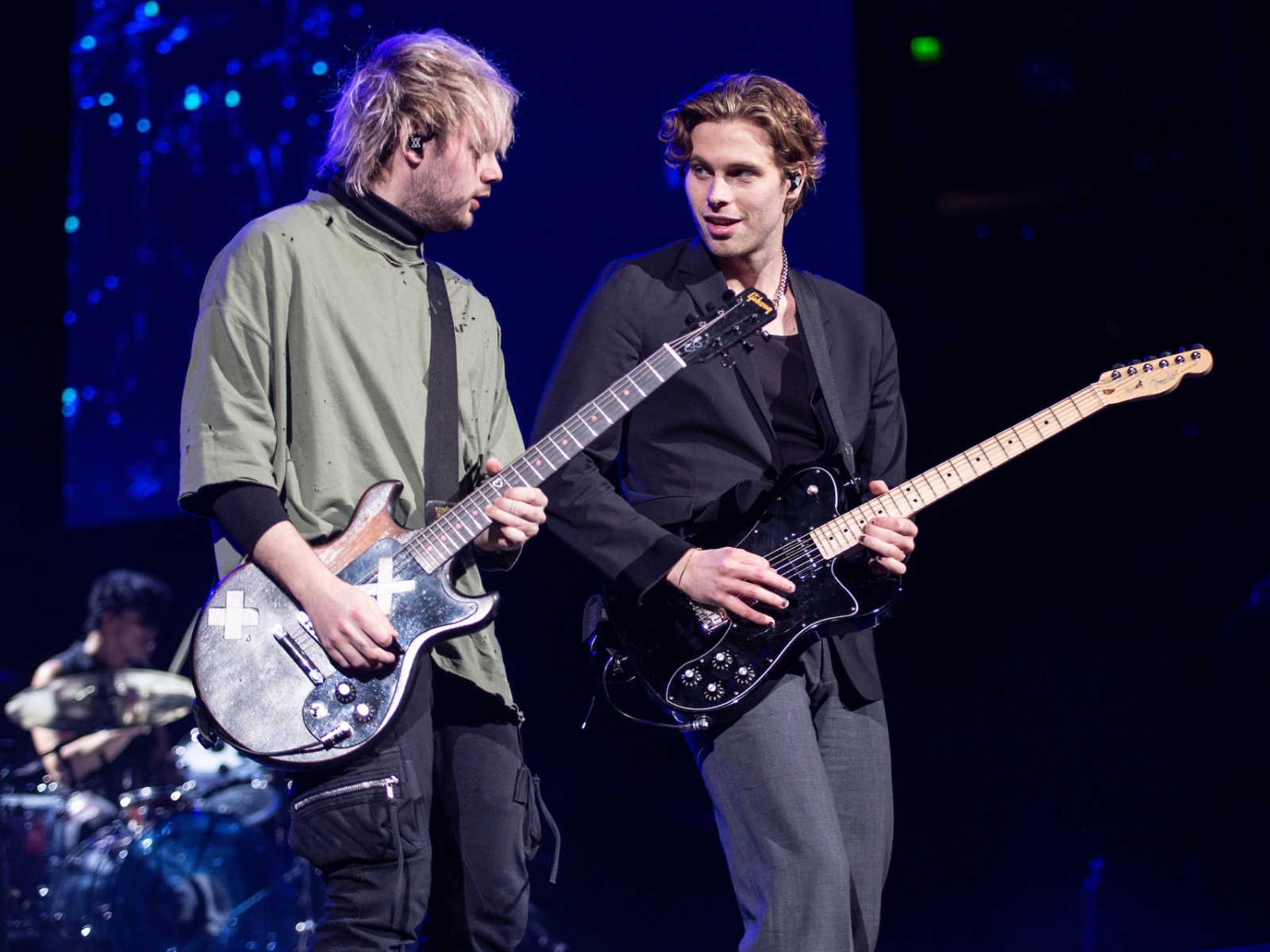 While you may liken 5 Seconds of Summer to the One Directions and Why Don't Wes of the world, that doesn't do them justice. Often labeled a "boy band" – which seems fairly on the nose if you look at a cross section of their extremely dedicated fan base – 5 Seconds of Summer is a legitimate band of musicians.
5SoS rocks out on stage, playing their real instruments and leaving the dancing to their fans. They rose to fame as teenagers, and as a result, the "boy band" label (which often carries a negative connotation) has stuck with them, but as their Mark Hoppus-approved cover of Blink-182's "What's My Age Again" last night will let you know, they're 23 now.
Luke Hemmings is an exceptional frontman and lead vocalist for the band. Calum Hood killed it on bass and added some punk to the band's style with his dyed hair and Nine Inch Nails T-shirt. Michael Clifford stood opposite of Calum and shredded as the band's lead guitarist, and last but not least, the talented Ashton Irwin on drums kept the guys on beat. From top to bottom, 5 Seconds of Summer is a great band who shouldn't be judged by the thousands of screaming teenagers who pack their show. While the band surely loves their fans of all ages, just know that you don't have to have a poster of Luke in your locker to enjoy 5SoS live.
Lucky for any fan of 5SoS, the band stole the show with their supporting performance. Kicking their set off with their 2014 hit "She Looks So Perfect" and closing the set with a huge performance of their huge 2018 single "Youngblood," the band's efforts trumped those of 99 percent of opening acts on a concert lineup. 5SoS turned the concert into their own, as they likely do anytime they open for other artists.
3. The Chainsmokers brought the party to Milwaukee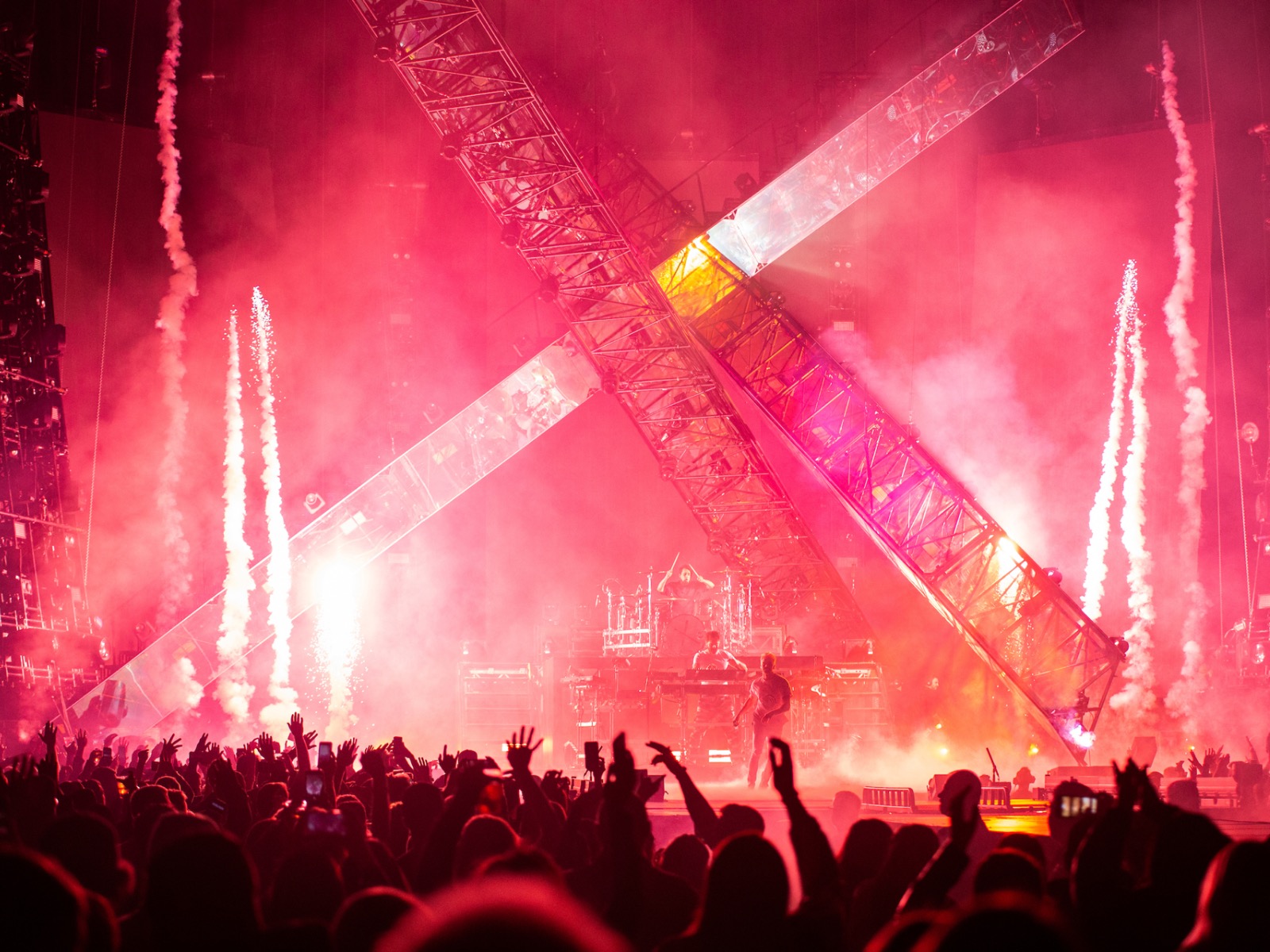 There is never a dull moment when partying with The Chainsmokers. Ever since the duo's breakout single "Selfie" in 2014, Alex and Drew have hit the ground running and became one of the best teams in EDM and pop music.
The New York natives appear to take no break in touring and how they have any energy left on stage is beyond me. I've seen The Chainsmokers perform more times than I can count, including a performance at The Rave which The Chainsmokers followed with a show in Las Vegas later that same night. But just when you think they are burning the candle at both ends, they put together a heavily produced and stimulating tour that blows you away visually as the bass and hit singles vibrate through your entire body.
The Chainsmokers turned Fiserv Forum into Milwaukee's largest club with an EDM set filled with pyro, smoke, lasers and more. When he wasn't getting his cardio from sprinting across the tour's massive stage, The Chainsmokers' Drew Taggart was either floating above the crowd on a giant staircase or performing inside a giant metal sphere hung from the rafters, which later was filled with three death-defying motorcyclists. There were no tame moments or lulls throughout the entire 90-minute set.
You can joke that DJs only press play, but The Chainsmokers destroyed that stereotype on Tuesday night. Not only does Taggart take on the vocals for many of the duo's songs, but the added production that The Chainsmokers put into their live shows far exceed a Macbook Pro, strobe light and a few speakers. Alex and Drew are performers as much as they are musicians, and even when they're playing their mixes of other artists' hits, they make it their own and find a way to keep the crowd dancing and engaged.
4. Taggart brought out Milwaukee's own Christopher Gilbert
When it comes to showing some Milwaukee love, The Chainsmokers don't just throw on a Bucks or Packers jersey and call it a day. Instead they dug deep with their local support and brought out Milwaukee's own Christopher Gilbert to show off his unmatched dance skills for his hometown crowd, shooting a huge burst of energy throughout Fiserv Forum.
The artist, dancer and member of Milwaukee's New Age Narcissism blew the crowd away with hip-hop dance moves, while The Chainsmokers' Drew Taggart watched in amazement along with the thousands of fans in attendance. If you missed last night's concert and have yet to watch one of Milwaukee's most talented dancers in action, fear not, because the sharp dressed and diversely talented artist stays busy in Milwaukee and is hard to miss.
5. 5SoS and The Chainsmokers shared the stage for "Who Do You Love"
While there were many great moments throughout both The Chainsmokers' and 5 Seconds of Summer's respective performances, the big highlight of the evening came as The Chainsmokers invited 5 Seconds of Summer back onto the stage to perform their hit collaboration, "Who Do You Love."
The Chainsmokers-produced single from their second studio album, "Sick Boy," performed by 5 Seconds of Summer, is a standout track, and the two acts combining forces live was a must-see moment – and the perfect incentive for 5SoS's fans to stick around for The Chainsmokers' headlining set. The chemistry between all six performers was great, and although the performance preceded the end of the night by a few songs, it was a perfect way to help cap off an already great night.
"Who Do You Love" is a great listen for Chainsmokers and 5SoS fans alike, and without the single's instant success, the tour's pairing likely would have never happened. So whether you love The Chainsmokers, 5 Seconds of Summer or all of the above, the "World War Joy Tour" is just for you!