As body art grows increasingly popular over the years, one trope has bubbled to the top of dining culture: the image of the tattooed "hipster" chef. And it's no surprise; after all, kitchens are one of the places where you are not judged for the art on your hands, your biceps, your neck or your chest. Chefs are hard-working creative, emotional beings whose work is intensely personal. Their senses of humor are often fabulously twisted. And those are just some of the things that make the stories behind their tattoos so engrossing. This series is a tribute to chefs and their creativity, both in their kitchens and on their skin.
"I get tattoos that mean something to me, that are a part of my life or a stepping stone," notes Rick. "I get them because they're things that are meaningful and important to me. As a result, I always get them facing me. I've even had a tattoo artist who tried to talk me out of positioning my tattoos in a direction that faced me. But I felt really strongly about it. These are things that are meaningful to me. They're all from different milestones and stepping stones.
Rick got her first tattoo when she was 17 years old.
"A Perfect Circle was my favorite band ever. Their music really got me through some tough times," she says. "So I'd wanted to get their band symbol as a tattoo for a long time. My husband Luke – boyfriend at the time – knew this guy who he'd gotten a tattoo from. The guy worked out of his house, and he was willing to do it. So, I went to his house, hung out in his basement, and I got my first tattoo. It was actually a lot of fun."
"About a week or two later, I cut my hair really short. And at that point my mom definitely freaked out. I don't remember what she said, but she was so angry. After that, we never really talked about it. Over the years I got more tattoos, and she never said anything to me about them."
Nonetheless, she says she has zero regrets.
"I definitely don't regret it at all. But, if I had it all to do over again, there are probably things I would have done differently.
"In my early 20s, I found a new all time favorite band: Interpol. My life was changed when I heard their music. My favorite song of theirs is 'Take You on a Cruise,' and one of the lines is '... tears drown in the wake of delight.' It's a beautiful, powerful song. We all have to overcome obstacles. But you have to work through them and keep going come out the other side. This tattoo was really a promise to myself to never give up."
"It's a sailboat with a little heart on the upper sail and the lyrics below. I actually drew the sailboat and brought it into the shop and he added the text underneath. It's gotten a bit hard to read over time, but I love it.
"I've always been obsessed with panda bears and Hello Kitty. In 2010, Luke and I went to Atlanta for our honeymoon. We went to the zoo there, and they had baby twin pandas. It was the first time that I'd ever really seen pandas up close, and they were so adorable. So it sort of symbolizes the two of us, as well as my first time seeing pandas. And the art is really cute and derpy. And it always makes me smile."
Another of Rick's tattoos tells the story of her journey to becoming a pastry chef.
"I have to laugh. People always think it's the Aperture Science Laboratory from the game Portal. But, it's really just the aperture from a camera. The aperture is what allows the light into the camera. To me it's about capturing all these small moments in live and having them forever."
"Photography has always been a passion of mine. My dad – who always took pictures of everything – gave me his old Canon camera, and it really made me want to pursue it further. So, in my mid-20s I decided I wanted to go to school for photography. My goal was to link it up with journalism and writing. So, I went to MATC and started the photography program. It was a really great program, but I realized that I spent all of my time taking photos of all of these delicious baked goods that I was making. Eventually, I just decided to make the leap and switch over to the pastry program.
"I was actually in Kurt Fogle's first class at MATC. And I think about it now, and if I hadn't gone to school at that particular moment in time, I literally wouldn't be where I am now. He made me want to learn everything he knew. I spent months staging in the pastry kitchen with him and Jaceleen [Latin Monagle]. It was unbelievable.
" … which leads me to my next tattoo, which is a chickadee with a cupcake on her head."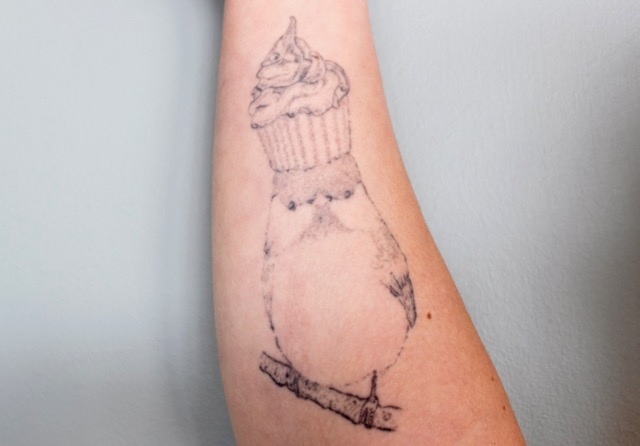 "I've named her Henrietta. She's this chubby little derpy bird. And she has a cupcake on her head! She came from a hand-drawn picture I found on the Internet. And I just loved it. I knew at some point that I wanted a bird tattoo. And I also love cupcakes. I've literally been making them since I was ten years old; in fact, they were one of the first pastries that really gave me joy. So this tattoo really signifies my love for baking."
Rick also has a plan for her next tattoo, which she says she's currently looking for the perfect artist to design. It will be a design, she says, that wraps around the upper portion of her right arm.
"And it will be the first tattoo I have that will be in color. It might sound silly, but I feel like I'm just so much more full of life now than I was before. I've changed a lot as a person, and I feel like I've really come into my own. And I want this to be colorful and fun.
"In the end, I want this tattoo to look like a beautiful watercolor painting. It will start with a general band of abstract watercolors, and then I want the image of a golden finch. That was my grandmother's favorite bird. She's the person who, when I think of her, I realize how much of my personality was influenced by her. She was always happy and full of joy. She was that person who wanted everyone to be well fed. And in so many ways that's what I want with my baking.
"I also know that there will be hollyhocks in the background. And those are for my dad, who really loved hollyhocks. He passed away during my first year of pastry school. We weren't always close; but in the years before he died, we'd really repaired our relationship. And he was so excited and supportive of me and all of the things I was doing."
Lori is an avid cook whose accrual of condiments and spices is rivaled only by her cookbook collection. Her passion for the culinary industry was birthed while balancing A&W root beer mugs as a teenage carhop, fed by insatiable curiosity and fueled by the people whose stories entwine with each and every dish. She's had the privilege of chronicling these tales via numerous media, including OnMilwaukee and in her book "Milwaukee Food." Her work has garnered journalism awards from entities including the Milwaukee Press Club.
When she's not eating, photographing food, writing or recording the FoodCrush podcast, you'll find Lori seeking out adventures with her husband Paul, traveling, cooking, reading, learning, snuggling with her cats and looking for ways to make a difference.