Chevelle rocked all their hits on Saturday night in front of a full Harley-Davidson Roadhouse for their second Summerfest performance.
A band whose history stems back to 2004 when their first album was released, the fan base varied in age. However, it was clear that the rock band fit perfectly with the Harley-type atmosphere and crowd. Although not the oldest rock band in the book, their music style can definitely catch the ears of the older generation that likes hard rock. Their sound could almost be compared to the mega-famous band Tool, except not as serious and intense with their lyrics.
The three member band started right on time at 9:45 p.m. and set behind a massive backdrop that said Chevelle, two tree-type light stands and light structures that looked like the grill of a car that had lights blaring through them. Lead vocalist and guitarist Peter Loeffler was set stage right with his brother/drummer Sam Loeffler placed behind him, while bass player Dean Bernardini was to Loeffler's right.
Saturday's show got off to a classic start, as right out of the gate they played two of their most popular and classic songs from their first album, "This Type Of Thinking Could Do Us In." They skipped the introduction as they knew they did not really need it and played "Another Know It All," followed by "The Clincher."
Chevelle just kept things rolling as they played "Young Wicked" and "Take Out The Gunman." For nearly the whole set, they just played music and never stopped. Their was really no crowd interaction, but surprisingly the lack of communication between the band and crowd seemed to work for the Chicago band. The crowd was head-bopping along to their favorite Chevelle hits and they did not want it to stop.
Loeffler really did not have much to say to the crowd; however, for being in the music scene for a while now and playing countless shows, it was amazing to hear how clear his voice sounded. In terms of his vocal capabilities, the set sounded almost exactly how Chevelle sounds on a CD.
After playing a diverse set with hit after hit including "Vitamin R" and "Joyride," all ranging from their older albums to their latest, Chevelle ended their set with the title track off their 2011 album "Hats Off To The Bull."
Loeffler then quickly said, "Thank you, Milwaukee, we will see you soon."
The band then walked off stage – without playing their smash hit and most popular song, "The Red." Grumbling throughout the Roadhouse could be heard as people all around were asking where "The Red" was. However, luckily for the crowd when Loeffler said "soon," he meant five minutes because the band walked right back out and gave them what they wanted as they played "The Red." Echoes throughout the Roadhouse could be heard as the audience members sang along with every word.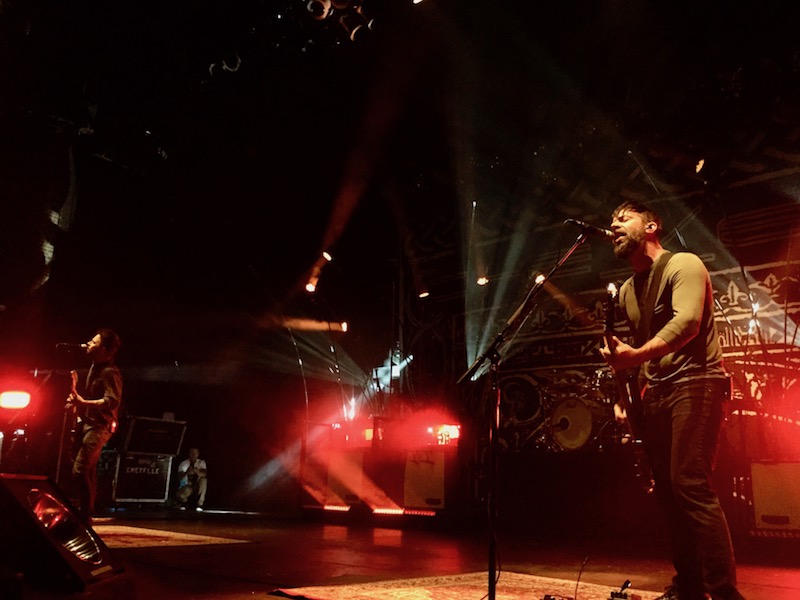 What was interesting was that Loeffler got way more talkative during the four-song encore and expressed his appreciation of Summerfest. I have never seen Chevelle before so I had no real idea what to expect from in terms of how they would be with crowd interaction, but to be honest, I did not expect much talking from the band. It just does not seem like them. It is not their style, just like how I have yet to see a band picture where any of the members are smiling. It is not like Chevelle to be talkative, that much is clear. However, it worked.
The band then closed out their 90-minute set – including the encore – with another older hit, "Send The Pain Below." The crowd sang along to that one as well. Then, just as quickly as they came on for their encore, they said thank you and left. And they left the crowd satisfied and gave them what they wanted: a night full of classic Chevelle hits from a band that just kicked off a two-month tour with their stop as Summerfest 50.
Setlist
"Another Know It All"
"The Clincher"
"Young Wicked"
"Take Out The Gunman"
"An Island"
"Jars"
"Vitamin R (Leading Us Along)"
"Closure"
"Rivers"
"Joyride (Omen)"
"Face to the Floor"
"Still Running"
"I Get It"
"Door to Door Cannibals"
"Hats Off the the Bull"
Encore
"The Red"
"Comfortable Liar"
"Forfeit"
"Send the Pain Below"