Every week in 2015, OnMilwaukee.com and local design company Too Much Metal will join forces to introduce the latest member of the Milwaukee All Stars – a team of unfamiliar winners living in Brew City who consistently and diligently make it shine. Each week, a new member will join the team – based on your recommendations – and at the end of the year all will come together in a Rally of the Raddest Milwaukeeans. We're not sure what that means quite yet, so for now, meet …
Chinwe "Chi Chi" Oraka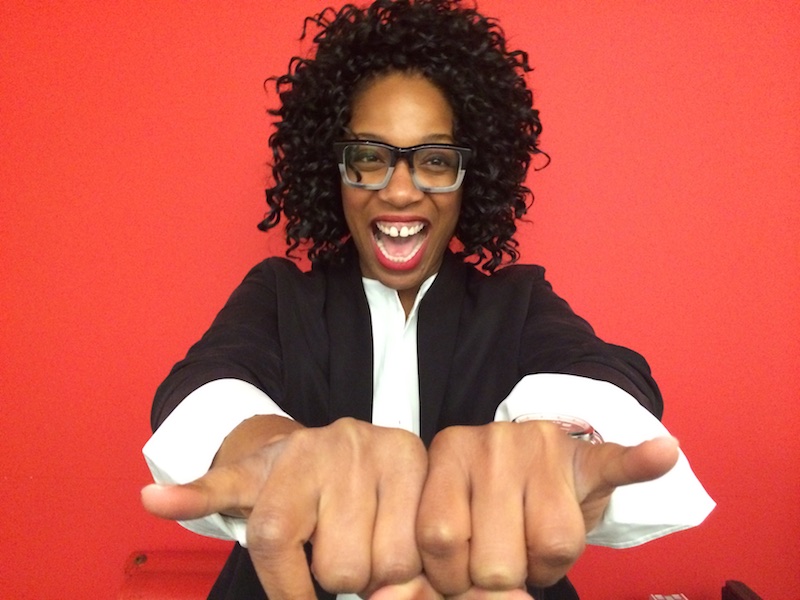 Chi Chi is an internal medicine physician and a "traveling hospitalist" who ventures all over the country – and perhaps, soon, outside of the United States – to fill in at hospitals that are short staffed.
Her permanent home is just west of Downtown Milwaukee, but she will leave for anywhere from a week to two or three months to help out in other states that are in need of doctors.
"My favorite part of my job is being able to educate patients about their health issues so they can take ownership, learn how to work with it and, hopefully, heal," she says. "I never want to just say, 'take this medicine.' I really try to break it down."
OnMilwaukee.com / Too Much Metal: What's your hope for Milwaukee?
Chinwe Oraka: I remember visiting New Orleans for an interview. I was fascinated by all the attendings and doctors of color standing next to me, interviewing me. The medical staff represented the patient population. Most importantly, patients could see what was achievable. I want the same for the people of Milwaukee.
OMC / TMM: What time of year is your favorite in Milwaukee?
CO: Summer. There's music everywhere – Summerfest, Jazz in the Park, the various local bands that play at lunchtime across the street from the Fairfield Inn. I like to bop my head to the tunes of the Grand Avenue Shops' saxophonist while I'm walking to the Milwaukee Public Market.
OMC / TMM: What's your favorite / or least favorite smell in Milwaukee?
CO: I used to hate the smell of beer hops on humid days, but then it became rather comforting. I miss it. Now that I live east of Miller, I don't smell it anymore.
OMC / TMM: When and how did you fall in love with Milwaukee?
CO: Milwaukee took me by surprise when I first arrived nearly 10 years ago. I thought it was going to be a sad, crumbling city brimming with cheese and beer drinkers. Instead I was surprised by a beautiful lakeside, festivals, and friendly people who happen to enjoy good beer and cheese. Friends surprise me with new activities and restaurants all the time.
OMC / TMM : Why do you do what you do?
CO: This job gives me the opportunity to practice medicine, travel / work around the globe, and work with intriguing and complex patients in a variety of healthcare systems in both rural and urban communities. Through all these interactions, I have been developing the "art of medicine."
In addition, I have met incredible people and enjoyed the most beautiful sites. I also have the opportunity to negotiate when and where I work.
While working in Vermont, I froze my way through Montreal and Quebec City. Rather than being stuck indoors during winterstorm Juno, I skied the slopes of Stowe. I absolutely loved every minute of it.
OMC / TMM: What's your one guilty pleasure?
CO: Ratchet television. Don't hate. I have sat through many hours engrossed in the lives of "Real Housewives of Beverly Hills and Atlanta." That's not enough. After all that's done, I'll kiki with Wendy Williams.
OMC / TMM: Name a Milwaukeean you would like to high five.
CO: Can I give two? After all I have two hands: Lydia Hamilton-Monnie (owner of Boutique Larrieux in the Third Ward) and Jesse Masche (pilates instructor / rehab specialist). Two Milwaukee women who truly change lives and inspire nearly everyone they meet.
Do you know a Milwaukee All Star? OnMilwaukee.com and Too Much Metal are looking for true-hearted folks living in the city of Milwaukee who love what they do – and do it with zest and style. Email fred@toomuchmetal.com or molly@onmilwaukee.com with recommendations.