As of October 1, illuminated dragons, lotus flowers, peacocks, pandas, cranes, lanterns, zebras and more will be in "bloom" at the Boerner Botanical Gardens, as part of the stunning China Lights, a traveling celebration of Asian culture featuring 40 massive lantern displays.
"This show shines a light on a historic organization that brings so much beauty and balance to life," says Ellen Hayward, CEO of the Friends of Boerner Botanical Gardens. "Our goal is to bring in 50,000 people and if we get even close to that, the benefits will be unending."
The stunning show opens to the public Saturday, Oct. 1 and runs through the entire month, every day – with the exception of Mondays – from 5:30 to 10 p.m. Boerner Botanical Gardens is located in Whitnall Park at 9400 Boerner Dr.
The gardens are not usually open in the month of October, and so the show will also allow visitors the rare opportunity to enjoy the striking fall colors. The Friends of Boerner Botanical will also offer a variety of classes, including Chinese brush painting and a kids' kite-making class.
Milwaukee County Executive Chris Abele and Parks Director John Dargle, Jr. will provide an opening-night welcome at 6 p.m.
Every evening around 6:15 p.m. there will be a procession to light the zodiac display in the Shrub Mall. Nightly entertainment takes place Tuesday through Sunday with performances at 6:30 and 8 p.m. A third performance will be added Friday through Sunday at 9 p.m.
Asian entertainment, gifts, food and a variety of beverages – including China Lights Red, a red lager from MillerCoors – are also available.
Since Sept. 1, 28 artisans from Zigong in China's Sichuan Province have been on-site creating more than 1,000 sculptures with welded metal frames, LED lights and brightly colored poly-silk material. More than 90 percent of the world's lanterns come from Zigong.
During my sneak peek visit Wednesday night, I was inspired by the magical environment that's fueled by more than 8,000 lights. It felt like a Chinese carnival and a cross between Candy Cane Lane and a display at Disney World. Children will especially appreciate this.
The price of admission is $15 for adults, $10 for seniors and kids 5-11 and free for those under 5. Guests who purchase an admission price to the gardens during the day can have it applied to the China Lights admission price at night.
Tickets may be purchased in advance online at chinalights.org, Boerner Botanical Gardens, and Milwaukee County Parks point-of-sale locations, including Parks Public Services (9480 Watertown Plank Rd.), regulation golf courses, The Domes and the Milwaukee County Sports Complex.
"This gorgeous show offers Milwaukee a taste of Chinese culture," says Sarah Warran, marketing & events coordinator for Friends of Boerner Botanical Gardens. "And it's so much warmer than looking at Christmas lights."
Here are 13 more photos of China Lights:
1. Panda cuteness overload
2. Peacock party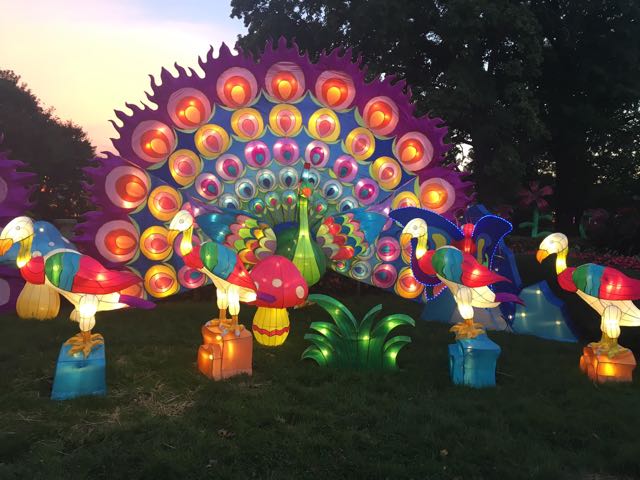 3. Happy, happy
4. Bees in bloom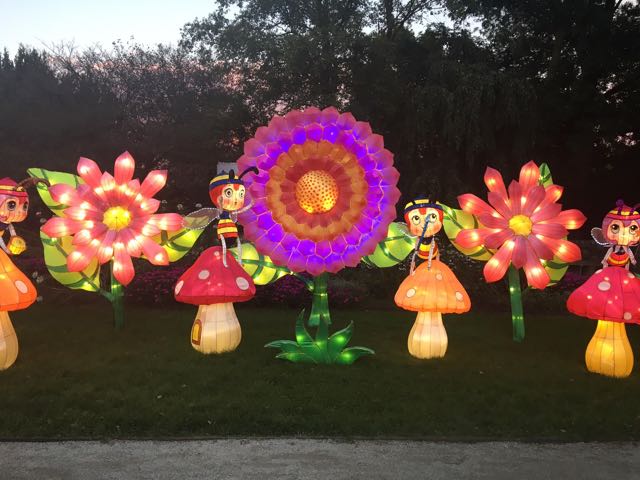 5. Stripeys
6. Fish, not fried
7. Tunnel of light and petals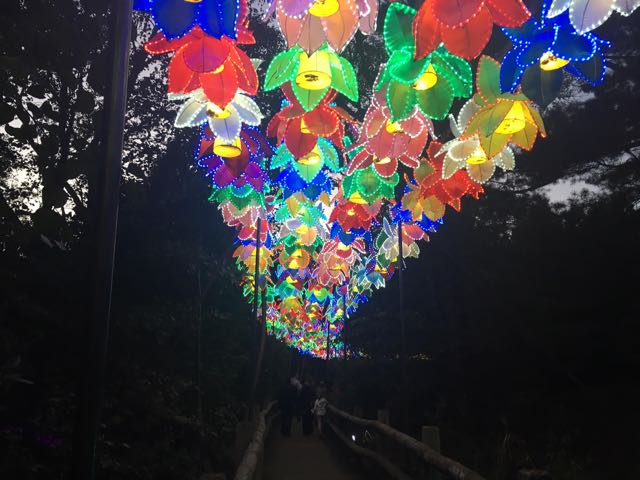 8. Dory!
9. Sweet bee
10. Lotus land

11. Wind welcome
12. Long-range light


13. The star of the show
Molly Snyder grew up on Milwaukee's East Side and today, she lives in the Walker's Point neighborhood with her partner and two sons.
As a full time senior writer, editorial manager and self-described experience junkie, Molly has written thousands of articles about Milwaukee (and a few about New Orleans, Detroit, Indianapolis, Boston and various vacation spots in Wisconsin) that range in subject from where to get the best cup of coffee to an in-depth profile on the survivors of the iconic Norman apartment building that burned down in the '90s.
She also once got a colonic just to report on it, but that's enough on that.
Always told she had a "radio voice," Molly found herself as a regular contributor on FM102, 97WMYX and 1130WISN with her childhood radio favorite, Gene Mueller.
Molly's poetry, essays and articles appeared in many publications including USA Today, The Writer, The Sun Magazine and more. She has a collection of poetry, "Topless," and is slowly writing a memoir.
In 2009, Molly won a Milwaukee Press Club Award. She served as the Narrator / writer-in-residence at the Pfister Hotel from 2013-2014. She is also a story slam-winning storyteller who has performed with The Moth, Ex Fabula and Risk!
When she's not writing, interviewing or mom-ing, Molly teaches tarot card classes, gardens, sits in bars drinking Miller products and dreams of being in a punk band again.