Lauren Zokan knew she wanted to be a chiropractor after experiencing major health improvements through chiropractic care. As a child and young adult, she suffered from chronic sinus infections, asthma and allergies that seemed to get worse and worse despite the aid of prescription inhalers and medications.
Desperate to improve her health and quality of life, Zokan finally visited a chiropractor. Over time, she found herself feeling much better through adjustments.
"I thought of all of the time I spent sick and miserable and wanted to prevent people from experiencing that by taking care of kids before they have problems and give them the best and healthiest life possible. It's much easier to prevent problems and to fix them early on in life before they turn into bigger and more serious problems," says Zokan.
In 2015, after graduating from Palmer College of Chiropractic in Davenport, Iowa, Zokan opened Well Family Chiropractic in Mequon. She specializes in pediatric, prenatal and family chiropractic services.
"It's not that we are treating conditions. Instead, we are taking the stress off the body through adjustments and in doing so, the symptoms of those conditions usually go away," she says.
Parents commonly bring their kids in for colic, acid reflux, torticollis, flat spots on their heads, sports injuries, sensory processing disorder, ear infections, sleep problems, headaches, constipation, immune system function and overall well-being.
Adult patients come in for some of the same as well as many different reasons: neck and back pain, headaches, sinus problems, digestive issues, sports injuries and preventative / wellness care.
In the United States, the traditional approach to health care is to seek medical attention once we are sick or injured. Chiropractic care often entails getting adjustments when we feel healthy and well in order to maintain that state.
"People recognize that they feel better in general when they are getting adjusted regularly and instead of waiting for something to be really bad," says Zokan. "The key is to not let it get bad in the first place."
Zokan sees many patients – both kids and adults – who suffer from bodily aches and pains due to the heavy use of laptops, tablets and cell phones. Chiropractors even use the term "text neck" to describe a certain type of neck pain that comes from looking down for long periods of time while using a smartphone.
"Text neck" was something I would later find out my own son, Kai, was experiencing. At 15, he spends a lot of time texting his friends or watching YouTube on his phone between classes and activities. He is also an avid reader, which requires the head to be in a similar position for long periods of time.
We decided to visit Zokan after other treatments weren't working, including physical therapy, heating pads and Ibuprofen.
At the first appointment, Zokan – who is very energetic, engaged and easy going – took us on a tour of her practice, which is fresh feeling and kid focused. We then shared detailed information about Kai's health history and goals.
Zokan explained to us the gist of chiropractic care. "Most people think chiropractors are just back-crackers, but we're really working with the nervous system which is made up of the brain, spinal cord and the nerves that come off of it," she says.
Basically, through adjusting techniques Zokan said she could help improve Kai's spinal biomechanics and reduce any nervous system interference that was getting in the way of optimal health.
"Our nervous system is the only system in the body completely encased in bone which is because it's the most important system in body. It basically controls everything," says Zokan.
She then performed numerous tests on Kai including thermography, a surface EMG and heart rate variability. She checked his range of motion in the spine and looked for areas of stress or restriction. She also took X-rays – something she doesn't always do.
"I work hard to get a LOT of information about each of my patients because it's important to have a full picture of their health so I can help them," says Zokan.
During our second appointment, Zokan shared the results of the tests and X-rays with us. She did a wonderful job breaking it down for us into clear and concise language that we could understand. She stopped often and checked in with us to make sure we were comprehending everything.
She told us she saw a lot of tightness in Kai's upper back, which was also probably contributing to his neck issues. She also informed us that his left leg was a half inch shorter than his right leg, not something that's uncommon, but a contributor to his discomfort. We also saw exactly where his spine was not aligned.
She suggested that he receive adjustments two or three times a week for a while and then eventually scale back to once a week. In order for chiropractic care to work, it needs to be ongoing.
For us, it boiled down to cost and distance. Zokan does not accept insurance and her clinic was about 20-25 minutes from our home, depending on traffic and time of the appointment. However, we decided to commit to the treatment to see if it really could relieve Kai's chronic neck pain.
After the consultation, she gave Kai his first adjustment. Zokan ws very graceful and explained exactly what she was doing at all times, but the first neck cracking was startling to both Kai and I.
We continued to visit Dr. Zokan twice a week for about a month and then about once a week for a few weeks after that. Not surprisingly, when we went twice a week, Kai's neck pain was significantly reduced. When we went once a week, it was effective – but not as effective. In short, the more we went, the less pain for Kai.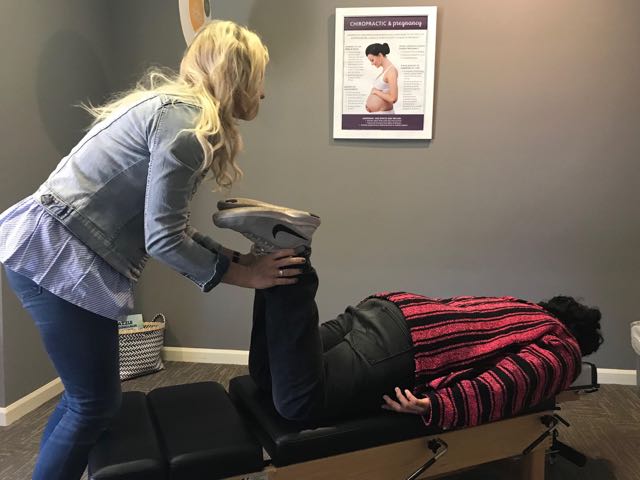 However, with Kai's summer activities and his parents' full-time work schedules, he hasn't gone for an adjustment in a few weeks. He says he can definitely feel a difference and has asked to go back.
Going into this, I didn't have any expectations from Zokan or the chiropractic field in general. But after witnessing relief to my son, I believe that if a person is able to spend the time and money to see a chiropractor, the results are definitely there. And Zokan, both smart and kind, is a solid choice.
"I love being the person that people are excited to see and can't wait for their adjustment. Because I see people frequently and over longer periods of time I get to know people so well and get to build relationships with them and their families," she says. "I feel most chiropractors have amazing stories about how it changed their life and I am definitely included in that group."

Molly Snyder started writing and publishing her work at the age 10, when her community newspaper printed her poem, "The Unicorn." Since then, she's expanded beyond the subject of mythical creatures and written in many different mediums but, nearest and dearest to her heart, thousands of articles for OnMilwaukee.

Molly is a regular contributor to FOX6 News and numerous radio stations as well as the co-host of "Dandelions: A Podcast For Women." She's received five Milwaukee Press Club Awards, served as the Pfister Narrator and is the Wisconsin State Fair's Celebrity Cream Puff Eating Champion of 2019.