Near the end of a funky-fresh rendition of "Night By Night" (with a splash of "Tenderoni" to spice things up), Chromeo lead singer Dave 1 took center stage for a guitar solo. A single spotlight shone down on him, which perfectly hit his chrome guitar and reflected off as a beam of bright light cutting over the Miller Lite Oasis crowd. It was a nifty lo-fi effect – as well as a fine metaphor for the funky pop duo's night in Milwaukee: a laser-focused stream of white-hot energy searing through the soggy Sunday night summer heat.
Summoned by the chanting of their band name, sounding like the Wicked Witch's castle guard but on a good evil-free day, Dave 1 and his partner-in-pop P-Thugg dramatically took the completely chromed-out stage – complete with their signature stilettoed legs, also shiny and chrome, holding up their synths – for their opening tune, the fitting "Come Alive."
The twosome came out about 15 minutes later than expected (the previous act, Capital Cities, also hit the stage late) but there were no complaints to be heard from the solid Oasis gathering. The crowd was too busy vibing off the slinky groove and P-Thugg's synth-slathered backup vocals on "Come Alive" before singing along with Chromeo's second song, "Bonafied Lovin'."
Clad in a leather jacket, tight leather pants and a beaming smile, Dave 1 joined in on the vibes on "Somethingood." The duo wasn't too social during the show, focused more on bringing the funk and letting their peppy jams do most of the talking. But with his tight moves, thrusting and gyrating his hips to the songs' smooth cool – and, in the case of "Old 45's," upgrading to a full-on flirty little booty shake – the lead singer brought a lot of charisma to the stage.
Plus, when he did chat with the crowd, Dave 1 made the most of it, opening up "Night By Night" by apologizing for not coming to Milwaukee in quite some time. Apparently our history of haunted establishments spooked the duo into staying away. Headed into the set's final third, he also apologized for his voice, a little rusty from the band's intense touring schedule. That might've explained why the vocals occasionally sounded a little quiet in the mix, threatening to get lost in the bass, but his pitch was completely fine – and if he hadn't said anything, it's doubtful anyone in the crowd would've noticed.
The show's tirelessly forward momentum didn't give the audience much time to think about anything other than having a good time. The closest thing to a slowdown came after "Juice," the "Night By Night"/"Tenderoni" hybrid and "Bedroom Calling" with the combo of "Over Your Shoulder" and "Old 45's." Neither, however, could be confused for ballads, both songs keeping things energetic and entertaining. The latter is one of the duo's more popular hits, while the former came lit almost entirely by the audience's cell phone flashlights – the stage's strobing chrome pillars finally got to take a little break – and ended with a fun power pose, Dave 1 and P-Thugg back-to-back riffing on their guitars at center stage.
Otherwise, the band had no interest in taking a break or stopping for a breath, instead constantly cranking out funky tune after futuristically funky tune. After the flirty nocturnal groove of "Bad Decision" and the poppy "Must've Been," Chromeo two-stepped their way into the electric "Fancy Footwork" – complete with Dave 1 trying his hand at a springy Chuck Berry-esque guitar hop. Then, after the high-energy funk assault of "Jealous (I Ain't With It)," the duo brought the two-step back for the show closer, "Fall Back 2U," leading the crowd in the dance before literally peace-ing out and saying their goodbyes.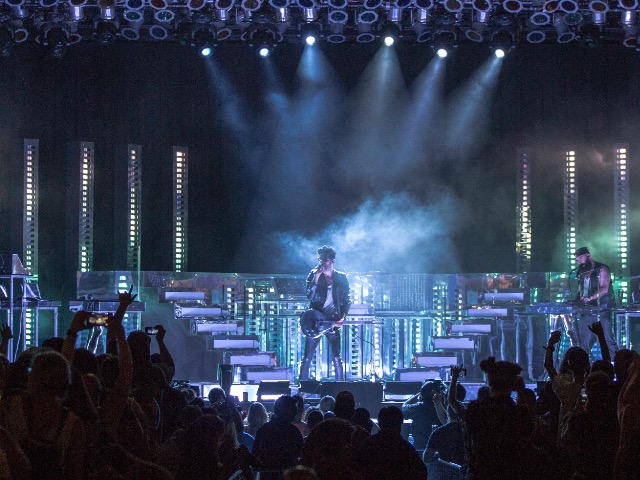 Though, of course, it was a short-lived farewell. After some more "Wizard of Oz"-like chanting, Dave 1 and P-Thugg quickly came back out for a final two tunes: "One Track Mind," complete with plenty of claps from the audience and slinky shimmies from Dave 1, along with "Sexy Socialite," which culminated in a final refrain marathon that just kept building and building and building to the show's final climactic musical punch.
If one wanted to gripe, there were a few moments scattered throughout the set where, like the vocals, the guitars and piano-y synths sounded too low in the mix, the bass overwhelming the brighter notes a touch.
But that's a mild qualm in an otherwise thrilling 70-minute burst of joyful, playful pop that had me wondering: Why isn't this band more famous? Chromeo's been on the border of breaking out a few times throughout its career, but they've never quite had their moment. (Even Sunday night, Capital Cities appeared to draw a slightly bigger crowd in the earlier slot.)
The band's electric Summerfest show, however, proves they deserve the spotlight. After all, as Dave 1's little guitar reflection trick showed, they'd know what to do with it.
Setlist
"Come Alive"
"Bonafied Lovin'"
"Somethingood"
"Juice"
"Night By Night"
"Tenderoni"
"Bedroom Calling"
"Over Your Shoulder"
"Old 45's"
"Bad Decision"
"Must've Been"
"Fancy Footwork"
"Jealous (I Ain't With It)"
"Fall Back 2U"
Encore
"One Track Mind"
"Sexy Socialite"
As much as it is a gigantic cliché to say that one has always had a passion for film, Matt Mueller has always had a passion for film. Whether it was bringing in the latest movie reviews for his first grade show-and-tell or writing film reviews for the St. Norbert College Times as a high school student, Matt is way too obsessed with movies for his own good.
When he's not writing about the latest blockbuster or talking much too glowingly about "Piranha 3D," Matt can probably be found watching literally any sport (minus cricket) or working at - get this - a local movie theater. Or watching a movie. Yeah, he's probably watching a movie.