It's your last chance to voice your opinion on whether or not to adopt the People's Flag of Milwaukee. Maybe for real this time. After the previous last opportunity to vote was cancelled, the Common Council rescheduled the meeting for Thursday, July 19.
In order to inspire more public feedback, Sheldon Oppermann, the Executive Vice President & General Counsel of CityCenter @ 735, took to the building's rooftop with the largest People's Flag to date, according to Flag Center. The flag spans 15 feet.
Oppermann invited challengers to take the crown, saying, "Wouldn't it be great if someone beat that record?"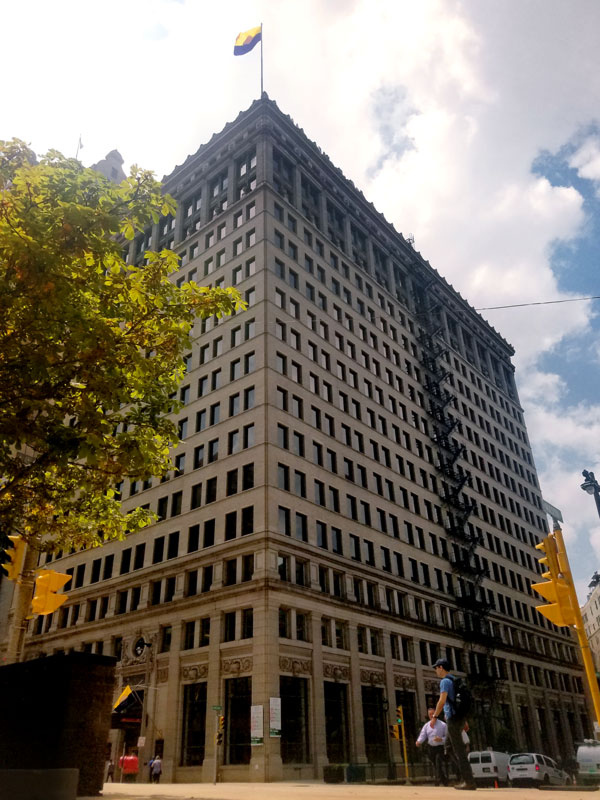 The positioning of the flag can be seen clearly across the street at City Hall.
Steve Kodis, the coordinator of the People's Flag initiative, is asking supporters to make a public statement at the meeting, in person. But if you are unable to attend, they ask that you contact your Alderperson, or send an email to info@milwaukeeflag.com, which they will present on your behalf.
About the CityCenter @ 735
"The CityCenter @ 735 is not just a cool office building Downtown and home to cool companies like OnMilwaukee," said Oppermann. "It is also a contributing part of Milwaukee, actively supporting the growth of the City and its young talent.
"We who have been given access and opportunity, now that we are in the position to help others, have an obligation to do so."
Jason McDowell grew up in central Iowa and moved to Milwaukee in 2000 to attend the Milwaukee Institute of Art and Design.
In 2006 he began working with OnMilwaukee as an advertising designer, but has since taken on a variety of rolls as the Creative Director, tackling all kinds of design problems, from digital to print, advertising to branding, icons to programming.
In 2016 he picked up the 414 Digital Star of the Year award.
Most other times he can be found racing bicycles, playing board games, or petting dogs.