With all due respect to Santiago Calatrava and the Milwaukee Art Museum, homegrown architect Henry Koch created what has long been the symbol of Milwaukee, our towering City Hall.
In addition to making a major architectural statement to the world when it was built in the 1890s – it was among the world's tallest buildings upon its birth – it has since remained a testament to our German heritage.
In fact, its Flemish Renaissance Revival style recalls the great rathaus in Hamburg, with a bit of Romanesque flair added by Koch, who often worked in that milieu.
Soon, if Paul Jakubovich of the city's historic preservation office gets his way, the City Hall will house a museum celebrating, well, itself.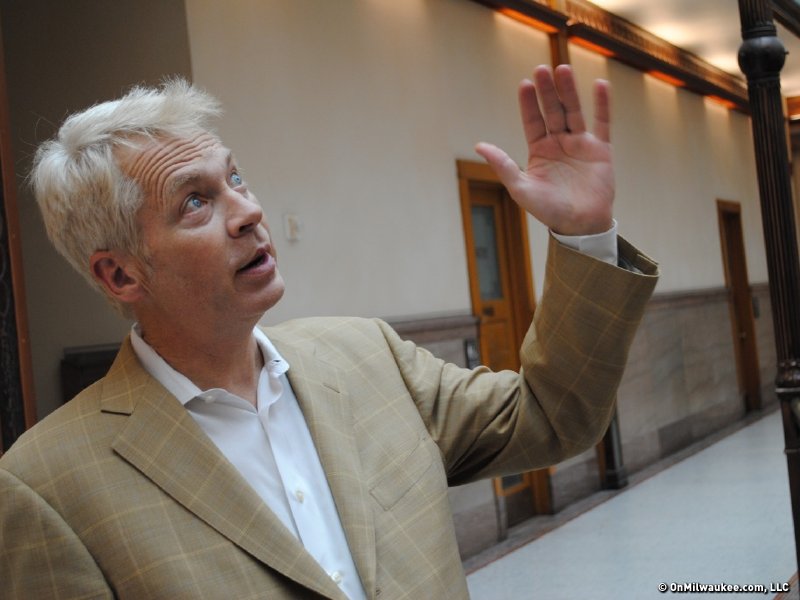 Jakubovich has a plan and is working to raise private funds to make the museum, which would be located in the building's lower level, a reality. In the meantime, there is a panel in the lobby with some historic photographs.
"If I can get the funds raised, and ... we think we can get the money fairly quickly, and then we open in the spring of next year," says Jakubovich. "We've already discovered that there is a marble mosaic floor that was down there that no one knew was there and covered up for probably 70-80 years. We had all of that taken up and it's been restored and the next phase will be constructing walls and ceilings. There will be a small movie theater in there. Our channel 25 cable station across the street is going to be doing some videos for us, which will be really nice.
"When you come to City Hall, you'll be able to get lots of information. We have a visitors bureau as you know, but City Hall is kind of this big prominent building that everybody knows. They see it, but many haven't been into it, and I think that this is a way of making this more of a destination, as opposed to a place where you only go to pay your taxes."
Jakubovich says the museum won't be a dry look at an admittedly tall pile of bricks and mortar. The goal is to make it much more engaging, drawing in the role the building has played in the history of the city.
"The stories that we're going to tell in our museum are not only about the architecture of the building, but also of the people who built it, the government, and significant events that took place here."
Did you know that for more than a century tourists have climbed the tower (which reaches the height of a 34-story building) to get a look out across the city from the observation deck? Did you know that up at the next level, couples have exchanged wedding vows next to the giant bell?
It took very little coaxing to get Jakubovich to lead us up on a tour of the City Hall tower, which is a dizzying array of ladders once you exit the elevator on the top floor of the building, just above the skylight that illuminates the soaring atrium in the main building.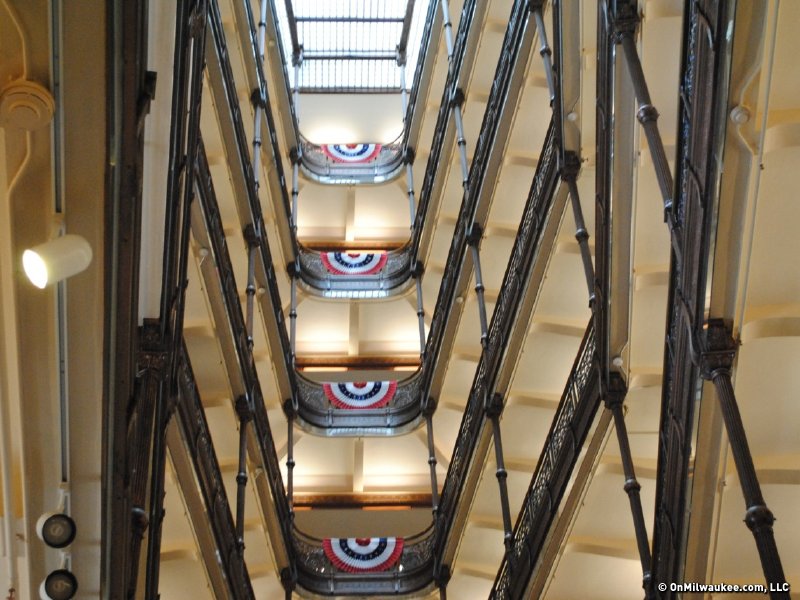 Entering into the tower from that level, there's an ornate iron staircase that ascends up into darkness, though its lower section is in the middle of a big bright cube of a space that is the interior of the tower. Here you can see the brickwork, including the brick relieving arches that allow such a tower to stand by relieving – hence the name – the downward force that would love to explode the walls outward.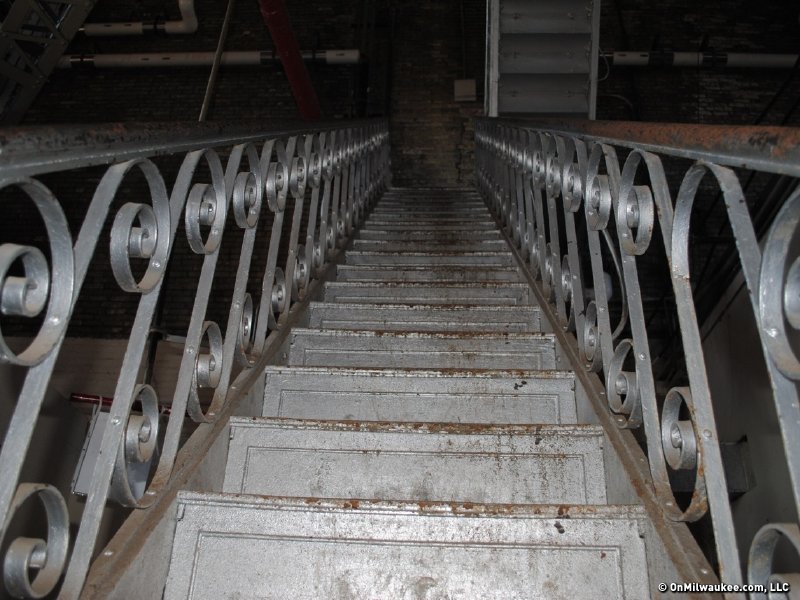 Also on this level is a fairly large apartment with great views south down Water Street, east to the lake and west, out over The Pabst Theater.
"This was for a caretaker," Jakubovich says of the apartment, "and they ultimately had a kid up here and I guess he became an engineer with the Department of Public Works when he grew up. I'm not sure if he's still alive or not, he'd have to be about 90 years old."
Right outside the apartment door is the staircase, which appears to ascend to nothingness. As I mentally cue up Jimmy Page's intro to "Stairway to Heaven," Jakubovich says, "You'll notice that this staircase is actually pretty ornamental, and the reason for that is that this was the route the tourists would take to go to the observation platform, which is that next level above us.
"Many thousands of tourists probably a month back then, about 110 years ago, would've gone up this staircase. Substantially fewer than that now, but we're kind of looking at changing that, too."
Jakubovich says that public tours are still conducted to the observation deck and some folks even climb the spiral staircase to see the bell.
From the observation deck level, the view is nice, and you can see much of the detail work that has been in the news in recent years as City Hall has undergone massive renovation and restoration work. Despite the fact that these spaces would have been way too high to be seen well back when Koch designed the building, the craftsmanship and attention to detail is amazing.
Looking out to the north you can see the roof of the main building and it's amazing how miniscule City Hall's footprint appears to be from this vantage point.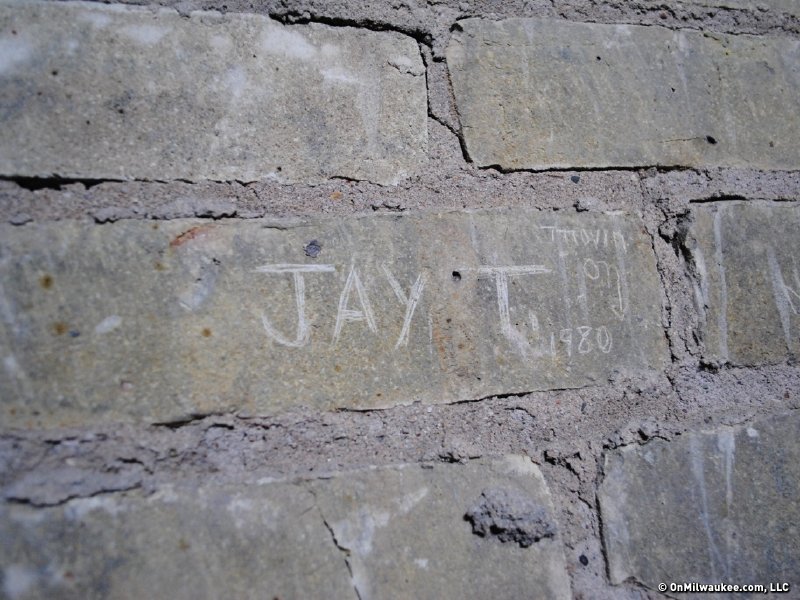 On the next level, there isn't much to be seen, though decades of visitors have stopped to carve graffiti into the brickwork. Continue up the spiral staircase to reach the bell. Higher up, here, the view is even better and the bell is something to behold.
"This is the second largest bell made in America at 8 feet," says Jakubovich. "The largest bell made in America is in St. Joseph's Church in Cincinnati. There are three other bells that are larger than this one or the one at St. Joseph's which were imported from France. One of those is the world's peace bell, which is just outside of Cincinnati and came to this country in the year 2000. It's about 12 feet in diameter. There are other bells bigger than this, too. One is in Chicago – Rockefeller Memorial Chapel, and then one at Riverside Baptist in New York. But as far as the American-made bells, this is the second biggest one made.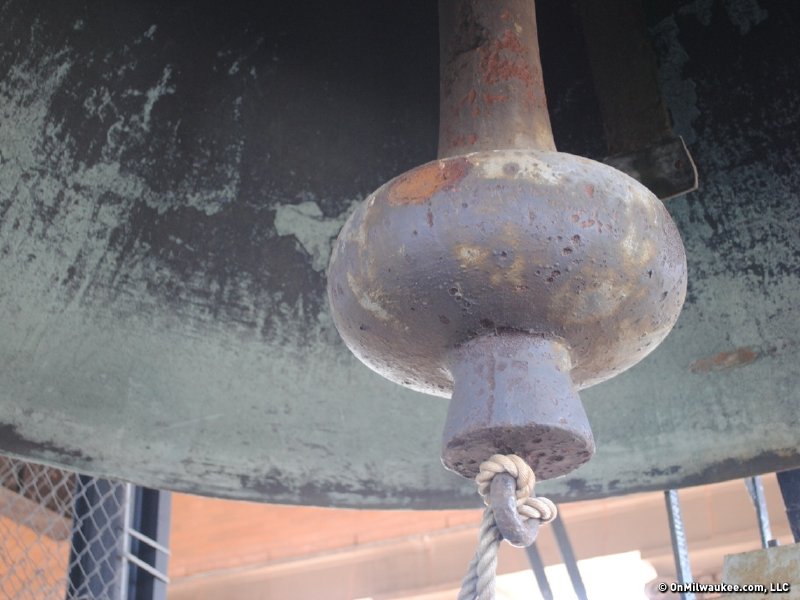 "Reputedly the biggest tuned bell ever made in America. This one is supposed to be perfectly tuned, although people kind of disagree on what note. It's actually a very complicated musical instrument. It was made three times – this is the third casting of this bell. The first two castings were not satisfactory. They didn't like the sound, so they broke it up, melted it down, and made it again. Part science, part art/craft, and also a lot of luck."
Interesting.
"Would you like to ring it?" Jakubovich asks.
"Excuse me?"
"Would you like to ring it?"
"Um, YES!"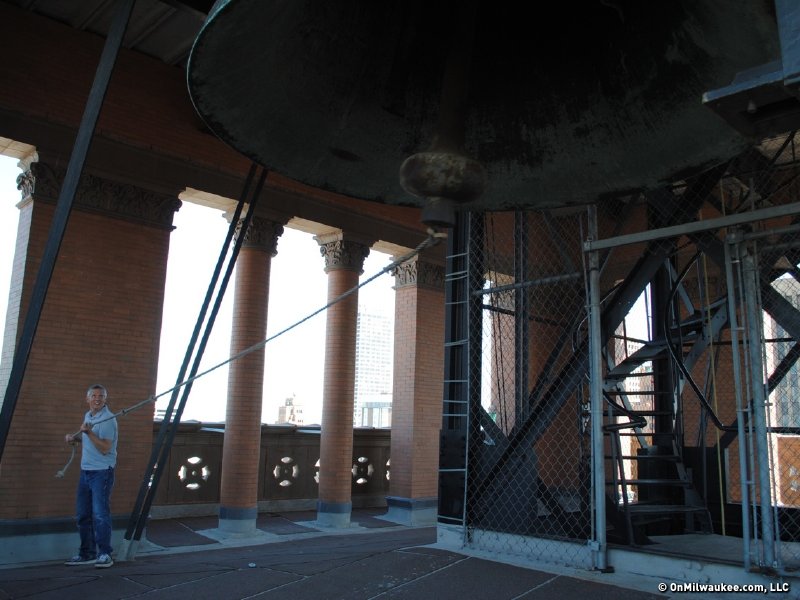 Jakubovich wisely reminds us that the bell is, naturally, very heavy and that after pulling the rope, we have to let it slip through our hands lest it grab us and send us hurling through the air.
It takes a few pulls to get the bell swinging enough to ring it. Working up to it, the anticipation is exciting and when the clapper finally kisses the bell's lip, the sound is glorious. I feel a bit like I'm screwing up the schedules of anyone who might expect the bell to sound the hour accurately and, at the same time, like I own the city.
At this point there are two ways we can go: back down the way we came, or up, up, up.
Jakubovich says we're free to climb to the very peak of the tower, indicating a swirl of black iron steps that are not enclosed in any way, really. Slip through and you're, well, through. Jakubovich says whatever we decide, he's staying put.
OnMilwaukee.com's Molly Snyder, who tagged along to shoot photos, and I look at each other and shrug and say, "how can we not?" We start climbing and I vow not to look down. It is a promise I keep to myself and I focus on placing foot squarely on step and repeating until I'm at the top.
There we find a platform and some windows, which we open to admire the view, thinking we're all the way up. Then we notice more stairs and we, of course, climb them. We open those windows and realize we are now as far up as we can go, short of taking the last curve of steps up to the absolute pinnacle. That is something we've been advised not to do, and we obey.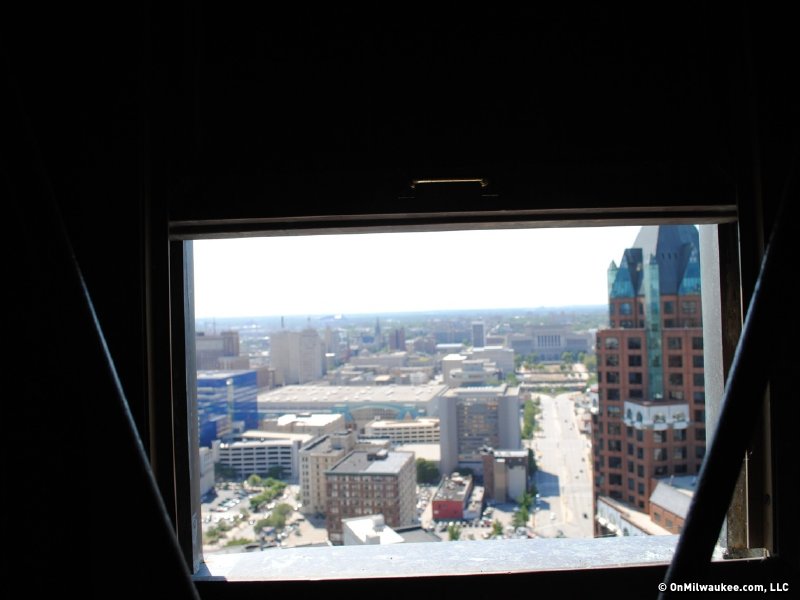 Molly takes some photos, and I think for a moment of the generations of my Milwaukee ancestors who looked at this building from below and feel a twinge of German Brew City pride and then we start back down.
Again, I do my best not to look down at the vast, dark, unprotected expanse leading to a tiny oculus of light below, where I spotted Jakubovich awaiting us before I started to clamber down.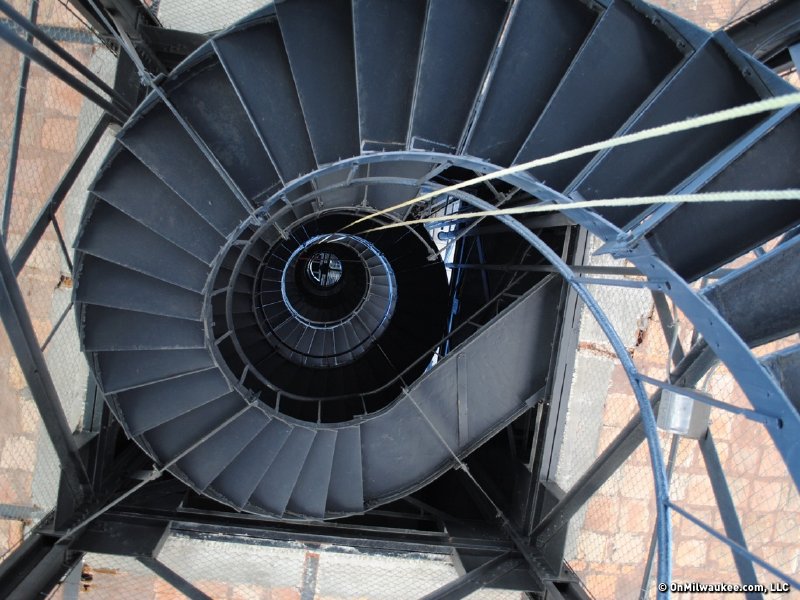 Back in the shadow of the bell, my thighs feel like I just went for my first long-distance run in a decade but I am light-headed from the adrenaline and I can't wait to go get my kids so I can show them the pictures I've taken.
(NOTE: Sadly, Paul Jakubovich died in 2014.)
Born in Brooklyn, N.Y., where he lived until he was 17, Bobby received his BA-Mass Communications from UWM in 1989 and has lived in Walker's Point, Bay View, Enderis Park, South Milwaukee and on the East Side.
He has published three non-fiction books in Italy – including one about an event in Milwaukee history, which was published in the U.S. in autumn 2010. Four more books, all about Milwaukee, have been published by The History Press.
With his most recent band, The Yell Leaders, Bobby released four LPs and had a songs featured in episodes of TV's "Party of Five" and "Dawson's Creek," and films in Japan, South America and the U.S. The Yell Leaders were named the best unsigned band in their region by VH-1 as part of its Rock Across America 1998 Tour. Most recently, the band contributed tracks to a UK vinyl/CD tribute to the Redskins and collaborated on a track with Italian novelist Enrico Remmert.
He's produced three installments of the "OMCD" series of local music compilations for OnMilwaukee.com and in 2007 produced a CD of Italian music and poetry.
In 2005, he was awarded the City of Asti's (Italy) Journalism Prize for his work focusing on that area. He has also won awards from the Milwaukee Press Club.
He can be heard weekly on 88Nine Radio Milwaukee talking about his "Urban Spelunking" series of stories.