There's a new band about town, but with faces you'll likely recognize.
The heavy rock outfit Combustor, which recently released a self-titled album and played its debut gig, is drummer Marc Graves, bassist and singer Bobby Mitchell and singer and guitarist Clancy Carroll.
The sound is part tight '70s hard rock – the opener, "Supercool," channels Aerosmith – and part high-energy vintage punk.
The CD is available in Milwaukee at Rush-Mor, Bullseye, Lilliput, Volta and Acme Records and at the Green Bay UFO Museum and Gift Shop.
We caught up with Carroll to ask about this new, yet veteran Milwaukee band.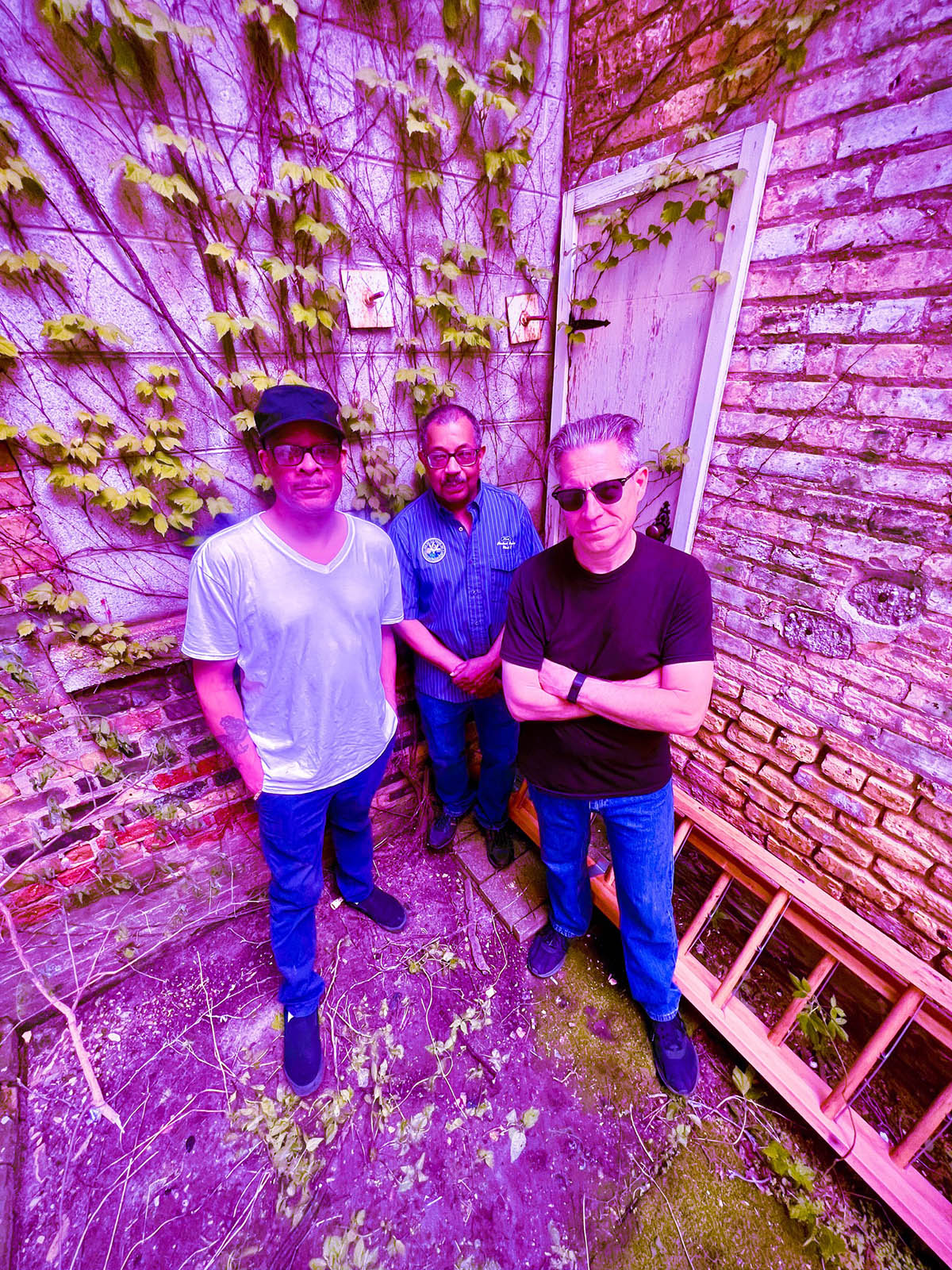 OnMilwaukee: Since you guys have all been in bands before, maybe you can give us the lineage.
Clancy Carroll: We all go back to the heady days of Milwaukee's original punk scene. Bobby was in the Haskels Mk. II and played on the highly sought after "Taking The City by Storm " EP. Marc used to roadie for the Haskels and sat in with them for a few shows when their drummer Vodie Rhinehardt broke his arm.
My band at that time was The Ones; we were a West Side "punk 'n' roll" band – a term coined much later to describe the sound of our also highly sought after "Tightrope"45. Bobby and I played together in the Starship-era Dominoes, and later Bobby played on the my "Honesty" EP.
This is all written on stone tablets and papyrus at this point, but it shows that the three of us come from a very similar musical base point.
Ultimately I went on to play in 3 On Fire and c2. Marc did some recording and played with the Brian Burghardt Band, Marc and Bobby played together in a jam band called Royal Flush. It's taken some time for the three of us to get together in the way that we have, but it feels like things have gone full circle. To add to the mystery, Johnny Washday played with Marc and I and is on some of the tracks on our record.
What led you to form a new band and release a CD at this point in your lives/careers?
Bobby and I had been talking about playing together and working on new songs for quite a while. Most bands have their own COVID story; ours is that we had started rehearsing in Marc's living room and decided to move forward as a band, so we rented a rehearsal space down at The Factory, and literally the week that we moved our equipment in and set things up, COVID hit.
So we couldn't even be in the same room with each other. As the pandemic started to let up, Bobby wasn't in a place to get back to work with Marc and I, so we asked Johnny Washday if he was interested. The three of us started rehearsing and fleshing things out, leading to the recording sessions that formed the basis of some of our new record.
After the sessions John decided to step away, and Bobby rejoined the fold in time for some of last year's Lest We Forget 10th Anniversary concert. We kept moving forward from there.
All that backstory aside, the fact is that all three of us are in a place where we want to create and play. We get along well and we enjoy what we're doing. We have things to say. It just seems that now's the time.
And while our material is available on pretty much every streaming service as well as the good old CD format, we do have vinyl coming, as well. Obviously these days that takes a very long time.
Do you start a band at this stage with different expectations and aspirations than when you were first starting out?
Yes and no. I suppose the goal is to be heard, so that's pretty much the same as it's always been for me, and, I think, any creative artist. Make people think and you know, escape for a few minutes.
Aspirations? Sure, that's a bit different than the sort of goals that you might have in your 20, but we're game for wherever this might take us at this point.
How has time and experience altered the way you make music and the music itself?
It's a bit different than it used to be, at least in our case. Most bands that I've been in would typically have a person bring a song to the band, everybody would come up with their part, and off you'd go.
In Combustor, we try a lot of different approaches and actually discuss what we're doing and how things might or might not fit together. We try out a lot of things at rehearsals.
Yes, we jam. Sometimes. Personally, I've been giving a lot more attention to lyrics and melody. And hooks. Much of this open-ended approach spilled over into our studio recordings.
As far as our live performances are concerned, I'm always impressed when an "older" band shows up and still really kicks things out. I was super motivated after seeing Wayne Kramer do his MC50 shows a few years ago; that band just destroyed. And bands like Iggy and Off! and Cheap Trick and Jack White, you know, they leave it all on the stage. We aspire to that.
Call it rock or punk or rock and roll or whatever, there's still supposed to be some danger. And blood and sweat and maybe some tears. Tears of joy, that is!
Tell us a bit about the new record.
The CD version of the record has 14 tracks. Old school, Ramones style. Not that all of the songs are 2–3-minute outbursts. We recorded the record with Paul Kneevers at Kneeverland Studios over the course of much of 2022.
Paul has a ton of experience, great production ideas, and we got some amazing sounds. He added some significant keyboard parts and other ideas. Some of the songs were written long ago, but some were essentially written or finished up in the studio. We have a ton of alternate mixes.
As I said, we started the sessions with Johnny Washday and then Bobby Mitchell came on board to finish things up. After the Lest We Forget show a couple of us got COVID, which slowed things down a bit. But we kept our eyes on the prize. Kevn Kinney and Katie Kneevers sang backing vocals on some of the tracks.
The release is on my Splunge Communications label, and it's the first release of new music that we've done since the 1990s.
I think that many of our collective influences are apparent on the record, but hopefully not in a derivative way. It's actually a lot of fun to hear people's opinions on particular songs, especially when what they hear has nothing to do with where ideas may have originated.
A couple of people have suggested that we've managed to carve out our own sound, which is a very difficult thing to do at this point in the continuum. What does Combustor sound like? You tell me…
Born in Brooklyn, N.Y., where he lived until he was 17, Bobby received his BA-Mass Communications from UWM in 1989 and has lived in Walker's Point, Bay View, Enderis Park, South Milwaukee and on the East Side.
He has published three non-fiction books in Italy – including one about an event in Milwaukee history, which was published in the U.S. in autumn 2010. Four more books, all about Milwaukee, have been published by The History Press.
With his most recent band, The Yell Leaders, Bobby released four LPs and had a songs featured in episodes of TV's "Party of Five" and "Dawson's Creek," and films in Japan, South America and the U.S. The Yell Leaders were named the best unsigned band in their region by VH-1 as part of its Rock Across America 1998 Tour. Most recently, the band contributed tracks to a UK vinyl/CD tribute to the Redskins and collaborated on a track with Italian novelist Enrico Remmert.
He's produced three installments of the "OMCD" series of local music compilations for OnMilwaukee.com and in 2007 produced a CD of Italian music and poetry.
In 2005, he was awarded the City of Asti's (Italy) Journalism Prize for his work focusing on that area. He has also won awards from the Milwaukee Press Club.
He can be heard weekly on 88Nine Radio Milwaukee talking about his "Urban Spelunking" series of stories.