In honor of Earth Day, we are resharing this very dirty article.
As much as I loved the idea in theory of composting my food scraps into rich soil for my garden, it also seemed like a lot of work and, quite frankly, kinda gross. However, a few years ago, I saw an intriguing painting by Milwaukee artist and friend Renee Luna Bebeauand when I found out it was a painting of her food scraps that would later become compost, I was engrossed by the lime greens, dewy oranges and eggplant browns. And I started to think about composting differently.
"I saw friends put their food scraps in an ice cream bucket and store it under the sink. When I started composting, I put my scraps in a giant glass snifter – it's probably for making a trifle – and leave it uncovered," says Bebeau. "I never leave it on the counter long enough for it to get stinky. I take it out to my compost piles every few days."
Bebeau says when her container got full for the first time, she noticed the many shapes and layers and colors and decided to take a photo of it with her phone. "It was so pretty. There was a banana peel perfectly hanging over the top and I thought 'this is a still life,'" says Bebeau.
"Now when I go to friends' houses I ask, 'can I see your compost?'" she says. "Everyone's looks different. I don't eat pineapple or drink coffee, so I never see those in my compost. It's so personal and I'm so inspired by it."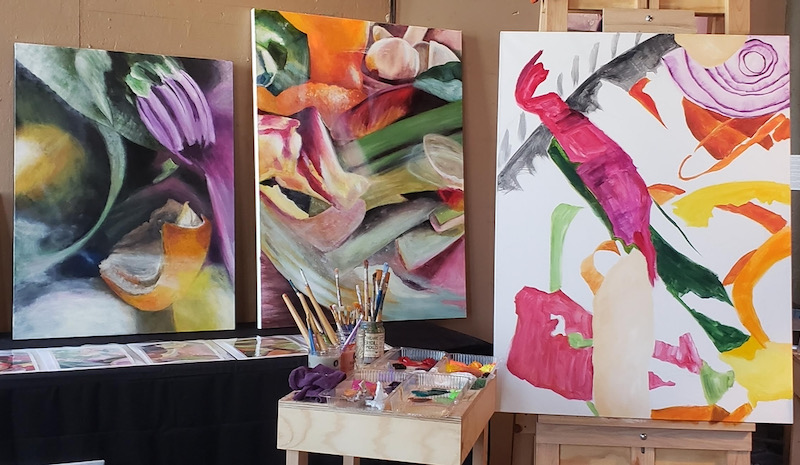 Bebeau, who tends two large compost piles in her Riverwest yard, also provides compost consulting for people who aren't sure how to start the compost process or have questions along the way. To contact Bebeau for composting consulting, email her at moonunitluna@hotmail.com.
"I really love turning compost as much as I love painting it," says Bebeau. "It's so much fun to see it happen. Once again, Mother Earth teaches us about transformation and rebirth: everything has to break down, lose its form, get a little slimy to become this rich, fertile, valuable soil that grows the best vegetables I've ever grown."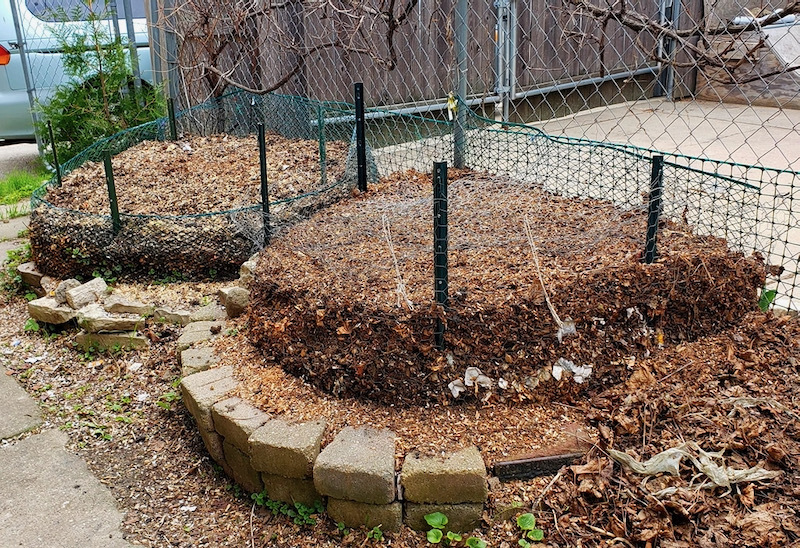 According to Renee Scampini, a volunteer and member of the board for Kompost Kids, a non-profit, volunteer-based organization on Milwaukee's South Side, 50 percent of a person's daily waste can be composted.
According to Scampini, composting is a win-win for both the environment and the individual.
"In short, compost is nutrient dense soil that is vital to the planet for both minimizing greenhouse gasses and becoming new earth," says Scampini, who in 2019 started the #MKENoWaste campaign.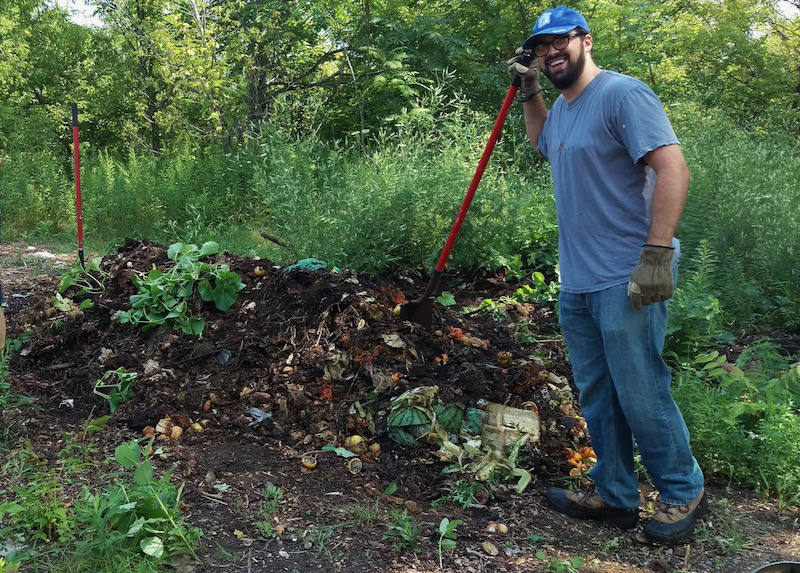 So how does one begin composting? Bebeau breaks down what's needed to start the process.
"You need a space in your yard or on your porch; two containers: one for the kitchen to collect scraps and one for the yard; a pitchfork, or something to turn the soil with, and worms," says Bebeau. "I love my worms. They are my little workers. They eat through everything; they do all the work."
Most importantly, people need to commit to composting.
"You need the gumption to do it. There is some action involved in composting, but it's completely up to you how much work you want to put into it," says Bebeau.
There are many different compost bins available for purchase and some people just make their own. It takes anywhere from 12-24 months for food remains and paper materials to become the "black gold soil" that farmers and gardeners rave about.
Composters need to learn what to compost (leaves, grass clippings, eggshells, non-animal food scraps like fruits, vegetables, peelings, bread, cereal, coffee, tea, non-glossy and shredded paper, paper towels) and what not to compost (meat, bones, dairy products, pet waste and bedding, charcoal ashes).
Composted items are added in alternating layers: a layer of food waste and clippings, then a layer of paper and paper towels, and so on. Ending with a layer of paper on top will deter animals. Turning and watering will quicken the transformation. When the bin is full, stop adding to it and let nature take over. Check it regularly and when it looks and smells like soil, it's ready.
If this sounds like too much work or too unappealing, hiring someone to, literally, take care of the dirty work is an option. Compost Crusader is a composting service in Milwaukee that operates much like garbage collection.
"You have to ask yourself how much work you personally want to put into it, and if the answer leans to 'not much' … then paying for compost collection is your best bet," says Scampini.
Plus, composting services can safely accept more material than a yard compost pile, including meat, bones, dairy and more.
"If everyone could shift their perception just a little bit (and compost or hire a compost service), it would definitely make a positive impact on our environment," says Bebeau. "Humans have been composting as long as we've been farming. It's something we need to return to."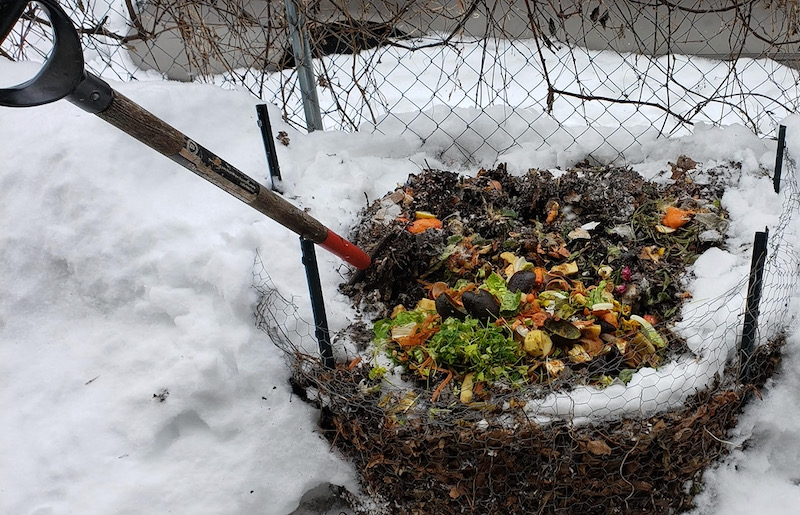 For more online information about composting, check out Hummingbird Milwaukee. Kompost Kids is also now accepting volunteers for people who want to learn through a hands-on, "turn and learn" experience. Go here for more.

Molly Snyder started writing and publishing her work at the age 10, when her community newspaper printed her poem, "The Unicorn." Since then, she's expanded beyond the subject of mythical creatures and written in many different mediums but, nearest and dearest to her heart, thousands of articles for OnMilwaukee.

Molly is a regular contributor to FOX6 News and numerous radio stations as well as the co-host of "Dandelions: A Podcast For Women." She's received five Milwaukee Press Club Awards, served as the Pfister Narrator and is the Wisconsin State Fair's Celebrity Cream Puff Eating Champion of 2019.