The Department of City Development has released a draft of its Connec+ing MKE plan for Downtown and it includes some ambitious ideas.
From future use of the Milwaukee Public Museum and State Office Building sites in Westown, to four route extensions of The Hop (Westown, Bronzeville, Walker's Point, East Side), to development of the site of the Marcus Center parking structure, to the removal of I-794 through Downtown, the report outlines some potentially game-changing steps forward for the city.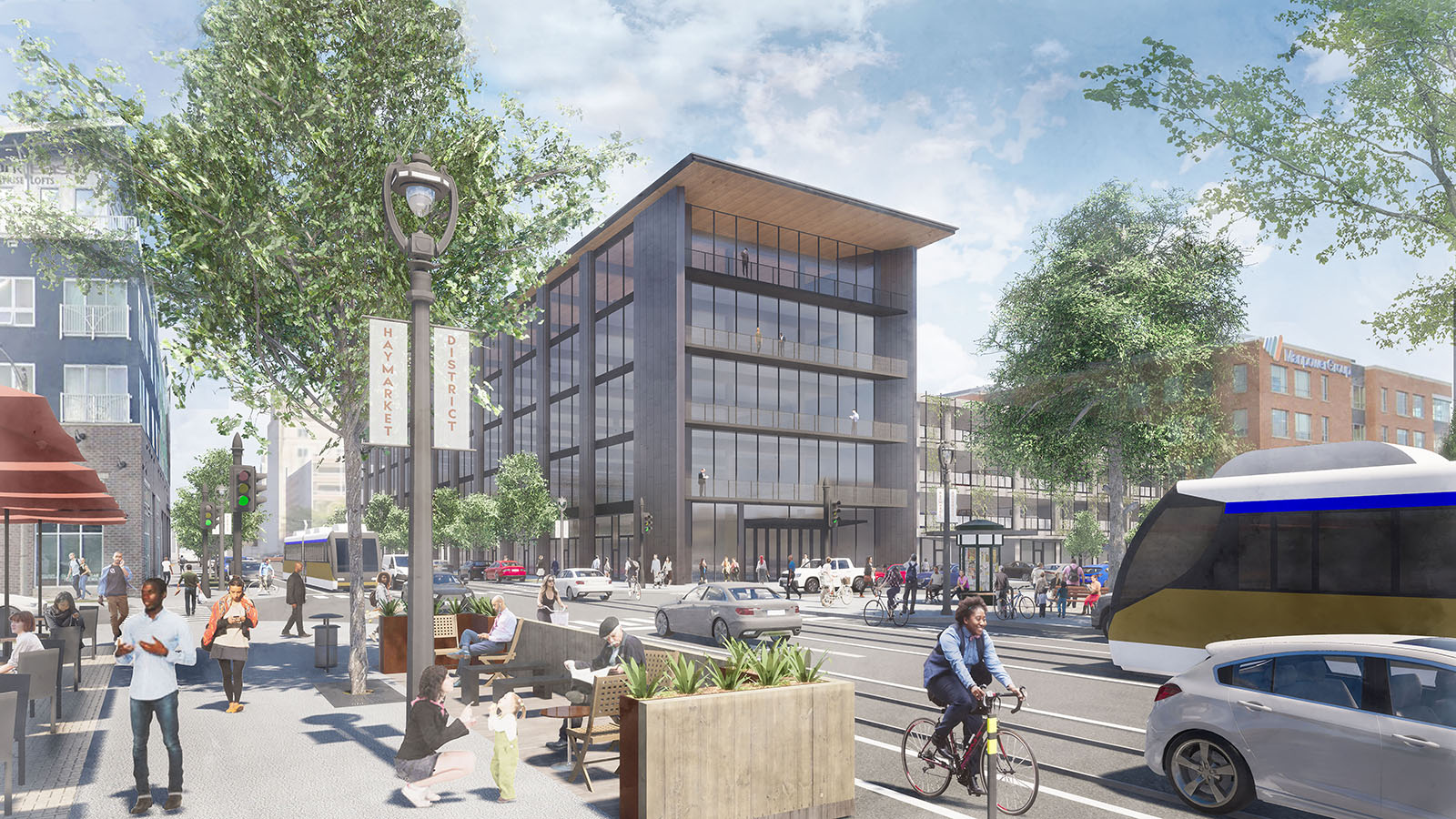 The full draft plan – the first for Downtown since 2010 – can be viewed in PDF form here. (The 2010 plan can also be viewed at the link.)
The 138-page document makes 40 recommendations within a series of eight over-arching goal categories, including housing and neighborhoods; business and education; retail, sevices, food and nightlife, arts, culture, entertainment and sports; sustainability and resilience; transportation and mobility; streets and public space; and land use and development.
The report also outlines six "big ideas," including: grow Downtown, doubling its residential population via "intensive housing development"; invest in parks and gathering spaces; improve streets to support all users; redesign streets as public places; expand and enhance transit; and reconnect places divided by human-made barriers.
The wow factor content for general readers will surely be found in the section of the report called "Catalytic Projects." These include, with wording from the report: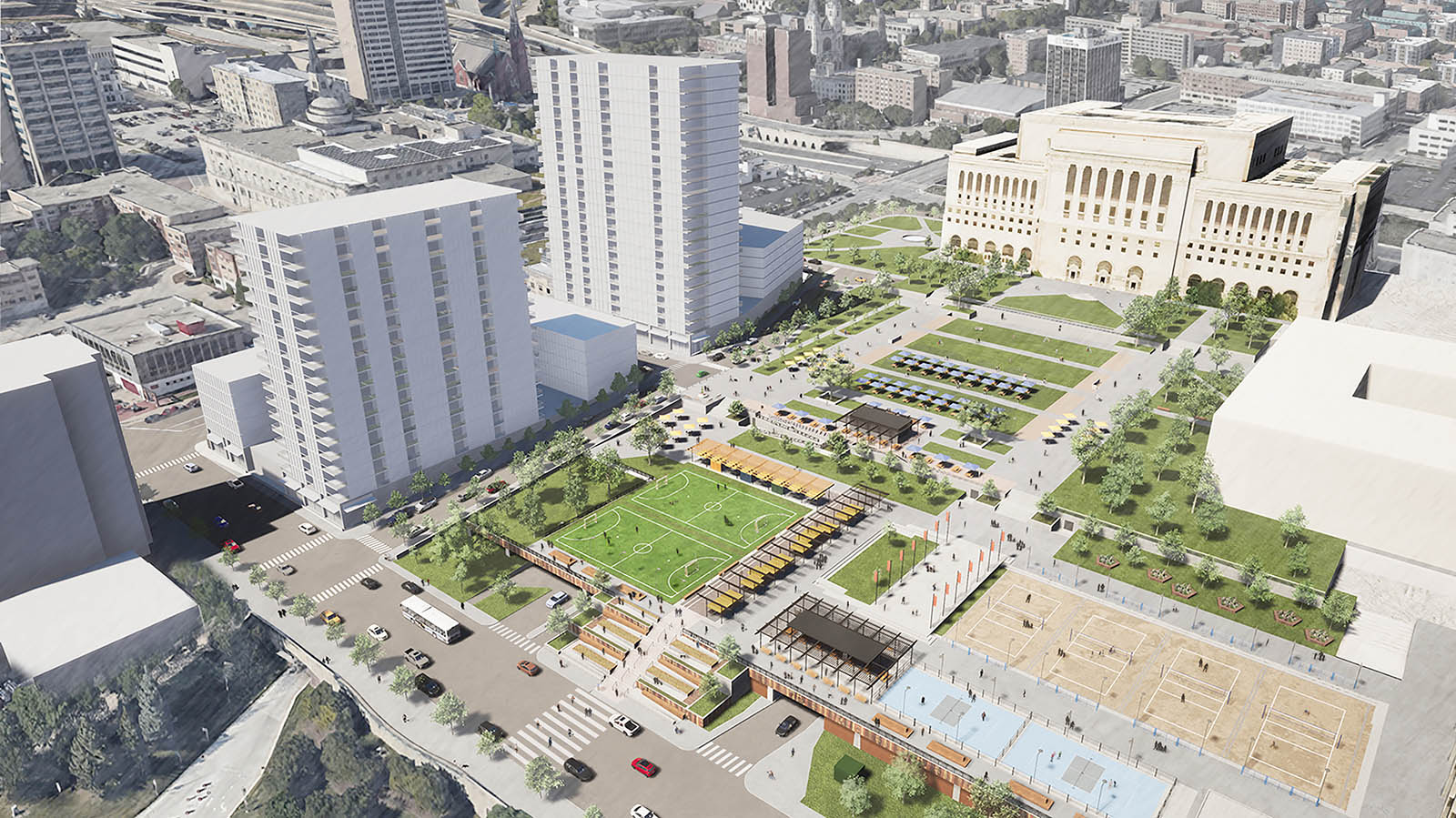 Public Museum & State Office Building Redevelopment at MacArthur Square
The existing Milwaukee Public Museum Site should be redeveloped with high-density mixed-use development with a goal of including mixed income housing and neighborhood supporting commercial uses on the ground floor. Extending the street grid north of Wells Street to connect to MacArthur Square will also help to support additional infill development on surface parking lots in the area, and the reuse or redevelopment of the State-owned office building at 6th and Wells Streets.
Public Space Management Organization for Parks & Public Spaces
Creating a "public space management organization," and identifying sustainable funding opportunities for the management and activation of public spaces will be critical to bringing about the improved public spaces envisioned by the Plan, including at Cathedral Square, Red Arrow, and Pere Marquette Parks. Milwaukee is not alone when it comes the need to address the fiscal challenges for the local park systems.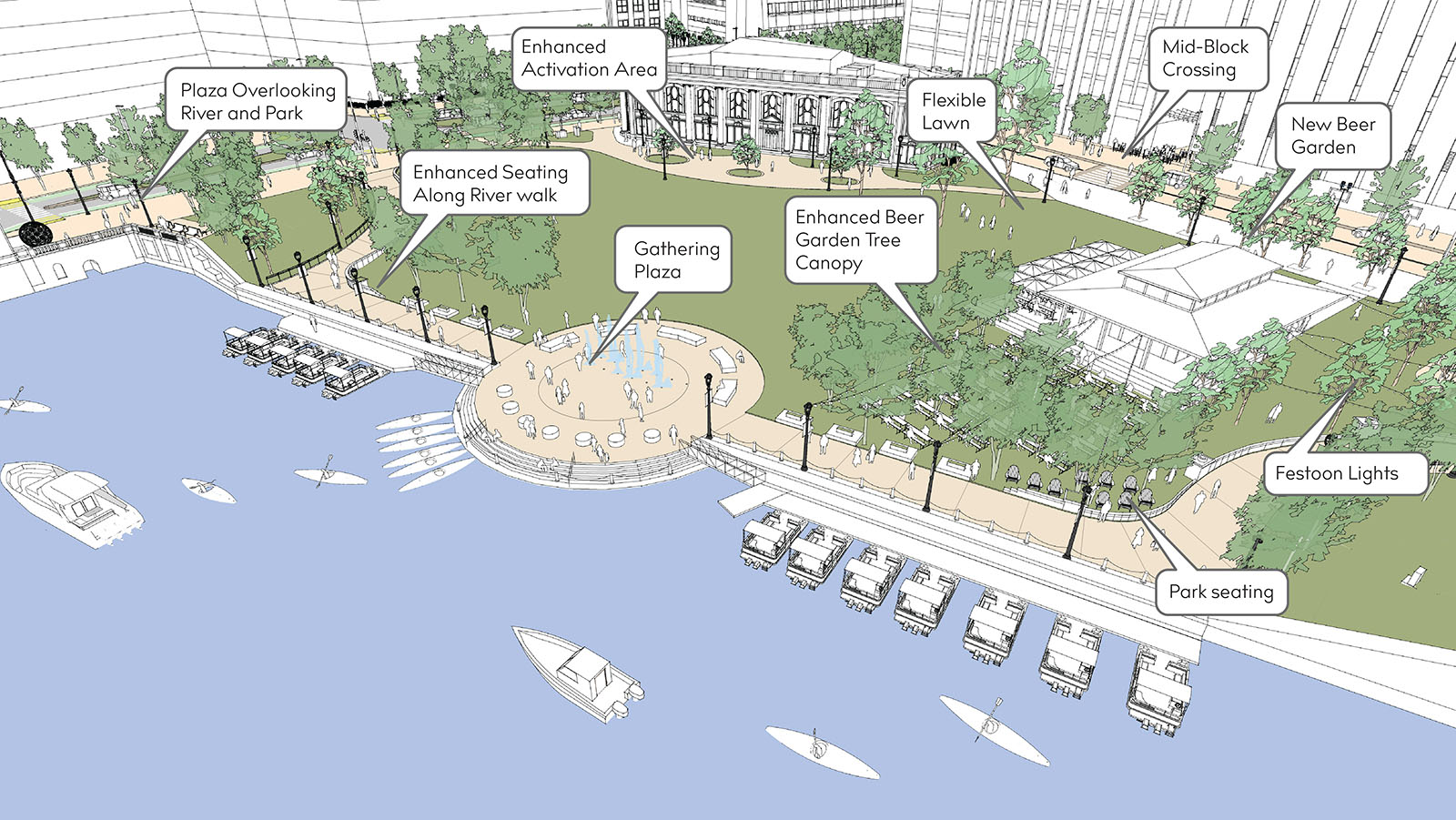 Cities across the country are turning to innovative funding and management structures to support the construction, maintenance, and programming of their Downtown public spaces. After initial upfront investments are made in parks, the most successful urban parks remain active with an abundance of free and inclusive activities designed to users of all ages and races, improving the ability of Downtown parks to be gathering spaces for ALL Milwaukeeans.
Streetcar Extensions
The vision for The Hop has always been to extend the system into the surrounding neighborhoods, providing enhanced connectivity and boosting economic growth throughout the Greater Downtown area. Efforts to expand The Hop are ongoing and have focused on future connections to King Drive and the Bronzeville Cultural and Entertainment District north of Downtown and the Walker's Point neighborhood south of Downtown.
The City should continue to pursue these planned and future streetcar extensions, and work aggressively to secure funding and support for these extensions. The Hop provides a reliable, high-quality means of connecting people and places within Downtown in a way that is convenient, comfortable, and enjoyable for area residents, employees and visitors. The Hop has also shown its value as a catalyst for economic development, with dozens of large new developments rising along the route representing billions in new investment.
6th Street Complete Street
To accommodate interstate traffic North 6th Street was widened in the 1960s. This resulted in the removal of historic structures and the creation of a street that prioritized car traffic over the experiences of people who live, walk, work, and shop along the corridor. 6th Street should be redesigned as a priority transit street and enhanced bikeway.
Redesigning 6th Street will better connect both north and south side neighborhoods to Downtown via improved transit, pedestrian, and bicycle access. It will build on the momentum of the Future Museum being constructed on 6th and McKinley by making it a more accessible destination for residents of the city and the region and will spur adjacent private development.
An improved 6th Street would embody the vision of a Connected Downtown, linking Bronzeville, Halyard Park, Hillside, MATC, the Brewery District, the Deer District, the Convention Center, West Wisconsin Avenue, the Iron District and Walker's Point via a street that is truly designed for all users.
Water Street Entertainment District
A redesigned North Water Street could reduce the number of motor-vehicle lanes and add safety improvements for transit riders and people walking and on bicycles. The added sidewalk space would provide an improved experience for all users and visitors to this area. Street improvements will also help spur development along the Water Street corridor, which includes a number of priority redevelopment sites with the potential to add significant new development.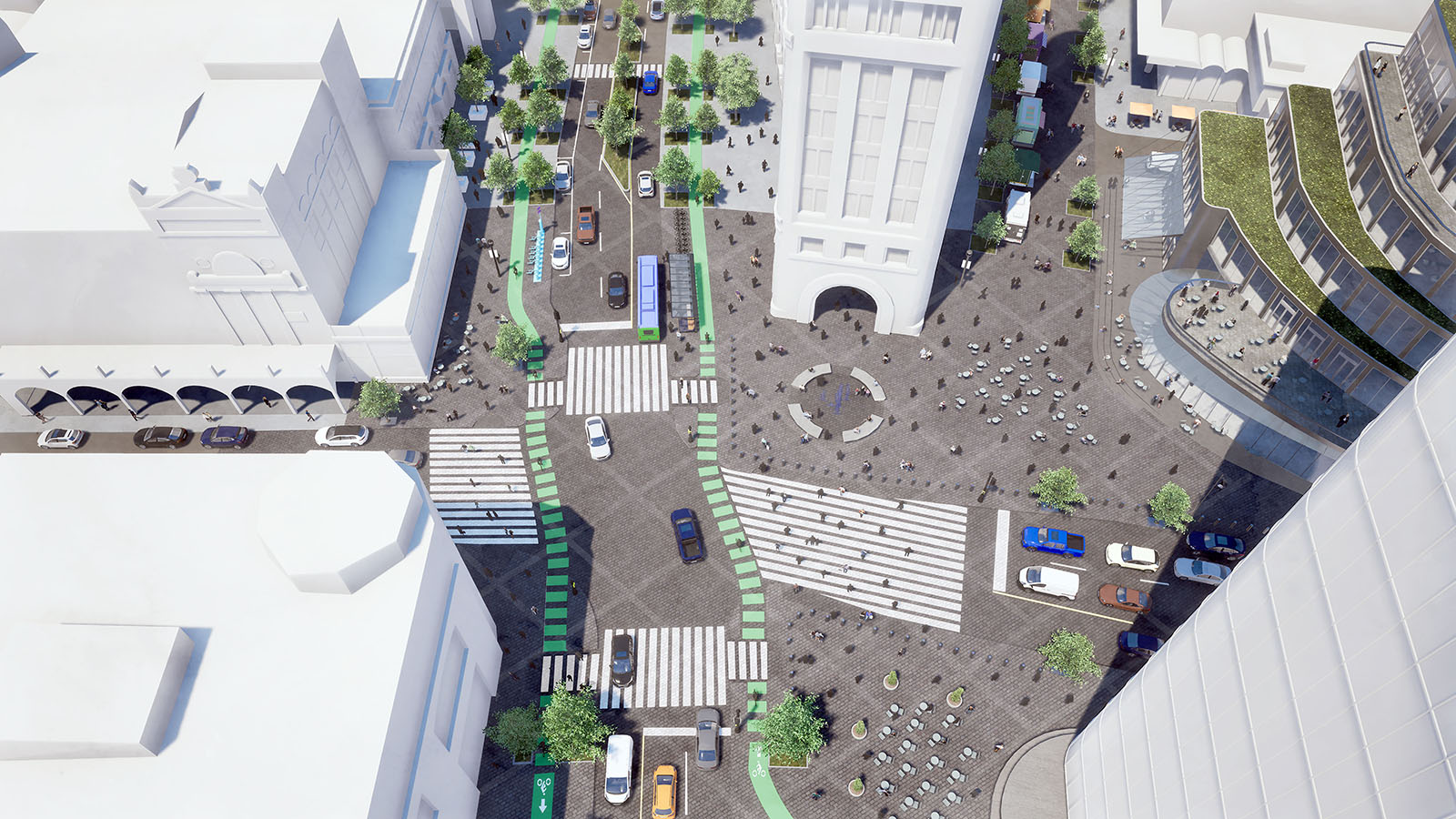 This catalytic project would make Red Arrow Park more accessible, better connect pedestrians to a variety of destinations including the Riverwalk, City Hall Square, the North End neighborhood, and Wisconsin Avenue, and support the Water Street Entertainment District.
Performing Arts Center Parking Garage Redevelopment Site
The parking structure for the Marcus Center would be replaced with new high-density mixed-use development that adds density and vibrancy to the district. This could spur the development of underutilized sites in the area including surface parking lots along Water Street and the RiverWalk.
I-794 Corridor & Clybourn Street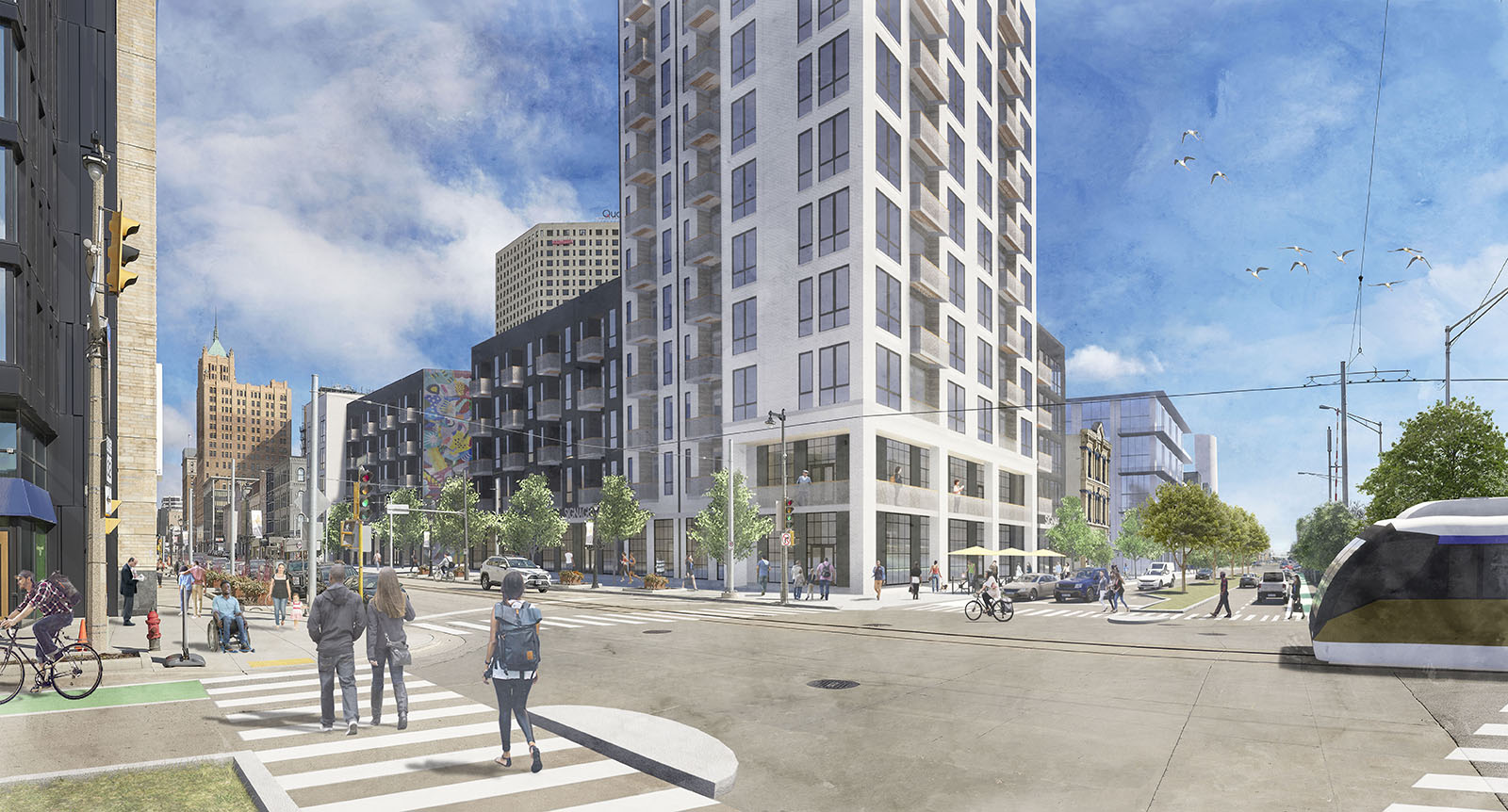 The I-794 Lake Interchange cuts through the heart of Downtown Milwaukee and serves as a barrier between the East Town neighborhood, the Historic Third Ward, and the Lakefront – three of the region's most desirable areas. The location and design of this freeway spur is in conflict with the overarching goal of a Connected Downtown and should be reimagined, with a focus on planning for an eventual full removal of the I-794 Lake Interchange and replacement with a traditional connected grid of comfortable multi-modal streets, public spaces, and high-density mixed-use development.
The State of Wisconsin is currently undertaking efforts to study alternatives for this segment of I-794. The alternative that is selected through that ongoing process should be the one that best advances overall Connecting MKE goals, including safety and connectivity for all users. If full removal is not feasible via this current project, any interim alternative should prioritize modernization of the infrastructure to reduce the footprint, activation of the public spaces and streets under the bridges, improvements to the ramp connections, and increase safety for pedestrian crossings.
Improvements in this area will also provide significant opportunities for a reimagined Clybourn Street, where public improvements that increase walkability and connectivity will spur private development along this key corridor.
+++++++++++++++++++
You can dig into the details and see theoretical renderings for the goals, recommendations and catalytic projects in the full report.
The report was created, it notes, with public input.
"During nearly two years of engagement and outreach, the Connec+ing MKE: Downtown Plan 2040 received robust public participation at multiple community open houses, extensive feedback received on the EngageMKE.com online platform, small group meetings with stakeholder groups, and one-on-one discussions.
"In total, more than 2,500 individuals – including participants from all Milwaukee zip codes – provided input on their vision for the future of Downtown. This robust and inclusive engagement shaped the eight overarching goals for the Plan, as well as 'big ideas' and catalytic projects to guide public and private investment to continue to grow Downtown."
The plan will go to the City Plan Commission for approval and ultimately to the Common Council for discussion and adoption, likely by summer.
And, of course, this is a draft plan. Everything in it likely requires more research and study, more engagement and, in the end, funding.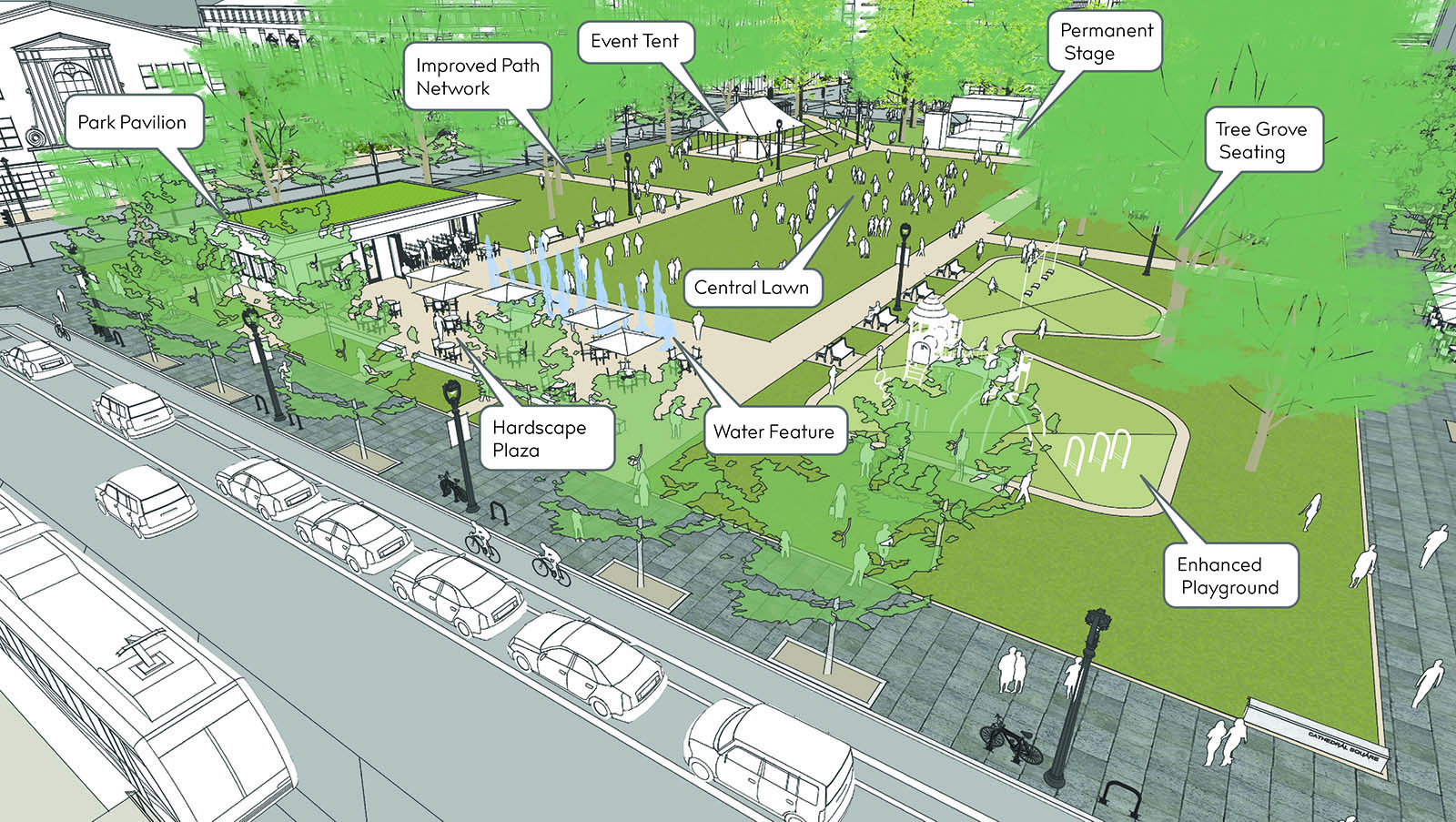 But with more than $6.6 billion in completed public and private projects Downtown since 2005, and more than $2.5 billion in public and private projects currently under construction or expected to begin soon, the city center is growing at an unprecedented rate, the report notes.
And not just in terms of dollars. The Downtown population has grown more than 21 percent since 2010, and there have been nearly 10,000 housing units added and more than 2,750 new hotel rooms.
Despite the pandemic, Downtown has also seen a more than 12 percent increase in workers thanks in part to more than 4.3 million square feet of new or renovated office space. In fact, the report says that more than 30 percent of all jobs in the city are Downtown.
To not fund these big ideas at this point in Downtown's growth would seem short-sighted and, perhaps even a road block to continued progress.
The streetcar extensions are important, as growing the routes will grow ridership, and improving existing green spaces will be a boon not only for residents, but Downtown workers and visitors, too.
Developing the Marcus Center parking structure, which occupies an entire square block? That's a gimme. Encouraging owners of private huge-footprint parking structures (and surface lots) scattered around Downtown to do the same would also create space for more useful and street-friendly developments that could include parking internally (or be trimmed back as streetcar routes and Downtown residency grow).
More Downtown housing is important, too, as is ensuring that some of it is affordable so that the neighborhoods are diverse and accessible. Removing some of the restrictions on residential development in Haymarket – where there is a mix of vacant land and vintage building stock – could create opportunities for a variety of residences, from townhouses to apartment buildings and adaptive reuses.
Having said that, I was disappointed to see the word "schools" only a few times in the 138-page report, including once in section about providing "amenities" to Downtown residents. Dog parks and pickleball courts are amenities; schools are essentials.
Residential growth Downtown demands expanded access to programs like MPS' Montessori schools, language-immersion programs and existing area programs like Golda Meir.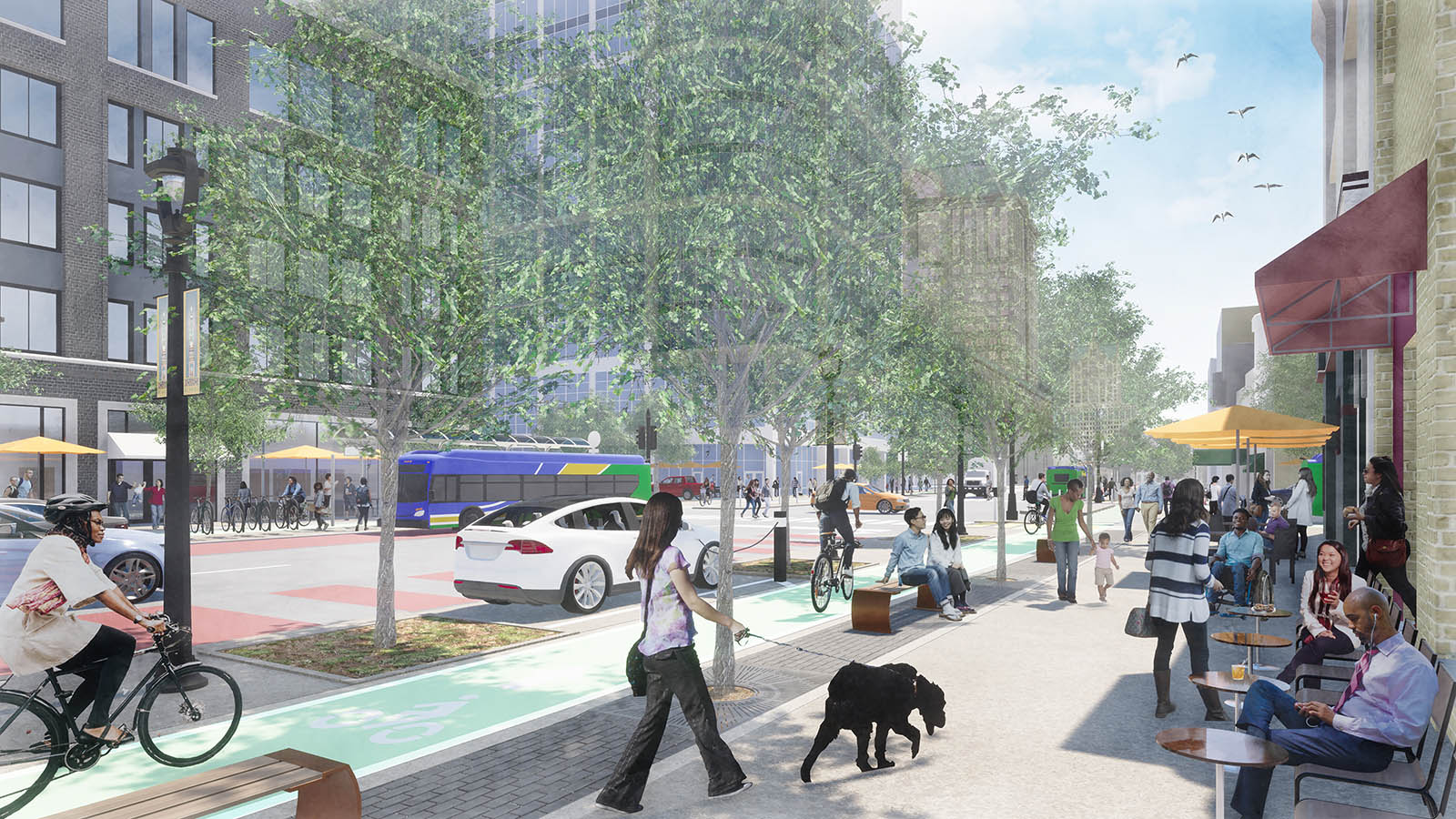 Stay tuned as this big discussion unfolds. There are some ambitious and exciting ideas here that could transform the city in the coming 15 or so years.
An open house format public meeting on the report will be held Thursday, May 11, from 3:30 to 6:30 p.m. at the 3rd St. Market Hall, 275 W. Wisconsin Ave. Members of the public will be able to view the plan and offer feedback to DCD and BID #21 staff.
The public can also view a virtual open house and offer feedback on the plan online at connectingmke.com through May 22.
Born in Brooklyn, N.Y., where he lived until he was 17, Bobby received his BA-Mass Communications from UWM in 1989 and has lived in Walker's Point, Bay View, Enderis Park, South Milwaukee and on the East Side.
He has published three non-fiction books in Italy – including one about an event in Milwaukee history, which was published in the U.S. in autumn 2010. Four more books, all about Milwaukee, have been published by The History Press.
With his most recent band, The Yell Leaders, Bobby released four LPs and had a songs featured in episodes of TV's "Party of Five" and "Dawson's Creek," and films in Japan, South America and the U.S. The Yell Leaders were named the best unsigned band in their region by VH-1 as part of its Rock Across America 1998 Tour. Most recently, the band contributed tracks to a UK vinyl/CD tribute to the Redskins and collaborated on a track with Italian novelist Enrico Remmert.
He's produced three installments of the "OMCD" series of local music compilations for OnMilwaukee.com and in 2007 produced a CD of Italian music and poetry.
In 2005, he was awarded the City of Asti's (Italy) Journalism Prize for his work focusing on that area. He has also won awards from the Milwaukee Press Club.
He can be heard weekly on 88Nine Radio Milwaukee talking about his "Urban Spelunking" series of stories.